Once considered an ugly duckling, the BMW twin-opposed "Boxer" engine is now perhaps the most attractive engine for custom motorcycle builders.
The bulbous block draws the eye as the heads stick awkwardly out of both sides of the bike. Truly ugly, yet somehow strangely alluring!
The first motorcycle with a boxer engine was the 1923 BMW R 32 with an engine derived from the company's aircraft.
The flat, opposed-cylinder concept has proved to be an effective design for cooling an engine.
Other advantages of Boxer engines are:
The opposing cylinders balance each other out which means they require lighter balancers;

They lower the vehicle's centre of gravity for better stability and handling; and

They are very reliable and have a long life.
They have not only been used extensively in BMW and Ural motorcycles after Ural stole the design during World War II, but also by Volkswagen, Porsche and Subaru.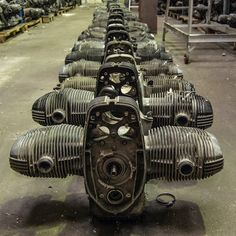 So, apart from the aesthetic, they are also practical and old models are still workable for modern custom treatment.
We've seen loads of old BMWs customised in recent years and now they are fetching high prices on the used market.
However, more modern Boxer-engined BMWs also make good custom projects, so long as you are willing to work around more complex frame designs and complex electronics.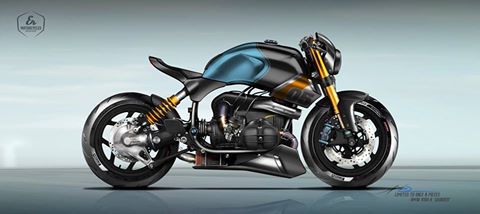 This "Grinder" from Slovenian custom builders ER Motorcycles uses a 1990s BMW R 100 R 980cc 4-stroke, 2 cylinder, air-cooled Boxer engine. Yet you could hardly call it an ugly duckling.
ER is limiting production to just five units, each coasting $US37,000 (about $A49,000).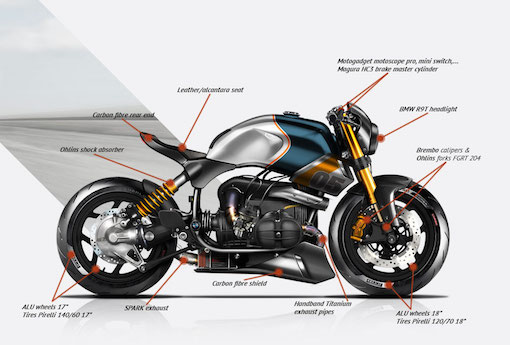 They come with Ohlins upside down FGRT shocks on the front and an Ohlins BM 836 monoshock on the rear, Brembo brakes, handmade titanium exhaust pipes, carbon fibre bodywork, aluminium wheels and Pirelli Angel GT rubbers. It also employs the R nineT headlight, so it's a perfect mix of the old and new.
The fact that only drawings have so far been released means prospective owners should be able to choose some their own paint and various other options.