A Nicely Designed Remote for UClear Intercoms
Introduced by UClear at the 2015 AIMExpo (report), the Editor provided first insight into this simple but very functional remote, referring to it as the "Big Button Remote".
And now that we have one in hand for testing, the description is indeed very apt.
It has to be the most basic or simplest remote control device in use with any motorcycle Bluetooth communications system available today.
This is especially true when compared to the Sena handlebar remote introduced with the Sena 10U (review) and the Wireless Remote Control used with the Vertix Raptor-i intercom (review).
Those intercom remote controls are very functional, don't get me wrong, but each seems to have some issues regarding installation, location, their accessibility by the rider and, of course, safety.
But besides the location and placement of the UClear HBC remote on the left hand grip, which might be an issue for some, it doesn't suffer from many of those issues.
The UClear remote is a simple design and it's very easy to install.
It also easily pairs with the UClear HBC100 (review) or UClear HBC200 (review), once they are updated to the latest "Sawtooth" firmware.
The HBC Remote uses a micro-USB port for charging, whereas the UClear intercom modules utilize a min-USB interface.
This means that two cables may be necessary,  although for travel purposes I always pack a universal charging/data cable kit with changeable USB tips
Like the HBC 100 and 200 intercom systems, the HBC Remote is claimed to be "weather resistant" and in using UClear products for a few years now, only one intercom has succumbed, after a couple of riding days in the pounding rain.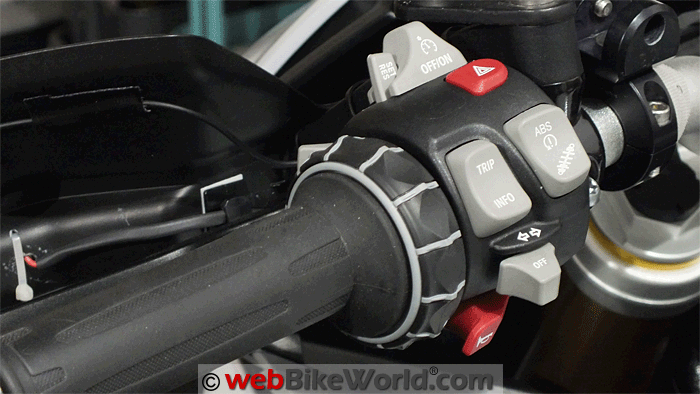 Overview
There isn't much more to say about the specifications of the HBC Remote that the Editor hasn't already identified in the UClear HBC remote preview.
But what can and should be covered is the enabler for the HBC Remote, and that is the latest firmware from UClear, identified as "Sawtooth".
This firmware, formally identified as v2.37, must be installed on the HBC 100 and 200 systems for the UClear remote to work.
This new firmware version (v2.37), in addition to providing the HBC Remote Control Interface, features the following updates and enhancements (reviewer comments in brackets):
Anywhere Headphone impulse noise suppression.
Improved speech activity detection.
Improved speech quality.
One second of white noise is now heard after the ringtone, instead of before.
Fixed connection issues with Garmin zumo 660 (and presumably the zumo 665).
Fixed intercom volume changes after GPS voice cuts in (override).
Added two UClear Hub (v1.4.5) features for Android phone (users can now:

See device name (which can be changed) "HBC200-HBC".
System Info, model, firmware version and battery status is displayed.
Selectable Features: enable voice answer, route GPS audio to intercom and enable music sharing).

Fixed TomTom GPS audio (cannot be routed to the intercom chain (not confirmed yet).
Allow Sena universal intercom audio to be routed to UClear unit intercom chain.
Fixed BMW Navigator music streaming issue (the user must disable the music sharing feature by using the UClear Hub app (identified above).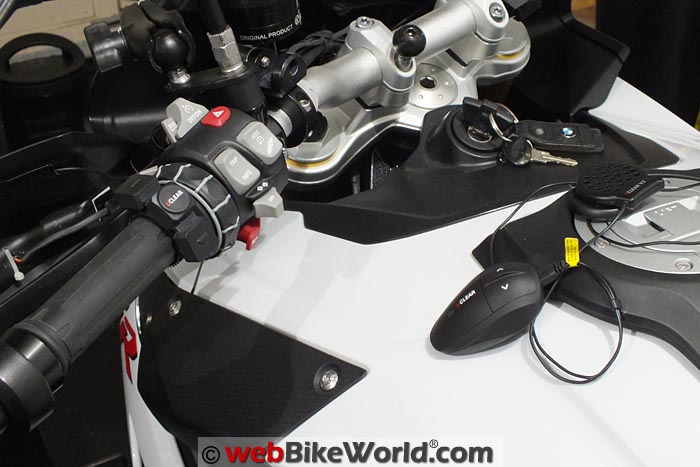 ---
Where to Buy UClear Remote
Check Reviews & Prices on Amazon
Check Reviews & Prices On RevZilla
See More: Motorcycle Intercom, Motorcycle Accessories, Motorcycle Helmets
---
UClear HBC Remote Notes
The first observation about the HBC Remote is its design, followed by its simplicity of use.
Wrap the hook-and-loop strap around the inner end of the left hand grip and position the HBC Remote as desired and you're done. This mounting approach allows almost infinite adjustment, something not offered by other remotes.
Function? Simple. Charge the remote using the supplied micro-USB cable until the charging light changes from red to blue and unplug the cable.
Turn on the headset to be paired and then press both back buttons (volume up/down) and wait for the (almost) standard red/blue flashing pairing sequence to start; now hold the BIG button on the remote for 5 to 7 seconds, it will go into pairing mode as well.
But don't blink or you'll miss the pairing — it is that fast.
Both devices flash solid blue once and the headset resumes its standby mode (slow flashing blue LED), while the remote goes into slumber mode and only flashes when it is actually used, like the Vertix remote.
And as the UClear remote is an extension of the headset, the intercom component system can be shut down as one.
Just press the main button on the headset or the big button on the remote for a couple of seconds and both devices will flash red three times and shut down. No muss, no fuss — done.
Re-activating the system is just as easy. Turn on the headset and once it is in standby, press any button on the remote. The left top LED will emit a rapid Blue flutter for three seconds and then go out indicating a successful reconnection.
If the remote fails to pair or reconnect with the target headset, it will shut itself down automatically so that the two rechargeable Lithium Ion batteries don't run down needlessly.
To reset the remote completely, connect the micro-USB charging cable and plug it into a compatible USB port on a computer or to an AC/DC charger, then turn the remote which will result in an auto reset of the device.
Outside of the occasional maintenance, such as wiping it down as needed and "feeding" or charging the remote when needed (indicated by a red blinking LED), the remote doesn't and hasn't needed anything else.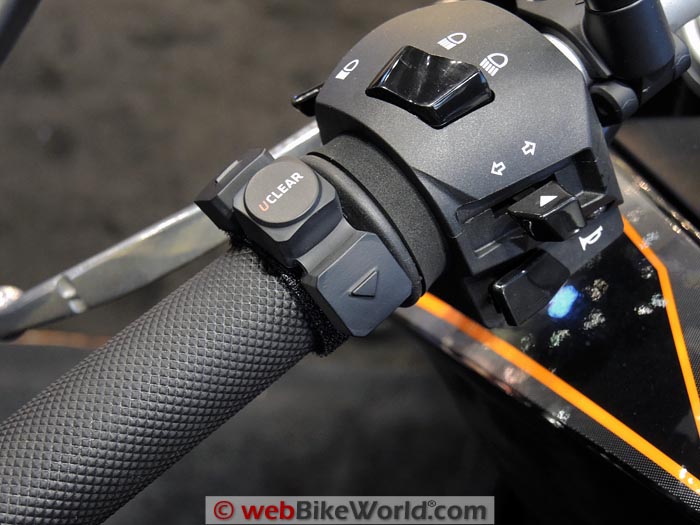 Conclusion
Besides releasing the HBC Remote, the UClear team continues to work quietly away on subtle enhancements and tweaks to the HBC 100 and 200 series intercom systems, evidenced by the most recent additions in the newest firmware.
So it's no surprise that the UClear Remote is one of those extremely useful devices that once installed sits in place quite unobtrusively responding to any almost effortless button-pushing call to action immediately.
This capability relegates hand and arm movements to the left side of the helmet pretty much obsolete, at least regarding the helmet-mounted UClear intercom module.
And when you think about it, that is pretty much the way we hoped it would be.
So like the intercom systems it works with, the HBC Remote is a a trés simple device that just plain works. Yes it does make its presence felt (literally), but in a completely tolerable way.
Bottom line: for everything it has going for it, and its aggressive pricing, the UClear Remote gets an outstanding rating.
w

BW

 Review: UClear Remote Control
List Price (2015): $79.99
Review Date: December 2015
Note:
 For informational use only. All material and photographs are Copyright © webWorld International, LLC since 2000. All rights reserved. See the webBikeWorld® 
Site Info page
. Product specifications, features and details may change or differ from our descriptions. Always check before purchasing. Read the
Terms and Conditions
!
---
Where to Buy UClear Remote
Check Reviews & Prices on Amazon
Check Reviews & Prices On RevZilla
See More: Motorcycle Intercom, Motorcycle Accessories, Motorcycle Helmets
---
Owner Comments and Feedback
---
From "S" (December 2015): "Hi guys!  Just wanted to say a bit about the UClear HBC remote. I now own a UClear HBC200 in combination with the HBC Remote plus the UClear Pro speakers.
My combination is a Garmin GPS (StreetPilot 2820, HFP Bluetooth) connected to my cell phone (Android HTC One, A2DP and HFP); an auxiliary music source is an old cell phone chosen for waterproof rating (Kyocera Hydro, A2DP and HFP).
I practiced many (probably all!) pairing patterns between the devices in an attempt to guarantee smooth and reliable Bluetooth syncing.
After trying every possible combination I found that, in order to guarantee all devices working, I had to use the following pairing pattern:
Erase all pairings, reset UClear HBC200 headset, turn off all Bluetooth radios or devices.
Pair working cell phone (HTC) to GPS (Garmin 2820).
While HTC and 2820 are connected, pair UClear HBC200 to GPS.
Turn off all Bluetooth radios or devices.
Pair music source (Kyocera) to UClear HBC200; after pairing, go into Kyocera Bluetooth properties and turn off phone Bluetooth connectivity (disable HFP) to only allow AD2P music streaming.
Turn off Bluetooth on Kyocera.
Pair HBC Remote to HBC200 headset.
You are now set.
The final part of the trick seems to be the order that you reconnect devices. You must, in order:
Connect headset to A2DP music source (music source Bluetooth on, turn on headset, allow auto-connect).
Connect GPS to headset (turn on GPS, will auto-connect).
Connect remote to headset (press center button, will auto-connect).
If I did not follow all steps for all conditions, either the pairings or the reconnects, something would not work or the connection would go unstable.
If the GPS and the headset lose connectivity, for any reason, it will not auto reconnect by itself; reconnection must be made by either:
Manually pushing the Connect button inside the Garmin GPS's Bluetooth menus, or
Power cycling the GPS (and possibly the headset, if the headset loses everything) to restart the auto-connect cycle.
I am still testing the setup as listed but it so far it has been stable.
The patterns sound complicated but it is actually quick after the initial pairing: music on, headset on, GPS on, remote connect, done. If I lose connectivity, turn off GPS (and optionally the headset) then turn both on in sequence (easy as both have nice, large power switches).
I've learned that Bluetooth connections can be interrupted by passing cars with their auto-connect Bluetooth turned on and resetting your Bluetooth system at 75MPH can be…taxing…so easy reset is important.
The remote can make it a stretch to the turn signal but I found that if I move the remote 'up', that is rotate the buttons 'back' towards the clutch lever, the up / down buttons then handily fall under the index finger and thumb (respectively) making it super easy to use.
It is a great design and makes control of the headset intuitive for the first time in the years I've used Bluetooth headsets.
The remote is very small, which I thank. With a set of heated grips, that have their controller built-in to the grip, the remote can't be used as the grip's controller would get in the way.
But, thanks to the small size, I'm planning to move the remote to between the mirror mount and the control pod by simply moving the mirror mount down the handlebar several millimeters and putting the remote on the bar instead."
Other WebBikeWorld Intercom Posts