HD Speakers for Intercoms and Audio Devices
The UClear Pulse Pro Headset and Pulse Pro Drop-In Speaker kits deliver superb audio.
The HD (High Definition) sound extends from deep bass tones that can be felt in the helmet all the way to unwavering high tones.
Whether you want an upgrade to the standard UClear headsets or a replacement set of speakers, the UClear Pulse components may be the answer.
I used both the Pulse Pro Headset and Pulse Plus Drop-In Speakers in six different helmets.
UClear, Sena and Cardo scala rider intercom systems were used with the speakers, all of which revealed just how high UClear has set the performance standard bar.
In noisy helmet environments on fully or partially faired or basic motorcycles, the Pulse Pro Headset provides extremely clear audio for voice communications.
The speakers also deliver superb and faithful reproduction audio of your favourite music.
Just remember, output from the UClear Pulse speakers can damage your hearing if volume levels are too high for extended periods of time, even with the proper ear protection fitted.
Use these audio gems wisely and enjoy the results safely.
webBikeWorld is no stranger to Bluetooth intercom systems and accessory speaker kits, having installed, used and reviewed more than a few over the years.
Technology and consumer demand has resulted in a very healthy market segment with something for almost everyone.
But first, a warning: when used at high volumes, loud music can cause real hearing loss. This loss can be temporary while riding (which isn't ideal for maintaining the needed situational awareness) or long-term.
webBikeWorld reviewers always wear proper ear protection. As motorcyclists, we live in very noisy environments.
Properly fitted helmets and ear protection are the most direct controllable means to protect one's hearing while still allowing good audio awareness.
With good audio awareness or a viable audio environment comes the ability to monitor and respond to what is going on around you and allow you to communicate with others typically by a wired or wireless helmet headset of some type.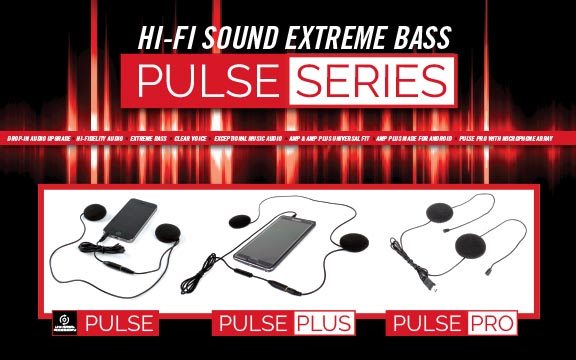 ---
Where to Buy UClear Pulse Speakers
Check Reviews & Prices on Amazon
Check Reviews & Prices On RevZilla
See More: Motorcycle Intercom, Motorcycle Accessories, Motorcycle Helmets
---
The New UClear Pulse Speakers
This brings us to the three new UClear Pulse Series speakers. All three share the same basic specifications but vary in form, application and cost.
The product names may cause some confusion though, so this list might help:
Pulse HD Speakers (HDS10, $39.95)
The Pulse HD speaker kit is designed to upgrade any cell phone, MP3 player or music system that uses a standard 3.5 mm input for speakers. It does not have a microphone; this is an HD upgrade speaker kit only.
Pulse Plus Speakers With Microphone (HDS20D, $49.95)
The Pulse Plus HD speaker kit adds an inline volume/audio controller with a microphone. This kit connects to any intercom, cell phone or audio player with 3.5 mm stereo audio jack.
Note that the microphone is located on the speaker wire, so it is designed for off-bike use when talking on a cell phone, not for a motorcycle intercom while riding. Turn the mic off and use the intercom mic for helmet communications.
Pulse Pro UClear Microphone/Speaker Headset Upgrade (HDS30, $69.99)
This is a complete UClear intercom headset and an upgrade to the other optional UClear speaker/mic sets, the V2 and Pro Mic systems. It uses the standard UClear Digital Mini-USB jack to fit UClear intercoms.
The Pulse Pro system uses Pulse speakers and a dual microphone array (one mic on each of the left and right speakers) that work with the UClear intercom systems.
The Pulse Pro headset is compatible with the forthcoming UClear AMP series communication systems that will be launched in May of this year.
NOTE: the Pulse speakers are not compatible with the basic UClear HBC100 or Vybe100 intercoms.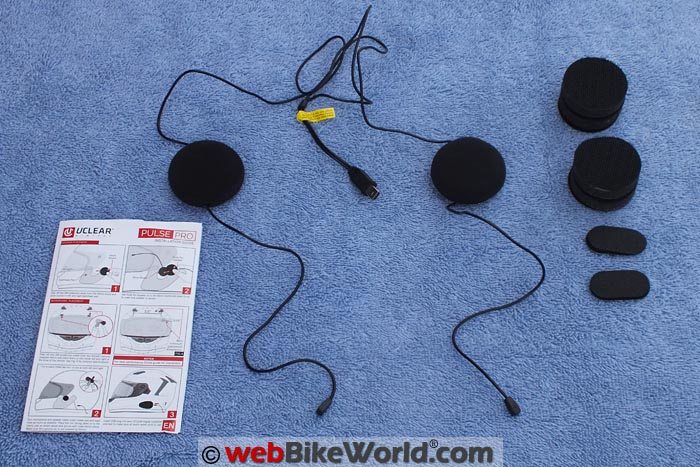 General Specifications
All three UClear Pulse speaker kits use the same 40 mm driver encased in a cushioning protective foam housing bonded to a hook-and-loop mounting plate.
The foam is not easily replaced (or at least not without some careful work); an approach that is sort of puzzling.
Each kit uses a 40 mm driver speaker of 8 Ohms impedance, 1130 dB/m (+/-3 dB) sensitivity, frequency response is 20 Hz to 20 KHz.
The Pulse Plus Drop-In Speakers with in-line controller weighs in at 32 grams (1.1 oz.), while the Pulse Pro Drop In Speakers (Headset) weighs 34 grams (1.2 oz.).
All of the speaker kits include mounting and extension (spacer) pieces.
Also includes are small adhesive tabs for the extension microphones as applicable. The three kits come with standard UClear one year limited warranty for accessories.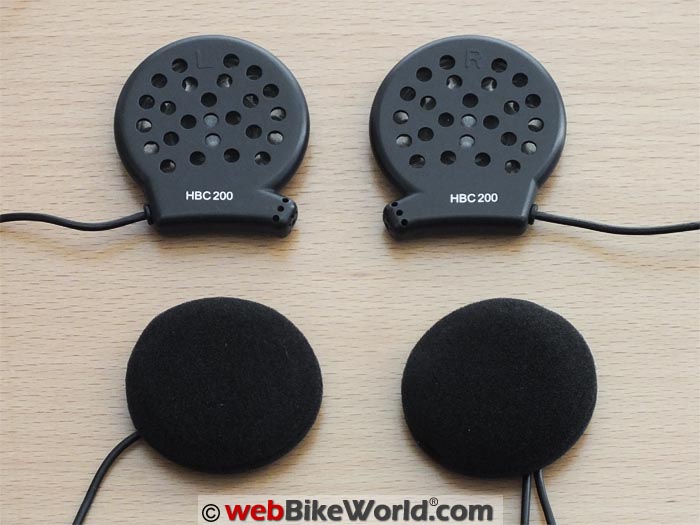 Pulse Pro Headset
I first opened the Pulse Pro Drop-In Speaker Kit (PN HDS30) and connected it to a UClear HBC200 intercom system in a SCHUBERTH C3 Pro (review), which sat nearby basking in the Florida sunshine.
The Pulse Pro kit is a full intercom replacement headset for the standard or optional UClear system.
It has the unique "Adaptive Beam Forming" microphone system integrated into the special UClear speakers.
This kit is a direct replacement for the bulky and "hard" standard UClear speakers with their built-in microphones on the HBC+ and HBC200 series intercom systems.
Microphones on the Pulse Pro Headset
The Pulse Pro speakers do not have the integrated built-in Adaptive Beam Forming mics that can sometimes make for a difficult helmet installation with the standard UClear speaker system.
On the Pulse Pro headset, the two microphones are located on leads (one off each speaker).
They are designed to be installed under the lining of the helmet.
This "remote" mic-on-wire system allows optimal placement for in-helmet audio pickup, no matter the type of helmet.
This flexibility addresses audio issues encountered by many different owners in a variety of helmet types.
Custom routing and placement of the microphones allows the owner to customize the installation.
That provides near-perfect voice communications using the Adaptive Beam Forming system that is the signature of the UClear intercoms.
Installing the Pulse Pro Speakers
Installation of the microphones is only slightly more involved than usual.
Once the Pulse Pro speakers have been installed in the ear cavities of the helmet, the microphones on their wire extensions can be routed under or through the helmet liner.
They can be located either along the brow or upper part of the eye port or the lower cheek area, depending on the helmet type.
(NOTE: See photos below of an installation in the SCHUBERTH C3 Pro helmet.)
As with the standard UClear integrated microphone/speaker modules, it is very important that the extension pick-ups be positioned as precisely as possible, all illustrated in an included diagram in the kit.
This helps to ensure that the UClear Adaptive Beam Forming "boomless" microphone system will correctly capture your voice.
Small adhesive tabs in the kit's mounting accessories can be used to hold the mic extension leads in place, especially if they are positioned in an area subject to contact as the helmet is used.
For flip-up or modular helmets, the microphones will typically fit nicely on the inner wall (horizontal or vertical face) of the brow section under the liner.
A side placement (lower cheek area) is often good for three-quarter and full-face helmets.
Don't be afraid to experiment with different mounting locations to find the best solution for optimal mic performance; the effort will be worth it.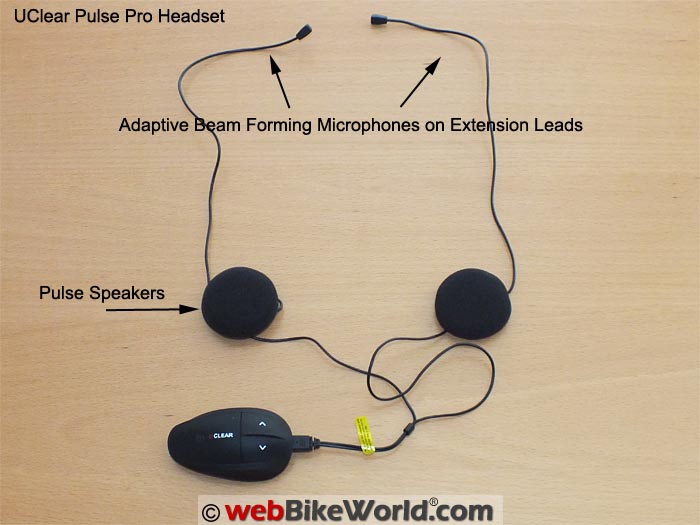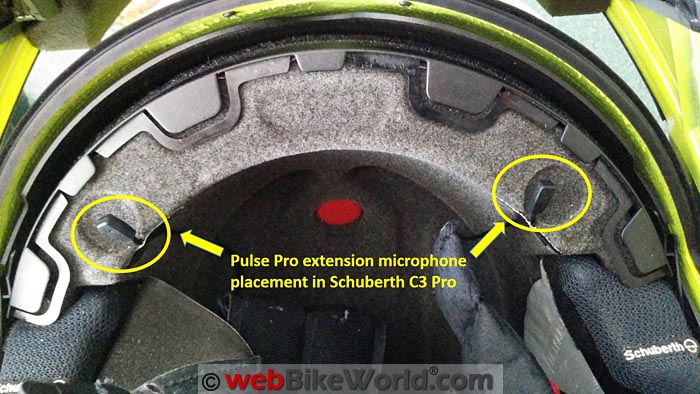 ---
Where to Buy UClear Pulse Speakers
Check Reviews & Prices on Amazon
Check Reviews & Prices On RevZilla
See More: Motorcycle Intercom, Motorcycle Accessories, Motorcycle Helmets
---
Pulse Plus Speakers Overview
The Pulse Plus Drop-In Speakers (PN HDS20D) have the same Pulse HD speakers as the Pulse Pro headset.
But this kit is a replacement for standard speakers in other brands of intercoms that use the standard 3.5 mm jack.
The Pulse Plus speaker kit can also be used to listen to music on an MP3 player, cell phone or other device.
With universal fitment and a gold-plated 3.5 mm stereo jack, this kit can be installed in virtually any helmet and connected to an audio or communications system, wired or wireless.
The Pulse Plus speaker kit includes a slim and unobtrusive inline volume controller. It is identified as "glove friendly", although it is definitely less friendly with mid to heavy-weight gloves.
Featuring a built-in microphone and basic media controls, the controller, when used with compatible devices, works to change audio tracks, adjust volume, mute, and answer phone calls.
The controller is specifically designed for Android-based devices, like the Nexus 5 and Nexus 7.
But most of its functions were useable with a Nokia Lumia 830 Windows Phone as well.
It may not work as a motorcycle intercom microphone replacement but you can switch off the mic and use your intercom boom or wired mic for intercom conversations.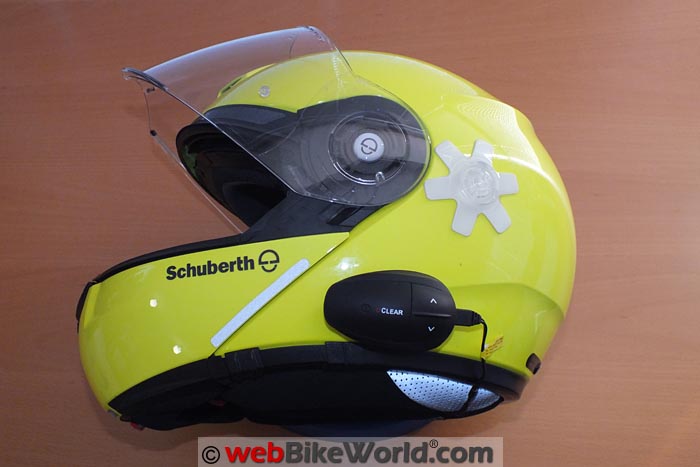 UClear Pulse Speaker Performance
I will be succinct here: Wow!
Audio from the Pulse speakers is, to say the least, outstanding in every way.
There are no rumbles, no tinny sounds, no distortion.
Just pure high definition, 100% enjoyable audio, no matter the music source.
I haven't used many of the different accessory speaker systems that have been reviewed on webBikeWorld so I'm not sure how the Pulse speakers compare.
But from my perspective, these are the absolute best speakers I have ever used.
Turning the volume down on both the source device and the headset (depending on which Pulse system is in use) is advisable to start.
I activated a favourite pulsing rhythmic track from my Ticket List collection on the Nexus 5 streamed to the HBC200 on the SCHUBERTH C3 Pro with the Pulse Pro headset installed.
It was like walking into a concert hall hosting the group.
In using an assortment of different helmets with the Pulse speakers so far on a variety of motorcycles with and without fairings, the many strengths and uniqueness of the UClear headset and speakers systems always come to the fore.
For intercom and phone call audio clarity and fidelity, the Pulse Pro headset is virtually peerless.
UClear Intercoms and Flip-Up Helmets
Flip-up helmets like the SCHUBERTH C3 Pro and others are perfect candidates for UClear intercom systems with their integrated Adaptive Beam Forming microphones and speaker combination units eliminating the need for installing a boom mic.
In having previously installed the UClear Pro Mic system under the front upper brim area of the helmet, the swap-over to the new Pulse Pro kit was a breeze.
The in-helmet audio environment is vastly improved, thanks to the outstanding performance of the Pulse speakers.
Maintaining a viable audio environment (music, phone or intercom) on almost any motorcycle at speed is no problem with the Pulse Pro kit.
Also, I installed the Pulse Plus speaker kit in a couple of other helmets using the different Cardo intercom systems.
These speakers also provided an unequalled audio boost. The difference over the stock Cardo speakers is amazing.
In appreciating that some of the overall audio environment (often the bass) is always lost at speed, the UClear Pulse speakers just keep providing extremely high quality audio.
Conclusion
The fact that every individual will have their own audio experiences when using a personal headset or a motorcycle intercom doesn't detract much from just how impressive the Pulse speaker kits are.
All three of the Pulse speaker kits provide the same outstanding audio playback.
The feature differences between the three kits allows you to tailor the requirements by selecting the applicable kit or kits, with no performance tradeoffs or compromises.
However, not all of the intercom systems will provide the same quality audio output.
There is still a broad baseline regarding audio quality and output between manufacturers and models.
Sometimes these differences can be explained and sometimes not.
Bottom line: motorcycle intercoms and personal audio headsets seem to get better in an ever-accelerating curve and for that we are fortunate.
But for now, at least for my helmets, the Pulse Plus Drop-In Speakers and Pulse Pro headset replacement for UClear intercoms get the nod as the way to go for quality sound on the road.
w

BW

 Review: UClear Pulse Speakers
List Price (2016): $39.95-$69.99
Sizes: Fits UClear or other intercoms.
Note:
 For informational use only. All material and photographs are Copyright © webWorld International, LLC since 2000. All rights reserved. See the webBikeWorld® 
Site Info page
. Product specifications, features and details may change or differ from our descriptions. Always check before purchasing. Read the
Terms and Conditions
!
---
Where to Buy UClear Pulse Speakers
Check Reviews & Prices on Amazon
Check Reviews & Prices On RevZilla
See More: Motorcycle Intercom, Motorcycle Accessories, Motorcycle Helmets
---
Owner Comments and Feedback
---
From "T.F." (April 2016): "Thanks for the review. I order these after your review. I have had the HBC100 series then upgraded to the HBC200 after that review of yours.
I love the system but the audio was low at times and needed more bass to get a more realistic playback. Well these new Pulse Pro's are great!
My wife walked in as I was jamming out in the Den testing them out to some AC/DC. I bounced through 3 or 4 genres of music and they all sounded so much better then before!
These are so much more louder then the old Pro speakers I was using. These work in all my helmets other then the half helmets. I know that I can wear ear protection and still hear the music now clearly. Best upgrade to my UClear (intercoms) yet!"
---
From "T.G." (March 2016): "Have you tried the speakers with beam forming mics on the road yet? How well do they work with the visor up or cracked open at speed?
I typically ride with the visor open at least a little due to how horrible most helmets are about vents in front getting any air on the face.
Also any idea if these will work with other brands of intercoms?"
Editor's Reply: As noted in the review, the Pulse HD and Pulse Plus speakers will work with any intercom or audio device using a standard 3.5 mm input.
The Pulse Pro is designed for use with the UClear intercoms only, as noted in the review.
H.B.C.'s Reply: Like all of the UClear headset systems, the Adaptive Beam Forming mics on the Pulse Pro headset works extremely well in dealing with helmet/cockpit noise changes.
When opening or closing the shield or even just adjusting its placement, there may be a very momentary period (typically milliseconds) where speech is impacted.
But as the system is constantly and rapidly sampling input and the ambient environment, noise filtering and speech optimization will seem almost instantaneous.
The UClear systems are still the very best in handling these challenges.
I've used three-quarter or half-helmets with or without a shield of some sort for testing on un-faired motorcycles, with virtually no impact on speech during phone or intercom activities for the most part.
But having said this, there can still be variables, such as proper placement of the integrated speaker/microphone modules or of the mic on the UClear standard or optional speakers or with the Pulse Pro headset extension audio pick-ups that form the virtual and optimal microphone environment.
A real-world test is to move out into or stand in a very noisy environment and turn the headsets on and start an intercom session or call someone.
By the time the intercom session or call starts, you will probably find that all or most of the ambient noise has been filtered out and/or suppressed.
Other WebBikeWorld Intercom Posts