Twiins Bluetooth Intercom Image Gallery
Compatibility
As confirmed by the representative, Twiins will only work with another Twiins when it comes to pairing up for intercom use.
This is not unusual as there are very few systems on the market that are backwards or laterally compatible with similar systems – Cardo products being one notable exception.
Soapbox time: While on the topic of compatibility, it should be noted that far too many Bluetooth adapters (BTAs) are proprietary in nature.
Even though the outcome was expected, I tried to pair the Twiins modules with the iCombi AG 12, a Camos BH-200M, the wiRevo D1000 and, the Albrecht BP-100. No joy here.
This is not a shortfall specific to the Twiins system, but it does illustrate my point. The ability to use a BTA with the Twiins would further expand the claimed device compatibility base, especially for the North American market.
Even though we often perceive ourselves to be media-saturated here in North America, in other markets virtually any type of media device available is now or can be made Bluetooth capable. Personal radio systems, as for group radio communications, are widely available as BT compatible devices.
And for what it might be worth, I would really like to get some additional radios, wired or Bluetooth enabled, to evaluate with the various headset systems that support use of a common radio.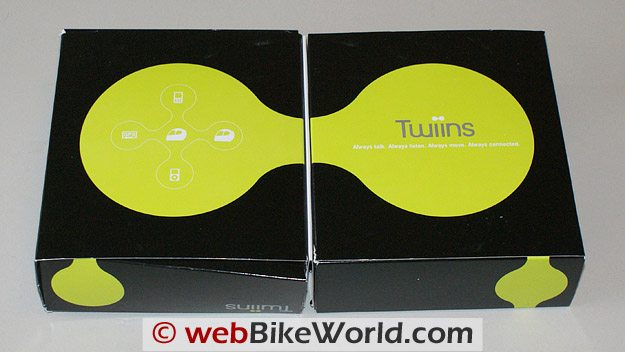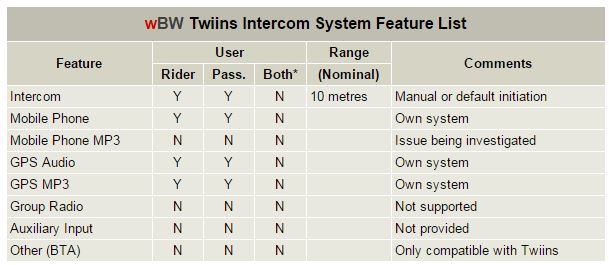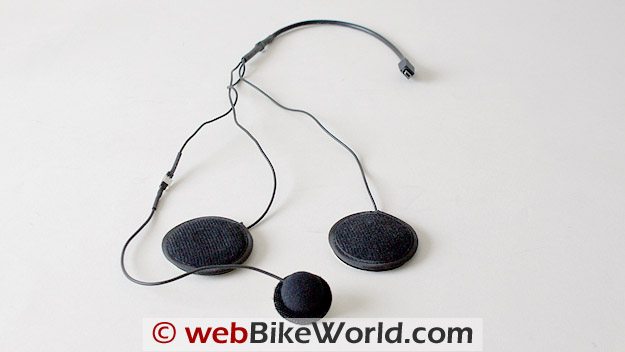 Twiins Bluetooth Intercom Bottom Line Ratings

Feature
Rating
Comments
Packaging
Very Good
The clam-shell style package displays and holds everything in an attractive and secure manner. Not getting a North American AC adapter is a downer.
Design
Excellent
Excellent. A simple, sleek and elegant device that might stand out a bit and it never goes un-noticed. Two controls are well placed, easy to find and very positive to operate.
Execution
Very Good
Reliable and easy to use clamp or adhesive mounts are simple but probably a bit on the light side, especially the snap tab – wear will reduce its effectiveness. All connectors and harnesses are heavy duty and should last a long time. Speakers are also heavy duty with excellent audio range. Right side speaker lead is likely to be short for some helmets.
Features
Very Good
What has been evaluated so far works extremely well…only the audio streaming shortfall keeps this rating from being higher. A really good option that I wish had been sent along is the Laryngophone or throat microphone, good for really noisy environments or as another placement option.
Fit
Very Good
Both mounting options work well and although the module sits out in the breeze more than many other systems, it rides well. The forward mounted headset connector is a solid fit but higher profile than usual: depending on where the hand is positioned when putting on the helmet, it might intrude. With use, plastic wear-in may be an issue.
Setup and Configuration
Very Good
The initial problems with the intercom configuration, were sorted out and that was that. The systems paired with every BT device presented, less the Bluetooth Adapters that is.Documentation is good, but some sequences are hard to follow and translation inconsistencies are evident. The DVD with its visualizations is a simple but worthwhile inclusion.
Performance
Very Good
This category could easily be higher if the audio streaming issue had been sorted out and if it is, the rating will be revised. The systems just plain work with everything paired and the intercom was seamless, although having Class 1 range would be icing on the cake. The heavy duty, large and powerful speakers are excellent – even mono audio sounds really good – they have zing.
Ease of Use
Excellent
Two simple controls that provide all necessary functions and are easily accessed with light to medium weight gloves and it only took me a couple of extra seconds to find the right control with my Ottawa winter riding gloves on as well. In this instance, the stylized horizontal delineation line actually helps. Audio tones are far too loud, but provide essential status information
Power
Very Good
This is based on normal phone and GPS use with occasional use of the GPS MP3 player. So this rating may change if full audio streaming can be realized. The use times identified in the manual seem accurate. For North American users or testers, the right plug would be appreciated, but I'm sure this will be addressed for the North American market.
Reliability
Very Good
Some wear of the plastic fit parts is evident but nothing has fallen off yet or broken. The headset connector and harness is well built and provides a tight seal, another plus in providing long life. The systems charge quickly, function seamlessly and do most of what they are claimed to do.
Maintenance and Support
Very Good
Nothing needed other than recharging and wiping off the spiffy shiny plastic surfaces. Support from the representative has been good, although it took some protracted email exchanges to finally get the right information, and just in time as well, given that the firm's traditional summer break was looming.
Cost
Good
This rating is based on pricing information found on one European site, the Twiins DUO is listed for 295.00 € which translates into approximately $460.00 CAD or about $420.00 USD.
Value
Good
This rating could be higher, but only if there is a solution (mono or stereo) to the audio streaming issue identified. Everything else is very high quality, especially the speakers.But until the audio streaming issue is resolved one way or another and unless you are satisfied with just having a really good looking and smoothly functioning BT headset for mobile phone use, the Twiins system may not represent good value.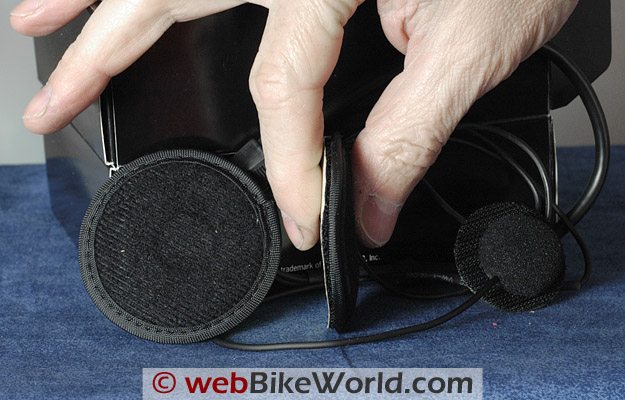 Specifications
Bluetooth version 1.2
Class 2 (2.5mW) for nominal intercom range of 10 metres (~33 feet)
Lithium Polymer Battery at 370mAh, full recharge in ~1.5 hours
Full Duplex 14-bit audio DSP Filter
Audio Ouput is 2W RMS on 16 Ohm, six adjustable volume levels or steps
Hands-Free (HFP) and Headset (HSP) functionality standard
Intercom function developed exclusively for Twiins
Up to ten (10) hours
Up to 900 hours of stand-by, from fully charged battery
Battery can stored for up to one year from a fully charged state
Two tactile pushbutton controls
Two LED indicators (Red and Green)
Acoustic status tones
Conclusion
The Twiins system has some real good highs and less the audio streaming issue, few lows.
Styling, if that's the word to use, sets it apart from many others on the market, as does its simple features and absolute functionality.
It may not be fully A2DP compliant (yet), but what it does, it does really well. Audio is crystal clear, tonal quality is really good based on phone and intercom audio and there is plenty of volume available at the press of a button.
The intercom link, once configured, always works with minimal delay and excellent clarity and users only need to appreciate its limited range.
Less the somewhat short headset leads and a bit of wear between the bracket and the module mounting point, the only other nit to pick is the lack of a worldwide or North American specific adapter.
Part 1: Twiins Bluetooth Intercom Introduction and Setup
NOTE:
 The webBikeWorld evaluators wear properly fitted ear plugs for intercom evaluations. This is reflected in the opinions on sound quality and speaker volume. Your experience may differ. Always protect your hearing when riding a motorcycle (
more
).
Note:
 For informational use only. All material and photographs are Copyright © webWorld International, LLC since 2000. All rights reserved. See the webBikeWorld® 
Site Info page
. Product specifications, features and details may change or differ from our descriptions. Always check before purchasing. Read the
Terms and Conditions
!
Owner Comments and Feedback