Urbano Seppia Invernale Gloves Review Summary
Seppia Invernale Gloves Image Gallery
The Tucano Urbano Seppia Invernale gloves are comfortable, warm and good-looking.They're kind of a "stealth" winter motorcycle glove because it's not easy to tell that there's a big, hard main knuckle protector under the corduroy-look exterior. The finger knuckles have small hard protectors also.
The gloves are completely waterproof, having passed the webBikeWorld "Bucket Test", but there's no info on what brand or type of breathable membrane is used. The gloves also have a Teflon outer treatment, which does repel a certain amount of water. The only problem with the Seppia Invernale gloves is that they do not have a secondary wrist strap to keep them firmly on the hands, and this is a serious fault for a motorcycle or scooter glove.
Introduction
Tucano Urbano is known for high style and good quality at reasonable prices, and the Seppia Invernale gloves are a good example.
I know that "Invernale" means winter, but I had to turn to both Google Translate and an online Italian-English dictionary to figure out "Seppia", which is either "sepia", the dark brown color, or "squid", which to motorcyclists is a rookie.
So we either have "Winter Squid" (doubtful) or something like "Dark Winter"? I'll take the latter…
The Seppia Invernale gloves have a very "stealthy" look, with an unusual fabric across the entire back that looks like a sort of horizontal corduroy, albeit with very tiny ridges.
The corduroy feels like it's made from some type of polyester, confirmed by the label, which states that the gloves are made from a combination of 60% polyester and 40% leather.
Another hang tag also states that the exterior polyester is treated with Teflon, and this is probably why light rain or water drops appear to bead up and disappear rather quickly.
The leather is used in the palm, underside of the fingers and thumb. It's a soft type that feels like goat skin, but there just isn't a lot of information or specifications on these gloves on the Tucano Urbano website or on the hang tags, so the type of leather is unknown.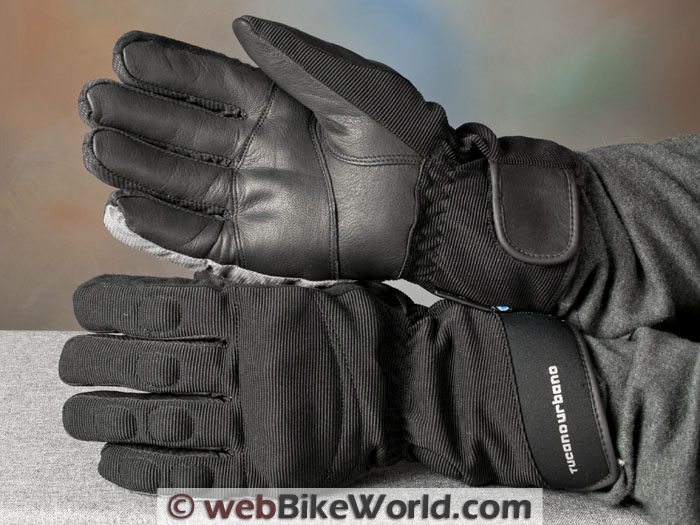 Waterproof
The gloves are listed as waterproof but the beautiful and stylish exterior doesn't seem to be something you'd want to get wet.
Nevertheless, and in the interest of research (and since Tucano Urbano lists the Seppia Invernale gloves with a "Fully waterproof and breathable inner membrane" label), I went ahead and ran the webBikeWorld "Bucket Test".
This means wearing the gloves while plunging them into a bucket of — in this case — ice cold water in an outside bucket. I had to break through a layer of ice to do it, but I figured this would also help evaluate the insulating capabilities of the gloves.
In a word, the Tucano Urbano Seppia Invernale gloves "Pass". Not a drop of water leaked through and actually, the gloves kept my hands surprisingly warm, even in that near-freezing bucket of liquid.
There is no information that I could find on what type of membrane is used in the gloves, so I'll bet it's not Gore-Tex brand, or surely Tucano Urbano would be trumpeting this fact on their website and on the hang tags?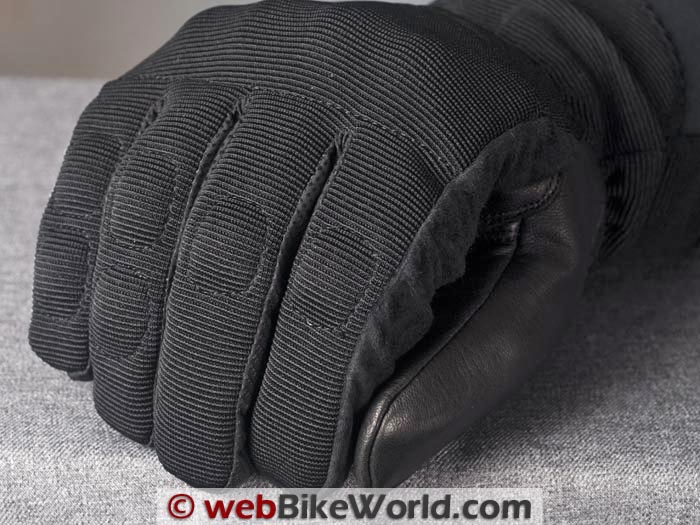 Ventilation
In another word, "None". There is no ventilation in the gloves, nor did I expect it. These are, after all, winter gloves. The idea is to keep the cold air (and water) out and the warmth in.
Insulation
Tucano Urbano does list the insulation brand and type for the Seppia Invernale gloves; it's DuPont Thermolite and there's even a hang tag that says so.
We"ve seen Thermolite used in other motorcycle clothing and gloves; it's basically hollow fibers that mimic goose down or other types of natural insulation and it works pretty well.
The Seppia Invernale gloves feel about average for thickness compared to other winter motorcycle gloves, which means thick and slightly bulky. But I have to say, either they minimized the amount of insulation in the palms or the leather helps because the gloves provide very good feel for the controls, compared to other winter gloves I've owned.
You can feel the large main knuckle protector, but not the secondary knuckle protectors, all hidden under the outer corduroy shell. Otherwise, the gloves feel more like a pair of ski gloves than motorcycle gloves.
Also like any other non-heated winter motorcycle gloves, my hands stay warm only to a certain point. I wouldn't want to do a 1,000 km ride in 6 C weather wearing these…but then again, who would?
That's why they make heated gloves…
I think the concept here is that the gloves look great and match very nicely with something like the very stylish Tucano Urbano "Trip" jacket (review). This way, you look good both on and off the bike (or scooter).
Anyway, the gloves actually do keep my hands pretty warm — as warm as other winter motorcycle gloves and, actually, warmer than I expected.
I'll credit the Thermolite insulation for that, which I think is more efficient than no-name brands or simply stuffing the gloves with leftover polyester filler or something.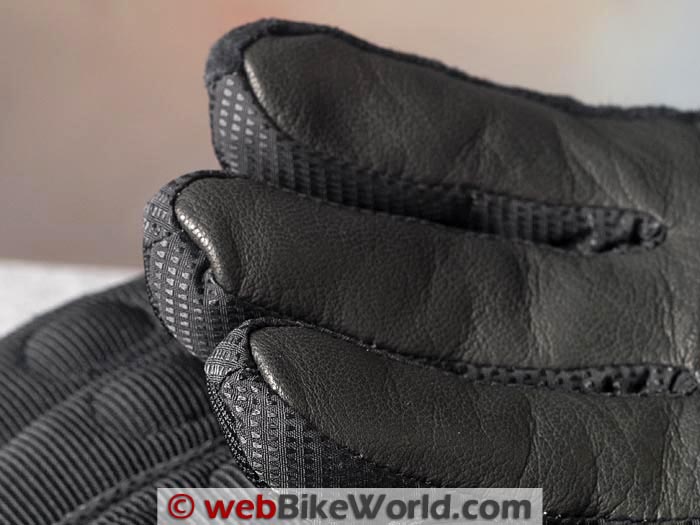 The Seppia Invernale gloves have a very soft full-length lining on the inside that feels like a type of micro-fleece.
Again, there's nothing to confirm this on the Tucano Urbano website or anywhere else I can find, so we have to go with the tag in the gloves, which says that the lining is 100% polyester. But it's very soft and plush polyester that feels more like silk or something.
The gloves have the "box" style finger and fingertip construction, with a "roof", "floor" and two "walls" meeting at the tip of the finger. This is typical for winter motorcycle gloves and it provides the room needed for the insulation and the waterproof membrane.
The lining fabric also seems to be attached along the fingers, so I had no problems pulling the Seppia Invernale gloves off my hands and having the liner turn inside-out, as sometimes happens with damp or sweaty hands.
w

BW

 Video: REV'IT! Oceanus GTX and Tucano Urbano Seppia Invernale Gloves
Fit and Sizing
This pair is a size Large and it feels maybe just a tiny bit bigger than expected. But that's fine, because if your hands get damp or sweaty, the extra room comes in, well, handy.
The fingers are nicely proportioned, although the thumbs are shorter than I'd like by maybe about 4-5 mm or so. My hands are average size, measuring 23 cm around the widest part of the palm.
My conclusion is that the Seppia Invernale gloves are sized correctly, so you can probably feel safe ordering your normal glove size. The gloves are available in XS to XXL sizes.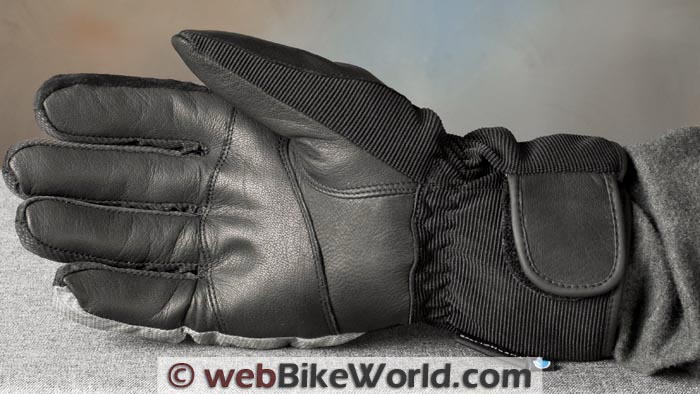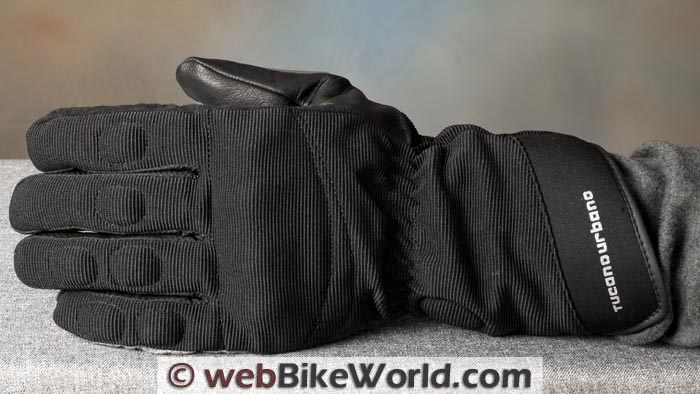 Other Features
The gloves have a visor wiper on the left-hand thumb. It is clear and made from some type of silicone or rubber. I don't really use these things and didn't have the opportunity to use it whilst I was evaluating the gloves, but it's there anyway.
Also, the outside of each glove edge has a very large section of very reflective fabric incorporated. It is unique in that it's the first time I know of where the entire outer edge of the glove hand is covered in reflective fabric.
It's a nice feature and as you can see in the photo below, the stuff lights up at night when it's illuminated.
Gauntlet and Closure
Here's the one problem I have with the Seppia Invernale gloves: there is no additional wrist strap for security, to keep the gloves on your hands. This is usually a "fatal flaw" in motorcycle gloves reviewed on webBikeWorld, so I need to mention it.
The gloves have an elastic strip that is sewn in under the wrist, and it keeps the cold air out but it's not strong enough to make sure the gloves remain on the hands. I can easily pull the gloves off with little effort.
The gauntlet is adequate; maybe a touch smaller in diameter than normal, but chances are you won't be wearing the Seppia Invernale gloves over a heavy motorcycle jacket, but probably over some type of style-focused urban jacket instead.
Still, I do think the gloves need a secondary strap, perhaps underneath, which could be tightened to make sure they'll stay on your hand in case of a crash.
The fact that the gloves have the hard knuckle protectors, which says "safety" or "protection", but not a wrist strap, is something of a paradox.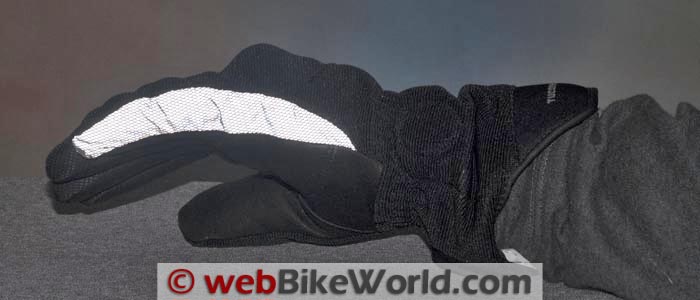 Conclusion
The Tucano Urbano Seppia Invernale gloves look the part of the fashionable Italian scooterist. They're comfortable and they'll keep your hands warmer than you might think.
The addition of the hard knuckle protectors, which are nicely hidden underneath the outer "skin", is a nice feature.
The gloves also provide very good feel for the grips, which is unusual, considering the winter insulation and waterproof membrane, which adds bulk.
But the absence of any type of wrist strap security is a bit of a problem for me. Maybe if I was commuting for short distances in the city on a scooter, I'd feel better, but I'm not, so I don't.
w

BW

 Review: Tucano Urbano Seppia Invernale Gloves
List Price (2013): £52.99
Made In: China
Colors: Black
Sizes: XS-2XL
Review Date: January 2014
Note:
 For informational use only. All material and photographs are Copyright © webWorld International, LLC since 2000. All rights reserved. See the webBikeWorld® 
Site Info page
. Product specifications, features and details may change or differ from our descriptions. Always check before purchasing. Read the
Terms and Conditions
!
Owner Comments and Feedback
---
From "H.S." (December 2013): "The Tucano Urbano gloves appear to have minimal protection from impact or abrasion. The thumb is half-fabric, there is no reinforcement in the palm or pinkie, and nothing on the wrist.
I know that winter gloves generally provide less impact protection, but compared to the Rev'it Oceanus GTX gloves (review), the Seppia Invernale gloves look feeble. The lack of protection goes well beyond the lack of a wrist strap, although that missing element is very important.
Tucano Urbano could have improved protection without compromising their admirable feel for the controls."