Urbano Dora Jacket Review Summary
Urbano Dora Jacket Image Gallery
Tucano Urbano must be almost unique in that they make just as many jackets for women as for men.
Sometimes they're even complementary versions of the same design.
Example: the Tucano Urbano "Mod" and "Modette" parkas of their wonderfully named "Mork" and "Mindy" quilted jackets.
When selecting items for review, I was spoiled for choice.
Eventually I picked the Dora because it looked like a practical commuter piece which could also be worn on arrival at my destination.
The cut and colour of the Dora appealed to me, as did the detachable furry collar.
Tucano Urbano's jolly, quirky products were already familiar to me from local scooter shops.
Their target market is commuters and scooter riders and the growing demand for gear that fits over work clothes and looks at home off as well as on the bike.
The company's best-known products are probably their "Termoscud" lap aprons for scooters and groovy neoprene muffs, but they also manufacture a range of jackets, gloves, waterproofs and helmets.
Their 2013 catalogue is a weighty number with products catering for every motorcycling taste, including kids' bike gear and some smart bags you'd be happy to tote into the office with you.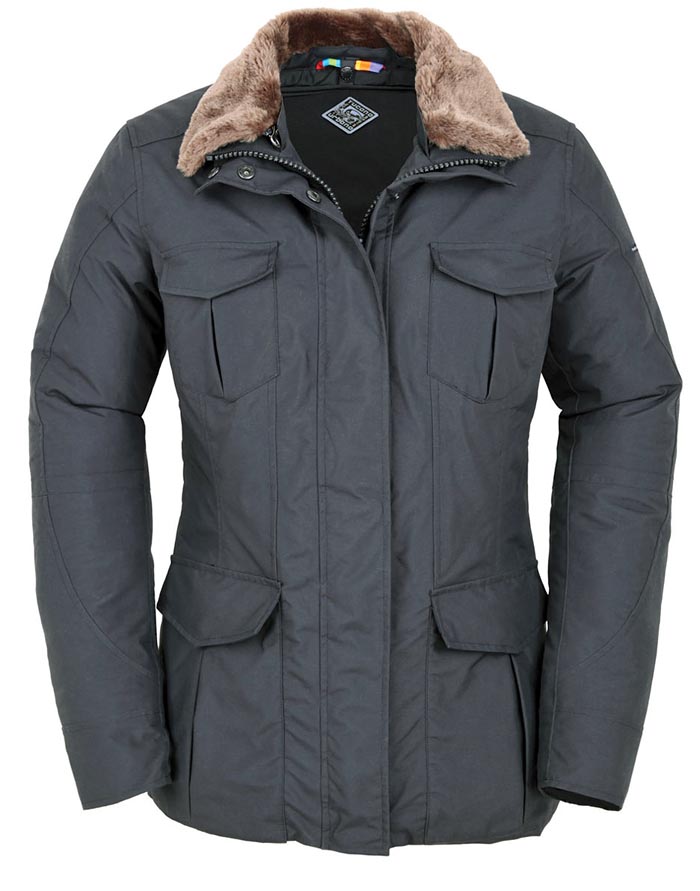 Tucano Urbano Dora Appearance and Fit
I ordered the Dora in my usual size, a European 40 (equivalent to a UK 12 or US 8).
When I tried it on, however, the jacket was undeniably tight under the arms, at the hips and across the bust.
It did do up, but I certainly wouldn't have been able to wear anything thicker than a T-shirt underneath it, so I exchanged it for a 42.
I was eager to get my hands on the replacement and start wearing it properly, because this is a beautiful, beautiful jacket.
It's styled after the manner of classic biking brands like Belstaff, and also nods in the direction of the Mods' army surplus fetish with a slightly military cut.
There can be no doubt, however, that this is a contemporary piece with an ethos all of its own.
The attention to detail and the thought that has gone into the design are typical of the brand, from the collar hang loop in Tucano Urbano's signature multi-coloured stripe to the discreet brand name patch on the shoulder.
(Incidentally, this is a jacket which would look great with a couple of club or visited-places patches added to the sleeves).
The fit still isn't quite right on me, with less room at the neck and armpits than I would like, but if I went up another size it would be too loose in other places.
On someone a little more lissom than I am, I don't doubt it would look and feel great.
I also habitually wear motorcycle overtrousers, which make the jacket tight around the waist and hips. Over ordinary trousers or Kevlar jeans, the effect would be much more svelte and flattering.
Sleeve length is spot on, which makes a refreshing change, and the overall length of the jacket is good, covering the buttocks to prevent 'bare back' riding.
The colour is described as "grey", but I'd call it black — perhaps "pale black" would be a suitable compromise?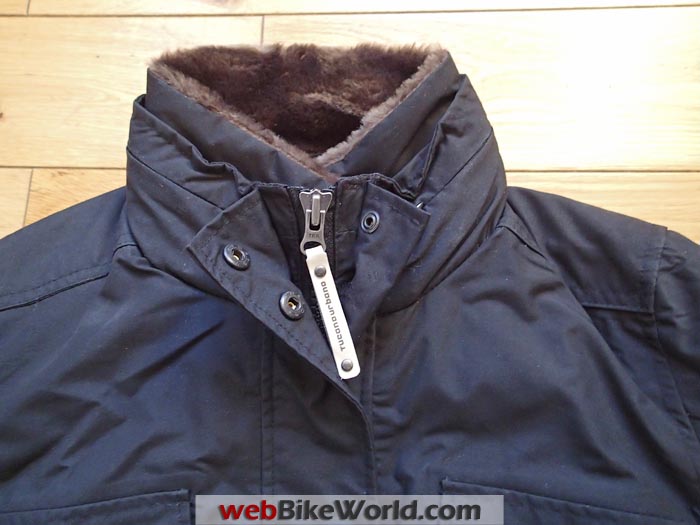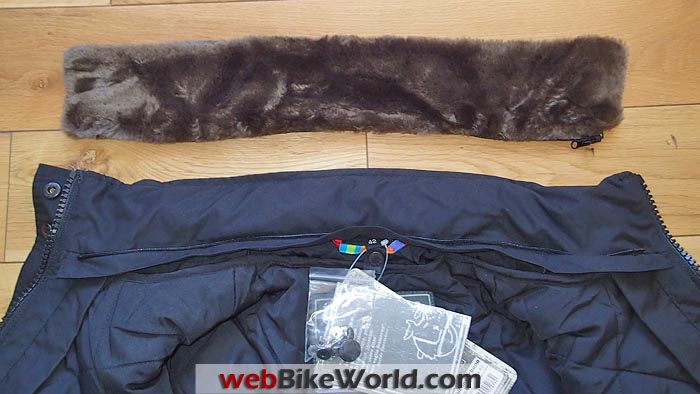 Fastenings and Pockets
The jacket fastens with a large, chunky zipper. It operates smoothly and feels very heavy-duty and secure when done up.
There's a long fabric tag labelled with the brand name to grasp, and a placket with snap fasteners that closes over the zip.
The fasteners, again, close with a purposeful click that suggests they won't be undoing in a hurry.
Another snap fastener on a tab at each side of the waist can be switched between two positions, allowing some size adjustment. The liner attaches with a zip on each side and a tab through the neck loop.
The furry collar looks ace and feels delightful, but with the jacket zipped up fully it gives me a quadruple chin, so I leave the collar open when walking around off the bike.
It's also too tight a fit to add a neck tube underneath, as I prefer to do so the helmet strap doesn't chafe. In the back of the collar there's a zipped compartment containing a hood, for those off-bike showers.
The cuffs don't fasten and aren't stretchy, so secure them over or under gloves to keep draughts from going up your arms.
The liner does have elasticated cuffs, but don't rely on them to keep the sleeves down.
The two waist-level pockets on the front of the jacket are wide and deep, with plenty of room for anything you might care to put in them. Their single central snap fastener closing doesn't make them terribly waterproof, however.
The sideways hand-warmer pockets tucked behind them are lined with fleece, which is a nice touch (and nice to touch).
In addition, there are two chest pockets, smaller but still large enough to be useful. For anything you want to keep dry, like a phone or wallet, it may be better to use an internal pocket.
Both the outer jacket and the liner have two inside pockets at waist level, and there's a slit in the liner allowing access to the outer jacket's internal pockets.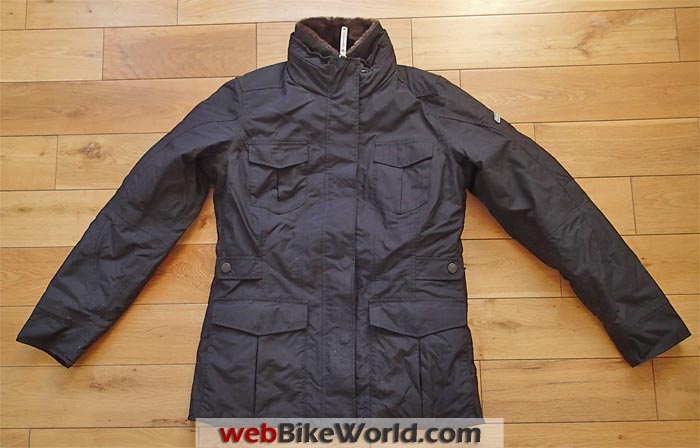 Safety Features
I must admit to having doubts about the safety of the Dora.
The polyester outer feels thin compared to the type of motorcycle jacket I'm used to, and I couldn't picture it holding up well to puncture or abrasion.
I spent some time mauling it around in the interests of science, and concluded that, on the contrary, the seams were well-sewn and unlikely to come apart, certainly in a town-speed incident.
(I could probably have pulled the pockets off with a little effort, but these are not vital to safety).
This isn't the kind of jacket that's plastered with hi-viz this and reflective that; it's supposed to be something that won't look out of place when there's no bike in sight, after all.
But there is a reflective patch featuring the Tucano Urbano toucan mascot, high up on the back below the collar. I always think this is a great place for reflective material, since even a small spot really shows up in headlights.
The Dora does not come with armour already fitted, but has pockets for optional elbow and shoulder protectors.
Tucano Urbano kindly supplied me with a set of Betac EN1621-1:1997 CE approved elbow and shoulder armour (photo below) along with the jacket.
This was surprisingly easy to fit in the internal pockets, closed with hook-and-loop and hidden below the liner.
There's no provision for a back pad, which makes me unlikely to wear this above urban speeds.
I do wonder how many commuters would bother to buy and fit armour.
But even without extra protection the fabric, stitching and fastenings of the Dora should be a step up for someone who has previously ridden in street clothes.
The Dora jacket does have an option for an airbag back protector system, however.
This is the Modulo Airbag that inflates in 80ms to a CE Level 2 protective device, certified to the EN 1621-2:2003 Level 2 standard. It can also be worn alone.
It's an option on many Tucano Urbano jackets, such as the Tucano Urbano Trip jacket (review)which was reviewed not long ago on webBikeWorld.
I still don't imagine the jacket would last long in a high-speed slide, but complaining about that is like complaining that your summer mesh jacket isn't very warm in winter; different jackets for different applications…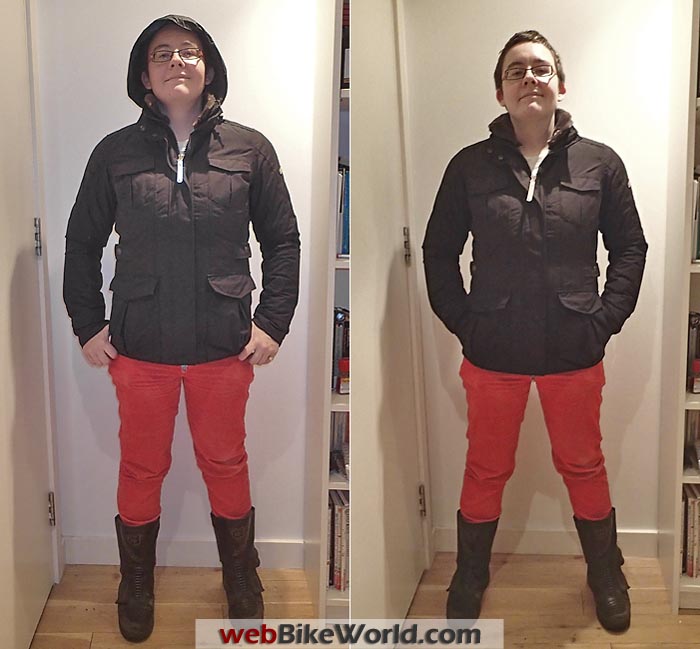 Warmth, Wind Resistance and Waterproofing
The Dora isn't an especially warm jacket, but with the quilted liner in it's fine for my forty-minute commute, which often finds me stuck in traffic and overheating.
I can also walk around off the bike in more comfort than usual; most motorcycle jackets are too heavy and toasty for strolling.
The quilted liner is quite thin, so it doesn't add too much bulk to the jacket.
Without the liner, the Dora feels light enough to wear year-round as a shower and windproof outer layer.
At urban speeds the jacket has held up well in up to an hour of light to heavy rain, with droplets perching cheekily on the surface rather than soaking through.
It did let a little water through during one winter evening's unexpected severe downpour, but, to be fair, so did everything else I was wearing.
The wind, too, might buffet me as I ride over Battersea Bridge of a morning, but it can't find a way in.
The anorak-style rain hood rolled up inside the collar proved very useful during a rainy dash from bike to shops, tightened by its elastic drawstring and plastic toggle.
It's even possible to extract it from its kennel while wearing the jacket, though good luck getting it back in again.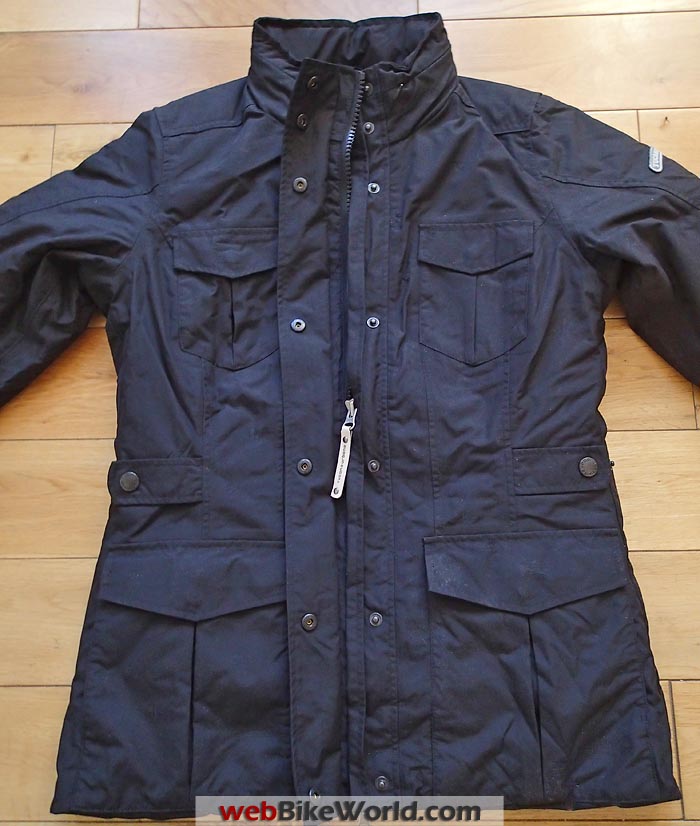 CE-Rated Protector Kit
As with the Trip jacket and many others from Tucano Urbano, the Dora jacket is available with an optional shoulder and elbow protector kit (aka "armor") that fits into pockets in the jacket shell.
The protectors are made by Betac S.r.l. in Italy. These are CE approved to the EN1621-1:1997 (Level 1) standard and they come with the official CE approval documents.
Too many motorcycle jackets claim "CE approved" armor, but if the protectors do not come with the official CE documentation package, they are not, so beware.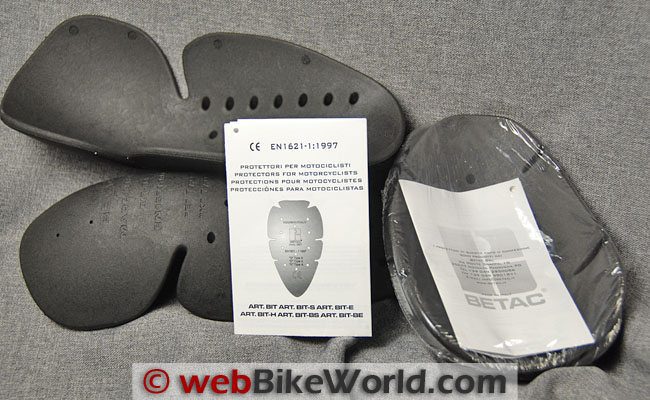 Conclusion
I'm probably not exactly the target market for this product.
I don't mind looking like a biker; it's a badge I wear with pride (although I do occasionally knock things over in restaurants with my elbow armour).
And I'm lucky enough to have a workplace I can stomp into with my kit on before throwing it in a locker for the day.
But for those whose work consists of travelling citywide between meetings, who have a more active post-work social life than I do, or who simply want to look a bit more chic while popping to the shops, the Dora will be a handy little number indeed.
It's even washable, so you can get rid of that city grime when your jacket starts to become socially unacceptable.
I went from being slightly unhappy about riding in the Dora because it felt too flimsy to be safe, to grudgingly impressed, to rather fond of its subtle styling and light weight. If the fit was slightly better for my shape I would rarely take it off.
w

BW

 Product Review: Tucano Urbano Dora Jacket
Manufacturer: Tucano Urbano (UK)
Worldwide Delivery: Urban Rider (UK)
List Price: £149.99 (~$250.00 USD)
Colours: Grey
Made In: Unknown
Sizes: 38 to 46 (Euro)
Review Date: March 2014
Note: Item provided by a retailer, distributor or manufacturer with these Terms and Conditions.
Note:
 For informational use only. All material and photographs are Copyright © webWorld International, LLC since 2000. All rights reserved. See the webBikeWorld® 
Site Info page
. Product specifications, features and details may change or differ from our descriptions. Always check before purchasing. Read the
Terms and Conditions
!
Owner  Comments and Feedback