Tucano Urbano "Calamaro" Gloves Review
It is seldom the season for mesh gloves in London; mine get so little wear I've been using the same ones since 2005. But occasionally it is time for something a little lighter, so I gave the Tucano Urbano Calamaro a try. With their leather palm and light textile upper, they looked ideal for warmer, drier days. Back in March,  my much-loved 
Tucano Urbano Aviatore gloves (review)
, which had seen me through the winter, were getting a little too warm.
So I ordered a pair of the Tucano Urbano Calamaro ("Squid") gloves for warm-weather riding. Naturally, as soon as the gloves arrived, the weather turned appalling and stayed that way for the next two months. I finally got a chance to wear the gloves in May, over a weekend of perfect sunshine spent riding with friends in the Yorkshire Dales.
Temperatures ranged from around 15 to 25 degrees centigrade and I rode everything from fast motorways to urban congestion, with plenty of winding country roads in between. I was also able to evaluate performance at altitude when we had lunch in Britain's highest pub, the Tan Hill Inn at 1732 feet above sea level!
Design and Appearance
At first glance, the Calamaro gloves look like cycling or mechanic's gloves. Up close, you notice that they are a little more heavy-duty than that. The leather palm is stitched to the fabric top side with small, neat stitches, and there's armour over the knuckles. The fabric blends smoothly into the leather; both surfaces are plain black, with a discreet "Tucano Urbano" in silver on the back of each wrist.
The leather used for the palm is quite thin, but supple and tough. The polyester top surface is a dense weave, very flexible, with a slight stretch. The short cuff section is made from neoprene, and has considerably more stretch in it.
A label inside one glove, easily torn off, lists the materials and provides a care guide (essentially: Don't wash! Don't tumble dry! Don't iron! Don't anything!).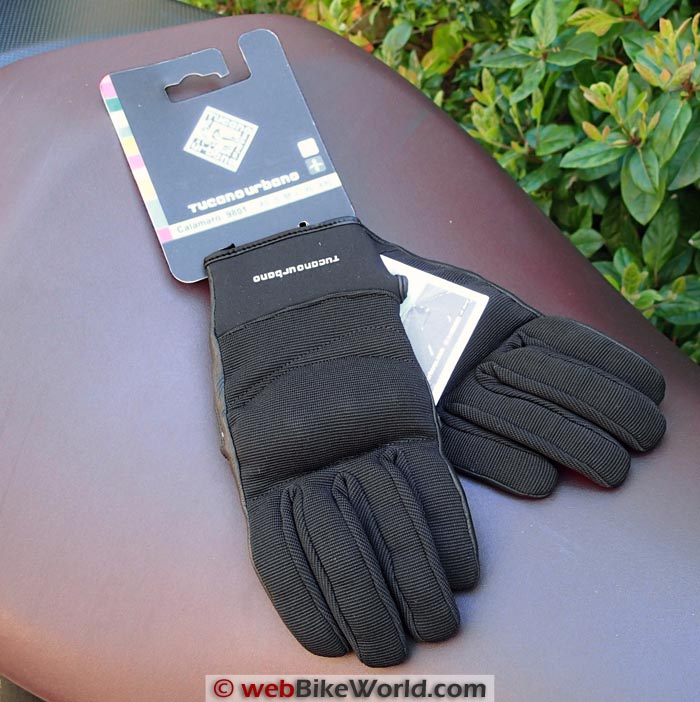 ---
Where to Buy Tucano Urbano Calamaro Gloves
Check Reviews & Prices on Amazon
Check Reviews & Prices On RevZilla
Also: Motorcycle Jackets, Motorcycle Gloves, Motorcycle Boots, Motorcycle Pants
---
Fit and Fastening
The stretchy polyester of the glove back ensures that these gloves fit, well, like a glove. They are snug to the hand, with no looseness or movement. Admittedly they are a little long in the fingers for me, but they are intended to be a men's glove.
The gloves fasten simply, with a single, large oval section of hook-and-loop on the neoprene cuff.
The stretchy fabric means you can close the fastener to a very tight fit, without discomfort. The tab is easy to open and close, even with one glove on.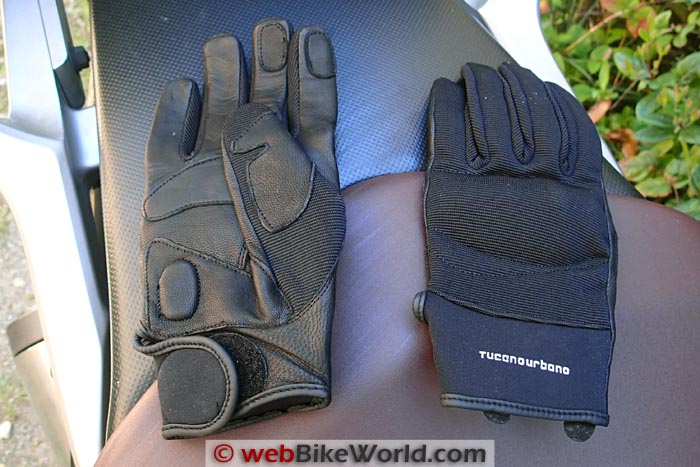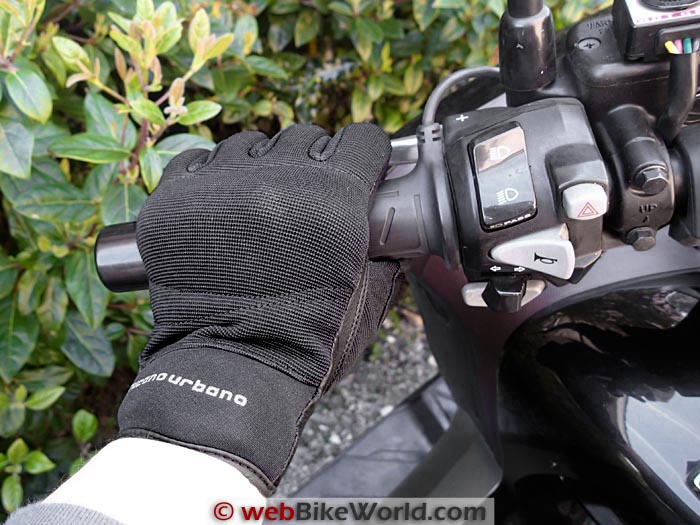 Protection
Lighter gloves can compromise on protection, and at first glance the Calamaro gloves (Calamari?) look a little skimpy. It's easy to miss the subtle contours of the knuckle protection under the textile skin, but it is there, although Tucano Urbano don't give any information on materials.
There are also small, hard pads covering the first and second joint of each finger.
These are so small and subtle, it took a week of riding before I noticed they were there. Obviously, they don't interfere with bending the fingers at all.
The palm side is reinforced with a second layer of leather around the thumb, at the base of the fingers, the heel of the hand, and the tips of the index and middle fingers.
The join between the different materials is the most likely weak point, but held up well when I tried some pulling and stretching.
It takes considerable effort to pull the gloves off without undoing the hook-and-loop closure (as I discovered the first time I tried to get my work pass out while parked on the downward ramp to the garage).
Unlike some gloves, the closure leaves no gaps to expose the wrist.
The stretchy fabric and cuff should ensure that all protection stays where it's needed in the event of an accident, although I've found the index finger section can get twisted round a little so the extra layer of leather isn't quite over the fingertip.
Being unlined, these aren't waterproof, so on longer trips you might want to carry a spare pair in case of showers.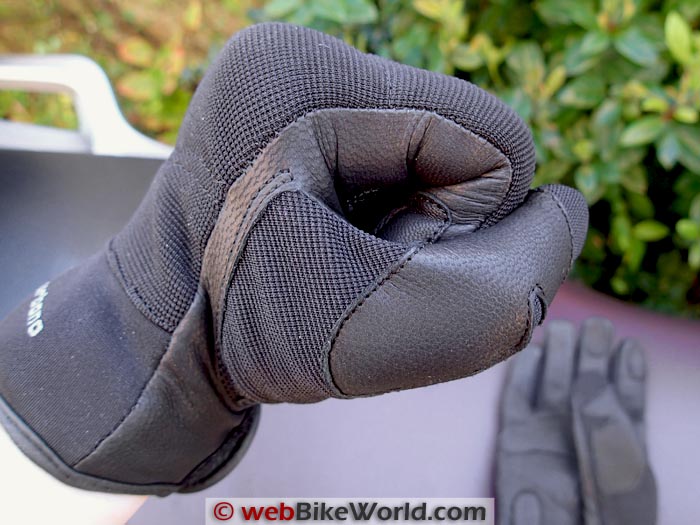 ---
Where to Buy Tucano Urbano Calamaro Gloves
Check Reviews & Prices on Amazon
Check Reviews & Prices On RevZilla
Also: Motorcycle Jackets, Motorcycle Gloves, Motorcycle Boots, Motorcycle Pants
---
Riding With Calamari
I have now been using the gloves daily for a couple of weeks, for commuting and weekend trips. The close-weave fabric lets a surprising amount of air through, especially between the fingers, without freezing me at high speeds.
Because I'm a wimp, I have occasionally felt the need to turn my heated grips on, and the warmth transfers nicely through the thin leather palms.
I always expect unlined gloves to be scratchy, but these are very comfortable, although after a long day's riding they chafe a little on the thumbs where the second layer of leather is stitched on.
It's early days, of course, but so far the gloves have stood up well to all sorts of abuse, including getting rained on, insect strikes, and spending their off duty hours crammed into my helmet — although I did end up with purple palms after I got caught in a downpour and the dye ran.
They have also protected my hands from occasional hits from loose stones. The secondary patches of leather show loose threads in a couple of places, but with no loss of structural integrity.
We have not yet had any truly hot and sticky weather, but things can get pretty warm in central London when the traffic is moving slowly.
So far, my hands have stayed reasonably cool, and I have been able to remove my gloves at the end of the ride without discovering sweaty palms that stick painfully to the inside of the glove.
Conclusion
Ideal for commuting on hot days, the Calamaro gloves will also stand up to longer outings on the road. A great summer glove that's not as chilly as mesh, but lets in enough air to keep you cool.
w

BW

 Review: Tucano Urbano Calamaro Gloves
List Price (2013): £42.99
Made In: Unknown
Colors: Black
Sizes: XS-2XL
Review Date: September 2014
Note:
 For informational use only. All material and photographs are Copyright © webWorld International, LLC since 2000. All rights reserved. See the webBikeWorld® 
Site Info page
. Product specifications, features and details may change or differ from our descriptions. Always check before purchasing. Read the
Terms and Conditions
!
---
Where to Buy Tucano Urbano Calamaro Gloves
Check Reviews & Prices on Amazon
Check Reviews & Prices On RevZilla
Also: Motorcycle Jackets, Motorcycle Gloves, Motorcycle Boots, Motorcycle Pants
---
Owner Comments and Feedback
Other WebBikeWorld Gloves Posts