When you have a classic design, there is little you can do to update it without tampering with the basics and getting it wrong.
Thankfully Triumph has only tweaked the edges of the Triumph Speedmaster over the years so it retains its same core styling and strengths.
The major change was back in 2009 when they converted the Bonneville engine from carby to fuel injection, but retained "dummy" carbs as their EFI throttle bodies so it looked the same. They even retained the choke, referring to it as a cold-start button.
In 2011 Triumph dropped the twin front discs to highlight the new five-spoke star wheel design. Its iconic design is highlighted by the drilled aluminium battery holder and similar bracket on the air filter.
I revisited the old girl to see if it still has what it takes to stir the soul.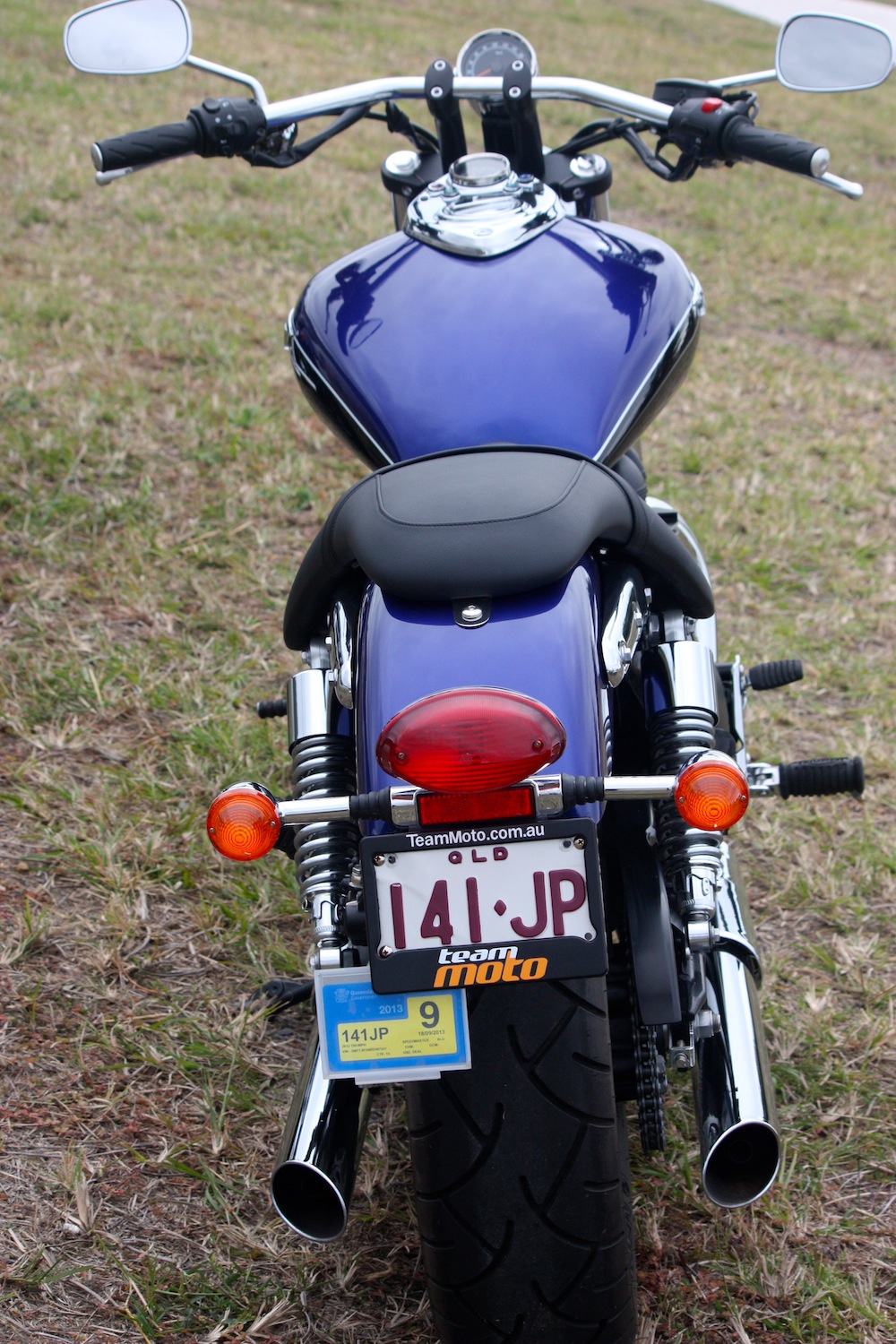 This is a bare-bones midweight cruiser with very little technology such as ABS or creature features like grip warmers. The main technological difference from most cruisers and its America brother is the addition of a tachometer sitting awkwardly on top of the bars.
At $13,990, it's the same price as the Yamaha XVS950A, a few hundred cheaper than the Harley 883 Iron, but more expensive than the Suzuki C50T ($11,290), Honda VT750 ($11,990) and Kawasaki VN900 ($12,499).
The America is unlike most midweight cruisers: It's powered by the iconic Bonneville 865cc parallel twin rather than a V-twin and has chain rather than belt or shaft drive.
The Triumph rates power output at a peak of 45kW at the relatively high revs of 6800rpm. It loves to rev more than most cruisers and doesn't have the bottom-end torque of its competitors.
The engine has a certain free-revving feeling that you either love or hate. Married to a decent aftermarket set of pipes, it has the most glorious roar.
The five-speed transmission has evenly spaced cogs for a smooth run up the order to highway speeds. However, you will have to drop back to fourth for highway passing, but it is a smooth gearbox for a cruiser.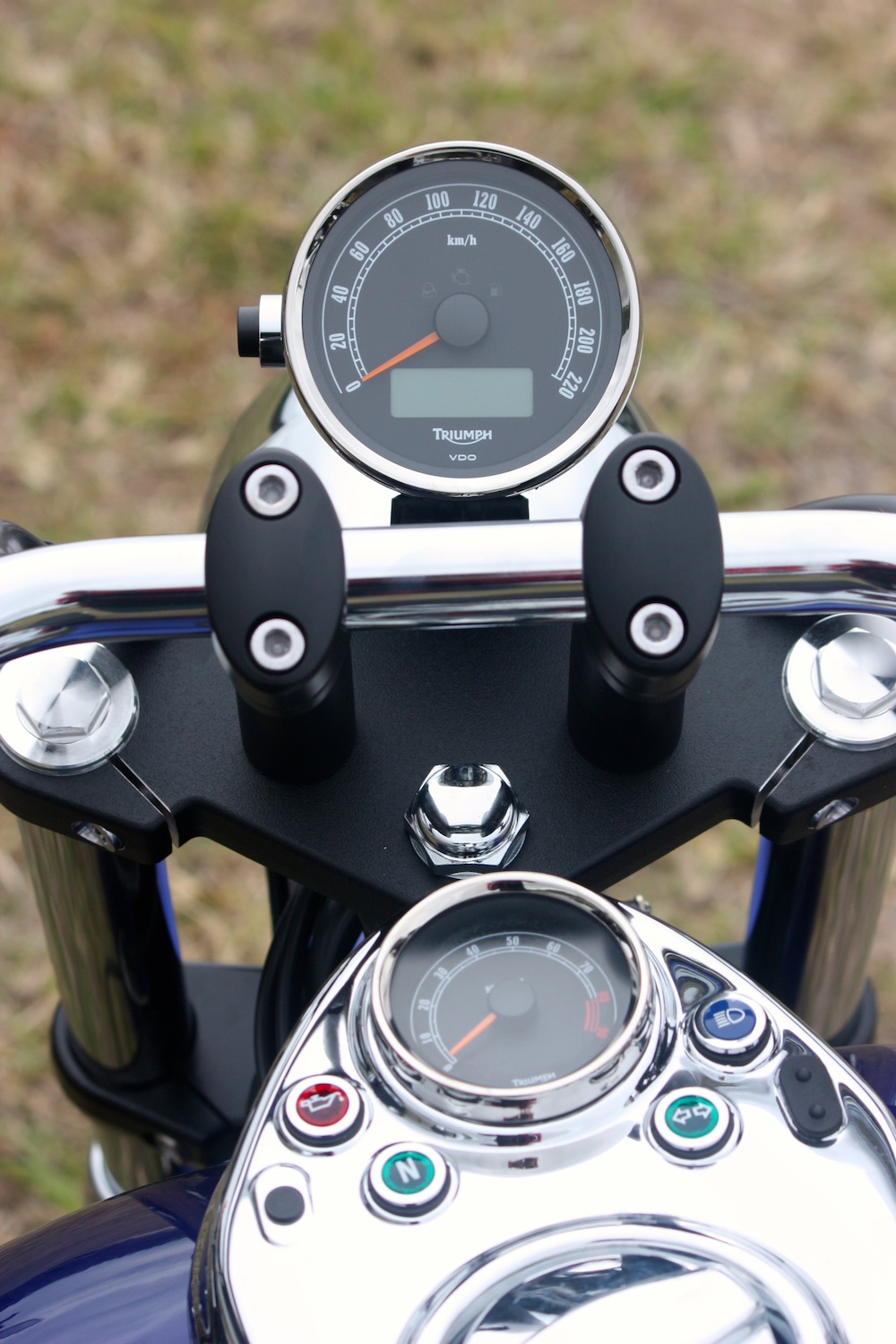 On test, it achieved modest fuel economy just below 5L/100km which gives respectable touring range of about 400km from the 19.5-litre tank.
Riders will find the riding position quite neutral, despite the forward pegs. It isn't a long reach for your legs and the drag-style bars also don't require any reach, bending nicely for the angle of your wrists. It's a comfortable, neutral position.
However, the seat seems to be made of the best British hardwood and you will probably best be served by ordering the lower gel seat. If a 3D mesh seat ever becomes available, get that as the gel seats can be hot in summer.
Pillions are best served on the America with its plush rear cushion, while the Speedy's cushion slopes away in a design ploy to match the curve of the rear fender. It results in the pillion feeling like they will slip off under acceleration. There are also no grab handles, only a seat sash.
The Speedy is a mixed bag in suspension with plush front forks with heaps of dive and an unforgiving rear end.
The result is a bucking rear end over bumps. We also found it easily locks the rear brake, probably because the soft front is diving into the tar and lifting the back wheel.
All this could easily be fixed with a set of Gazi shocks and a heavier fork spring.
Like most cruisers, it duly scrapes the tarmac with its footpegs. But at 250kg, it's quite light compared with its brethren and therefore it's flickable at low speeds.
One complaint is that the ignition key is still behind your left leg. It may be traditional, but it's ridiculous and it could easily be modernised without losing any of the bike's vintage feel.
There is a host of accessories available including saddle bags, larger windscreen, immobiliser, floorboards, pipes, sissy bar, lamps, engine bars and more chrome than you can poke a spoke at.
The Speedy is a little different to most cruisers and is a handy jack of all trades while master of none.
However, with a set of Gazi rear shocks, a heavier front spring and a comfort seat, it would tick a lot more boxes.
Triumph Speedmaster
Price: $13,990
Engine 865cc, DOHC, parallel-twin
Power: 45kW @ 6800rpm
Torque: 72Nm @ 3300rpm
Bore x Stroke: 90 x 68mm
Transmission: 5-speed, chain drive
Frame: tubular steel
Tyres: 100/90  R19; 170/80 B15
Suspension: 41mm forks; twin rear shocks with adjustable preload
Brakes: 310mm/285mm
Length: 2367mm
Width: 825m
Height: 1133mm
Seat: 690mm
Wheelbase: 1606mm
Fuel Tank: 19.3 litres
Kerb Weight: 250kg