Triumph Motorcycles looks like having another big year in 2019 with a possible 2.5-litre 134kW (180bhp) Rocket III and high-spec, limited-edition Triumph Factory Custom (TFC) models.
The Rocket III has already the biggest capacity engine of any production motorcycle with a 2294cc triple, delivering 221Nm of torque and 109kW of power.
However, rumours about an upgrade and the above photo have leaked from an October Triumph dealers meeting where the bike was wheeled out for a brief time.
Rocket photo
The Rocket III photo taken off a screen reveals quite a bit. 
It shows bigger forks, resigned cowl, new exhaust tips, beefier Brembo brakes and a more contoured rider's seat.
Most importantly, it goes from twin shocks and double-sided swingarm to a single-sided swingarm, probably with a hidden single shock.
Rumours are that the Rocket III will also include many of Triumph's high-tech rider-aid features such as traction control, cornering ABS and rider modes.
Other tech could include LED lighting, keyless ignition, Bluetooth connectivity and TFT instruments like all modern bikes seem to be getting.
There is no word on when the new Rocket will arrive, but if they have wheeled out a bike at the dealer conference, it should be available sometime next year.
TFC models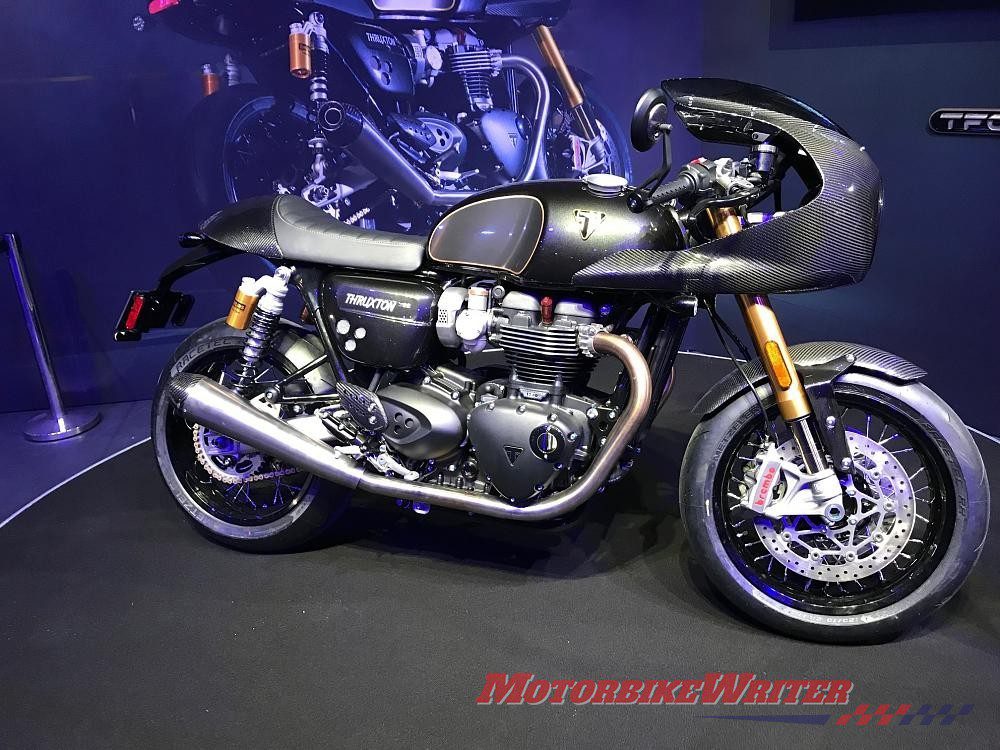 Triumph has also told dealers to expect a range of high-spec, limited-edition Triumph Factory Custom (TFC) models.They have had limited-edition and RS models before, but this seems to be a whole new class of bike.
For car enthusiasts think of AMG or HSV.
Triumph suggested TFC models in 2014 when it revealed the TFC Bobber and TFC Scrambler.
The first model will be a Thruxton R TFC in January 2019 with a carbonfibre bobble fairing.
It will weigh less, but have a beefed-up engine mapping, titanium Vance & Hines exhaust and revised riding modes. So it should be a rocket as well!
Suspension is top-shelf Öhlins NIX 30 forks with Öhlins piggyback rear shocks.
Brakes are Brembo radial callipers and radial master cylinder.
Triumph had a barnstorming 2018 being named the most satisfying brand by customers.
So 2019 is alreadfy looking good for Triumph fans!