It's difficult to update a modern retro bike, so Triumph hasn't bothered tampering with the Bonneville except to add three more special edition models which they unveiled at the Intermot show in Cologne.
It is not yet known whether Australia will get any or all, but if they, they are worth snapping up as they keep their value very nicely.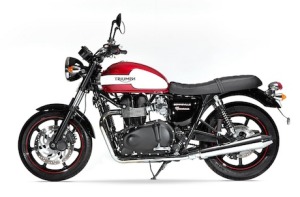 The three new Bonnes unveiled at the Intermot show in Cologne are the T214, the Newchurch and the Spirit.
The T214 is named after the 214mph speed record set by Johnny Allen in 1956 at Bonneville on a Thunderbird streamliner. The record led to Triumph launching the Bonneville name. out comes in the same blue-and-white paint scheme, plus loads of chrome, a red seat and smaller headlight.
Only 1000 will be made and Triumph has launched a Land Speed Clothing range to go with the T214. Australia is one of the first markets to get the bike and pricing has been confirmed at $14490, plus on-road costs which is $500 less than a T100  SE.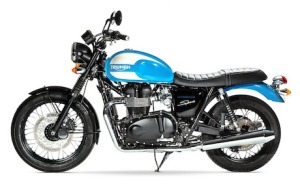 The Newchurch is named after Neukirchen, the location of the Tridays festival in Austria. It comes with lashings of black on the mudguards, headlight bowl, bars, mirrors and springs which is offset by the black-and-red alloy wheels. It has a custom low-profile seat (nice, but ouch!) and a modern Bonneville tank badge. It's not a limited edition and arrives in Australia in April in red/white or blue/white. Price is $12,990 plus on-roads.
The Bonneville Spirit special edition is like a T100 Black,  but it gets the Scrambler headlight and the shorter Thruxton rear mudguard from the Thruxton. You could probably make one yourself from the parts catalogue. Otherwise, you will have to wait until they arrive next autumn in Australia at $13,990 plus on-roads.
 Meanwhile, Triumph has also added an RX version to their popular Street Triple. It's based on a Street Triple R with the Daytona 675 rear subframe and tail for limited pillion access.
Extras include a quickshifter,  bellypan, front cowl and unique red and silver paint. It will arrive in Australia in February at $14,990 plus on-roads.