Triumph Motorcycles has issued a worldwide recall of the new water-cooled Bonneville T120 and T120 Black motorcycles with heated grips due to possible sticking throttle issues.
Triumph says the heated hand grips on the T120 may expand, causing the throttle to stick, which can increase the risk of a crash.
The notice issued by the ACCC says:
The air-gap between the end of the throttle twist grip rubber and the handlebar end weight on heated handlebar grips may be too small. This could cause the grip (when heated) to expand beyond its air-gap and make contact with the handle bar end weight.

If this occurs, the throttle will no longer return as intended to its positive stop via spring force only, but will require some manual intervention to close the throttle.
Triumph Australia spokesman Dale McBride says there are "no reports of the issue to date".
Consumers are asked to contact their nearest authorised Triumph motorcycles dealer to arrange for the inspection and repair of their motorcycle.
Dealers will install a spacer free of charge to prevent the throttle from sticking.
The recall has been announced in the USA to take effect from February 20, but it is effective immediately in Australia.
Other recalls
The recall for the new model follows a recall in November 2016 over a fault in the fuel tank wiring which could cause a fire.
Models affected are the 900cc Triumph Street Twin, Bonneville T100 and Bonneville T100 Black, as well as the 1200cc Bonneville T120 Black, Thruxton 1200 and Thruxton 1200R models.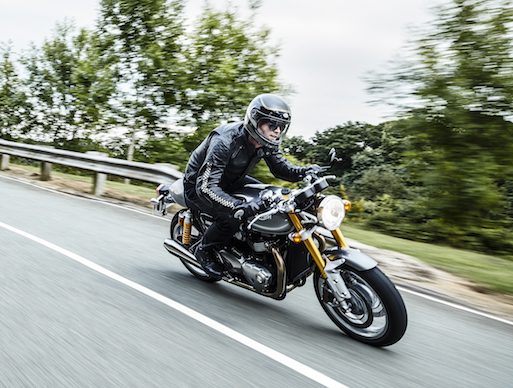 To identify whether your bike is affected, check this VIN (Vehicle identification number) list.
VIN list: Fuel Tank Subharness Fault
Models Affected
Vin Range
Production Dates
From
To
Beginning
Ending
Bonneville T100
759204
794799
20/5/16
6/10/16
Bonneville T100 Black
765369
794585
27/5/16
5/10/16
Thruxton 1200
743684
793611
15/12/15
28/9/16
Thruxton 1200R
740405
794605
24/1/16
6/10/16
Street Twin
731919
794789
7/9/15
4/10/16
Bonneville T120 Black
741136
794575
2/12/15
3/10/16
To check whether your motorcycle has been recalled, click on these sites:
• USA
• UK
• Canada