Triumph Explorer 1200: The English have again taken the Germans back to the drawing board to try to reinvent a better bike.
Last time it was the Triumph Tiger 800 XC which was a bold imitation of the BMW F 800 GS.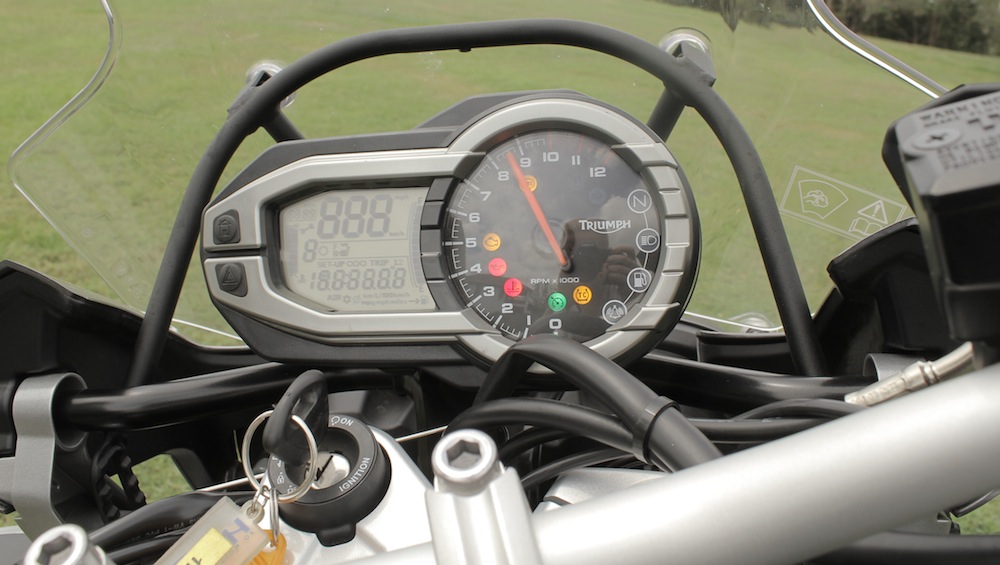 It was a good attempt and they have also done it with the Tiger Explorer 1200 which is an imitation of the popular BMW R 1200 GS.
The Triumph engineers have obviously listened to GS users. It shows in things like the bigger alternator to handle all the extra electrics such as CB and GPS that users bolt on.
However, the biggest failing in the exercise is the extra 30kg. It's a pretty big flaw in an already heavy adventure bike, even though the new water-cooled GS came in about 9kg heavier than before.
But if you look at the Triumph Explorer as an all-road bike with very occasional dirt-road use – as many will – then it is an exceptional touring machine.
At $21,970 (plus on-road costs), the Explorer undercut the GS, but BMW hit back with about $2000 price discounts and the Brits returned fire with the offer of $1100 worth of panniers thrown in. Now the new GS comes in at $21,250.
Still, it's not exactly comparing apples with apples. The Explorer has cruise control standard not an option like the GS, but the Triumph doesn't have the option of electronic suspension like the GS or Ducati Multistrada.
The inclusion of cruise control shows that this is intended more for tarmac touring than dirty adventures.
It seems strange that handlebar warmers are an optional extra rather than a standard inclusion. Surely handlebar warmers are more necessary for adventure riding than cruise control.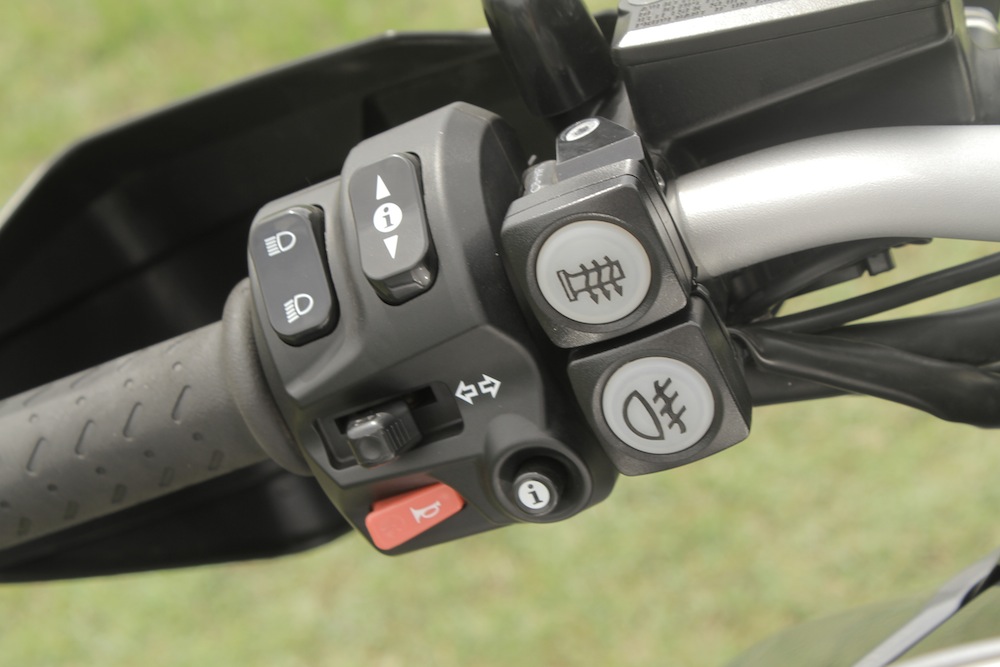 The ugly bar warmer buttons on the left handlebar also look very "aftermarket". They have a light on them to indicate when they are switched on but you can't see it in broad daylight and there is no indication light on the instrument LCD screen, either.
The Triumph Explorer arrived with mag wheels rather than spokes, although spoke alternatives have now arrived. If the BMW experience is anything to go by, most buyers will choose mags and road-biased tyres rather than spokes and knobbies, anyway.
Like the BMW's wheels, the Triumph spoked wheels will also allow fitment of tubeless tyres.
The biggest difference from the GS, Multistrada or Moto Guzzi Stelvio is that this is a triple, not a twin.
And that totally changes the character of the bike.
The Triumph Explorer has far more kick in the midrange, better top end, a totally different sound and feel. It's more like a Speed Triple on steroids than an adventure bike.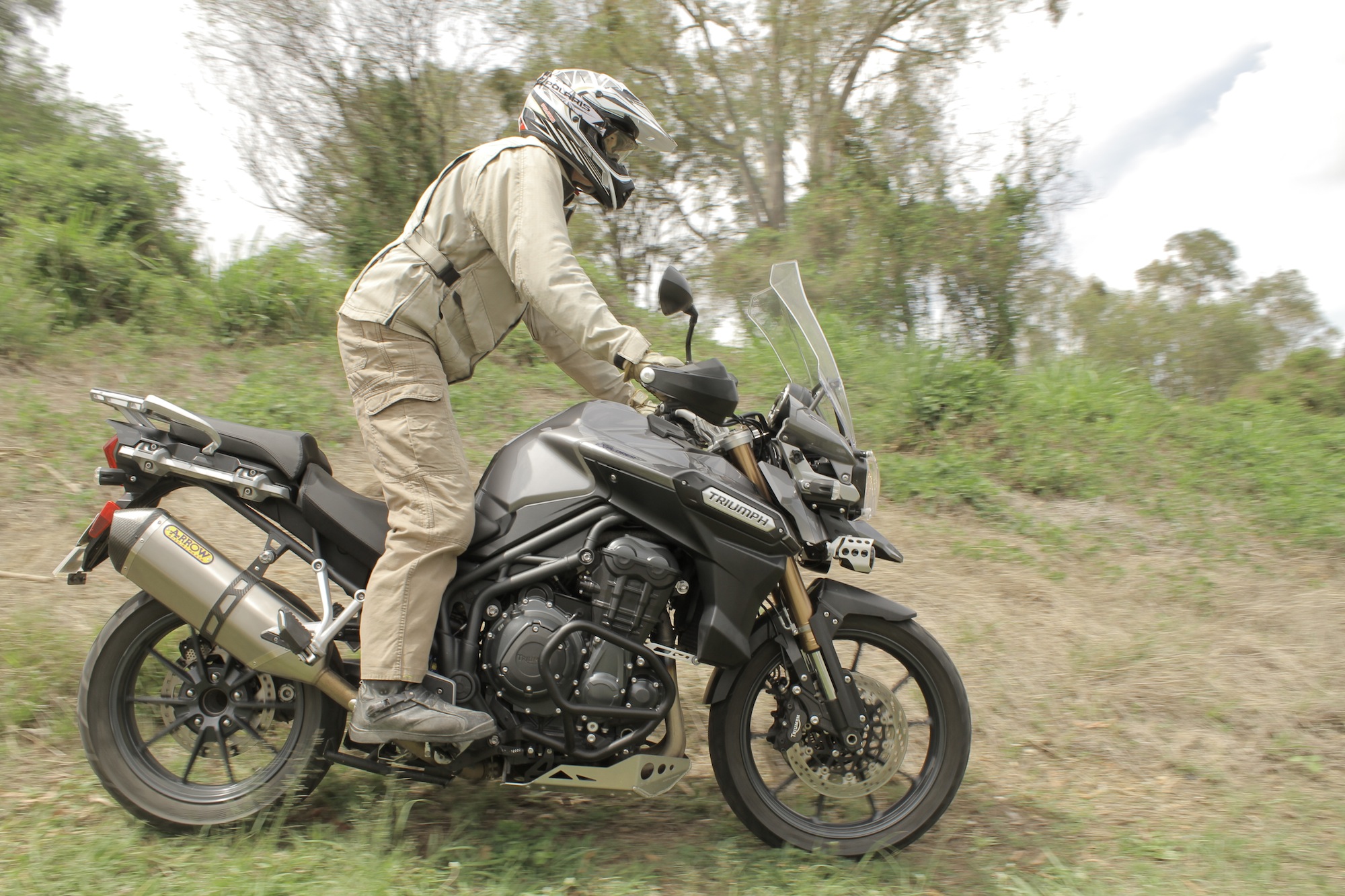 Throttle response from the drive by wire, fuel-injected engine is a little twitchy and snatchy which makes slow-speed maneuvres and tight trails difficult to negotiate. Hit a rock or bump and your throttle hand could send the bike spearing off into the bushes at a rate of knots.
But get the bike out of the tar with the engine singing in the mid-rev range and it returns instant response for rapid passing maneuvres without having to drop down a gear.
Speaking of cogs, they are well selected ratios for road riding with good positive connection and an easy to find neutral. First gear is a little high for negotiating tight trails, though.
The engine issues a satisfying harmony of induction and exhaust noises typical of the triple cylinder growl.
However, we found the engine runs hot and blow a lot of that heat on to both legs and makes the rider's seat uncomfortably warm.
That may be fine in an English winter, but it's quite unsettling in an Australian summer.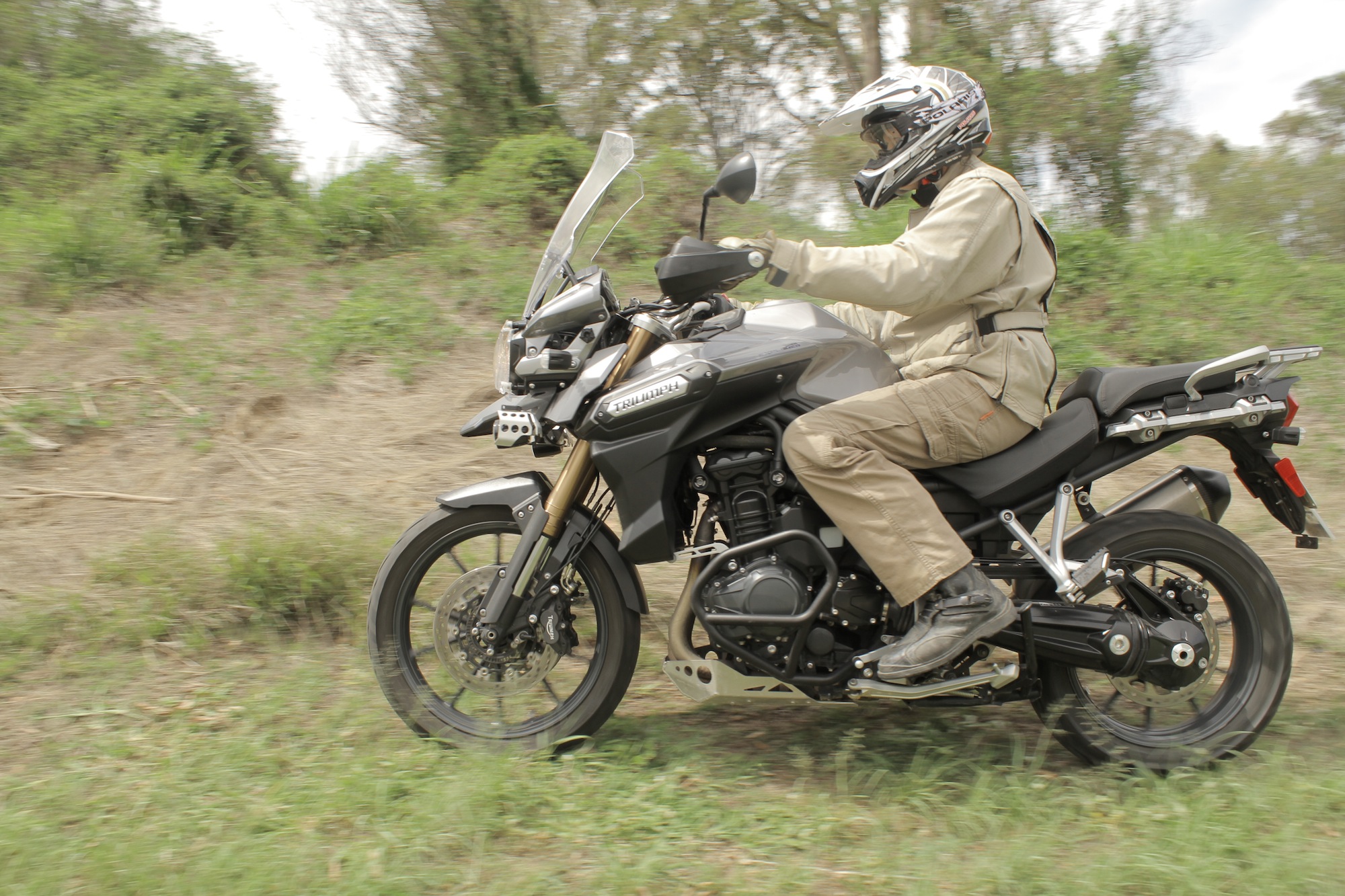 The heat is bad enough in traffic but it doesn't dissipate with speed, either.
It's not only hot in the go department but also in the stopping department. The front brake is very powerful with plenty of feel and progression although with a bit too much initial bite for off-road duties.
The rear brake is one of the best I have used. It's not only strong, but also provides good feedback, making it excellent for off-road duties.
Where this bike shines is on twisty, rough roads.
The fully adjustable, long-travel conventional suspension arrangement feels up to the task of the most grueling surface.
It changes direction quickly and nimbly, turns in rapidly and feels positive and in control. Riders will feel totally connected to the road.
At low speeds you can feel the high centre of gravity and extra weight, yet it doesn't feel twitchy at high speeds.
In fact, it's very stable on the highways and byways and will gallop on for kilometre after kilometre, making it an excellent cross-country tourer.
Fuel economy is pretty good at 5.5L/100km on test, which is similar to the GS, but the tank is three litres smaller at 20 litres, which shortens its effective touring range.
The ergonomics are good for long spells with a neutral riding position and leisurely reach to the wide bars.
Footpegs are a little high, but you can easily raise the seat to provide more legroom.
Thankfully the seat is also easy to remove and replace. However, it's not as comfortable a seat as the GS, which is a shame as the Tiger has a much more comfy seat than the F 800 GS.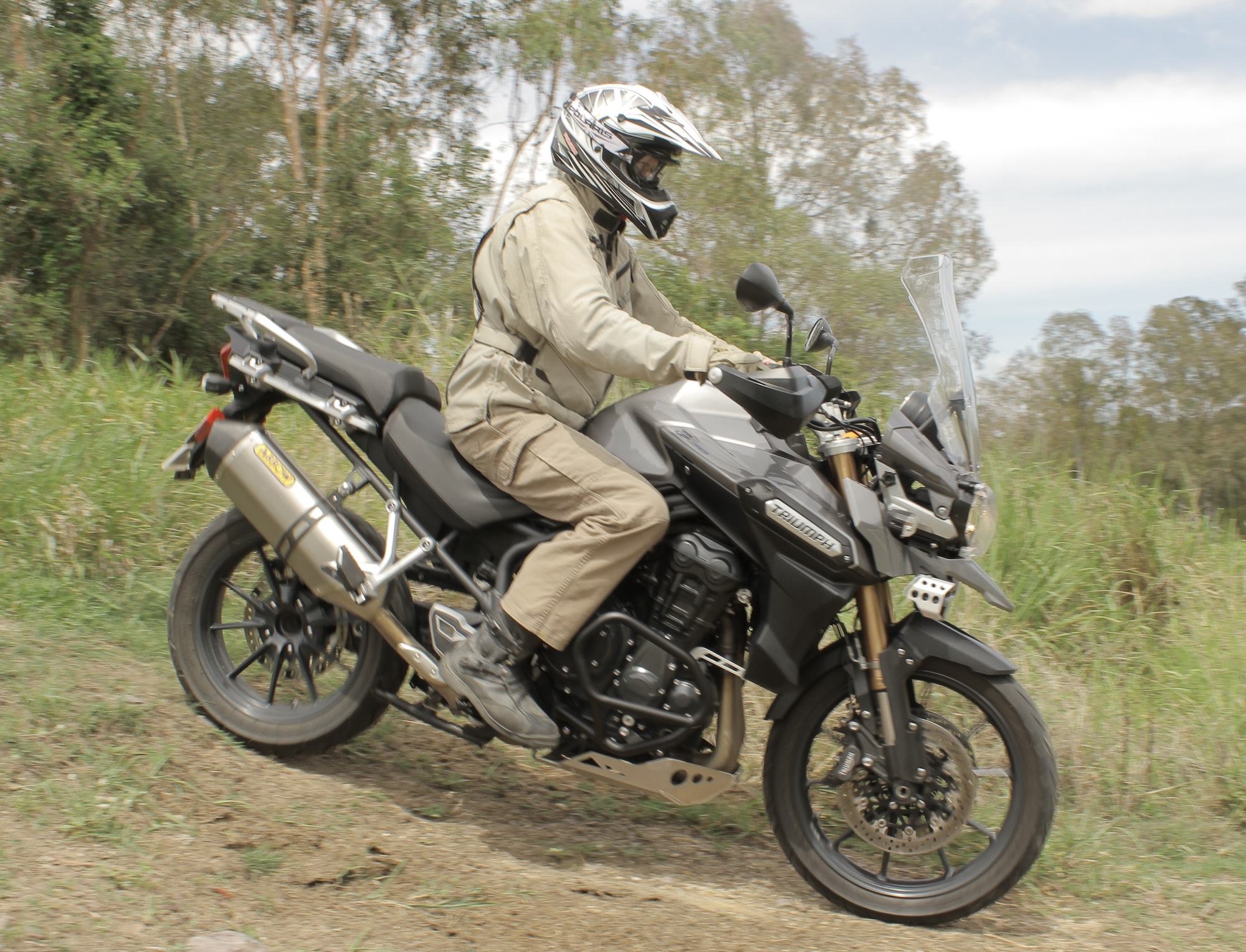 Adventure riders will find themselves standing a lot of the time, anyway, and in this position they should feel very comfortable thanks to decently wide standard footpegs and a narrow tank providing room for your knees to grip the bike and take control.
We also found there is no need for handlebar risers with a good bend to the bar meaning all you have to do is rotate the bars to find a comfortable position. 
The mirrors are neat and tidy, but also very effective and easy to reposition which is handy if you are frequently shifting between standing and sitting.
Like the Tiger, Triumph has done a good job with the windscreen which has plenty of protection and little buffeting. There are five positions to choose from and it is easy to adjust.
The on-board computer has more than enough information and settings. There's a digital speedometer, analogue tachometer, gear position indicator, fuel gauge, range to empty, service indicator, clock, air temperature, frost warning, hazard warning lights, trip computer, tyre pressure monitoring system. You can even choose between auto-canceling indicators and manual.
There is a wide range of accessories available, including luggage that clips straight into the unobtrusive racks, just like the GS.
It's not quite as pretty as the Multistrada or Guzzi, but Triumph has done a good job with the design. Most importantly it's neat with few vulnerable parts.
There isn't a need for a lot of protection guards and even the aftermarket engine crash bars are minimalistic. Triumph has also fitted plastic covers where boots would normally scrape paint away from the frame.
The British company has done a great job with the engine, suspension, design and build quality to make this an ideal long-distance all-roads tourer.
It's not up to the Italians in looks and it's certainly not up to the BMW in dirt abilities.
Triumph Tiger Explorer
Price: $21,790
Engine: Liquid-cooled, 12 valve, DOHC, in-line 1215cc three-cylinder
Power: 101kW @ 9300rpm
Torque: 121Nm @ 6400rpm
Bore x stroke:  85 x 71.4mm
Transmission: 6-speed, shaft drive, wet, multi-plate clutch
Frame: Tubular steel trellis frame
Swingarm: Single-sided, cast aluminium alloy with shaft drive
Wheels: alloy 10-spoke 19 x 2.5in; alloy 10-spoke 17 x 4.0in
Tyres: 110/80 R19; 150/70 R17
Suspension: Kayaba 46mm upside down forks, 190mm travel; Kayaba monoshock with remote oil reservoir, hydraulically adjustable preload, rebound damping adjustment, 194mm rear wheel travel
Brakes: 305mm floating discs, Nissin 4-piston calipers; 282mm disc, Nissin 2-piston sliding caliper, switchable ABS
Dimensions: 2248mm (length), 885mm (width), 1410mm (height), 837mm/857mm (seat), 1530mm (wheelbase)
Rake/Trail: 23.9 degree/105.5mm
Fuel Tank: 20 litres
Economy: 5.5L/100km (on test)
Wet Weight: 259kg