Tri-Flow Lubricants Image Gallery
Reviewing the easy-to-find, off-the-shelf chain lube products would be too simple, right?
And it's not really unexpected to find that just about any one of the run-of-the-mill, garden variety chain lubes from the local motorcycle shop will do a pretty good job as long as the chain is clean, adjusted and the lube is regularly applied.
So why not make it more interesting, by searching for a chain lube that is not made by one of the usual cast of characters?  And wouldn't it be great to find one that aces the better-known brands?
Finding new and unique and off-beat products is what webBikeWorld is all about. And it's a lot of fun searching for, finding and discovering good stuff that works and letting people know about it.
Which brings us to Tri-Flow Lubricants. The company, owned by Sherwin-Williams makes a wide variety of cleaners and lubricants that (based on their marketing info) are aimed at the consumer "enthusiast" (their word) market.
I haven't seen Tri-Flow Lubricants on the shelves of any of the local motorcycle shops, but that's not a problem, because unlike many of the other lubricants and oils we've reviewed, Tri-Flow products can be purchased directly from the company through their website.
Tri-Flow products are very popular with bicycle owners and racers and Tri-Flow even has a nice series of "how to" videos featuring Jeff Lenosky, a professional mountain bike/stunt rider. He demonstrates how to use Tri-Flow lubes on bicycles in a no-nonsense way in quick, to-the-point two-minute videos.
I'm not certain at how well-known the Tri-Flow products are in the motorcycling community, however. Tri-Flow does have a motorcycle section on their website, where the use of Tri-Flow grease and Superior lubricant are described.
But the website has no information pertaining to the use of the Tri-Flow Superior Foaming Lubricant or the "regular" (i.e., non-foaming) Superior Lubricant as motorcycle chain lubes.  So just to be sure, we asked Tri-Flow about this and they told us that yes, the "Superior" brand lubricants are O-ring safe.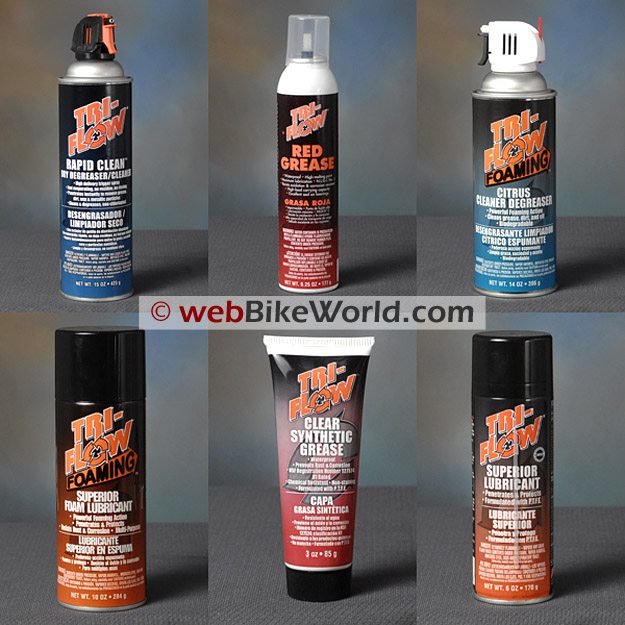 The WD-40 Controversy…Again
We've published a great deal of discussion about motorcycle chain lubrication, cleaning motorcycle chains and the best products to use for both. But it's actually not very difficult to find a decent chain lube — it's the chain cleaning products that can be the problem.
This issue was discussed in great detail in the WD-40 controversy that evolved from user discussions in our "Motorcycle Chain Lube and the Grunge Brush" article.
We've gone back and forth on this issue since then with many discussions in the garage and we've now come to the realization that one of the most critical factors for longevity is in the cleanliness of the chain; that is, keeping out dirt and grit.
Again — it's easy to find a decent chain lube, and modern O-ring chains do not need as much lubrication as older-style chains. But cleaning the chain prior to applying the lubricant can be problematic.
Let's face it: very, very few motorcycle owners are: a) going to remove the chain to soak it in kerosene or b) clean and scrub the chain with kerosene. Some do, and they've emailed us about it, but I'll bet that the vast majority of motorcyclists want some type of quick spray cleaner that is fast, easy, cheap and won't harm the O-rings.
Which brings us back to the WD-40 controversy. If you recall — and this has been discussed ad infinitum — the fear is that a cleaner such as WD-40 would get under the O-rings and dissolve the grease that really does the job inside the chain.
Does anyone really know if this is true or not?  I doubt it. This is one of those issues, such as which motor oil to use or which tires are best, that will never be decided without hard data. Lacking hard date, urban legend takes hold and facts are dismissed while passion rules.
There are all sorts of stories about using degreasers and cleaners on motorcycle chains, ranging from "worst thing you could possibly use" to "best there is". When you see that radical range of opinions, it's best to not get caught up in it and take a more sensible approach.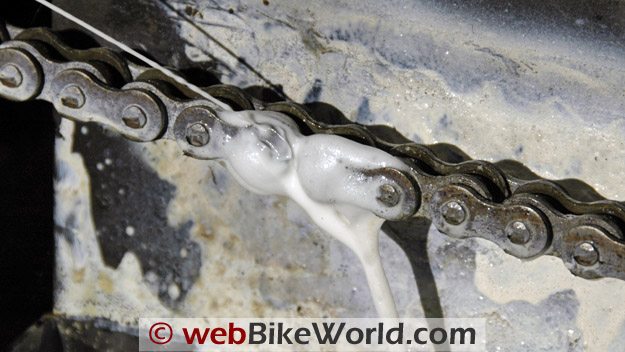 Chain Cleaning, Part 21?
During our recent conversion on this issue, we came to another realization: If the O-rings are so worn that a lightly applied cleaner will get past them, then the chain is probably near toast anyway.
We were originally searching for a good chain cleaning spray product, but for some reason, it is very difficult to find a cleaner that has been specifically designed for cleaning motorcycle chains.
We've reviewed a few, such as Motorex Chain Clean (review) and Motul Chain Clean (review) and Bean Clean (review). But these products aren't very easy to find, at least in North America.
So our current thinking is that a light spray of a moderate strength cleaner/degreaser, along with a good wipe using a handful of folded paper towels or a shop rag, will do the job just fine. It's possible that in addition to this light cleaning, a little Grunge Brush action may also be necessary for the really dirty chains.
The best part about this approach is that it opens up a much wider selection of the types of cleaners and degreasers that can be used that are also more widely available. I'm referring to cleaners that may or may not be labeled specifically as motorcycle chain cleaners, like, for example, the Tri-Flow Foaming Citrus Cleaner Degreaser I'll be describing shortly.
The point here is that a chain cleaner that is easy to find and easy to use is more likely to in fact be used. Why not use the readily available products to keep the chain clean on a regular basis, the most important factor in chain life?
I think if a moderate strength cleaner is used sparingly and not blasted in between the links, and if the excess cleaning solution is wiped off, it's difficult to imagine that there will be a problem with the O-rings. Many motorcycle owners apparently agree, based on the emails we've received on this topic.
Note that the term "moderate strength" is key, but difficult to precisely define. It's one of those things that you know when you see it. Stronger degreasers, like brake cleaners or strong solvents, probably should not be used.
A cleaner should be wiped off as much as possible after it has been used on the chain to help ensure that it won't dissolve the chain lube that will be applied in the final chain maintenance step.
Which brings me to another point: I think there's a tendency to spray too much lube on a chain. It's not only wasteful to have lube dripping off the side plates; the extra lube can also attract dirt and grit. The lubricant really needs to flow down into the joints where the plates mesh together. And, as you'll learn in a minute, I think the Tri-Flow Superior Foam Lubricant does that very nicely.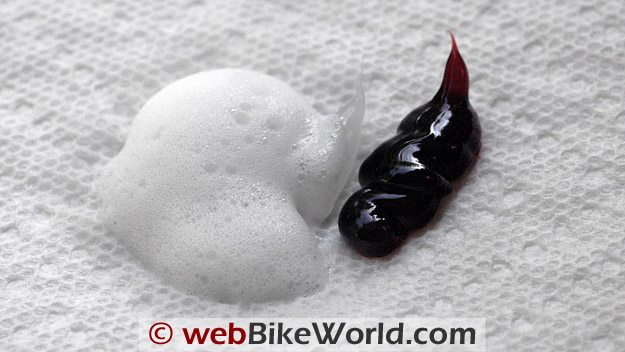 Tri-Flow Lubricants for Motorcycle Use
I had six different Tri-Flow products to work with and I'll describe how each one works.
Tri-Flow Foaming Citrus Cleaner Degreaser
Tri-Flow apparently specializes in "foaming" cleaners and lubricants, a feature that I am partial to. I think the foaming-type cleaners and lubes do a better job of getting down inside the links. I'm not exactly sure why, and of course I can't prove it, but it sure seems like the bubbling, frothing action allows the liquid to work its way down into the links better than a simple liquid spray.
I do think that the bubbling action is the key; the foamy substance pops and snaps its way into the cracks that non-foaming types might not reach. For the cleaner/degreaser, the foaming action also seems to help eat through the grime better than a pure liquid.
The Tri-Flow Foaming Citrus Cleaner Degreaser is what I'd characterize as a "moderate strength" formula.
It has a strong but pleasant citrus smell. The ingredients aren't listed but it doesn't seem to have as much of the strong chemical smell and action as the Tri-Flow Rapid Clean Dry Degreaser/Cleaner. Notice that Tri-Flow uses the word "degreaser" first for the "Dry" Rapid Clean, while the Foaming Citrus product uses the word "cleaner" first. I believe this tells us something. The Rapid Clean is much more like a brake or electrical cleaner and, I think, probably too harsh for an O-ring chain.
Besides the foaming action, there are two other very big benefits of using the Citrus Cleaner Degreaser over WD-40. First, the Tri-Flo Citrus Cleaner Degreaser product is biodegradable. And second, it can be flushed with water to remove the residue after cleaning, leaving the chain ready for lubrication, which minimizes any worries about the product degrading the lubricant's properties.
The Citrus Cleaner Degreaser comes in a nice trigger head spray can with a 1.5″ straw. The straw should be longer for use on a motorcycle chain, like perhaps 6-8″, but it is fairly easy to swap out the small straw with a longer straw that fits if you have a collection of spray cleaners and lubes in the garage.
I use the Chain Drain drip tray (review) in back of the chain and I place some newspapers on the ground under the chain. Then I fold a couple of paper towels and hold it in back of the chain while I spray on the Tri-Flow Citrus Cleaner Degreaser, let it soak for a minute, then wipe down the chain. This works very well and I use the Grunge Brush only occasionally if the chain is very dirty.
After the chain is cleaned, I take some fresh paper towels and spray the chain and the towels with plain water and wipe it down. This system works really well and…gives me a very nice smelling chain!
The Tri-Flow Foaming Citrus Cleaner Degreaser is available in a 14 oz. aerosol can and costs $11.66.
Tri-Flow Rapid Clean Dry Degreaser
The Rapid Clean Dry Degreaser is nothing like the Foaming Citrus Cleaner Degreaser described above. It is a much stronger product that sprays as a straight liquid with a very high-powered "blast" trigger sprayer.
It's difficult to control the direction of the spray because it comes out under high power, so I don't think this one makes a good chain cleaner. It does perform well cleaning grease and gunk from an engine block, especially underneath around the bottom of the engine and the oil drain plug area.
It has a pretty powerful chemical smell, and although all of these types of products should be used in a well-ventilated area, that goes double for the Rapid Clean. That product reminds me of the late and lamented Mr. Moto Degreaser (review) we liked so much but which is no longer available.
The Dry Degreaser evaporates quickly and doesn't leave a residue, but it does seem to leave plastic parts looking "dry" with a slight white or gray tinge. The plastic parts can be brought back to life, by the way, with S100 Engine Brightener (review), one of our favorite spray products.
It's a good idea to have a can of the Tri-Flow Rapid Clean around the garage, because it works very nicely at blasting away grease and grime. Just be sure to keep the garage door open and watch where you're aiming the can!
Tri-Flow Rapid Clean Dry Degreaser comes in a 15 oz. trigger spray aerosol can and lists for $10.99.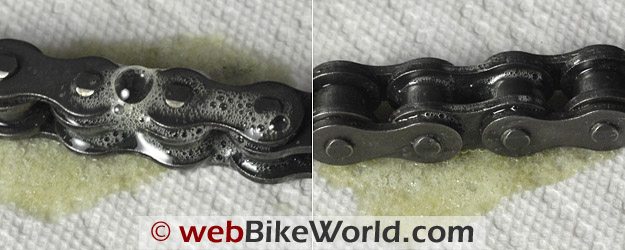 Tri-Flow Superior Lubricant and Tri-Flow Foaming Superior Lubricant
These are the Tri-Flow products recommend for motorcycle chain lubrication. They're not specifically designed for that use because Tri-Flow also recommends them for many other lubrication duties, but we confirmed with Tri-Flow that the "Superior" lubricants are O-ring safe.
Both of these lubricants have been popular with bicycle owners and mechanics. The foaming lubricant I think is best as a motorcycle chain lube, because of the foaming action, which is designed to allow the lube to penetrate down into the links as described above. Indeed, it does this very nicely.
The Foaming Superior Lubricant is not quite as "sticky" as some of the motorcycle chain lubes we've reviewed. The Tri-Flow product doesn't set up or dry on to the chain. It does become slightly tacky, so the excess must be wiped from the chain side plates. But this is also the case with a few motorcycle-specific chain lubes we've tried, and it's a good idea to wipe off any excess anyway or it can possibly collect dirt.
The foaming action definitely helps to distribute the lubricant down into the chain parts, which I think is one of the primary benefits of this product. I let it sit on the chain for at least 15 minutes, then I do a quick wipe of the side plates with a paper towel, which helps clean off the excess.
The Tri-Flow description of the Superior Lubricant includes the statement "Powerful foaming action helps penetrate and protect bearings, chains and cables. Our unique formula, combined with foaming action, allows the high performance lubricant to cling to all vertical or horizontal surfaces and to really penetrate into all of the parts. High-grade petroleum oils provide optimum lubrication under extreme temperatures (-60 to 475°F) and humidity."
I've read some reports from bicycle owners who say that the Tri-Flow product does work well in cold temperatures, which may also be a plus. The Superior Lubricant has a mineral oil base, not chemical, which I think is also an added benefit. Tri-Flow claims that it helps "soften and remove dirt and contaminants" and "special additives displace moisture and prevent rust and corrosion".
This lube also has a shelf life of 3 years and it's been tested to several different ASTM and other testing standards, so this isn't just something concocted on a whim; the product is used in a few different industries for lubrication.
By the way, it has a strong "fruity" odor and should be used in a well-ventilated area.
Tri-Flow Foaming Superior Foam Lubricant is available in a range of packaging, from small drip tubes to gallon cans. The 10 oz. aerosol can with spray tube shown here is recommended for motorcycle chain lubrication. The can has a list price of $13.99.
The non-foaming Tri-Flow Superior Lubricant appears to be nearly the same product, but the Tri-Flow documentation says that the non-foaming type includes P.T.F.E. (aka Teflon). It also comes in a variety of sizes and the 12 oz. aerosol can shown here has a list price of $17.99.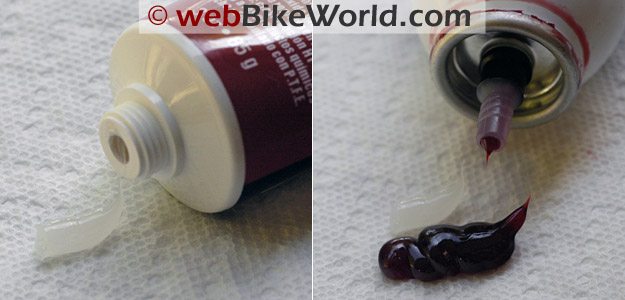 Tri-Flow Clear Synthetic Grease and Tri-Flow Red Grease
Try and find a grease zerk on a modern motorcycle and you'll come up empty. Nevertheless, it's important to have a tube of grease handy just in case.
The Tri-Flow Clear Synthetic Grease is a good all-around formula and the tube is a handy fit in a toolbox. Tri-Flow says it's a "premium quality, extreme pressure, non-melting, waterproof formula that seals out water contaminants".
The Clear Synthetic Grease also works when packed into a small grease gun, which I've tried to grease the swingarm pivots on a couple of old BMW Airheads. Tri-Flow also says it's OK to use with most rubbers and plastic parts and it can be used in temperatures ranging from -10° F to +400° F, which is a huge range.
Finally, Tri-Flow says it "prevents rusting even when exposed to salt water", but we haven't tried this. The Clear Synthetic Grease also contains Teflon (PTFE).
This one comes in a 3 oz. tube that should last for some time and it costs $10.66.
The Tri-Flow Red Grease came highly recommended for motorcycle use. It comes in a unique pressurized can with a sort of "Cheez Whiz" squirter on top that allows you to lay down a nice, even bead.
The dark red color is pretty cool too!  This is a good all-around grease and Tri-Flow says it "features outstanding performance in high temperature applications" and it's also claimed waterproof, has a high load-bearing capacity and resists oxidation and corrosion. By the way, the product details and MSDS data is available on the Tri-Flow website for each of these products (see below).
The Tri-Flow Red Grease comes in a 6.25 oz. applicator can and costs $13.99.
Conclusion
The one-two punch combination of the Tri-Flow Foaming Citrus Cleaner Degreaser and the Tri-Flow Foaming Superior Lubricant does an excellent job of cleaning and lubricating a motorcycle chain.
I like the fact that both of these products have an energetic foaming action (be sure to shake the can thoroughly first). I also like the fact that the Citrus Cleaner is biodegradable and that it can be rinsed with water if necessary.
The foaming action of the Foaming Superior Lubricant is also a benefit, because it does seem to help direct the lube down into the chain links where it belongs.
If I could make a suggestion to Tri-Flow, I would recommend that perhaps the Foaming Superior Lubricant be modified to allow it to dry a little more, because anything that's wet or tacky on a motorcycle or bicycle chain will attract dirt. But we've tried several other products that are the same or even wetter, so this isn't an unusual issue.
I think the combination of both products used together can make a bothersome task less so. I'm all for speed and ease of use, as long as it doesn't compromise performance, and I think this pair of products does the trick.
w

BW

 Review: Tri-Flow Lubricants
Manufacturer: Tri-Flow Lubricants
List Price: Varies as above.
Colors: N/A
Made In: U.S.A.
Review Date: December 2009
Note:
 For informational use only. All material and photographs are Copyright © webWorld International, LLC since 2000. All rights reserved. See the webBikeWorld® 
Site Info page
. Product specifications, features and details may change or differ from our descriptions. Always check before purchasing. Read the
Terms and Conditions
!
Owner Comments and Feedback
---
From "G.A.M." (12/09):  "I enjoyed the comment about the chain having a pleasant fragrance after you used the orange cleaning agent. The mental picture of you down on your knees sniffing the chain is more than I can handle. Please don't let any of the other riders catch you doing that!"
Editor's Reply:  Well, they don't call him "Mad Dog" for nothing!
---
From "H.S.W." (12/09):  "I have a suggestion: when you all are demonstrating anything that has to do with chemicals of any kind, you should, at minimum wear protective gloves—of the heavy latex or nitrile type. You can get thinner gloves too, but these are 8 mils and see to be quite adequate, allow good dexterity, and don't tear just because you handle something sharp."
Editor's Reply:  Good point and we're in the process of evaluating a selection of protective gloves for an upcoming review, so stay tuned…