Synergy Heated Review Summary
Synergy Heated Image Gallery
These Tourmaster Synergy gloves barely put out any heat, unlike the Tourmaster Synergy heated vest, which pumps out almost too much. In my opinion, the gloves are clumsy, they make my hands sweat, the gauntlets are strange and the wiring connectors get in the way. I really like the Tourmaster Synergy vest but, I'm sorry to say (and sorry to be so blunt about it), the matching Tourmaster Synergy gloves are a big let-down.
Two of us have tried everything we can think of, and the gloves are functional, but we just don't feel any heat, no matter the setting. The gloves come with a waterproof controller and motorcycle wiring harness, and they also have the ability to connect to any other Tourmaster Synergy heated clothing item.
The wires for the gloves must be worked down the sleeves of the rider's jacket, and each glove is plugged in to the harness. But the connectors are bulky and there's no acceptable method that we've found to hide the big gray connectors under the gauntlet, so the connector and the wiring gets in the way of the gauntlet and trying to secure the gloves. The gauntlet has an extra section of material out the back.
It was added apparently to hide the connectors, but it only serves to make a jumble of the wiring. It takes me way longer to get the wiring routed through the jacket, get everything buttoned up and then try to put on the gloves and get going than I'd like.
Since Tourmaster recommends that the Synergy garments are only turned on after the bike is started, this means I have to get all suited up, remember to button up my jacket, put in my earplugs, put on the helmet and do everything else, then put the gloves on last and sit on the bike, plug myself in and start it up.
Which also means I now have to wait on the bike until it warms up. Normally, I'll start the bike first thing and then make the final preparations and by time I'm ready, the bike is warm enough to go.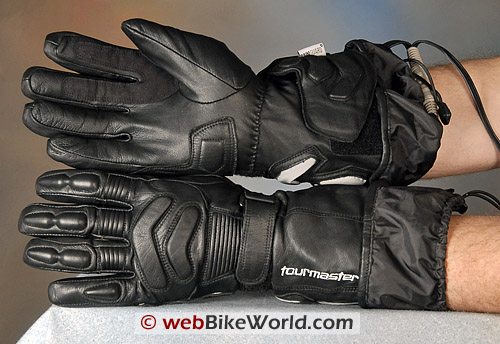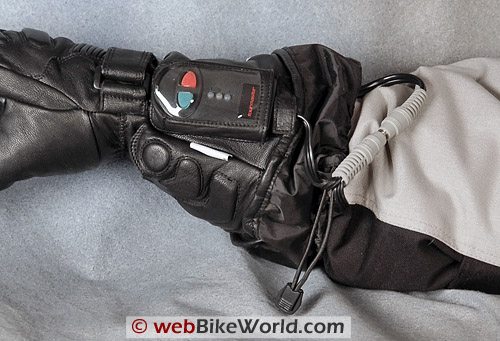 Tourmaster Synergy Gloves – Controller and Wires in the Way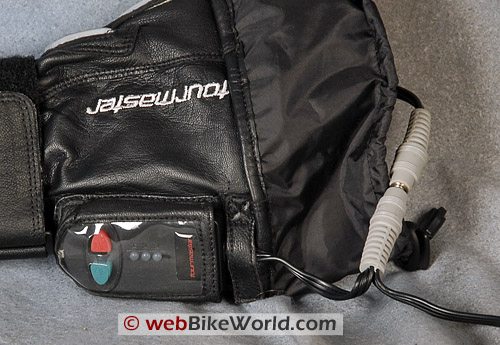 Tourmaster Synergy Gloves – Controller
Riding With the Synergy Gloves
The Synergy gloves don't really have much else to offer, in my opinion. The quality seems rather low, the padding is minimal and although the lining is comfortable, the gloves make my hands sweat.
The controller has to be placed in a small pocket on the right glove and a section of Velcro-backed leather is used to secure the controller to the glove. It just seems to me like the gloves weren't designed with the same care as the Synergy vest. They seem more trouble than they're worth, and since we can't tell if they are putting out any heat, it's hard to recommend them.
My advice is to stick with the Synergy vest and hope that they upgrade the gloves in Version 2.0. As of this writing, the gloves are unavailable on the Tourmaster site, so I wonder if they had problems with them and are re-tooling.
NOTE: I filled out a request form on the Tourmaster website on November 18, 2007 to let them know about the problem we had with the Synergy gloves. I received an automated response on November 19 that reads, in part "Your message has been received. Your request has been forwarded to the appropriate party. We attempt to answer all emails as quickly as possible in the order they were received."
For information on current draw and other details, please refer to our Tourmaster Synergy Heated Vest Review.
UPDATE:  One more thing I forgot to mention… The thumbs on this pair of Synergy gloves are very short and out of proportion to the length of the fingers. My hands are normal male size large and I've never experienced this problem before (at least to this degree). My thumbs are jammed into the gloves, which causes discomfort within minutes of riding and actually makes it difficult to handle the controls on the bike.
Next: Tourmaster Synergy Heated Vest Review
w

BW

 Review: Tourmaster Synergy Heated Gloves
Manufacturer: Tourmaster
List Price (2007): $139.99
Colors: Black.
Made In: China
Sizes: XS to 4XL
Review Date: November 2007
Note:
 For informational use only. All material and photographs are Copyright © webWorld International, LLC since 2000. All rights reserved. See the webBikeWorld® 
Site Info page
. Product specifications, features and details may change or differ from our descriptions. Always check before purchasing. Read the
Terms and Conditions
!
Owner Comments and Feedback
---
From "B.E." (December 2013): "Thank for your review, and posting peoples comments on these gloves. I've had mine about 2 years, but wear them only about 2-3 months during the winter. Left one has quit working, and sometimes the right one will quit  at times too. Pretty poor quality."
---
From "H.M." (1/10):  "I purchased a pair of the gloves in Dec 2009. I actually had the opposite problem as everyone else. I can't get my gloves to turn off. Right out of the box they did not work. When I plug them in to the bike and turn the key to the on position the gloves immediately start to warm up. I do not press any control buttons and have even tried pushing the off button to make sure they are really off. Once the bike is started the gloves really start to warm up.
If I leave them on for long enough (more than 45min) the elements in the gloves start to burn my knuckles. And not just that very, very warm sensation, but will leave actual burn marks on my knuckles. To counter this my thumbs are frozen. Actually turning them on to different temperatures has no effect. I have tried two separate wiring/thermostat units and even tried the system on different bikes. After wearing them twice they are going back."
Editor's Reply:  Sounds like a defective pair or possibly an incorrect installation?  I wouldn't condemn the entire product because of this, I'd suggest exchanging them and trying again.
---
From "D.R." (3/09):  "I also bought a pair of these around (December) 2008. The size of the glove runs small from my normal size (men's large) and make my hands uncomfortable within 15-20 min.
I commute every day 25 miles one way and I like the heat. In the coldest temps here in Dallas (high 20's-low 30's), 'high' is needed but most of the time I will use 'med'. My right thumb gets cold however because the heating wire stops at the knuckle.
Yesterday the right glove wasn't working but when I got to work and checked both gloves with an ohm meter they were the same. I plugged them back in and they worked fine. They also worked fine this morning. Can't explain that one.
While the review complaints are valid, I don't have anything to compare these glove to because they are the first electrics I have owned and can work around everything but the size problem. I am considering selling these and getting a larger pair."
---
From "J.P." (1/09):  "I bought these gloves a few months ago because I needed something right then to keep riding and it was the only thing I could find at local shops. The thumb is way too short and tends to get colder then the rest of my hands. They have put out a real good amount of heat keeping my hands plenty warm, but a few months of having them and the left glove just stopped working I have read of another review of this happening so I wonder how many other defective gloves are floating around."
---
From "HME @ NYC" (12/08):  "I agree with most of the reviews here.
I owned a pair of Tourmaster Synergy Gloves which I recently bought about 2 months ago for $125 USD. The thermostat kept shutting off and my thumb would sometimes freeze and they were very time-consuming to put on.
Another thing that wasn't mentioned here is that the controller is very hard to operate while riding as it is in a very awkward spot on the right glove. If I wanted to be safe I would have to pull over to change the setting. Otherwise I'd have to reach around the back of my right hand and do so; not safe on a street bike at least.
They still kept me going in freezing temperatures and I put up with their shortcomings, but eventually the wiring harness/controller gave up (after 2 months) and my left glove died. I guess since they're the cheapest out there I get what I paid for.
I went ahead and bought a different brand. I haven't used it yet but I hope that they're not a waste of money as the Tourmaster were. I do have the vest and chaps and so far have absolutely no problems with them, knock on wood."
---
From "E.M."  (11/08):  "I have had the Synergy gloves only for a couple of months. My gloves are indeed bulky and feel like the fingers are a bit too long. I have other XL Cortech gloves that fit perfectly. Strange.
These gloves are definitely not a good "stand alone" item to be used. I can't imagine dealing with all the wires without the jacket liner. However if mated to the liner, I don't find the gloves to be overly cumbersome. The only drawback is that you can't separately control the heat if they are connected directly to the vest.
I too felt like they didn't put out any heat, however, like another reviewer stated, my hands stayed warm. I unplugged them as well and my hands got cold. While these gloves didn't live up to my expectations, they do work. I don't commute so daily operation isn't a concern. For the 10 or so times I may wear these in the winter, they are nice."
---
From "E.R." (11/08):  "Going on the 2nd winter with them. The heat is fine usually I only need the lowest setting. I have used medium and it puts out real well I have ridden when it is 20 degrees and found the heat even and real warm
My big complaint is they are a pain in the end to put on as I don't have the vest and the attachment at the gauntlet is awkward but the heat and comfort make up for it."
---
From "K.J.C.":  "I purchased some Tourmaster Synergy gear last week (jacket + gloves) and have been using them on my morning commute (30 freeway miles, low 30s) and have no complaints. Like you said in your jacket review, the thing puts out unbelievable heat, and I found that having it on medium at 80mph is enough to keep me comfortable.
Your glove review, though, was complaining that you couldn't feel the gloves putting out any heat, and I've found that to be the case as well… however, my hands did definitely NOT get cold/numb like they used to. I tried using the gloves, unplugged, for some of my ride in this morning, and they got pretty cold pretty quick. I think this demonstrates that the gloves DO work.
Would you really want your hands to be subject to the kind of heat the jacket puts out?  Think sweaty palms. As long as the gloves keep my hand in the 'not cold' zone, I'm not going to complain about them not putting out enough heat."
---
From "J.P.":  "I completely agree with everything you said. The gloves have not worked for me and the thermostat keeps shutting off. This is a brand new pair. I have emailed Tourmaster and still have received no response other than the automatic reply.
I feel that Tourmaster is ignoring customer concerns to avoid a financial loss. This is selfish of them and I am sure they are aware of this by now. I have read forums and other on-line reviews and it seems like a great amount of Tourmaster's synergy gloves have defective temperature control units. I tend to wonder how many defective pairs were sold.
The thumb space is tighter than average. Also, unless you want to deal with the hassle of taking off your jacket and removing the wires each time, you would have to walk around with bulky wires hanging from your sleeves. That is, of course, if the gloves worked."
---
From "J.R.":  "I have to disagree with your conclusion on the Tourmaster Synergy Heated Gloves. My wife and I got each other a pair for Christmas and they are working wonderfully.
I have ridden in temperatures in the low 30s with them on and my hands have been nice and toasty; I don't even notice the temperature on my hands. They are very comfortable, not bulky at all, and the connectors fit nicely under the gauntlets. They heat up very quickly and provide a nice even warmth to my entire hand."
Editor's Reply:  It's possible we have a defective pair, but we haven't received a response from Tourmaster.