Riding South Africa is safe, but you may have to pay the cops $2 for a "drink" if they pull you over for a random licence check, says Brisbane rider Jim Hulme (pictured). The 69-year-old has just returned from an eight-day bike 2900km motorcycle tour of the north-east of South Africa with friends and says he can allay people's fears of travelling the magnificent country. Here is his story: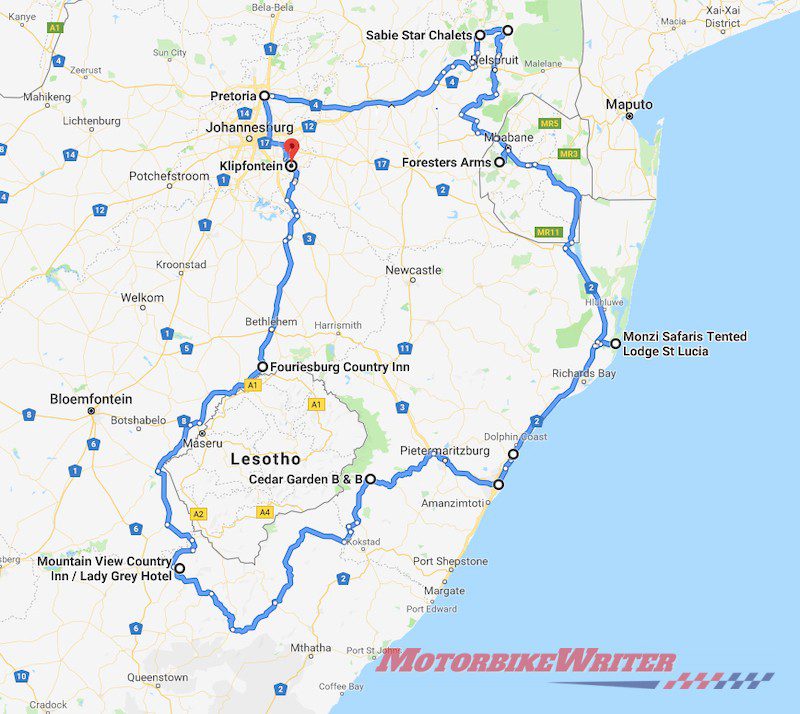 Safety and security
Think South Africa and you immediately think personal safety and security.
There are people on the roadside wherever you go, selling goods or going places, so care is needed.
However, in the two weeks I was there, staying with friends in Cape Town for sightseeing and recovery from jet lag, and then friends in Pretoria followed by the bike tour, I did not experience any personal safety concerns.
South Africa is like Australia in many ways including climate, culture and friendliness, and most people speak English. Black South Africans were courteous and friendly and everyone was interested in Australia.
Five people with luggage on four BMWs and one Harley headed off on a route designed by my host.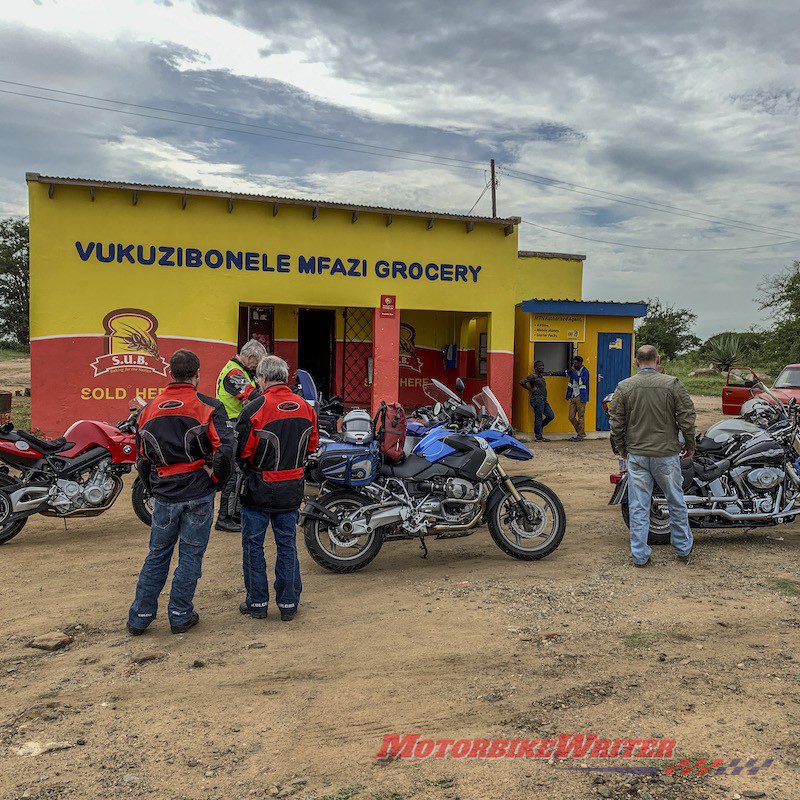 Accommodation
He also arranged all the accomodation specifically avoiding the typical city tourist stops, to give us a better appreciation of the rural landscape.
The accommodation ranged from basic, similar to an old Aussie pub with creaky floors, to exquisite but inexpensive lodging.
As a foreigner, the food, drink and accomodation was incredibly cheap. The Rand was converting at about 10R = $A1 so a beer cost $2, a latte $2.40, "a policeman" $2 (read on!) and meals $7-14. I need to add that the meals were typically generous portion sizes.
While the accommodation was booked by my local host, the rates were cheap by Aussie standards.
However, I noticed that the same places quoted via Tripadviser were charging at double the prices so direct bookings would be the way to go and avoid letting the venue know you are Australian.
South Africa roads
The roads across the north-east are very good quality, but there are some toll roads and you need a swipe credit card or cash to get through those.
Even rural highways are good quality but sometimes peppered with serious sized potholes that need to be avoided.
The speed limit is mostly 120km/h even on many rural roads and high-speed touring is possible as the police seem to allow about 10km/h over the limit before they are interested.
There were some speed checks mostly on the tollways, but we also had two random licence checks where the police were mostly likely looking for theft or cross-border smuggling.
In one of these checks, a policeman asked my host to buy him a drink. We offered $1, but he said it would cost at least $5. After some negotiation he accepted $2.
Corruption exists in many levels of government it seems.
Stunning scenery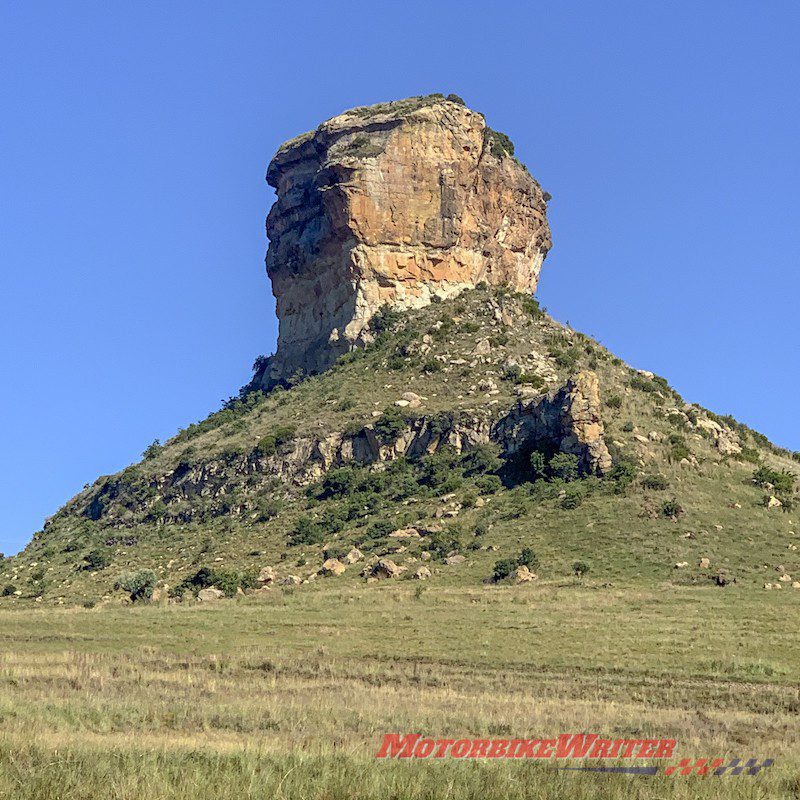 While the scenery out of Pretoria is flat and agricultural, most of the country is amazingly hilly and scenic.
We stopped at Castleburn Resort at the southern end of the fabulous Drakensberg Mountains and it was stunning with thatched roof buildings, immaculate lawns, lakes and a mountain backdrop.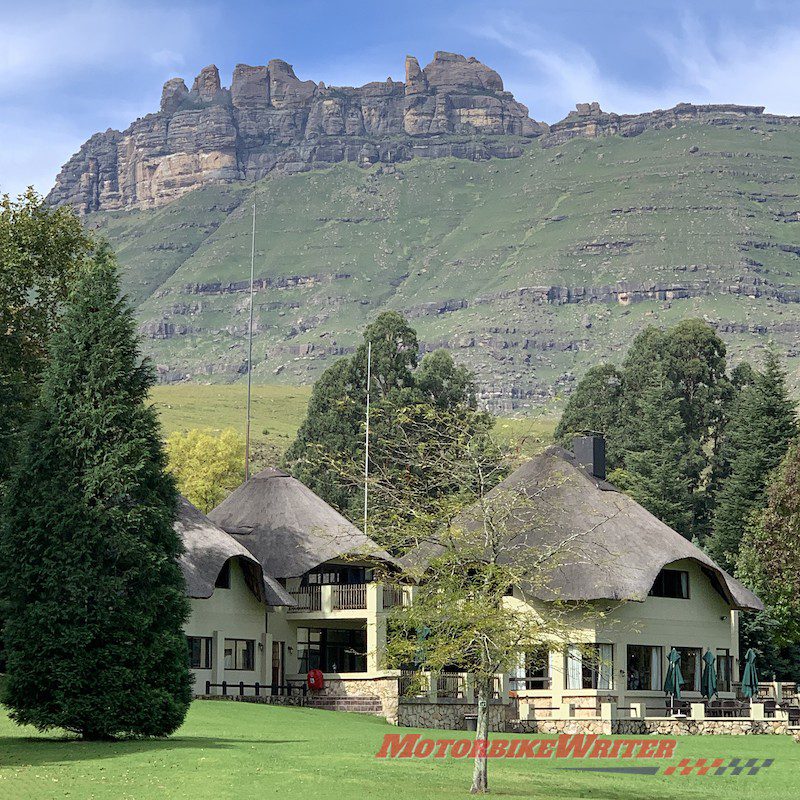 Direct flights from Australia are available on Qantas from Sydney or on South African Airways from Perth. All international flights land at Johannesburg and there are many South African domestic flights available to connect to Cape Town including British Airways and South African Airways.
I didn't have to rent a bike but an online search shows Samatours, a Pretoria-based tour business offers reasonable rates for self-guided tours. Fully guided tours on a BMW F 800 GS costs $A140 a day plus accessory charges at samatours.co.za for a seven-day-plus rental.
I highly recommend a ride in South Africa. Australia will seem over-regulated when you get back!