Touring apps for motorcycle riders are flooding the market, each with their own quirks and features.
Two new touring apps are Moto Trip Now from American rider Keith Kubarek and Tourstart's BMW MOA, specifically for BMW riders.
Moto Trip Now app
Moto Trip Now founder Keith says his app allows the rider to plan and share trips, but is not a turn-by-turn GPS guide.
"But it does let the rider create milestones, name them, record their latitude and longitude, and record their trip notes and attach photos to each milestone," he says.
"The rider can then share their milestones via email or Facebook."
"A really cool feature, if you're riding with a group, is the ability to plan your trip milestones using Google Maps and then share the map id (KMZ id) with your fellow riders.
"They can enter the id into the app and automatically import all the milestones into their own Moto Trip Now app. The app's aim is to allow the rider to easily document their trip so they can share their experiences.
"The app also gives you the weather forecast at each milestone.
"It also allows you to assign fellow riders to the trip along with their contact info.  If the rider enters their insurance and road assistance information, then this contact info is also immediately available with a single tap in case of emergencies."
The app is $A 5.99 ($US3.99, €4.09, £3.59) and is available for Android and iOS smartphones.
"My wife and I love to ride. We spend as much time as work allows out on the road on two wheels. We have a 2005 Triumph Bonneville America and a 2015 Triumph Trophy and we enjoy sharing our motorcycle trips with friends and family," Keith says.
Tourstart BMW MOA
Danish company Tourstart launched their app last year and now they have developed a special branded BMW MOA app for the 35,000 BMW Motorcycle Owners Association members.
BMW MOA has been released on the App Store and Google Play.
While there have been many such apps around, Tourstart founder and owner of Jan A. Pedersen claims his is "unique" because of "the high level of integration between web and app".
Once a tour is composed, it is instantly available on both web and app, and it also works offline. You also get a free download of maps from all around the world.
"Now BMW MOA is ready to brand the organisation and promote the app in news forums, push messages to members and dealers, share great tours in the community, describe the app in articles and newsletters and, of course, make use of the app for future rallies and events."  
Touring apps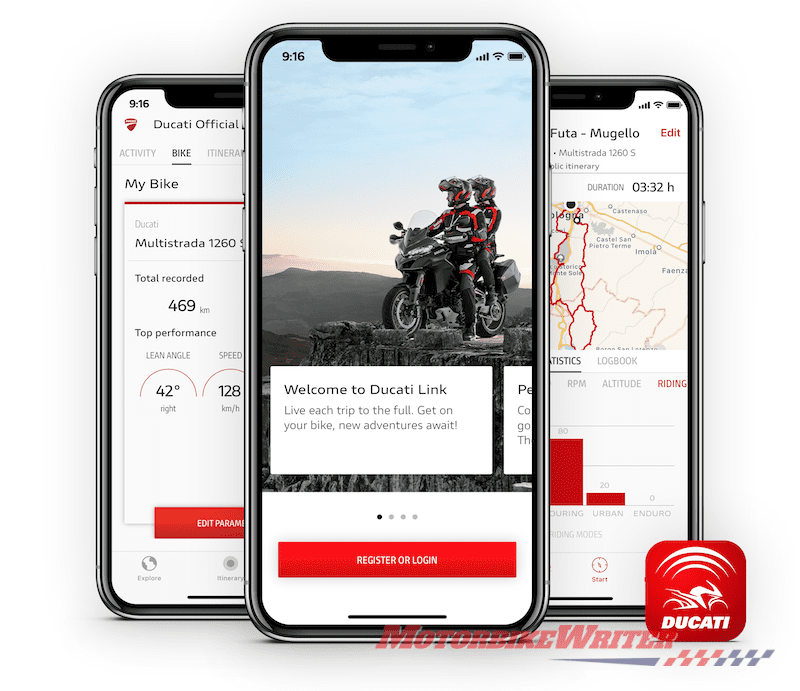 These apps are hot on the heels of the launch of Ducati Link. Like most touring apps, it allows the user to plan trips.
However, it also lets the rider view bike data on their phone including speed, lean angle, acceleration and even change some of the settings on their bike such as traction control or ABS.
Be careful this information does not incriminate you!
This is one of many similar touring apps developed by and for specific motorcycle companies such as Aprilia, BMW, KTM and Yamaha.