Touratech has "fine-tuned" its Compañero adventure riding suit with new materials in some areas.
The Compañero World2 for men and women is not cheap at A$1904.99 for the jacket and $1260 pants, but it does feature some high-tech protection and comfort features for all climates.
The Compañero Worldwide was developed five years ago. It featured an "All Weather Add" waterproof and breathable outer layer on top of an airy inner "summer" suit with protectors fitted.
While the basics are the same in the Compañero World2, it has been adapted based on customer feedback and advances in textiles such as Cordura Air which has improved air flow.
The base material is Cordura 500, while the the additional shoulder and elbow layers are made of stronger Cordura 2000.
Another new material, incorporating woven reflective threads, is used for the reflective areas.
The overjacket is now made of lighter and rugged three-layer laminate by W. L. Gore.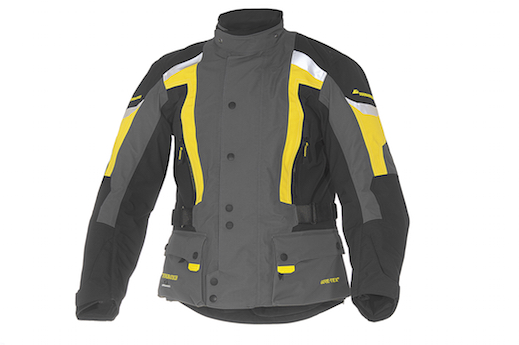 The World2 has two front air vents with YKK Aquaseal zippers for a watertight seal and a zippered rear air outlet.
The pants now come with belt loops, more accessible diagonal cargo pockets, zips that go up to the waist so they are easier to put on and a two-way zipper to make it easier to get into the inner trouser pockets.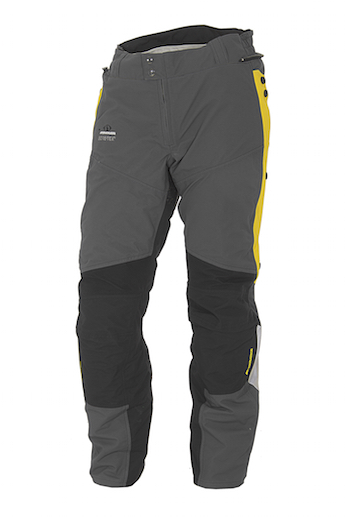 Touraetch says it has also made the women's jacket better shaped, or as they say "anatomically optimised".
Instead of the All Weather Add suit being stored in a zip-on back pocket, it now comes in a slender backpack with expanding zippers. The backpack straps are designed to ensure optimum weight distribution and can be discreetly concealed when not in use, and the backpack can be used separately on short excursions.
Protectors are all Euro Level 2 which is the highest protection class.
They come in black/grey/yellow and an all-black in numerous men's and women's sizes with long and short versions for an optimal fit.
Because the zips on the Compañero World2 are identical with those on the previous model, jackets and trousers from both suits can be combined.
Like the previous model, the Compañero World2 is produced in collaboration with esteemed German manufacturer Stadler.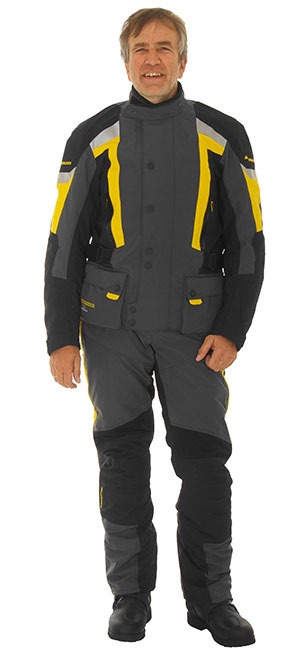 Compañero World2 sizes
Women:                                             
Normal 36 to 44                             

Short 20 to 24 (yellow only)        

Long 76 to 84 (yellow only)         
Men:
Normal 46 to 64
Short 25 to 31
Long 98 to 118