The Touratech Travel Event, Expo & Adventure Challenge returns in March 2018, this time being held at a new location in Myrtleford, Victoria.
The expo is usually held at nearby Bright, but will now be held on March 16-18 in the Myrtleford Showgrounds, where an "Adventure Village" will be created under the shady elm trees with full camping facilities on offer.
Motorcycle manufactures and suppliers of all things adventure will present their latest products, provide expert advice and the chance to check out the latest accessories for your bike.
The event will again provide an opportunity for riders to test the latest models from Aprilia, BMW, Ducati, Honda, KTM, Suzuki, SWM, Triumph and Yamaha. Bookings for the test rides are essential.
The Touratech Travel Event, Expo & Adventure Challenge is a rare event outside the major metropolitan centres where motorcycle manufacturers and suppliers gather to present their products.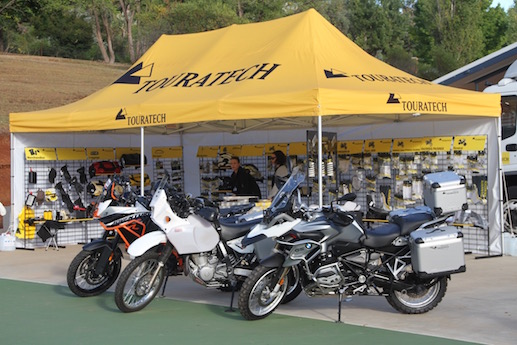 Regular adventure presentations over the weekend will provide the opportunity to see and hear from experts in the adventure motorcycle industry.
The weekend also includes the Touratech Adventure Challenge, a unique skills-based challenge for riders – both on and off the bike – as well as including some team components that will form part of the judging process.
Adventure Challenge returns
The Adventure Challenge is back for the third year and is open to riders of all abilities.
It starts with qualifying on Saturday morning, followed by the event finals held on Saturday afternoon.
The Touratech Adventure Challenge will provide spectators with great viewing from the event base and at specified spectator locations.
Organised by local company Touratech Australia, the event will be centred at the picturesque 
Click here for more details on the Touratech Travel Event, Expo & Adventure Challenge.
Back in black
The famed German motorcycle accessory company was last year bailed out of a voluntary insolvency.
Touratech filed for insolvency in August 2017 after an increased demand in sales saw them unable to fulfil many orders – attributed mostly to the late completion of their new factory and showroom.
The new owner is interior design and accessory manufacturer Happich who took over on January 1, 2018.
When the company went into involvency in August, Robin Box of Touratech Australia importer R & V Aqualine Industriestold us they were independently owned.
He said the parent company's troubles would have no affect on either the Australian operations, or to its customers and that Touratech production would continued unchanged.