The Touratech iBracket allows riders to safely and securely replace or supplement their GPS with their smartphone.
The smartphone is becoming so robust and multitalented that it has replaced a lot of other electronics and soon may even replace the instruments on your motorcycle!
So you'll need a good holder for the smartphone that can handle the rigours of bumpy roads, heat, cold, dust, rain and the prying hands of thieves.
I've used a few types of phone holders and one moderately priced model jettisoned my phone down the road at 80km/h!
The Touratech iBracket isn't cheap at $A214.05, but neither is your phone. How much would you pay to protect such a versatile, important and valued item? Surely price should not play a part in securing it to your bike.
And now they have made an iBracket that is compatible with bigger smartphones such as the iPhone 6 and even larger 6+, Samsung Galaxy Alpha, Huawei Ascend Y350 and other popular brands.
Although I haven't tried the Touratech iBracket, I expect it is about as robust as their other products which I have used over the years.
Touratech makes products that can be used on adventure bikes that take the most punishment from road and weather conditions, so they are almost over-engineered for normal road bikes.
Touratech says their iBracket is also designed for maximum stability and has vibration decoupling. There is no point having it stuck fast to the bike, but shaking so wildly with the bike's vibrations that you can't read the information on the screen.
It also looks pretty secure with UV-resistant silicone rings providing the closure with tension for a precise fit, even if you have a silicone protective case already on your iPhone. No need to remove it from its case first!
The phone can also be quickly installed and removed from the bracket with one hand.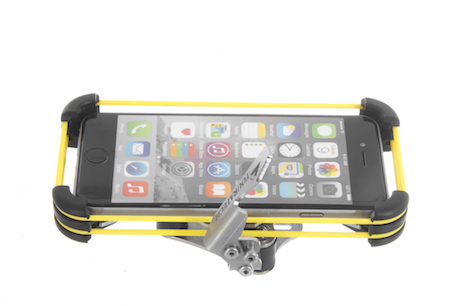 Most importantly, once housed in the secure bracket, all functions of the phone can still be accessed including screen and side buttons, and it has 90-degree rotation so you can view in a horizontal or vertical format.
The iBracket is made from CNC laser-cut and shaped stainless steel with plastic corners with UV-resistant silicone rings.
It can be fitted to most motorbikes and bicycles.
Touratech also make brackets for the Samsung Galaxy S5/ S6 / S6 Edge (065-0447), Samsung Galaxy Xcover 2 (065-0448), Sony Xperia Z3 (065-0449) and Sony Xperia Z3 Compact (065-0451).
Touratech products are designed in Germany's Black Forest and there are more than 4000 accessories in their range including GPS, luggage, skid plates, protection, suspension, seats, comfort items, camping gear and adventure touring accessories. Their products are even used in the Dakar rally.