Tour Master Dri-Mesh Review Summary
Tour Master Dri-Mesh Image Gallery
An excellent choice for anyone in search of a good lightweight glove that provides temperature versatility, copes well with the elements and has just the right amount of soft leather and light padding in pretty much all the right spots. Considering the list price and factoring in the premium we pay on imported textile goods in Canada, the Dri-Mesh gloves are a bargain.
They are more comfortable and far more versatile than I expected, even though they aren't 100% waterproof. I regard three items of my protective equipment portfolio as highly personal: my helmets, my boots and my gloves. Most of us spend a lot of time and money searching for the right helmet and the right pair of boots and while I know many riders who own just one pair of boots and a single helmet, they almost certainly own multiple pairs of gloves.
Motorcycle gloves are essential and for most of us, the type or types of riding we do or when we do it drives our choices in hand, wrist and lower arm protection which, to varying degrees, all types of gloves are designed to address. To say there are literally thousands of glove types available would be an understatement, which only goes to show how important this piece of equipment is.
webBikeWorld features a wide range of reviews that cover the entire gamut of motorcycle glove categories, styles, applications, protective features and prices.
Background
Since launching the Tour Master brand in 1978, Helmet House has developed the brand into a major player in the motorcycle accessory market. In 2002 the Cortech line, which focuses on the performance and sportbike market, was spun off from Tour Master.
I typically try Tour Master and Cortech products whenever the opportunity allows.
But outside of an older pair of lightweight vented Cortech gloves that have held up well and match my Olympia mesh jacket and pants almost perfectly, nothing else from either brand has been added to the shelf until now.
So on to the ever-growing pile of glove evaluations I now throw the Tour Master Dri-Mesh gloves. They're not much to look at actually, but as we know, appearances can be deceiving.
With two months of continued use in our usual mix of spring weather — cold to very warm and dry to very wet (including hail and snow), the gloves have truly proven to be deceptive — in a good way.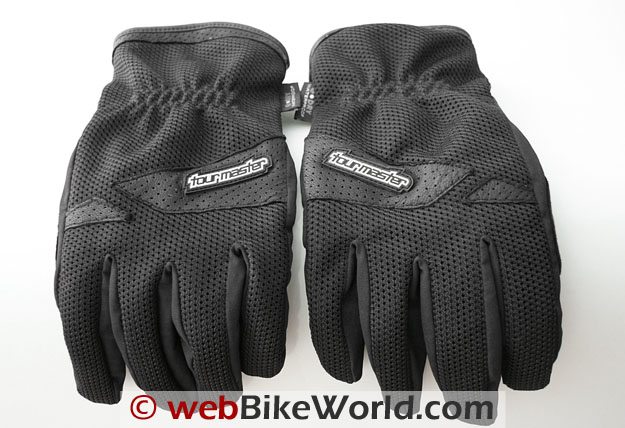 Form
Depending on where you live and ride, the Dri-Mesh gloves are meant to be a one- or possibly two-season lightweight solution. Each glove is constructed from four main components.
The first part is the integral (non-removable) internal breathable layer that allows air to move through it and provide wicking (for perspiration) and still remain water-tight.
The second and third components are, literally, the back and front halves of the glove. The back side, from the cuff forward, features an abrasion resistant "Armor-Link" mesh which is designed for durability and provides ventilation.
A perforated goatskin leather layer is used on the inner or palm side.
The lower part of the palm area features an additional non-perforated goat-skin section that incorporates a light EVA foam layer sandwiched between the two leather layers.
Another reinforcement layer is also used to better cushion the inner thumb and first finger area.
The fourth component is the stretch Lycra used for the finger fourchettes (also known as the sidewall or gusset), inserted on the inner and outer sides of the box-style finger construct.
The finger sections, alone with the palm section, are pre-curved improving overall comfort and dexterity.
A solid goatskin flap with a large hook-and-loop closure provides a range of cuff adjustment.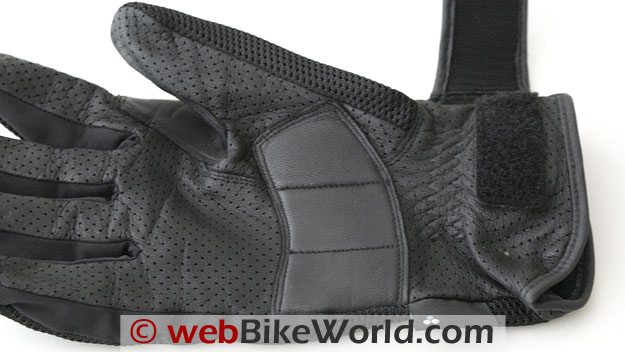 Fit
I typically wear a size Large or Extra-Large glove, although this can vary, depending upon the type of glove, the manufacturer and my application.
I like a bit of room in my heavyweight or winter gloves for multiple reasons; air layering, additional flexibility and to allow a silk or thin-wool inner to be worn. These are all factors that can make a big difference.
The Dri-Mesh gloves in size Large were close, but the thumb was short, which impacts how the glove fits and feels in use.
So even appreciating the potential for some stretch, I opted for a pair in size XL. Having stretched a bit, they are now about a half-size large, but the finger and thumb length is just right.
The gloves were comfortable when I tried them on in the store and while sitting on several motorcycles and this level of comfort has persisted, no matter the type of motorcycle being ridden or hand grip they are wrapped around.
The internal stitching can be felt to a degree, but given the fit, it is unobtrusive and so far has not proven painful in any way.
Sporting a short cuff vice a longer gauntlet, the glove is better inserted inside the sleeve of any outer garment, although if one is wearing a thinner jacket with longer sleeves, then the glove might fit on the outside.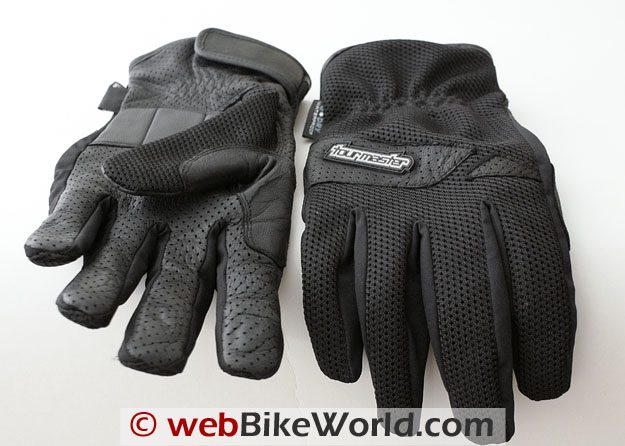 Function
Between my part-time test rider job and lots of personal seat time on the various motorcycles in our "family" fleet, having a pair of versatile and comfortable gloves that can transition between handlebars is important.
This is especially the case when the motorcycles being ridden vary from touring to full sport to off-road machines and an assortment of both large and small scooters.
As advertised, the gloves breathe — very well actually. Riding a motorcycle without hand guards or a significant fairing is proof of this feature.
A gentle but steady stream of air can be felt moving across the top of the glove and to a lesser extent, through the fingers.
This serves to both ventilate the hand and wrist and wick perspiration away from the skin.
Air and wind protection with the Tour Master Dri-Mesh gloves has proven to be excellent, at least in my mind.
While expecting them to be one- or possibly two-season viable, the gloves border on cutting into a third season as well — with or without hand-warmers.
In ambient temperatures ranging from 5 to 15 C (41 to 59 F), the cooler air is felt, but the inner layer is obviously doing its job.
As the mercury rises and afternoon through evening temperatures are in the 20 to 30 C range (68 to 86 F), the Dri-Mesh gloves remain comfortable.
I am confident that they will still be comfortable during the even hotter stuff that seems to now be descending upon us — and with summer still a month away.
Tour Master obviously feels the that the Dri-Mesh product is appropriate for multi-season use as well.
Their "Right Product Guide"' tool identifies the Dri-Mesh gloves as being suitable for Hot (+85 F), Mild (50 to 85 F), Cold (35 to 50) and Wet/Rainy conditions.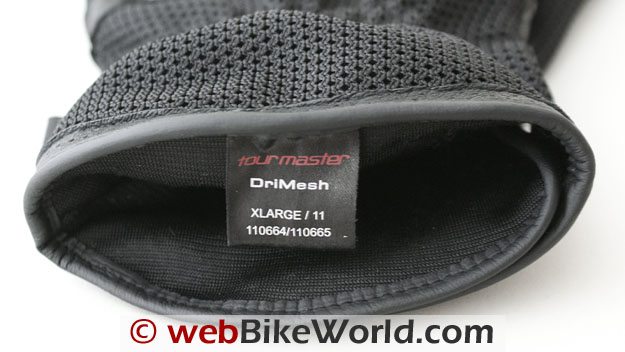 Water Resistance
However, I will bring into question whether the Dri-Mesh gloves are waterproof or water-resistant. Between light to heavy rain, some hail and yes — even a half-hour of snow in one isolated locale, my hands stayed dry overall.
But the thumbs, namely the ends, are the weak and therefore the wettest part of the glove.
Filling the gloves with water reveals the same shortcoming; water will seep out of the glove, as the inner layer is designed to allow. But in reverse, the thumbs will start to seep after three to four minutes and water levels will rise.
But, given their construction, water can be quickly squeezed out. I also I found that the gloves will dry out nicely in five to ten minutes of riding (in dry conditions) and when left hanging, in about an hour.
When worn wet, on purpose, the inner liner prevents any colouration bleeding from the goatskin as well.
There is a small label on the side of the glove that reads "e-Dry Waterproof", but there doesn't seem to be a reference to this term anywhere on the Tour Master website. I presume that it refers to the water-resisting technology used in the glove…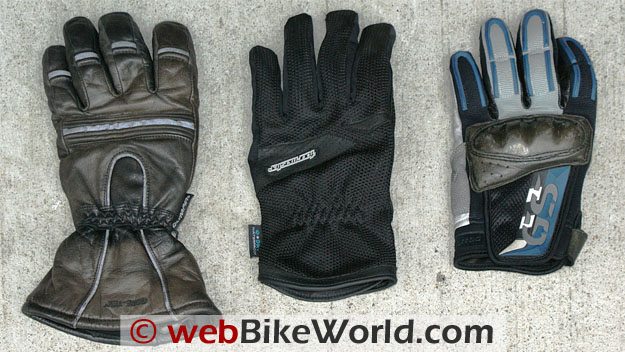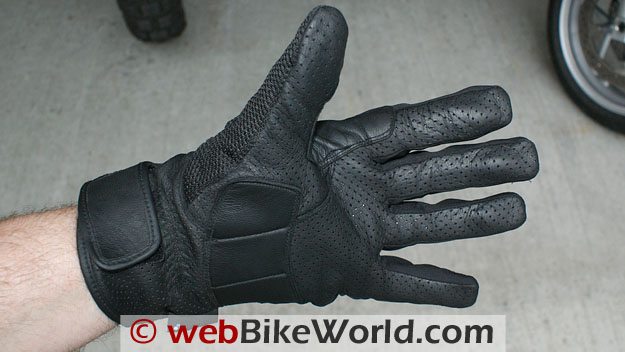 Safety and Protection
The protection that is provided with the Tour Master Dri-Mesh gloves, other than for wind, rain and motorcycle-seeking guided bugs, is likely to be limited.
I haven't (yet) evaluated the abrasion resistant "Armor-Link" mesh material used in the gloves.
But outside of this feature, only the palm section and a more-decorative-than-functional knuckle strip of goat skin provides additional layering for abrasion-resisting purposes.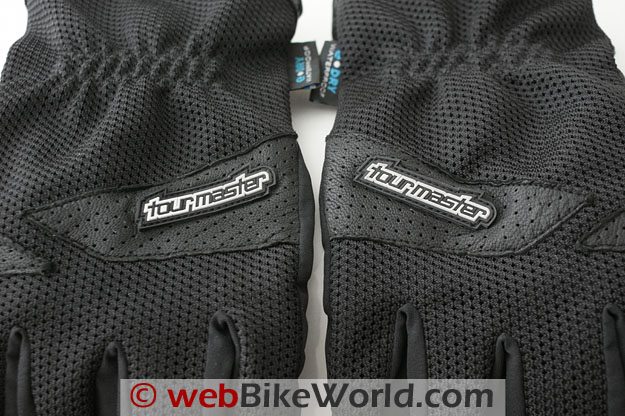 Conclusion
TThe Tour Master Dri-Mesh gloves have been a good choice. After only two months of steady use, they are providing excellent return for my minor investment.
While not absolutely waterproof, the gloves have kept my hands almost completely dry under steady rain, surprisingly warm early in the morning and well-cooled on some extremely warm Spring days.
The cuff, albeit with some shortcomings, is comfortable and helps keep the wrist area covered but ventilated.
I'd like to see a larger and heavier-duty knuckle strip; the elastic in the middle back of the cuff could be tighter; and a longer hook-and-loop strip that would let the glove be tightened up when needed.
This would also help to keep the gloves secured on the hands so the would not be pulled off during a fall or slide.
The Tour Master Dri-Mesh gloves aren't the most stylish or best fitting gloves I have worn, but they are proving to be one of the most versatile and comfortable pairs of gloves I have ever owned — and I've gone through lots of gloves!
With This Link to Amazon.com (

w

BW

 Amazon Affiliate)
And Help Support 

web

BikeWorld

!
w
BW
 Review: Tour Master Dri-Mesh Gloves
List Price (2010): $36.99
Made In: China
Colours: Black
Sizes: XS-3XL
Review Date: May 2010
Note:
 For informational use only. All material and photographs are Copyright © webWorld International, LLC since 2000. All rights reserved. See the webBikeWorld® 
Site Info page
. Product specifications, features and details may change or differ from our descriptions. Always check before purchasing. Read the
Terms and Conditions
!
Owner Comments and Feedback