Wiha Torx Bits and Drivers Image Gallery
The Wiha Tools Torx bits are nicely made and available in all the sizes you'll need for motorcycle use.
Wiha also makes Torx "L" shaped wrenches, individual Torx drivers with handles and more.
The Wiha 3/8″ drive Torx socket set is very well made and the 1/4″ bits are replaceable.
The socket set also comes on a handy plastic snap-on rail holder.
Buy a Wiha magnetic 1/4″ nut driver and one of the Wiha "Bit Selector" boxes and you can replace a whole drawer full of screwdrivers.
Torx and Motorcycles
Torx fasteners are showing up on many motorcycles and, in fact, the new BMW C-series scooters, like the BMW C 650 GT scooter (Blog), use Torx fasteners almost exclusively.
The Torx (sometimes referred to as "Star") design is relatively new, having been developed in 1967.
Basically, the design helps to keep the Torx tool in the fastener to get maximum torque, unlike a Phillips head, which is actually designed to "cam out" of the head to prevent over-torquing (perthis Wikipedia description).
Also, see the Torx Specifications chart in the Addendum below for Torx fastener sizes.
I like Torx fasteners and I'm also a big Wiha tools fan, so naturally I turned to them when it was time to stock up on some Torx tools. Let's take a look…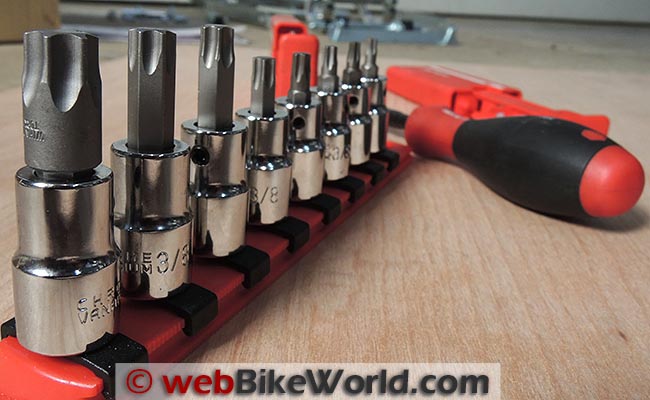 Wiha Tools
Sure, you can buy 1/4″ drive bits in all shapes and sizes and from more manufacturers than you can count. Bits, bit drivers and socket sets range from dirt cheap (e.g. Harbor Freight) to very expensive (e.g. Snap-On Tools).
But for the most part, I just can't bring myself to buying cheap tools, thanks to some bad experiences back in the old days, when junk metal sockets would strip at the first sign of the word "torque".
On the other hand, I find it just as difficult to spend 2-3 times more than I should for a too just because of a brand name or shiny finish.
I guess in the end, I'm a mid-range guy — always on the lookout for quality tools that don't necessarily cost a week's pay.
I think Wiha Tools fits that description. We have reviewed several different Wiha tools previously on webBikeWorld and I've always been impressed with both the quality of the products and their ingenious designs.
Everything from the tool itself to the holders, boxes and the general ambience seems different with Wiha tools.
For the unfortunate few of you who either aren't familiar with Wiha (shame!) or who haven't been to the Wiha website, here's a word of warning: be prepared to empty your wallet!
The website still isn't very easy to navigate (we first reported on this in 2007 and it hasn't improved very much).
But one thing's for sure: there are zillions of different tools to droll over and that means that it can be difficult to find what you're looking for.
Chances are, however, that the tool you're looking for is in there. Somewhere. And now that I think about it, maybe that's their strategy.
As you're searching through all the cool tools, you can't help but click the "Add to Cart" button a few times more than you thought you would and it ends up just like a trip to Costco, with a 100-buck bill before you know it.
Here's a tip: opt in to the Wiha "members" club and you'll get members-only access to some pretty good sales. So you can spend even more money…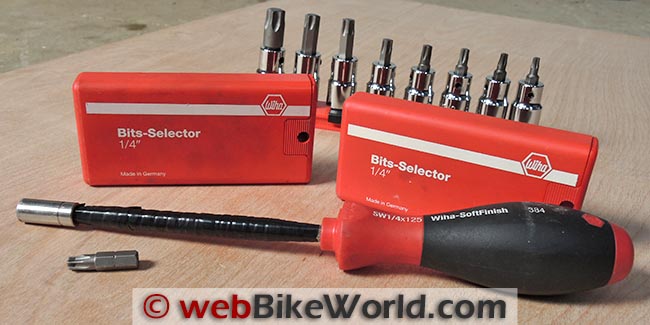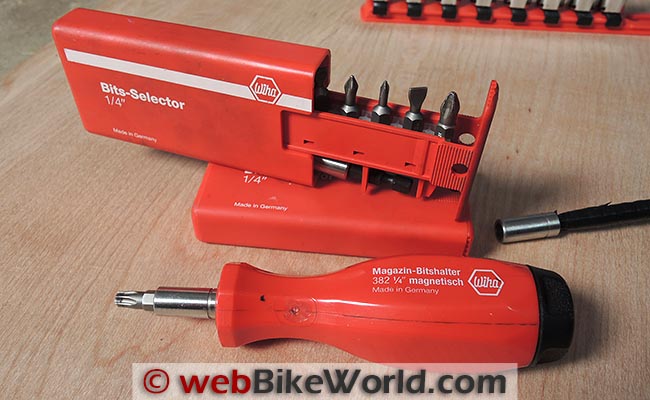 Still Made in Germany?
Wiha Tools originated in Germany and the "Wiha" name is based on the initials of the founder's name: Willi Hahn.
Almost all of the Wiha tools used to be made in Germany, but I've noticed that there is no country of origin label on the last few that I purchased.
For all I know, the tools could still be made in Germany, and I would think this would be a potential selling point, but who knows?
For some reason, they seem to be shy about where the products are currently made…which usually means they're being made offshore.
This isn't necessarily bad, as long as Wiha maintains their traditionally strong levels of quality. But, there's always something nice about German-made products…especially if you're working on a BMW!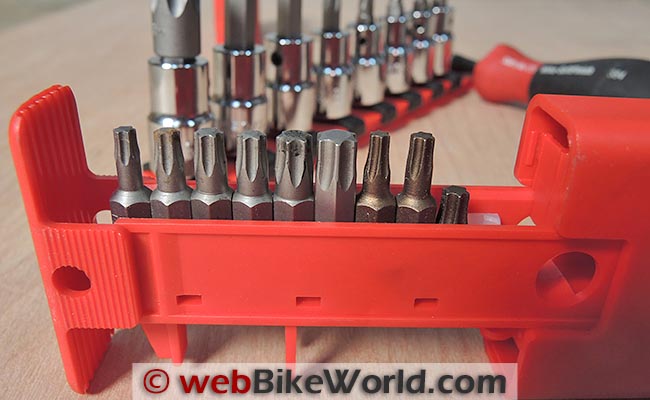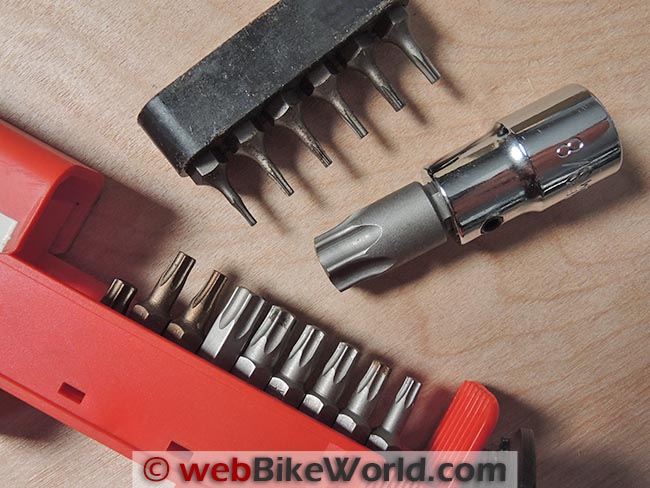 The Basic Torx Tool Kit
I rarely use old-fashioned screwdrivers any more or even "L" shaped Allen wrenches (hex keys), having moved to bit drivers long ago. There are several good reasons for this.
First of all, you can buy the Wiha 34759 1/4″ magnetic bit driver and a Wiha 79243 Bit Selector (or Wiha Torx "Bit Selector" assortment) and — bam! — you're done. Instant screwdriver selection in the palm of your hand.
My first Wiha "Bits Selector" kit had standard flat blade and Phillips-head screwdriver bits and it even has a 1/4″ drive extension carried underneath.
By the way, they used to sell the Bits Selector boxes only and you could fill them with your own 1/4″ drive bits, should you already have a collection started.
Slide open the box, select your bit and pop it into the magnetic Wiha bit driver and you're ready to go.
If the bit becomes worn (unlikely unless it's been abused!), then simply replace the bit, rather than the whole screwdriver. Snap in the extender for extra length.
The bit driver and a bit assortment set will cover you for probably 90% of any fasteners you're likely to find on a motorcycle.
The Wiha 79243 Bit Selector assortment includes straight/flat blades (5.5 and 6.5), Phillips (0, 1, 2 and 3) and Torx (T10, T15, T20) bits, along with the magnetic extension.
The bits are hardened chrome-vanadium-molybdenum steel and mine have lasted quite a while so far with no signs of wear. Plus, the hollow grind and special finish seems to offer better grip in straight, Phillips head and JIS fasteners.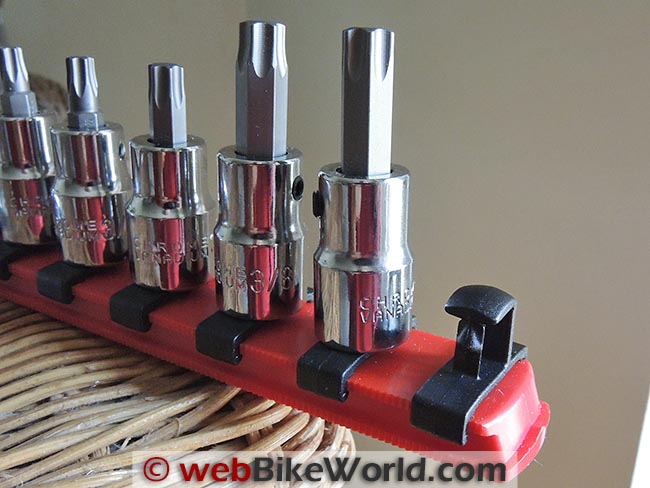 Wiha 3/8″ Drive Torx Socket Set
If you're working on one of the BMW scooters, you'll need a collection of T25 through T55 Torx bits, which so far has covered me for all of the scooter maintenance so far.
For this, you'll need a Wiha 79242 Torx "Bit Selector" assortment or you can move up to the Wiha 76396 3/8″ drive Torx socket set.
T45, T50 and T55 Torx bits and sockets are huge compared to the basic Torx types you may be used to seeing, so a 3/8″ socket type is really the way to go for these larger sizes because they work with your standard ratchet sets and torque wrenches (wBW reviews).
A Torx T55 is a monster, but believe it or not, BMW uses this size to hold — are you ready for this? — the bar end caps on the BMW scooter handlebars. Kind of an order-of-magnitude overkill in my opinion and no wonder the scooter is so heavy!
Even the rear wheel uses "only" T50 fasteners to hold the wheel on the single-sided swingarm.
I had never even seen a T50 or T55 Torx bit before, they're that big. But we were working on installing the beautiful new Kaoko throttle lock on the scooter and I discovered I needed a T55 and, well, there's nothing like an excuse to buy new tools!
I looked around but ended up back on the Wiha website and found what I needed.
The Wiha 76396 Torx 3/8″ drive socket set is a beauty, with highly polished sockets stamped "Chrome Vanadium" (but no country of origin). The kit includes 3/8″ sockets holding the 1/4″ Torx bits of T20, T25, T27, T30, T40, T45, T50 and T55.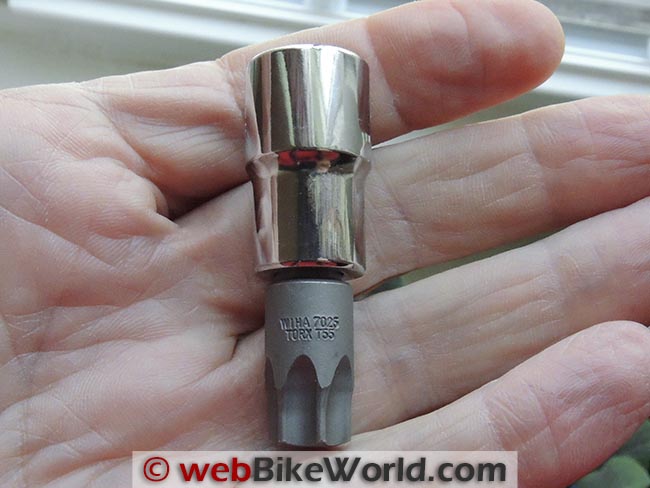 3/8″ Drive Torx Sockets Pros and Cons
Each Wiha Torx bit is set into the 3/8″ square drive socket and held with either a 2 mm (on the T20 to T30 sizes) or 3 mm (on the T40 to T55 sizes) Allen set screw.
This is a nice feature because if a bit ever becomes worn, it can be easily replaced by removing it from the socket.
There's not much to say about these Torx sockets, other than they look good and perform well. My experience with Wiha bits has been excellent; the bits are made from hardened steel and they really last, with little wear, so I expect the Torx bits in the socket set to do the same.
The only problem I have with this set is that the Torx bit size is not stamped on the chrome socket, it's on the bit itself. This means that on all but the T55 bit, you don't see the size.
It's not that much of a problem because the size of the Torx bits you need for a particular fastener is usually pretty obvious, but it would have been nice to see the size labels somewhere, although I suppose that would raise the price.
But on the plus side of the equation, here's the difference between this Wiha 3/8″ drive Torx socket set and some of the cheap brands I've seen:
First, the Wiha sockets have a hex receiver forged on the inside  (photo below) that precisely fits each 1/4″ drive bit, so the bit cannot twist when you're pumping on the torque.
I've seen cheaper socket sets that have round receivers and the set screw on a flat is the only thing holding the bit in place, which means it could easily spin when you're tightening a fastener.
Also, the Wiha sockets use the special Wiha "Magic Ring" along the top, which can just be seen in the photo below, indicated by the orange arrow.
The groove you can see about half-way down the hex on the bit shown below snaps into the ring, which holds the bit in place even if the set screw fails.
Once the set screw is loose, stick a flat-faced driver into the bottom of the socket (the 3/8″ drive end) and give it a hard tap to push bit out of the socket for replacement if you ever need to. Chances are, you won't.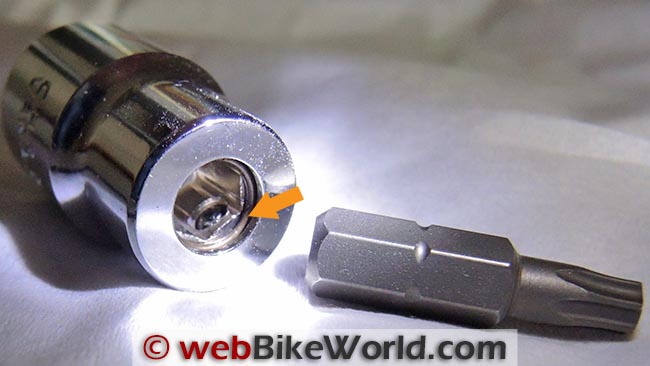 Other Wiha Tools
I also needed a tiny T5 Torx driver one day for another motorcycle-related project.
I had a set of T6 to T25 (Murphy's Law says you'll never have the tool you need, no matter how many tools you own) and a friend gave me a set of six T5 to T9 1/4″ drive bits.
So now I'm covered at the small end.
But those tiny Torx guys are rarely used; the T25 to T40 or T45 are really the most common Torx fasteners found on motorcycles, so get those first.
Again, once you have the 1/4″ bit driver, all you need is a selection of bits and you're ready to go.
Wiha used to make a #382 "Magazin-Bitshalter" (fourth photo down from the very top of the page), which is a bit handle with six assorted 1/4″ bits in the handle, and that would make a good, basic, no-frills system.
But it's apparently no longer in the Wiha tool listing unfortunately. Its short length is sometimes needed when the longer bit drivers are too long. For example, there are a couple of places on the BMW scooter where that is the case, like when removing the upper front side panels.
A similar replacement for a short driver might be the Wiha 38045 Stubby Screwdriver With Six Torx Bits. In any case, you'll probably need both a short and long driver, plus a bit set, for working on motorcycles.
Conclusion
The Wiha Torx bits and drivers are good mid-range tools that have served us well in the webBikeWorld garage. Each tool has a unique feature that really seems to help.
These are "pro" tools in the sense that they all seem to be built with a purpose and with features that make a job easier, and that's what counts.
There are many other brands of Torx bits and drivers that I have not tried, but since I've had good experiences with Wiha Tools, I've been a repeat customer and haven't found any reason to switch.
If you have a favorite Torx or other type of tool or bit or driver, feel free to drop me a line!
w

BW

 Review: Wiha Torx Bits and Drivers
Manufacturer: Wiha Tools
List Price( 2013): $12.71-$39.99
Colors: Various
Made In: Germany and Unknown
Review Date: January 2013
ADDENDUM: Torx Fastener Specifications
Following is a table compiled from various sources that lists general Torx fastener specifications.
Torx Specifications

Torx
Size
Width Across
"Points" (mm)
Maximum Torque Range
Foot-Pounds
Newton-Meters
T1
.81
.01 to .02
.02 to .03
T2
.93
.05 to .07
.07 to .09
T3
1.10
.10 to .13
.14 to .18
T4
1.28
.16 to .21
.22 to .28
T5
1.42
.32 to .38
.43 to .51
T6
1.70
.55 to .66
.75 to .90
T7
1.99
1.0 to 1.3
1.4 to 1.7
T8
2.31
1.6 to 1.9
2.2 to 2.6
T9
2.50
2.1 to 2.5
2.8 to 3.4
T10
2.74
2.7 to 3.3
3.7 to 4.5
T15
3.27
4.7 to 5.7
6.4 to 7.7
T20
3.86
7.74 to 9.37
10.5 to 12.7
T25
4.43
11.7 to 14.0
15.9 to 19
T27
4.99
16.6 to 19.8
22.5 to 26.9
T30
5.52
22.9 to 27.6
31.1 to 37.4
T40
6.65
39.9 to 48.0
54.1 to 65.1
T45
7.82
63.4 to 76.1
86 to 103.2
T50
8.83
97.4 to 117
132 to 158
T55
11.22
161 to 189
218 to 256
T60
13.25
280 to 328
379 to 445
T70
15.51
465 to 516
630 to 700
T80
17.54
696 to 773
943 to 1048
T90
19.92
984 to 1094
1334 to 1483
T100
22.13
1359 to 1511
1843 to 2048
Note:
 For informational use only. All material and photographs are Copyright © webWorld International, LLC since 2000. All rights reserved. See the webBikeWorld® 
Site Info page
. Product specifications, features and details may change or differ from our descriptions. Always check before purchasing. Read the
Terms and Conditions
!
Owner Comments and Feedback