TORC helmets are known for their styling and design. The leading company makes helmets for every type of rider. The main focus of TORC is to provide an enjoyable riding experience for the bikers.
If you love to race out in the open, or are waiting to go to the next mountain ride, you will love the Route 66 Helmet from TORC. For one, they are easy to wear and they help you protect yourself even while they are open faced.
While full face helmets are preferred by many bike riders, there are some riders who feel claustrophobic. The pleasure of bike riding is often canceled out by the stuffy feeling inside the helmet. If you want more freedom without compromising your safety, you can go for open face helmet. In the TORC T50 Route 66 helmet review, you can find out why it is a good choice if you want to go for a full face helmet.
Benefits
The T50 helmet is one of the cheapest and most comfortable helmets you can get for less than $100. It is a great addition to the class of products for vintage looking helmets. It brings on the retro look while you zoom away on your bike. You need not compromise your safety as it is a brand new DOT approved helmet. The T50 helmet is a solid and safe helmet with impressive artwork.
Features
The open ¾ face helmet is ideally suited for bikers who want lightweight helmets. Weighing just 3 pounds, this helmet allows you to enjoy your ride without a burden on your head.
You don't need to break in the helmet or adjust the snaps to fit you. All you need to do is put on the helmet, and you are ready to go. TORC helmets are true fit helmets and so, measure your head size before purchasing this helmet.
This helmet is available in few different shell sizes to fit all types of bikers. The intermediate oval shape will suit most of the bikers. Since this is an open face helmet, you won't have any problem with a comfort fit, as long as you choose the right size.
Build Quality
TORC helmets are known for their tough build quality. Despite the light weight, the T50 helmet has a solid shell body that will protect your head should you get into an accident. The advanced ABS shell is DOT approved and it is has a tough built to it.
The helmet is comfortable, making it an ideal choice for a regular wear helmet. The build quality is premium, something that can't usually be found in cheaper helmets under $100. The bikers agree that the helmet looks like a high-end product, despite the lower price tag.
Graphics and Design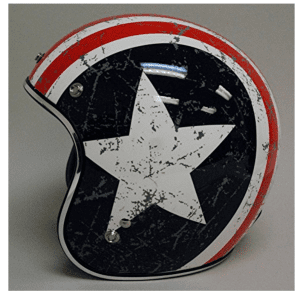 One of the most attractive features of the TORC T50 helmet is its unique graphic design. This helmet sports some cool graphics in different styles. The rebel star model features star shape on the sides and white and red stripes on the top. If you are love retro stuff and adore the vintage style, you will never want to take off this helmet. It has a rugged, worn-off look to it which makes it a style statement.
To cater to bikers with different styling needs, the T50 Route 66 helmet is available in different graphics design in vibrant colors. If you are not interested in bold graphics or design, you can choose the plain helmet with just the logo. Non-vintage graphic design is also available with TORC for those who want their helmet to look glossy and brand new.
Comfortable Interior
The helmet fits comfortably on your head, and the suede interior provides padding and cushioning. The interior lining is completely removable and washable. It is one of the important features that is not generally found in low-priced helmets. If the interior liner is non-removable, you have to deal with the murky sweat smell every time you wear the helmet.
The interior is surprisingly moisture wicking so that you don't feel the trickle of sweat even when you ride in hot conditions. The interior lining is removable, making it possible for you to enjoy more room inside the helmet without the padding.
Removable Visor
The TORC T50 helmet comes with a removable sun visor. With the open face helmet, the sun visor provides adequate protection, preventing the sun from shining brightly in your eye. If you want a clear visor with your helmet, you can purchase suitable visor separately and fit it with your helmet. However, most of the riders enjoy wearing this helmet without the visor. You can always look cool with an awesome pair of sunglasses while wearing this helmet.
Safety
Many bikers doubt the safety feature of open face helmets. As long as you purchase DOT approved helmets, you don't have to worry about safety. The open face helmet is also much more comfortable, making it easy to remove in case you meet with an accident.
Other Factors for Consideration
The T50 helmet is a basic helmet that offers just the protection for your head. The interior lining keeps you comfortable, but it is not one of the plush liners. In fact, you can't expect advanced features when you pay less than $100 for a helmet.
Nevertheless, it is a nice addition to your helmet collection, and the vintage graphics are cool. There is no room for fitting a connectivity device, and this can be a problem if you love listening to music while enjoying your ride. The best part of this helmet is that it fits male and female bikers equally well and it can take on any personality.