Mad Max fans have celebrated the cult movie with the third tour of Victorian scenes from the movie, raising $1200 along the way for the Father Bob Foundation which helps homeless youth.
The Mad Max Toecutter Gang Diehard Tour 2016 was held on May 29 as an extension to the Toecutter Gang Johnny the Boy Lives Tour in Clunes, Victoria, hosted by Freedom Riders Australia.
Tour spokesman and photographer Phil Wood says the tour attracted more than 100 Mad Max fans, including a rider from New Zealand.
He says there was a host of wild and wonderful machinery, 70 motorcycles, six Mad Max replica cars and even two Night Rider Kitt cars.
The event started at Wallan's Pretty Sally's now-abandoned diner which featured in the movie as Fat Nancy's. A diner tour was led by Sluggo (Andrew Jones) who played several parts in the 1979 cult film including Johnny the Boy's double and Max, himself.
The Lions Club of Wandong/Wallan served a great breakfast and Cafe Amore provided coffee before the riders and drivers headed off to Emu Creek.
There, they were given a comprehensive tour and behind-the-scenes insights into the filming by Sluggo and legendary stuntman Terry Gibson.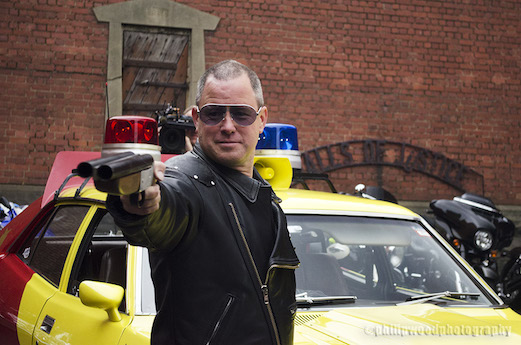 The tour then moved to Science Works where $350 was raised through auctions of replica Mad Max car rides and a raffle to win a replica "Halls of Justice" sign.
Next stop was Wilsons Point where the lovers were being spied on by the Main Force Patrol in the movie.
From there, riders and drivers travelled to Little River Hotel for lunch and raffle draws.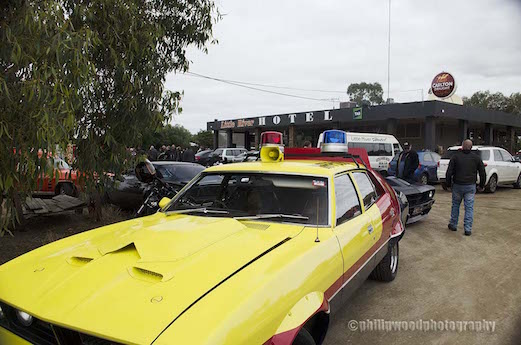 "We were given a great feed and a warm welcome from the staff and locals alike," Phil says.
"We all got a chance to sit down and relax. A time to see the cars close up and speak to the people who have spent a fair amount of their time and money to replicate these iconic Australian cars."
From there, the tour headed to filming locations around the Werribee area including Kirks Bridge where there were several staged "drive bys".
The bridge location is where Max takes out the four bikers who fly over the edge.
The tour finished at 5pm with a visit to seven significant film locations around Melbourne.
Phil says the Freedom Riders Australia were proud to host the third Mad Max tour.
"We hope to extend this series even further in the future," he says.