Australia's only entrant in the 2016 Dakar Rally, NSW rider Toby Price, is now leading the race after his fourth stage win in the gruelling event with just five more stages to go.
No other rider this year has managed more than one stage win and he's the only rider to have led a stage from start to finish.
It also makes Toby the most successful Australian yet in the famed rally. However, the mainstream media still hasn't woken up to the enormous feat. Only SBS gives daily coverage of the event.
In the eighth stage in the dunes, the KTM rider was 5:17 minutes in front of his main rival, Honda rider Paulo Gonçalves of Portugal, leapfrogging him to the top of the general standings with a lead of 2:05'.
Toby's plan was to be conservative in the first half of the two-week rally and attack in the second.
If  he was being conservative in the first half it certainly paid off,  but now he seems to be really on the attack.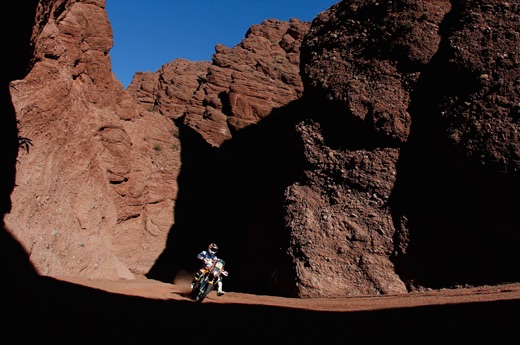 The 27-year old
Hunter Valley
rider last year achieved a stunning and significant third place. He was not only the top-placed rookie but also the equal highest-placed Aussie finisher in the event's history after fellow rookie and privateer Andy Haydon placed third in 1998.
Now he has the hopes of a nation riding with him to ascend to the top step of the podium.
You can cheer on Toby by watching the daily video updates from the rally on SBS at 5pm and send a message of support to his Facebook page.