An historic first win for an Australian in the Dakar Rally is looming closer after KTM rider Toby Price finished second by just 18 seconds in a controversial Stage 11 today, but stretches his lead by 12 minutes to 35.
Cheer on Toby by sending a message of support to his official Facebook page.
"I can't smell victory yet, not yet. I won't smell victory until I cross the finishing line on the last day," Toby said after today's stage.
There are only two stages to go, but the final stage is more of a short procession and unlikely to change the overall order.
Toby, who is the only Australian competitor this year, just needs to defend his lead tomorrow to score his first win and the first for an Aussie in the 37-year history of the gruelling event.
Fellow KTM rider and rookie Antoine Meo of France scored his second stage win today and is the only other rider to win more than one stage with Toby winning five stages. Meo is now third, while Slovak Štefan Svitko (KTM) in second while previous threat Paolo Goncalves (Honda) of Portugal exited the race after a crash.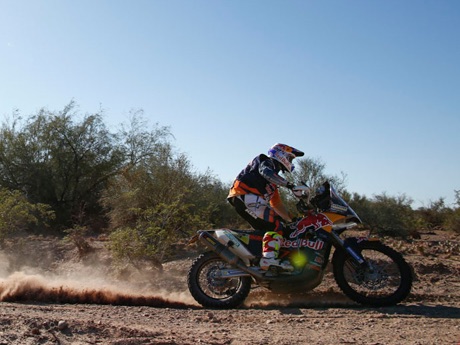 This has been one of the toughest Dakar Rallies yet with officials again having to cut a second stage short at CP2 because of the oppressive heat.
It's interesting to note that Price was declared the winner of Stage 9 after it was cut short at CP2 when he was leading and he was in front at CP2 again today by some three minutes, yet Meo was declared the stage winner this time because he finished 18 seconds in front of Price at the end of the shortened stage.
Let's hope that inconsistent decision doesn't come back to bite Toby at the end of the rally.
Twenty-seven-year-old Toby, of the Hunter Valley, last year achieved a stunning and significant third place. He was not only the top-placed rookie but also the equal highest-placed Aussie finisher in the event's history after fellow rookie and privateer Andy Haydon placed third in 1998.
While the SBS shows daily updates at 5pm and the ABC is starting to show some interest, mainstream media has yet to wake up to the enormity of Toby's performance.
Motorbike Writer will record an interview with ABC radio this morning to highlight just how tough the rally is and point out how well Toby has performed in the gruelling 9000km event.