Australia's only Dakar Rally champion, Toby Price, has bounced back from a 49-minute deficit in stage 10 to win stage 11 and give him a glimmer of hope for a second victory.
His first stage win in this rally jumps him from fifth to third position with a 50-minute deficit on his Red Bull KTM teammate Matthias Walkner of Austria with only three stages to go.
Apart from his excellent stage riding, he also leapt two spots up the table because overall second-placed Joan Barreda Bort (Honda) pulled out with a nagging knee injury he's been nursing since Saturday.
It provides Toby with a glimmer of hope.
He is now 39m17s behind Matthias who came in fifth today, 11 minutes behind Toby. 
Second overall is Honda rider Kevin Benavides of Argentina who is exactly 32 minutes behind and 7m17s in front of Toby.
KTM privateer Gerard Farres is in fourth and KTM factory rider Antoine Meo is fifth as the Austrian manufacturer chases its 17th consecutive victory.
Crashes change rally
Dakar is a tough race and anything can happen, as we have seen in the past two days.
Two of Toby's toughest competitors have already been sidelined by crashes.
Last year's winner and Toby's teammate, Sam Sunderland, crashed out early and Yamaha lead rider Adrien Van Beveren crashed on stage 10 just 3km from the finish.
Although 39 minutes is a lot for Toby to claw back in this rally, the next two special stages are marathon events of 375km and 424km.
"It's still going to be tough from back where we are," he says on his Instagram account.
'To be still in the race after our horror Stage 10 and heading towards the finish line is a pretty big achievement for me.
"My goal is to stay on two wheels, not make anymore mistakes and see what that gives us at the finish line."
So what will it take for Toby to win?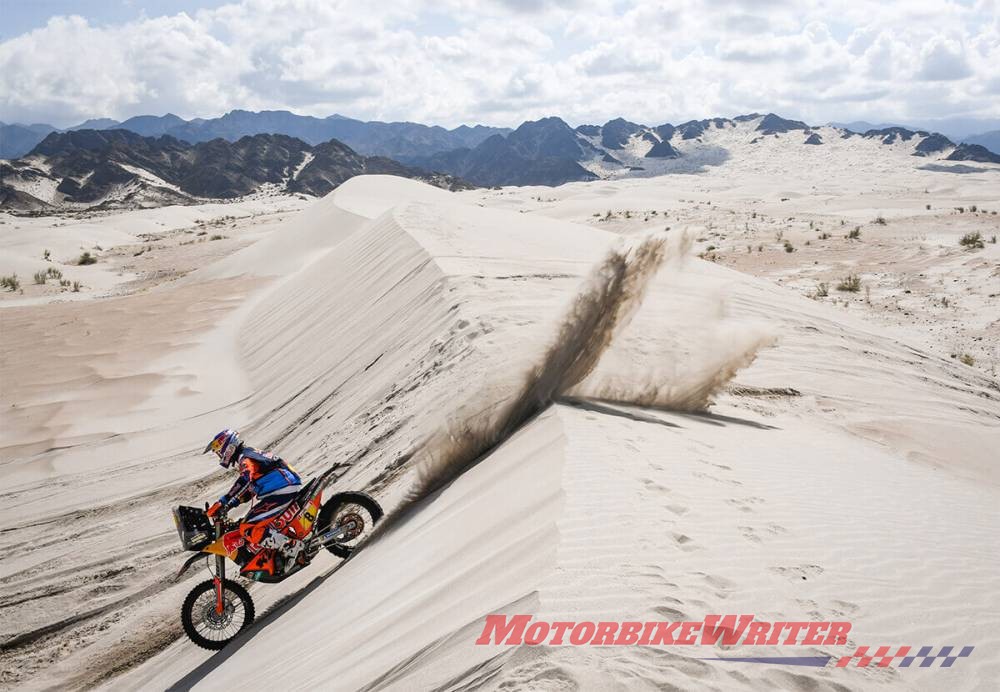 Apart from continuing to ride like the champion he is, Toby needs for some of his stage 10 bad navigation luck to fall the way of teammate Walkner and Benavides.
Click here to visit his Facebook page and send him your best wishes!
Meanwhile, the two other Aussie riders continue to do well.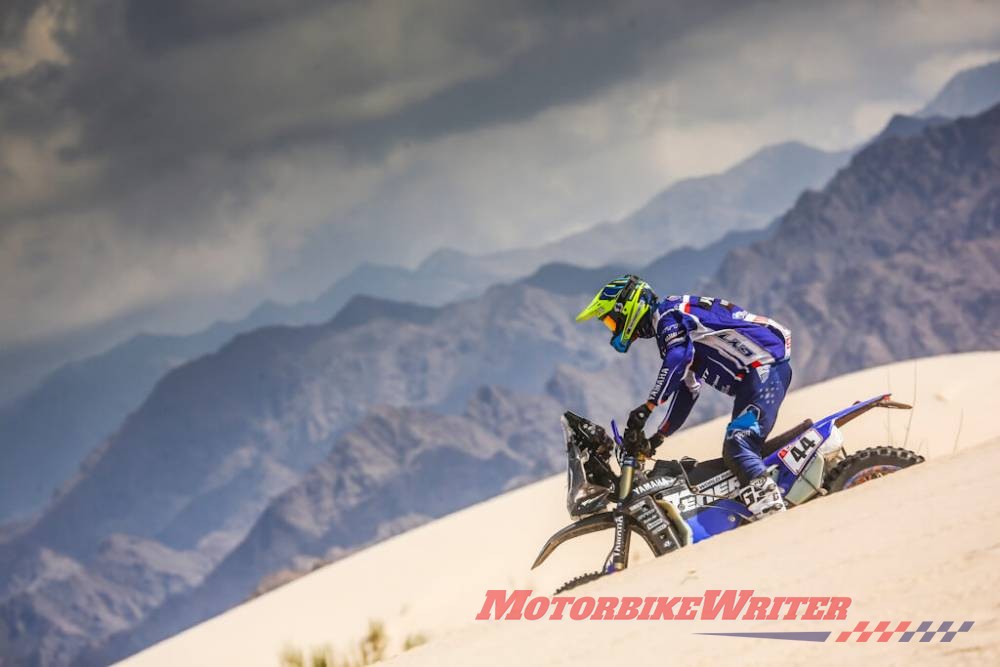 Yamalube factory team "water carrier" Rodney Faggotter of Longreach finished in 16th position on stage 11 and moves up two overall places to 18th.
Debutante privateer Scott Britnell of Sydney finished 50th, moving up six places to 61.
Click on the riders' names above to visit their Facebook pages and send them your best wishes for the closing stages of the rally.