The Honda factory team is shaping to be the biggest threat to Aussie Toby Price scoring his third Dakar Rally win and the 19th consecutive victory for KTM.
Honda has the top three outright positions after yesterday's 453km stage four of the rally in Saudi Arabia with Toby biding his time in fourth place outright.
It was a close stage with all top 20 riders, including Queensland veteran competitor Rodney Faggotter (Yamaha), within 13 minutes.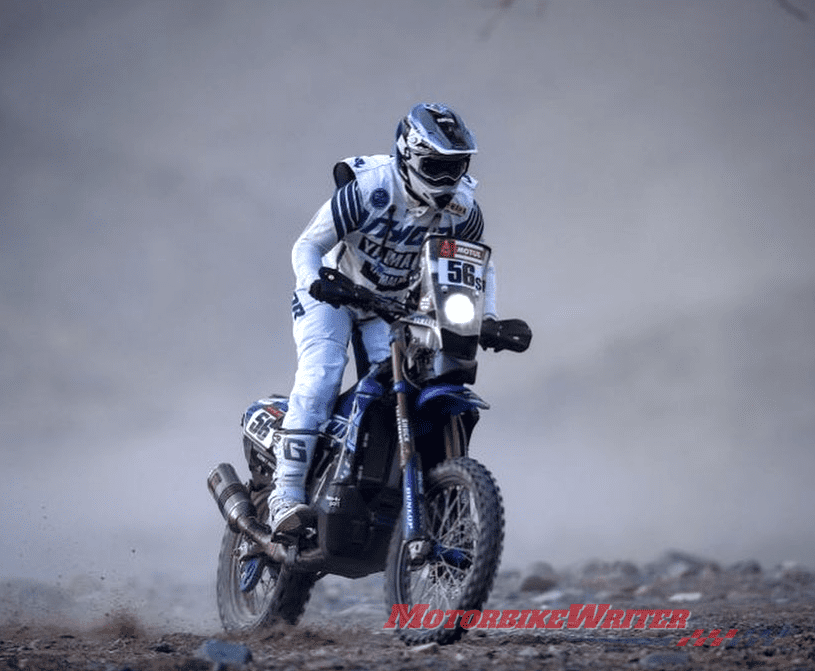 "Crazy amounts of different terrain and dusty conditions have made for another tough day, a real reminder that we're at the Dakar Rally, "says Toby.
"As tough as today was I'm happy to have a consistent day with only a couple of little mistakes. We're sticking to our plan and are in a great position with plenty more racing ahead of us.
"I just need to stay focused and stick to my guns, with navigation being so damn full on my brain is fried and actually makes me feel like I do have some brains up there."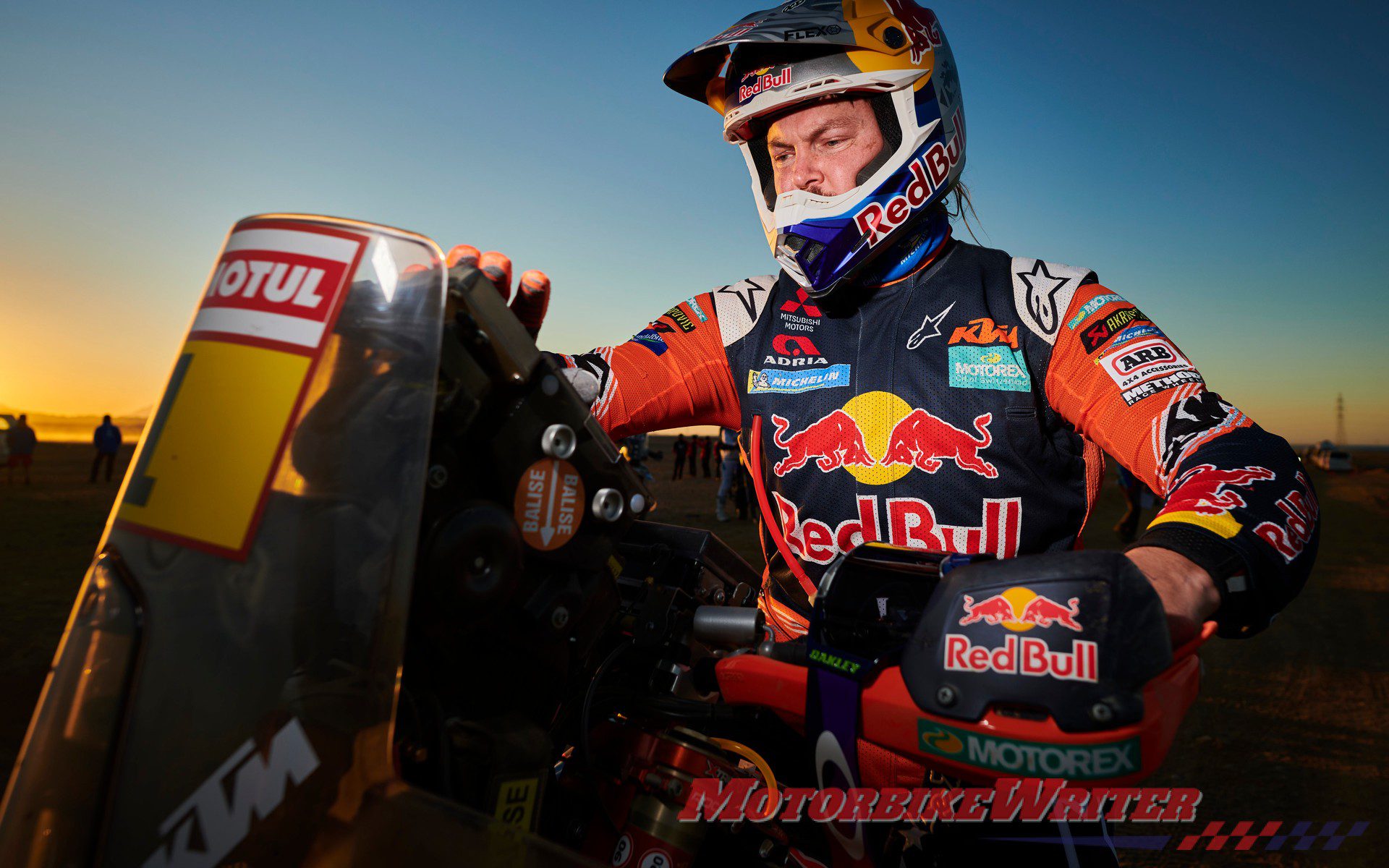 The stage was won  by Chilean rider Jose Florimo (Honda) followed by teammate Kevin Benavides with Toby sixth and less than three minutes behind.
He is now just over 12 minutes behind Honda rider Ricky Brabec who is hoping to be the first American to win the gruelling rally.
(Sorry it's in Spanish, but the images are in English!)
Top 10 outright rankings
| POS. | N° | DRIVE-TEAM | MARK-MODEL | TIME |
| --- | --- | --- | --- | --- |
| 1 | 9 | | MONSTER ENERGY HONDA TEAM 2020 | 15H 06′ 43" |
| 2 | 7 | | MONSTER ENERGY HONDA TEAM 2020 | 15H 09′ 13" |
| 3 | 17 | | MONSTER ENERGY HONDA TEAM 2020 | 15H 15′ 14" |
| 4 | 1 | | RED BULL KTM FACTORY TEAM | 15H 18′ 52" |
| 5 | 5 | | ROCKSTAR ENERGY HUSQVARNA FACTORY RACING | 15H 24′ 35" |
| 6 | 3 | | RED BULL KTM FACTORY TEAM | 15H 25′ 54" |
| 7 | 12 | | MONSTER ENERGY HONDA TEAM 2020 | 15H 32′ 03" |
| 8 | 16 | | RED BULL KTM FACTORY TEAM | 15H 33′ 13" |
| 9 | 2 | | RED BULL KTM FACTORY TEAM | 15H 33′ 46" |
| 10 | 59 | | KLYMCIW RACING | 15H 41′ 11" |
Other Aussies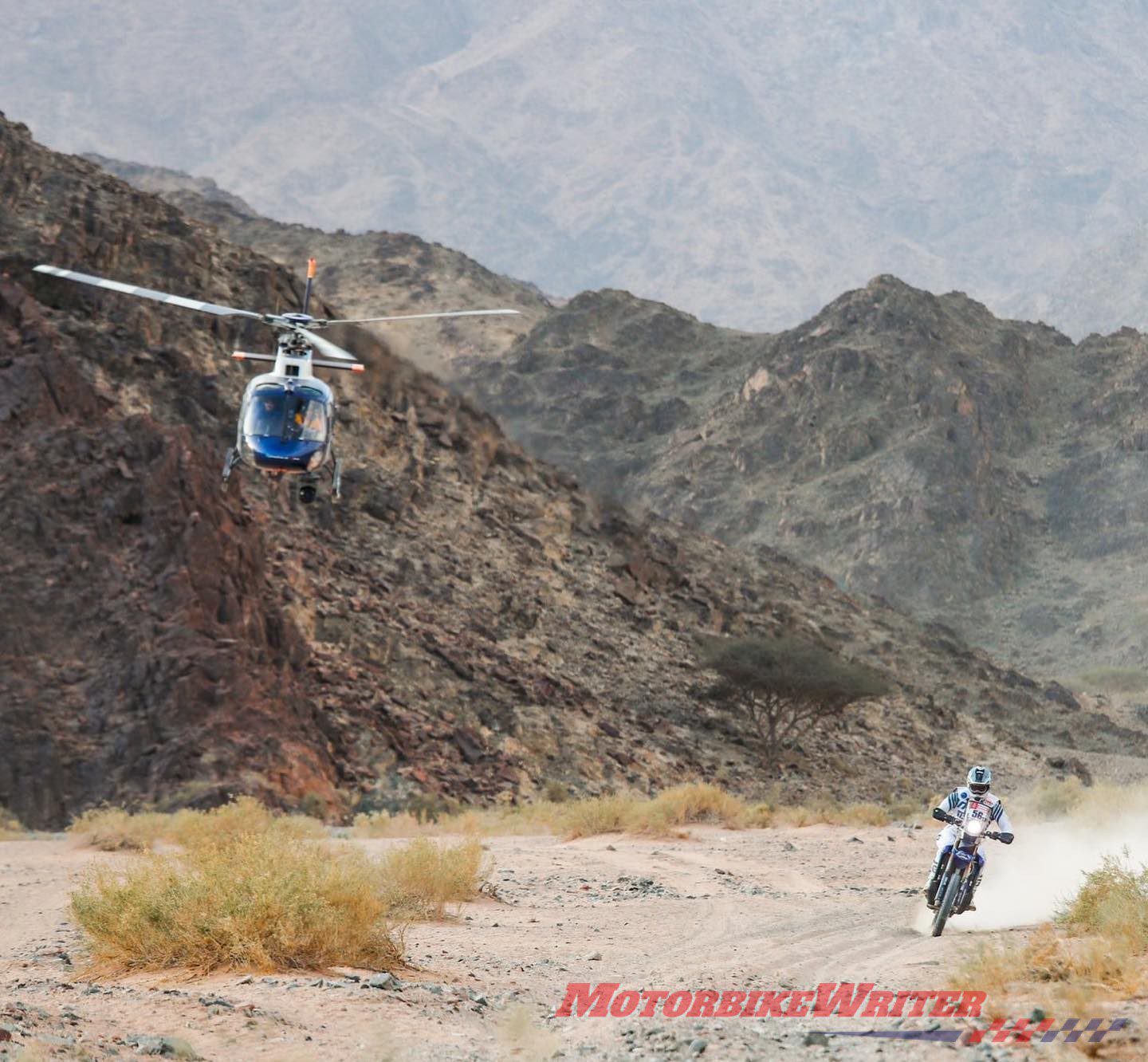 Rodney Faggotter finished 18th and moved back two places to 17th outright.
"It was a brutal day and plenty of potential to hurt yourself, so I just rode smooth as possible though most of the time the throttle was wedged non stop.
"Fast tracks, fast sand and a million rocks littered throughout to make it interesting."
Other Aussie Ben Young (KTM) finished a respectable 64th and moved up 10 places to 78th while Matthew Tisdall (KTM) finished last (121st) and moves up to 124th.
Tomorrow's 353km special stage is mainly sand with large boulders as navigation markers.
For the first time the Dakar rally is being run in the one country, Saudi Arabia, after being run in 35 countries on three continents since 1978.
Toby aids firefighters
Like many Aussie sports stars and celebrities, Toby is raising money for the bushfire appeal.
He is auctioning his starting jersey and pants for firefighters
Toby is also doing his bit for the current critical bushfire situation by auctioning his starting jersey and pants with proceeds going to the NSW Rural Fire Service.
It is open worldwide, just send in your bid in Australian dollars on his Facebook page or Instagram.
Current highest bid is still $13,001.
Auction closes on 18 January at 5pm (AEST).
If you can't bid, please donate on this link.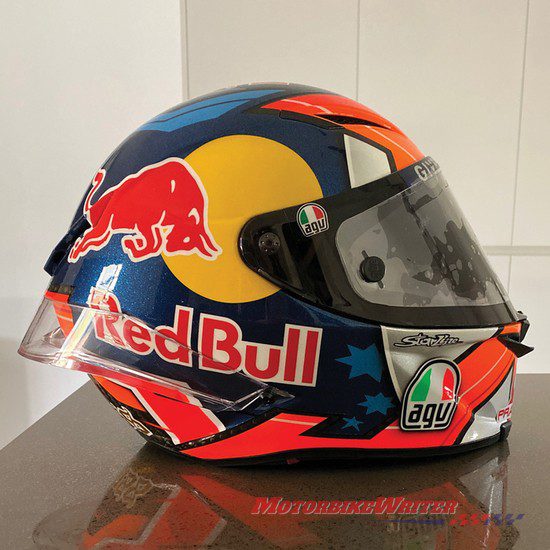 Meanwhile, Aussie MotoGP racer Jack Miller is also putting his 2018 MotoGP helmet up for auction to raise money for the bushfire crisis.
The auction is open worldwide until on Sunday (12 January 2020) at 5pm (AEST).