Dakar Rally champion Toby Price has apologised to his Australian fans from his hospital bed for crashing out of the rally on the fourth stage.
However, he is already talking about returning to the most gruelling event in the world.
"We'll hopefully heal up and we'll come back stronger and go better again," he says in a live Facebook feed from his hospital bed.
"We'll get it sorted and we'll go again."
Toby started the fourth stage in fifth place and was in the lead when disaster struck.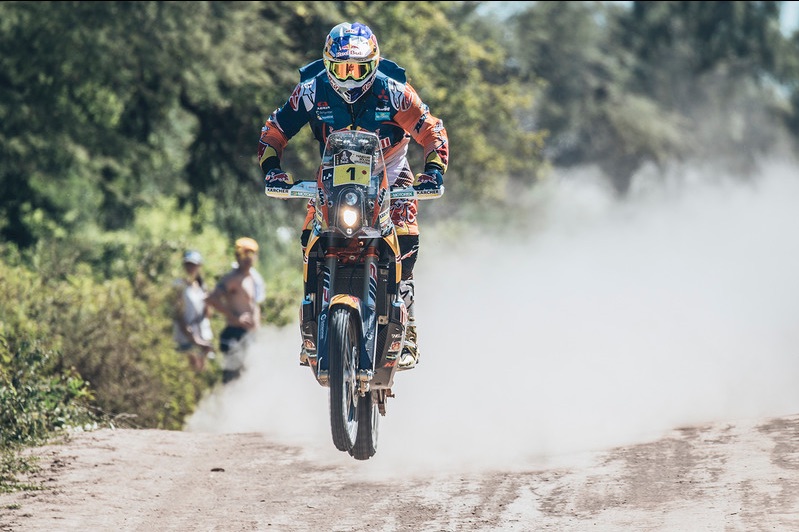 "How things can change so quick," he says.
"Was all going fine till one rock caught me out. That's how it is, though, I guess. Can't have all Dakars go perfecto. I wish it was a dream though.
"Huge thanks for all the messages."
Toby was at the 371km mark of the stage, just 45km form the finish, when Price crashed and broke his left thigh bone.
He was evacuated by helicopter just over 10 minutes later after outright leader Joan Barreda Bort stopped to help.
Although Toby Price crashed and broke his neck and back in a rally four years ago, he is renowned for his consistency.
He finished third in the Dakar three years ago on debut and became the first man to win the Dakar on only his second participation last year and the first Australian to win the coveted title.
Toby says he is "shattered".
"Far out, didn't even make the first week," he says.
"At the time everything felt comfortable and good.
"Sucks to lose that. One important race and over and done with like that."
Meanwhile, Toby is frustrated by the language barrier in the hospital where no one speaks English and it took him 45 minutes just to get a bottle of water.
"i don't know what the plan is now or next and what happens; lay here for a little while and get sorted," he says.
"Thanks to everyone back home for the support and wishes and following along for four days.
"See everyone back in Australia soon."
Australia started the rally with four riders, but Toby Price and Queenslander Rod Faggotter exited on the fourth stage, Rod with mechanical issues in his Yamaha.
"Bad luck, but at least it is a mechanical problem, not human," he says. "Better luck next time."
Todd Smith finished today's stage 15th and remains in the top 20 overall, while there is no word yet on debutante Matt Hart (Husqvarna) who is raising money and awareness for wounded soldier charity Soldier On.
Please send them all messages of support on their Facebook pages by clicking the link in their names above.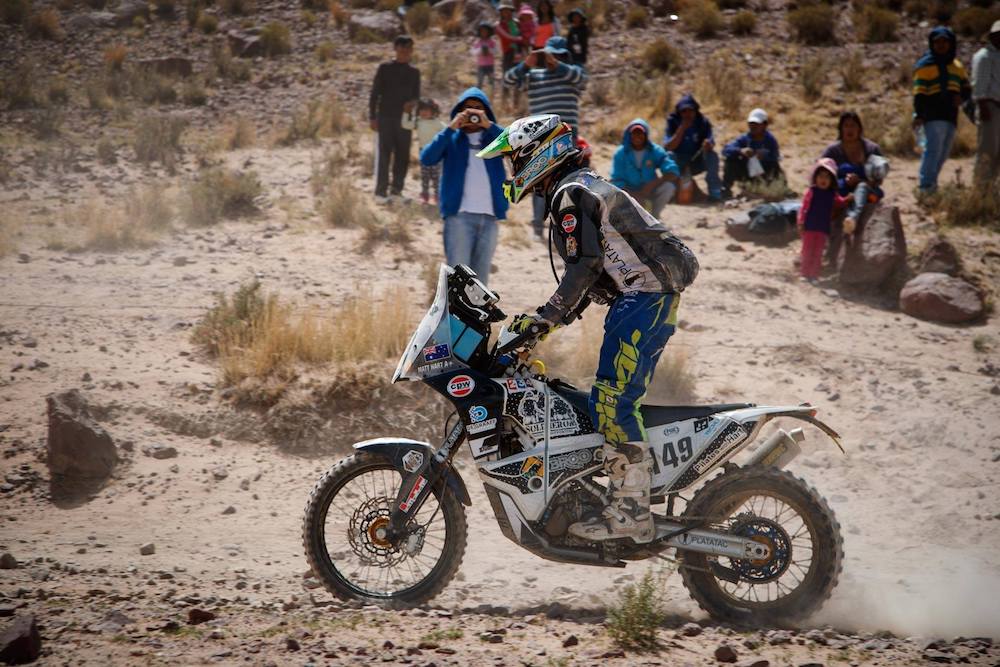 Meanwhile, Toby's KTM partner Sam Sunderland of the UK won stage 5 from Honda's Paulo Goncalves (Portugal).
Sam is now in the lead after the Honda riders were all penalised an hour for illegal fuelling.
Second is Husqvarna rider Pablo Quintanilla of Chile.