Out riding at the weekend, I noticed a few signs with Santas on them and some riders are already talking about the Christmas Toy Run season.
Motorcycle riders are a charitable bunch, raising money for all sorts of worthy causes. But the biggest charity events are usually the toy runs conducted in the lead-up to Christmas. They raise funds for a host of good causes, but usually providing money and gifts for needy families.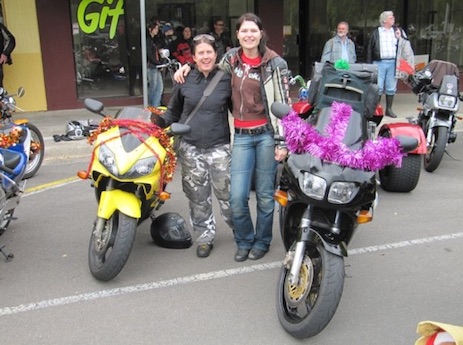 They are also a great opportunity for riders to show the community that we are not all badasses and that we do a lot of good for the community.
And they're good fun for the riders who usually decorate their bikes with tinsel, Santas, reindeer etc.
If you'd like to take part, there is a comprehensive central site called Toy Run which is a Motorcycle Riders Association site that also lists some of the toy runs overseas, particularly in the USA. It also lists runs around Australia.
However, it may not be a definitive source and you should probably contact your local riders' club or dealer to find out where they are being held.
The first toy run notice to come across the desk here at MotorbikeWriter.com HQ is from the Victorian Motorcycle Council for the 37th Traditional Melbourne Toy-Run which was the first in Australia, starting in 1978.
The family event will be held on December 21 at Calder Park Raceway which provides a spectacular end point for convoys of dressed-up motorcycles and riders to converge with their Salvation Army Christmas Appeal donations.
It will feature a range of activities, entertainment, displays and trade stalls in addition to motorcycle stunt shows, motorcycle show and shine, hot-rod and drag car displays, children's face painting, jumping castle and a visit from Santa on his famous Tuk-Tuk "Santa Trike" at 1pm.
The Salvation Army trucks will be there to accept all donations and the thousands of motorbikes are expected to roll in from 10am.
Starting points include Cranbourne/Dandenong, Eltham, Epping, Ferntree Gully, Lilydale, Yarra Valley, Melton, Port Melbourne, Wallan and Werribee. Check the website for more details. Traders and sponsor enquiries welcome.