Most riders have dumped a bike at some time in their riding career while trying to do a tight turn.
It's a skill many people never develop or practise, but it can help you become a better and safer motorcyclist.
The civilian and police riders competing in the American motorcycle skills competition at the Harley-Davidson 115th anniversary celebrations in Milwaukee at the weekend certainly have honed these skills.
It's pretty to watch and many of the spectators were jealous of the skills and asked the competitors for tips. So did we.
Kaitlin loves the King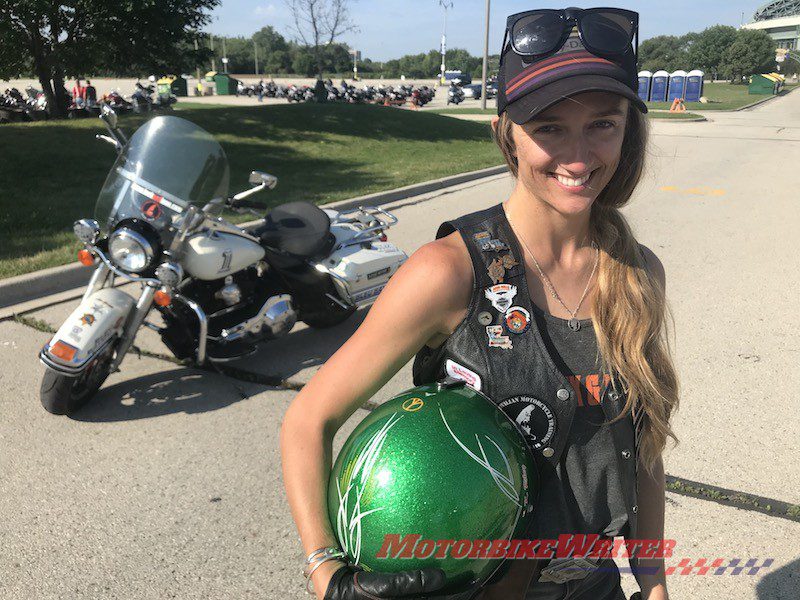 Kaitlin Riley, 32, of Bleu Bayou Harley-Davidson, Louisiana, has been riding since 18 and competing in skills games for five years after being taught by a police officer.
Like most of the civilian competitors, she has chosen an ex-police Road King as her competition bike.
"It has a police seat which is higher and closer to the handlebars for more control and you can can still hold both grips when the bars are on full lock," she says.
Check out her carpark practice.
Cone Sharks
Husband and wife team Cher and Brian Day of Nashville, Tennessee, call themselves the "Cone Sharks".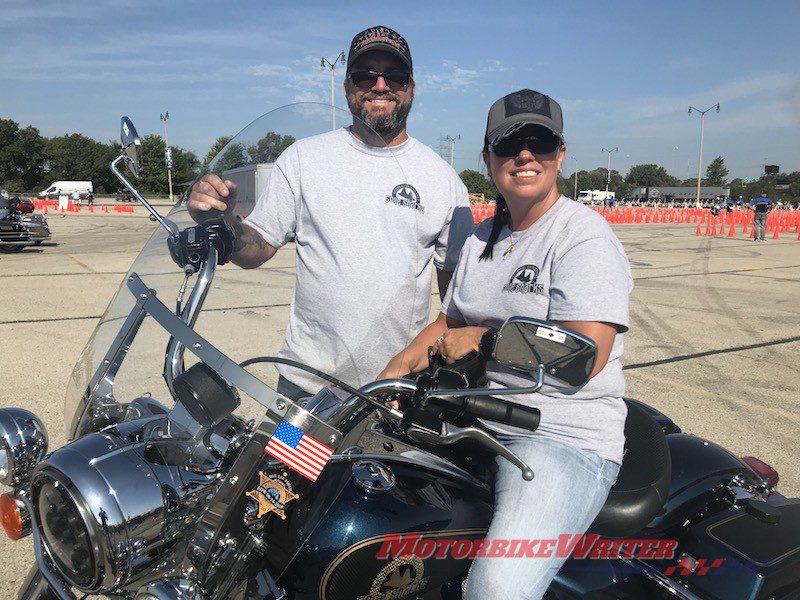 They also ride ex-cop Road Kings "because they are a bit cheaper".
"It also doesn't have a fairing so you can see the cones better and it has the biggest lean angle of any alley," says Brian.
"My top tip is to ride with people who are better than you, because you'll learn from watching."
Top cop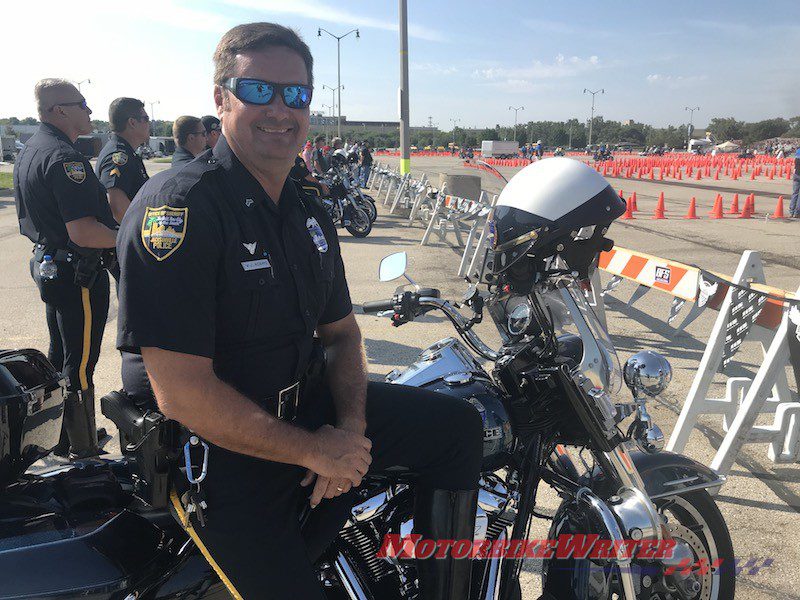 Jacksonville patrol officer Jack Adams has been 24 years on the force and 15 as a bike cop and competing in skills games.
"It's all about the head and eyes," he says.
"These skills teach proper cornering and braking techniques which are the most important skills for the road, even though this teaches that even at slow speed
"If more riders practised these skills, they would be safer on the road.
"Some older guys say I rode dirt bikes when I was 16 and now they're 60 on a big bike and haven't done any training."
Trainer tips
Of course, rider trainer Scott "Razor" Overstreet, owner of Razor Performance Riding agrees that training is important.
He says more time in the saddle increases your muscle memory so you react the right way when presented with a hazard.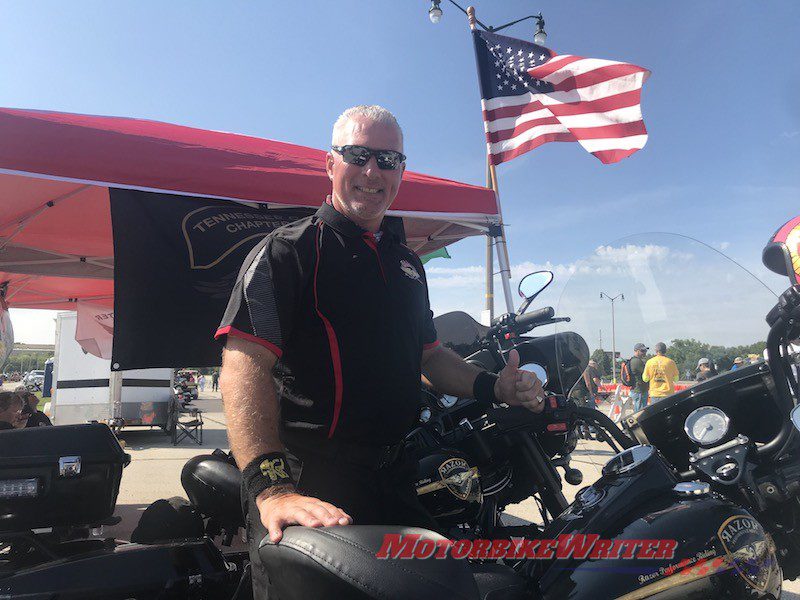 Best bike?
While this was a Harley-Davidson sponsored event and every competitor was on a Harley, almost any bike can do tight full-lock turns. Sportsbikes may be limited with a shallow turning circle and handlebars that jam your fingers against the tank.
Even though Harleys don't have high lean angles, they make perfect bikes for practising tight turns for several reasons: 
They have a robust clutch that is difficult to burn out;
The big flywheel provides low-speed stability;
They often have high and wide bars with a lot of handlebar lock;
They are low revving; and
They have a low centre of gravity for balance.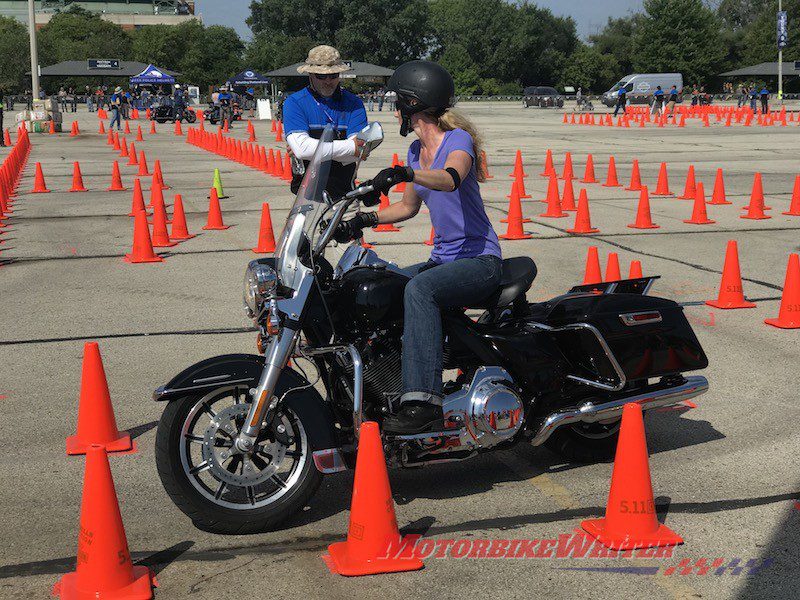 As Scott says, "they have about the lowest amount of high torque at low revs", if you know what that means.
We spoke to many more riders and have collated these top tips for tight turns.
Tight turn tips
Posture
Sit up straight, slightly leaning forward and as close to the bars as possible. Let the bike do the leaning and keep your body upright.
Bike set-up
Adjust the seat and handlebars as much as your bike will allow to suit your height so that you are in a natural riding position. Most competitors set the bars on their Harleys so the grips were about level with their elbows. That will not be possible on many other bikes.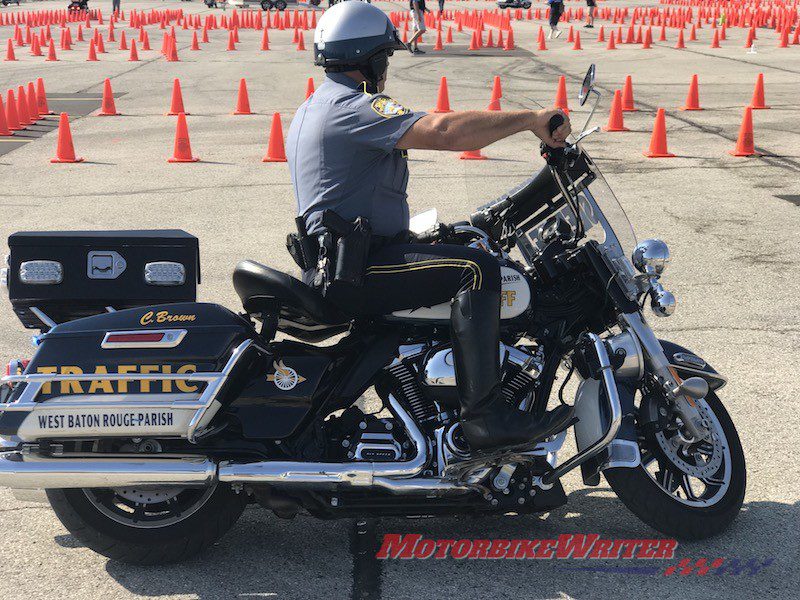 Rear brake
Ride the rear brake to slow and tip the bike. Avoid using the front brake.
Clutch
Ride the clutch to keep progress as smooth as possible. But don't rev the engine too much.
Head and eyes
Turn your head to look where you want to go and that's where you'll go. (Here there are two different points of view. Most say to find a focal point where you wanna to go. "If you look down, you'll go down," they say. Yet, it you watch them, most look slightly down at the start of their turn. One officer said he initially looks down at the pivot point to initiate the turn, then sights his focal point. Another officer admitted "That's pretty advanced stuff.")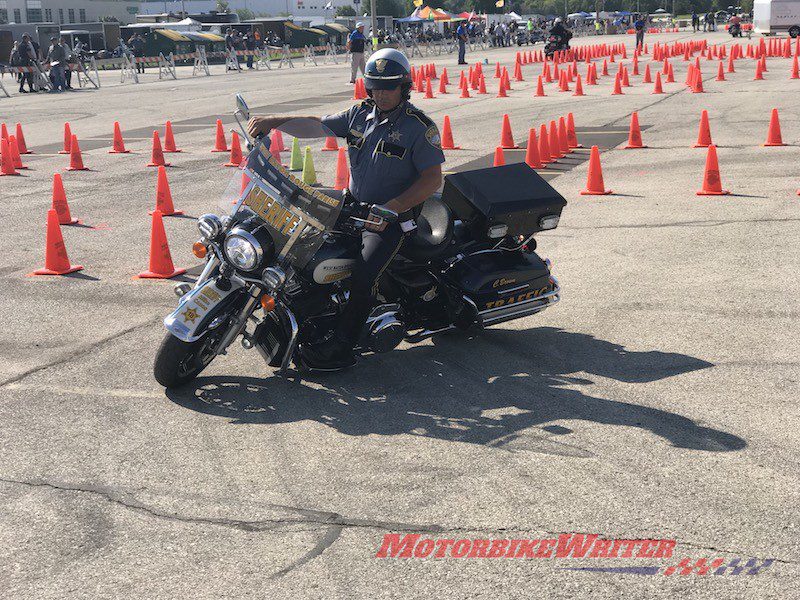 Tip and turn
Unlike normal cornering, you don't counter-steer at slow speeds. You actually tip and slightly turn toward the turn. This combination means you don't have to lean the bike much more than 30 degrees to do a full-lock tight turn almost around the axis of your bike.
Elbows
If you are turning left, lift your right elbow and vice versa. It's a tip we gleaned a long time ago from watching Steve McQueen and it works in fast corners as well.
Practice
Every competitor practised their turns in the carry before competing and says they raise as often as possible. Its the same with other bike skills such as emergency braking. Practice makes perfect.
Pick up
Learn how to pick up your bike. Inevitably you will dump your bike practising these skills. Click here to see how anyone can pick up even the biggest bike.