The growing demand for trikes has yielded some interesting conversion kits such as this new one from Tilting Motor Works that converts most Harley-Davidsons into a reverse trike with two wheels up front.
The base unit costs about $US10,000 while a roll-over stabiliser increases the price to $US13,000.
The Tilting Motor Works conversion kit includes new wheels, tyres, brakes, suspension and drivetrain.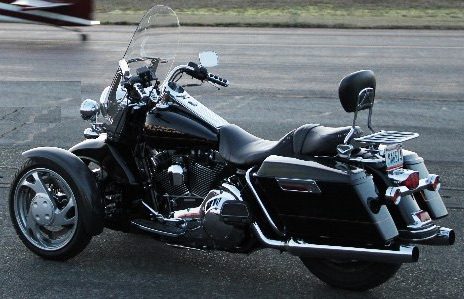 It fits all Harleys except the V-Rod and is being adapted to fit the Honda Gold Wing.
The Seattle-based company is not the only one doing the tilting reverse trike conversion. The Scorpion Trikes kit costs about $US5000 and only fits the Harley V-Rod.
The growth in trikes is being spurred by ageing riders who want to continue to ride but can't hold up a big touring bike and new mature-aged riders who don't want to ride a motorcycle but want the thrill of the open air.
Trikes are in abundance at Australian motorcycle rallies such as the Ulysses Club.
In the US, sales of Harley's Tri Glide and new stripped-down Freewheeler are doing well against the Can-Am Spyder range and Polaris Slingshot which is more like a three-wheeler car than a motorcycle.
The Harley three-wheelers have not been approved for mass import into Australia, but some small importers bring in American models and comply them.
Polaris Australia has not yet decided whether they will bring in the Slingshot.