This article is not a review of motorcycle gear. It contains only two motorcycle pictures. It's not about what some may consider a motorcycle story, yet for me, it has EVERYTHING to do with how motorcycles bind us. It embodies the quote I've followed for most of my adult life, "Tomorrow is promised to no one." And no, these two stories are not about someone dying in a motorcycle accident. As tragic as those stories are, non riders tell them to assure those of us who do ride, that they are smart enough to NOT ride motorcycles.
Paulette
In my past life, I worked as a suit for a broking company. It was an 8-5 Monday through Friday job in the Financial District of San Francisco, suit, tie, briefcase – the whole bit. No working from home in those days either. One of the women I worked with, a senior manager; Paulette was a humorous gal and we liked going to lunch together and grabbing coffee before work. It was a few years before she asked "Hey do you ride a motorcycle? The other day I saw you coming up the elevator in an Aerostich suit. Do you ride to work every day?" My reply was, "Yep with parking so bad here in SF along with traffic, riding my bike to work makes my commute and parking easy, why?" "Wow, I ride a Harley Sportster" to which I replied, "Oh I'm sorry!" "Oh, so you're one of those rice rocket riders huh!?" On and on our bantering went the rest of the day after we discovered a common bond. We often talked about going on rides, but since I had a new child and was furthering my career, our weekend rides just never happened.
Two years later Paulette was diagnosed with breast cancer. Breast cancer was treated socially differently in those times. We all rallied around her and supported her in any way we could. Watching her go through chemo and radiation took a toll not only on her but those of us close to her. Toward the end of her treatments, she called me asking "Hey Mark, when my chemo and radiation are over, do you think you and I could go on a little motorcycle trip to celebrate me getting through this shit?" "Look, we've been friends for a while now, but if you think I'm gonna give you sympathy sex on a trip, forget it, girl!" "You should be so lucky asshole." Yeah, that was our type of relationship.
At the time I owned a Kawasaki Ninja 500, Paulette her Harley 883. We both thought it would be fun to take highway one down to Pismo Beach and spend two nights at a little motel. Riding the coast highway has always been one of my favorite places to be. We left on a Friday afternoon and started our ride south. These were the days well before helmet communications. After only 90 minutes of riding, she motioned to me that she needed to pull over. So just outside of Gilroy, we pull off at an offramp. No gas station, no rest stop, just a random no-nothing off-ramp near garlic fields. She gets off her bike, takes off her helmet (you know that 'kind' Harley riders wear…I call them piss pots) gets into her tail pack, and pulls out 'something.' It's a HAND LOTION! She proceeds to squirt some into the palm of her hand, and then motions to me asking if I'd like some! WTF!!!!
I take off my helmet and ask "Is that why we're stopping?!" She simply smiles and says that her gloves dry out her hands and she wanted to stop to apply lotion. I roll my eyes, unzip my pants, and start to piss. "ARE YOU GOING RIGHT HERE?!" "Well you need to absorb some moisture, I need to expel some so turn around." We get back on our bikes and begin down the freeway. After only 20 minutes she pulls next to me and points to her tank. So we pull over at the next gas station and she fills up that little peanut tank 883s has. Again with the lotion too. I won't go into how many times we stopped for gas, lotion, and her peanut tank bladder, but what should have taken us 3.5-4.0 hours MAX took us five and a half.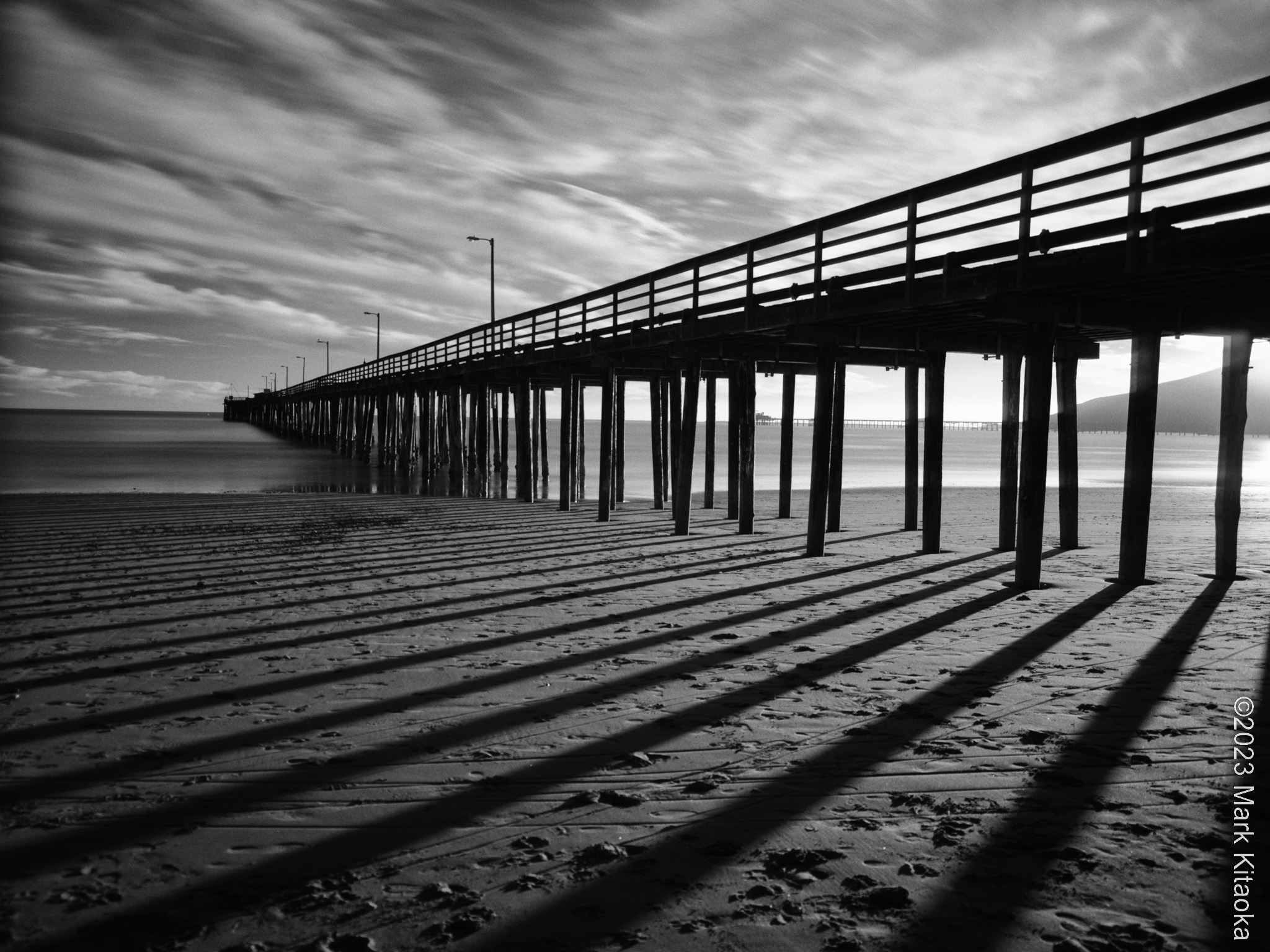 I reminded myself that this trip was to celebrate Paulette enduring and surviving breast cancer and the treatment toll it takes on anyone's body. I began to giggle each time she'd pull up next to me because I knew what it meant. Sometimes I'd mess with her and slowly speed up and not make eye contact when I saw her approaching. She'd eventually pass me flipping me the bird.
When we got to Pismo and checked into the hotel, she said that she'd like to go to dinner at one of her favorite spots, Marie Calendars. So off to dinner, we went and when we got back to the room she said, "OK it's time to take off my wig, take out my fake boob and brush my teeth. Aren't you glad we're sharing a room!" Chemo and radiation treatment took its toll on poor Paulette and even then, her sense of humor remained. Just one of the many things I loved about her. She went to sleep and I rode to the local movie theater to watch a show.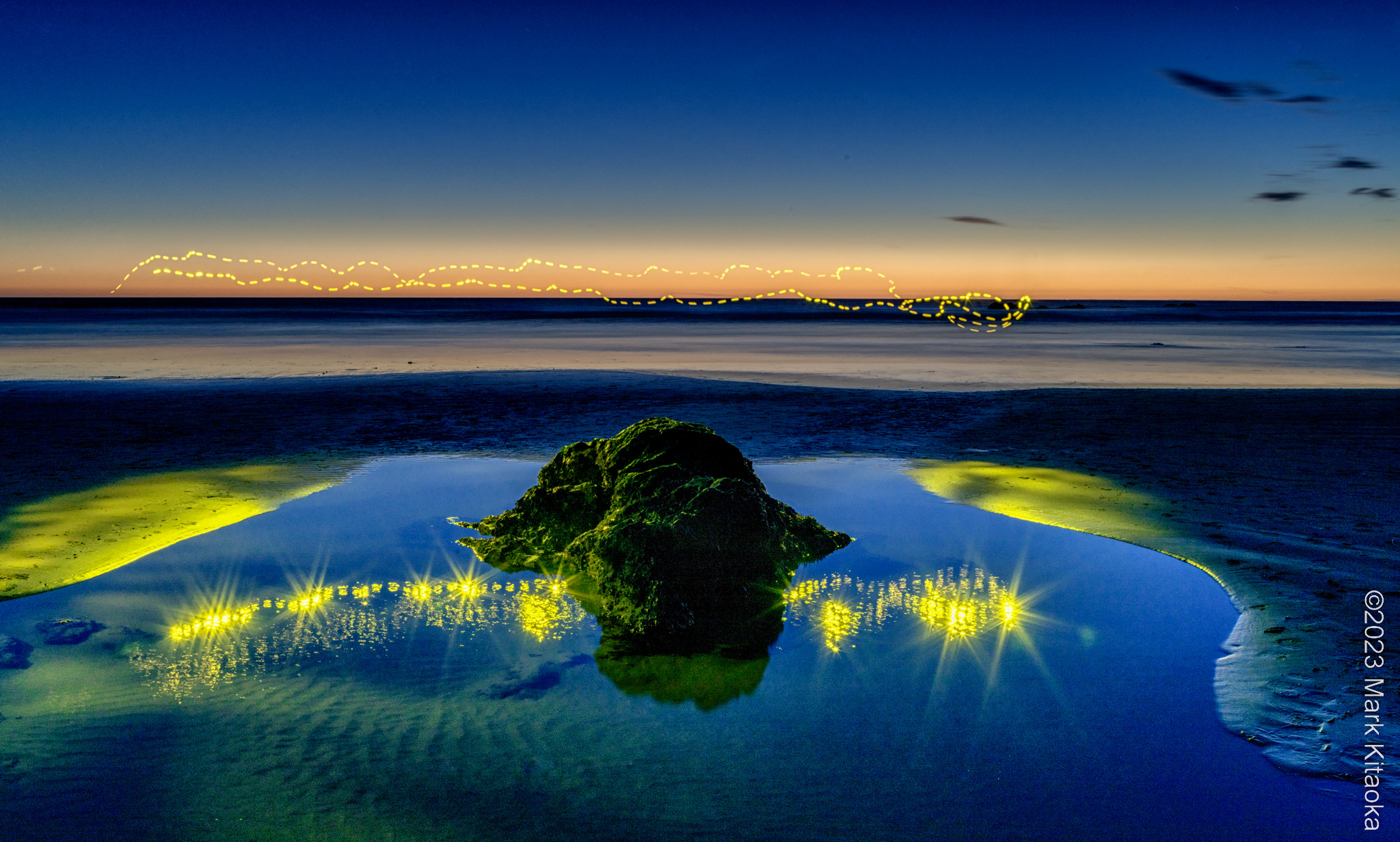 Just three months after that trip she was told by her oncologist that cancer had metastasized to her brain and it was a very aggressive strain. She would require surgery. It was shortly after she decided to proceed that she asked me if I'd come over to her house to wash her bike and help sell her steed. The emotions and dealing with another surgery sapped her energy. The day I went over I set up a folding chair in her driveway where she sat, watched, and cried as I washed her bike.
It was only one week later when she entered the hospital for brain surgery and when I went to visit her before the procedure I was greeted by Paulette in the 'halo' – a metal ring that is screwed into the skull to perform the surgery. It took all of my strength not to react and cry. She looked like paintings of Jesus wearing the crown of thorns. It was at that moment when her eyes teared up and she said, "Mark, I am so grateful you and I were able to take the Pismo ride trip to celebrate the end of my chemo." Three months after her brain surgery, she passed away.
Lee
A year after the Loma Prieta earthquake, traffic in and out of San Francisco was still a nightmare. Bus and train service into and out of town had not yet returned to normal. I still rode to work and Heather, one of my colleagues, was worried about how to get home since the bus service was rescheduled that day. This was before the California helmet law went into effect, so I offered to give her a ride home on my bike. She could wear my helmet and we only lived two miles away from one another. I told her I would not split lanes on the freeway.
"Oh My Gosh NO MARK!!! From the time we could talk my father told my sister and me that we should NEVER ride a motorcycle, they are much too dangerous!" "Uh OK, I just wanted to make you the offer, not a problem" was my response. For those of us who ride, we've heard that or a similar statement from those who don't ride. The passionate way she said it had me thinking that what her father had instilled into both of his kids was an iron-clad rule. So of course, I just dropped it and wished her luck finding a way home.
A few months later I get a call on a Friday from Heather just after dinner. "Mark, I'm really upset, can we talk? I just found out my dad bought a motorcycle!!!" Normally Heather is a very even-tempered person, but I could tell by her tone that she was really upset. So, we met for coffee. She let me know that her dad had purchased a motorcycle and she asked me to meet with him. "Uh for what?" "I just want you to talk to him to let him know how dangerous they are!"
So I called his number, left a message on his answering machine and he returned my call the next day. I explained that I work with his daughter and understood he bought a motorcycle and I'd just like to swing by to see it. He mentioned that Heather told him I rode and he was so excited I went to see him that day. In his driveway was a brand-new Honda 250 Nighthawk. He said that Heather had told him I'd ridden for ages and all he wanted to talk about was his new bike. I can't say for certain, but I believe Lee was in his seventies when we met. But since I was in my early thirties, anyone over 45 looked ancient to me. So he may have been the age I am today!!! We chatted and he was as excited as any 16-year-old would be with his first bike.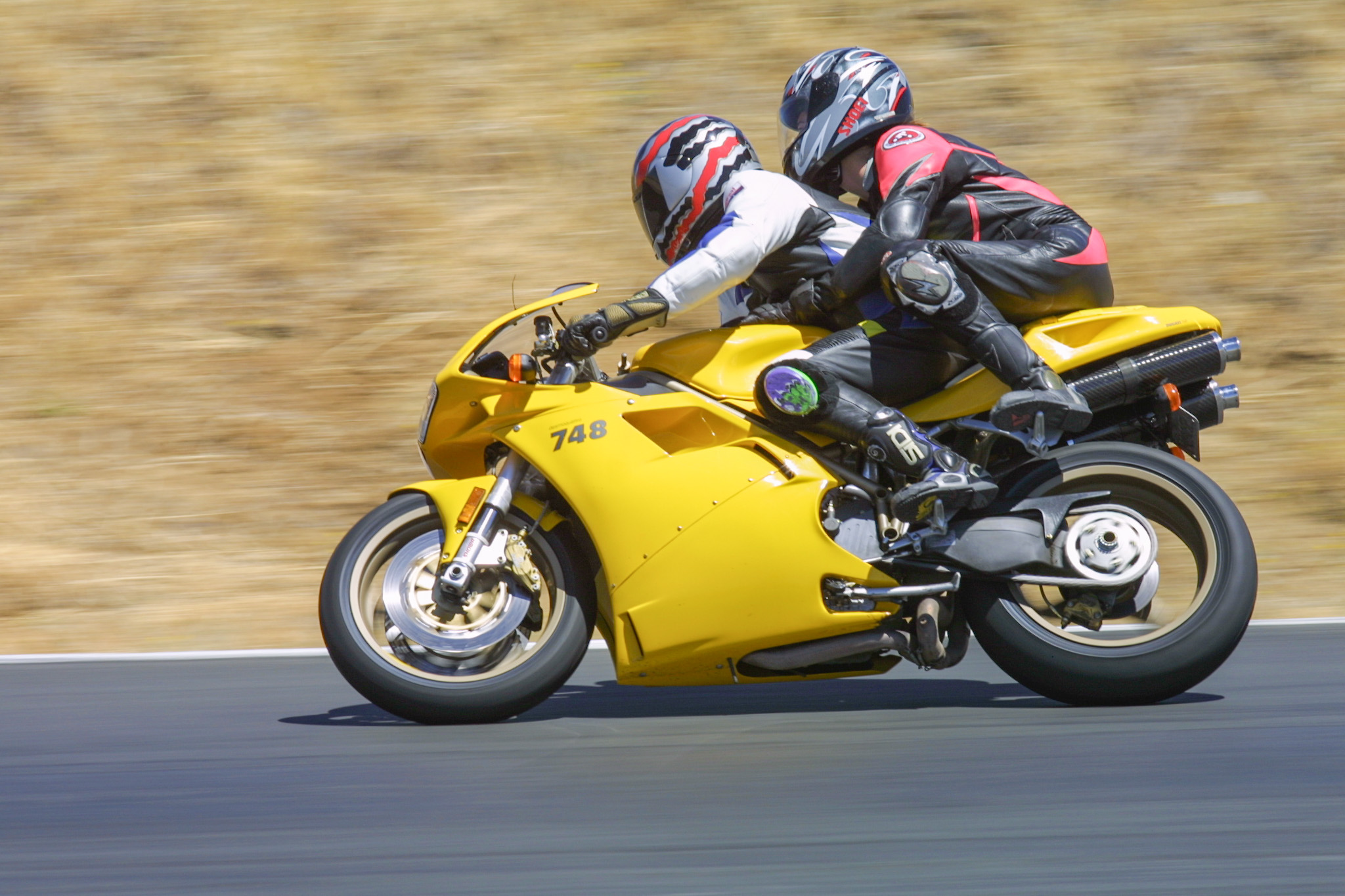 When I asked him about his statement to his daughters about riding, he said, "I didn't want them riding on the back with someone who doesn't know what they are doing. I didn't raise my girls to do stupid things like that." "Uh well Lee, how does that apply to you now?" "Well Mark, now my girls and late wife can't tell me what to do! Hahahahaha" We both laughed and after he went into the house to get me a can of Coke, he explained to me how important it is to wipe the top off thoroughly. Apparently, in a former life, Lee was a health inspector and told me stories about how much rat droppings he'd see on Coke can tops. Ew….
He enrolled in the MSF (Motorcycle Safety Foundation) Safety course and passed his test, but had not yet received his full license, only his permit. The paperwork which confirmed he passed the MSF test must be submitted to the DMV. In California, you cannot ride on the freeway or at night with just a permit, only with a full license. We scheduled a time to go for a ride around our area not involving riding on the freeway and grab some lunch. We rode up to Alice's Restaurant and he was as excited as any new rider. Alice's is a renowned spot where bikers gather on the weekends. He was SO PROUD to be 'part of Alice's group' now.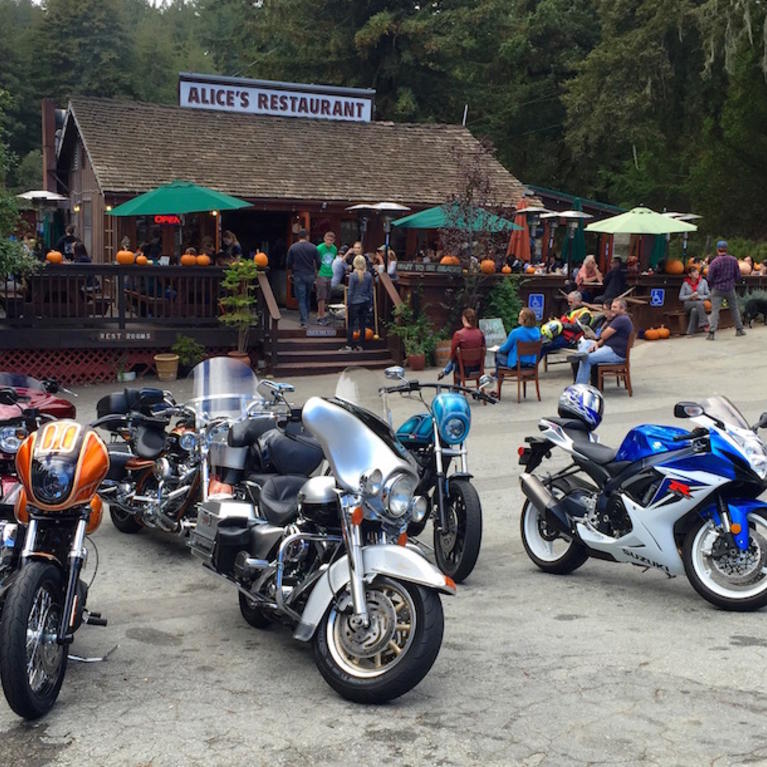 We chatted and rode home where we chatted even more about bikes. I saw Heather at work after the weekend and she asked, "So how did it go?" "Well, I didn't try to talk him out of his bike Heather. We just chatted as bikers do." "Do you think he will be OK Mark? He's, my dad!"
"He told me that he had always wanted to ride, but with two kids and a wife, he put you all as his priority. But now that you are both grown and your mom has passed away, he felt it was his time to pursue one of his lifelong dreams. And in reality, Heather, why shouldn't he enjoy something he's always wanted to do in his life?"
She sheepishly nodded her head as if intellectually she understood, but I knew in her heart she had hoped I would talk him out of his bike. Unfortunately, a year later Lee passed away. Not from a motorcycle accident, but from health complications.
It took me some time to write about these memories. I questioned my motivation and whether or not others would see the value of my two stories. Both still upset me a bit, even after 30 years. In the end, I decided that it was important for me to share these memories with others, not just motorcycle riders, to illustrate just how valuable doing something NOW can be.
Motorcyclists share a common bond, one that extends far beyond two wheels. There is something common in the DNA of bikers. The freedom of riding. The comradery of the journey. The love of our machines. I've loved riding ever since I swung my leg over a Briggs and Stratton mini bike when I was 8 and rode it through the orange groves around my home. The feelings of freedom, speed, friendship, wrenching on bikes together, and the passion of riding bind us all together, no matter what we ride.
There were plenty of reasons to not go on an overnight ride with Paulette or to encourage an older gent to consummate his love of motorcycles. Hell, he never owned one before his 70 years. After my first son was stillborn, I learned that tomorrow isn't promised to anyone. To do things NOW means I won't ever regret leaving my brothers or sisters out of the love and joy of riding. We all share a special bond. When I see Lee and Paulette again, we can talk even more about bikes and I'll have to explain why my teammates named me "Sparky." They will shake their heads and howl. I miss them both.