Over the past couple of decades, the Segway name has become synonymous with the idea of personal electric transportation. But how much do you know about this important brand and the ways in which they're continuing to influence changes to the PEV industry?
Join us for an in-depth look at how Segway has grown over the years, and find out what the company is planning in the not-so-distant future. We're here to show you where Segway has been, and where they might be going next.
Segway's Origins and Early Years
Founded in early July of 1999, Segway was the first to market with its innovative self-balancing transportation device. In 2001, they released the first 'two-wheeled personal transporter', with deliveries reaching customers by 2002.
In light of initial success and hope for the future, sales for the 'Segway PT' were projected to be high. However, only 23,500 units sold in the first 5 years, and just 50,000 had sold by March 2009. This signalled the start of a steep decline for founding CEO Dean Kamen, who had spent approx. $100M developing the PT.
Via InsideHook.
Potential salvation came in the form of a contract with General Motors in 2009, teaming with Segway to build a prototype two-seat electric vehicle, also known as Project P.U.M.A. Although met with initial excitement, this endeavour soon faded from public interest.
Despite its nature as a revolutionary new product and concept, these personal transporters struggled to catch on with consumers. According to entrepreneur Peter Shankman, "the technology was awesome, the world just wasn't ready for it". Given the explosion of interest and demand in personal electric vehicles during recent years, we'd have to agree.
Via NetCarShow.com.
Segway's Decline & Acquisition
During this stage of decline, Segway Inc. was purchased in December 2009 by British millionaire and inventor, Jimi Heselden. After this sale, the original genius behind Segway's technology, Dean Kamen, was no longer involved with the company.
In a tragic twist of events, Jimi Heselden died after accidentally falling from a cliff-face while riding his Segway just 10 months later. This high-profile case drew attention worldwide, and is covered in further detail under our ultimate off-road riding guide.
The company and its intellectual property stood in limbo until February of 2013, after Summit Strategic Investments (SSI) announced the acquisition of Segway for $9M. They intended to 'refocus' their product portfolio and expand their existing worldwide network.
SSI wasted no time in updating and innovating their new toys, announcing third-generation Segway designs in March 2014. These included integrated lighting, new handlebar frame/powerbase designs, and two new models, the i2 SE and x2 SE.
Via Pinterest.
After just one year of operation under SSI, Segway filed a complaint to the US International Trade Commission regarding several patent infringements by some Chinese companies. These included Robstep Robot, Shenzhen INMOTION Technologies and Ninebot.
Just two years later, on April 1st of 2015, SSI sold Segway and all related intellectual property to Ninebot for a total of $75M; approx. 8.5 times their $9M purchase.
Segway in the Era of Ninebot
Ninebot is a transportation robotics start-up based in Beijing, originally funded by an $80M investment from Xiaomi and Sequoia Capital. Following this purchase, Segway became a subsidiary of Ninebot, undergoing rebranding and changes in its product structure. Just one year later in May 2016, Nine announced the arrival of the Segway miniPRO and ONE-E+, which launched that June.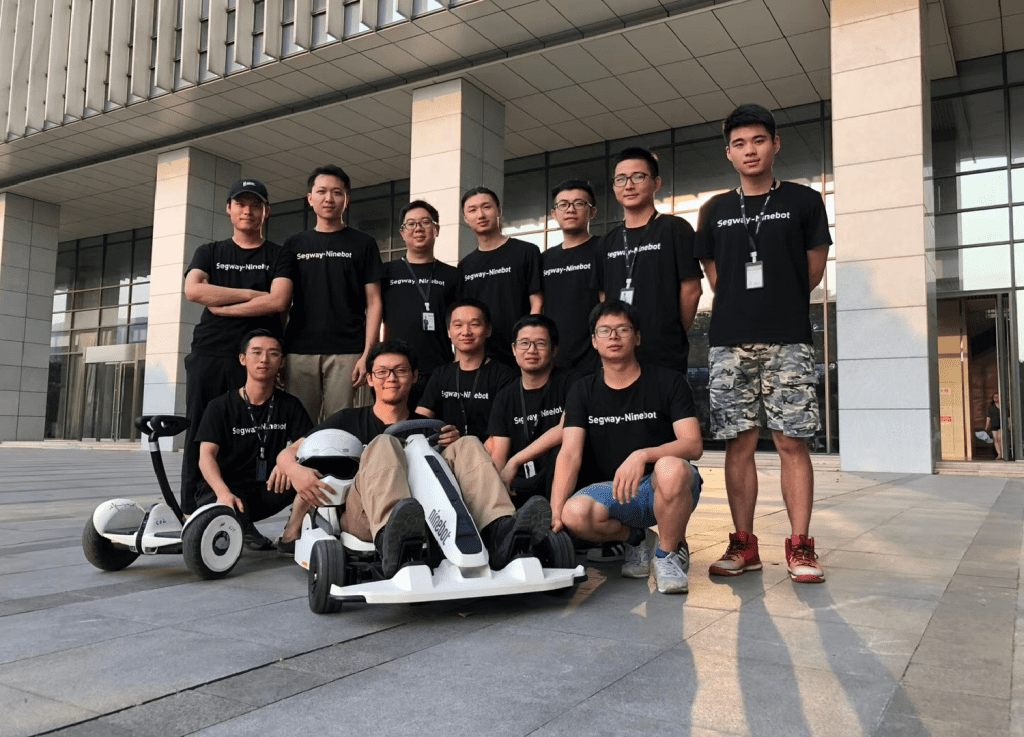 Via IndieGoGo.
Things stayed primarily "business as usual" for a few years. Ninebot considered moving Segway PT production from New Hampshire to China in 2018 but eventually decided not to do so. However, after another two years of operation, Ninebot ceased production of the Segway PT on July 15th of 2020. This marked an end to the classic Segway design and ushered in a new era for Ninebot.
Before these events, it seems that Segway failed to move with the times, gradually fading from popularity and public opinion. We believe that this was due to a lack of flexibility and innovation between 2016–2019, letting other companies like Swagtron and Xiaomi take the spotlight. This fading interest was likely a key factor in motivating Ninebot to expand its product range and existing technologies.
Big Dreams & Renewed Expansion at Segway
However, Segway more recently threw itself back into the market with renewed energy. At CES 2019, Ninebot showcased a variety of innovative and ambitious Segway projects, including the Drift W1 e-skates and Ninebot GoKart kit, both firsts of their kind.
Via TechCrunch.
In the following months, Ninebot worked with SUR-RON to design and produce an electric bike for Segway. They also announced plans to offer a range of off-road electric motorcycles and dirt bikes.
Later at the SEMA 2019 show, two such dirt eBike models were announced, the X260 and X160. This recent revitalisation of Segway's product range now has us (and the rest of the world) eagerly awaiting their next big release!
The Future Endeavours of Segway
As technology advanced and components became more compact, the overall design of the Segway changed considerably. Whereas before, the designs of these vehicles were strictly utility, we have since witnessed a variety of both fun and functional PLEV models added to the Segway range over the years.
Segway also adapted their product ranges to fit new demands, such as the rising popularity of electric scooters. Thanks to these decisions, Segway (under Ninebot) seems poised for a decade of success.
Via T3.
All of this has helped Segway stay relevant and one step ahead of most competitors. There's no telling what's coming next, unless you've paid attention to Segway's time at CES 2021! Want more news about what Segway's planning? Check out Segway's Audi partnership from December 2020, or learn about the development of the Segway C80 eMoped.
Segway Model Releases and Company Timeline
Uncover 20 years of history surrounding Segway, and learn the events that shaped this world-renowned brand:
2001:
Unveiling of their flagship product 'Segway PT', the first of its kind. Following models include the i167, E167, P113 and the i180 (li-ion battery).
2003:
Launch of Segway RMP through a contract with DARPA and the first annual 'Segway Fest'.
Via TechCrunch.
2005:
Segway announces the first 'Cross-Terrain Transporter' (XT), featuring an upgraded lithium-ion battery and off-road functionality.
2006:
All previous models discontinued.
Second generation PT introduced, alongside Segway i2 and X2 models.
2008:
Beijing 2008 Summer Olympics deployed over 100 Segway PTs for use by staff.
2009:
Two new 'patroller' models were released for public safety personnel, i2 SE and x2 SE updated with gliding lights.
Project P.U.M.A demonstrated in New York.
Segway and related IPs sold to Jimi Heselden.
2010-2013:
EN-V project showcased in Shanghai.
The accidental death of CEO Jimi Heselden and subsequent purchase of Segway by Summit Strategic Investments in 2013.
2014:
The first three-wheel personal transportation, the SE-3 Patroller, was launched for public safety personnel. 'Third generation' of designs for the i2 SE and x2 SE sport released.
Via Segway.
2015:
SSI sells Segway and related intellectual properties to Ninebot Inc. for $80M. Segway subsequently merged with Ninebot.
2016:
Launch of the miniPRO and One-E+ (now One S1), a compact electric unicycle.
2017:
The Ninebot Kickscooter range is officially launched, composed of the ES1, ES2 and ES4 models (reviewed here).
Announcement of the Segway Drift W1 and Ninebot GoKart kit.
2018:
Segway Drift W1 and GoKart kit enter the public market.
Formation of 'Segway Powersports', with product lines focusing on all-terrain utility vehicles.
2019:
Followed by the debut of the Loomo Delivery at CES 2019, alongside the release of the Kickscooter MAX and three new AI mobility products.
Expansion into the electric bike market and collaboration with SUR-RON.
Concept for eScooter T15, Segway Apex electric motorcycle and ATV, UTV and SSV all-terrain vehicles revealed.
Two electric dirt bike models (X260 and X160) were also officially revealed at SEMA 2019.
2020:
2021: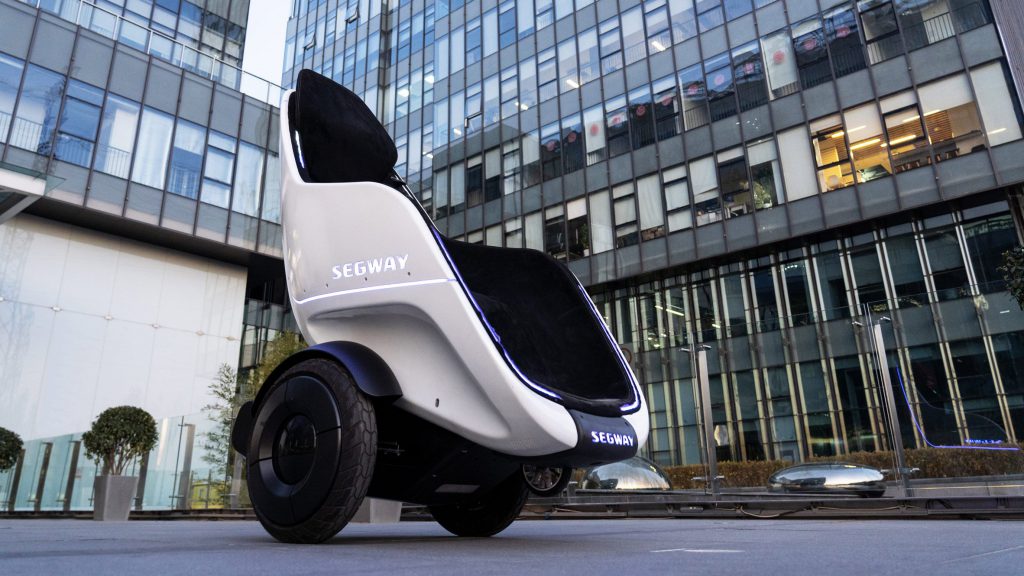 Via Engadget.
Final Thoughts on Segway (For Now!)
Segway has quickly transformed from its traditional 'personal transportation' designs into leading a new generation of PEVs. Whatever the future has in store, we're sure Segway will help innovate it.
Thank you for reading our deep dive into the history of Segway. Please leave a comment and let us know if you have any questions or think we've missed something. Want to keep learning? Check out the environmental impact of various PLEVs, or learn the laws for riding within the US, Canada and Europe.