We've compiled a list of five of the cheapest four-wheelers available in 2022. By 'cheapest', we're referring to ATVs that won't leave too big a hole in your pocket and not machines that are low quality. The ATVs on this list are from the top ATV brands out there; each of them has a proven track record with decades of experience building the best four-wheeled off-roaders in the market.
We paid special attention to cost, ease of use, overall quality, and pure fun factor to select the machines on this list.
ATVs are popular for several activities, from yard work and farming to hunting and trail riding. If you're just getting started on your journey, there's no need to exceed your budget when buying one. The following five ATV models have distinguished themselves over the years, are available at low cost, and are reliable.
Kawasaki Brute Force 300
With prices starting at $4,599, the Kawasaki Brute Force 300 is the cheapest four-wheeler on the list. The Brute Force 300 is among the best four-wheelers you can get in that price bracket and is capable enough to punch above its weight. It's equipped with an automatic transmission and a liquid-cooled four-stroke engine.
As Kawasaki's entry-level Utility model, it comes with racks at either end, an impressive towing capacity, and an independent double-wishbone suspension at the front. It also features large 22-inch tires and a ground clearance of 6.1 inches that keep this ATV quite high up off the ground.
It made it to this list because it does everything well. Standard features include a digital cluster that displays speed, mileage, time, and coolant temperature. There are also wide floorboards to protect your feet while riding. It comes with a 12-month industry-standard warranty.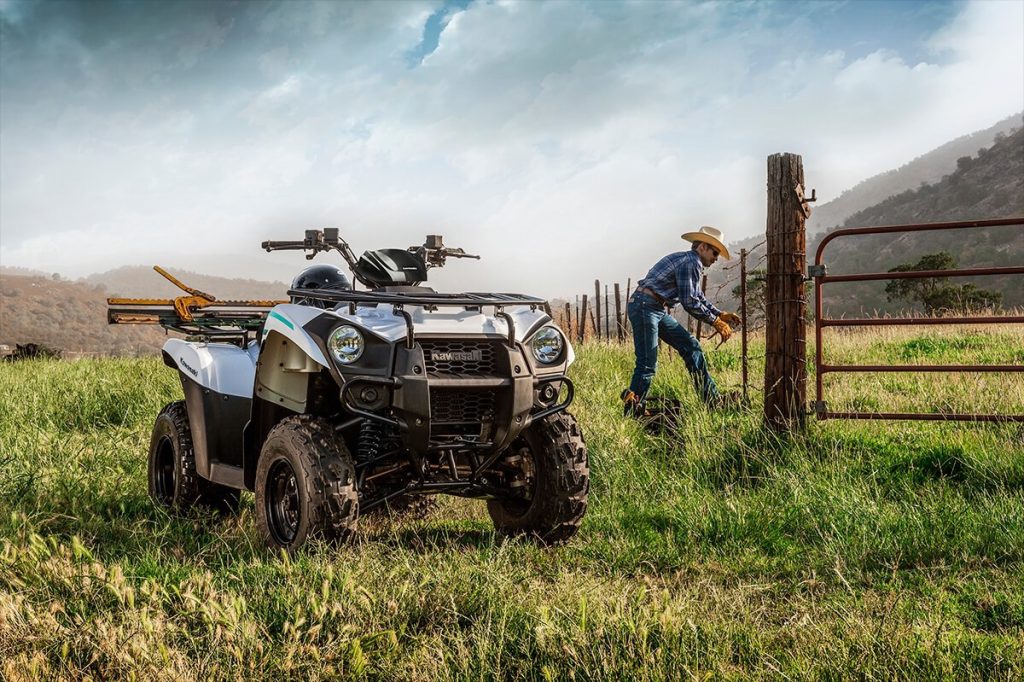 Honda FourTrax Rancher
The Honda FourTrax Rancher four-wheeler offers tremendous value for the MSRP price of $5,599. It's one of our top choices for a budget ATV as it offers a considerable number of features even on the base model. This includes a reliable 420cc liquid-cooled, fuel-injected, single-cylinder engine that offers sufficient power for you to have fun on a trail or lug around a fairly large load.
For 2022, the FourTrax Rancher is available in eight trim levels, each offering its own array of features. All variants feature a utility compartment in the front and racks at either end to carry up to 199lbs of load. The racks are also compatible with Honda's modular Pro-Connect system, which allows you to install and remove luggage boxes easily.
The top-of-the-line trims also offer Honda's Electric Shift Program, which introduces the convenience of push-button shifting for upshifts and downshifts; and EPS, which stands for Electric Power Steering. Then there's the IRS, offering Independent Rear Suspension instead of a swingarm-mounted mono-shock.
This ATV stands out from the rest based on three factors—nearly everything you'll need is available on the base model, there are several accessories you can add to your ATV, and Honda Motors has a wide network of dealers and mechanics that provide maintenance and service, so getting help in troubleshooting mechanical issues is easy.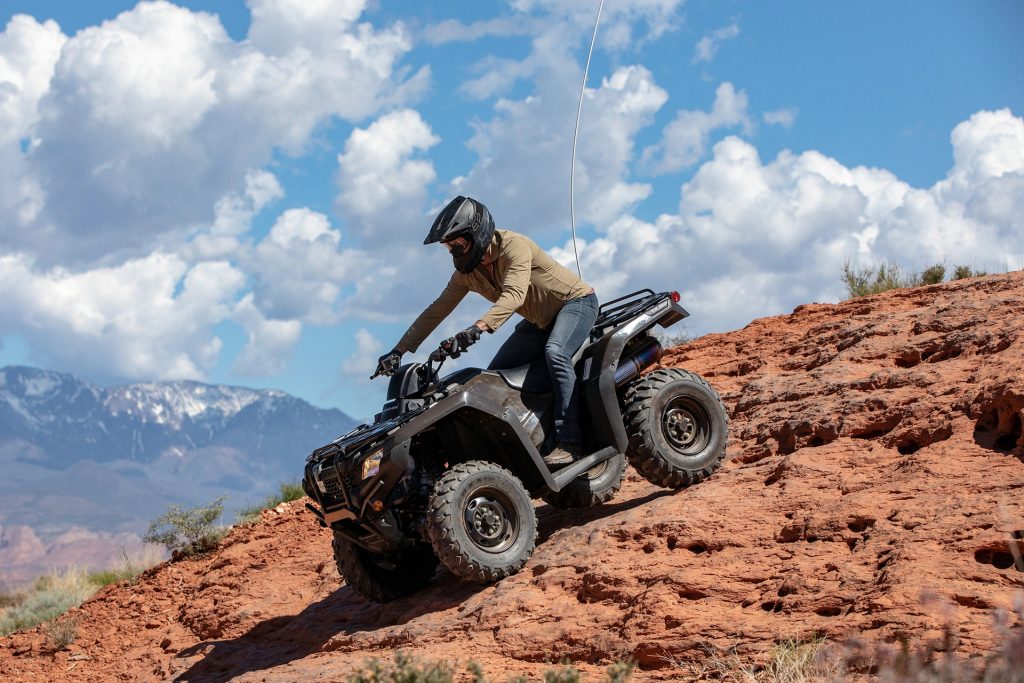 Polaris Sportsman 450 H.O.
With an MSRP of $6,699, the Polaris Sportsman 450 H.O. comes with a host of updates over last year's model. It's a part of this list because it delivers great handling and performance. Max power from its 499cc, twin-cylinder engine is rated at 33hp—ample enough for lugging around load on the farm, or for a day out on the trails.
Polaris claims that the Sportsman 450 H.O. features the industry's fastest engaging AWD system and class-leading ground clearance of 11.5 inches. This, in combination with an Independent Rear Suspension that offers 9.5 inches of travel, results in an ATV that should be able to traverse through reasonably rough terrain.
With a total rack capacity of 270lbs and a staggering 1,350lb towing capacity, there's a lot of value the Sportsman 450 has to offer for its cost. In fact, several more expensive ATVs fall short of what the Polaris Sportsman 450 has to offer.
If you're looking to extract even more from this machine, Polaris sells several accessories—including winches, protection, windshields, and lighting.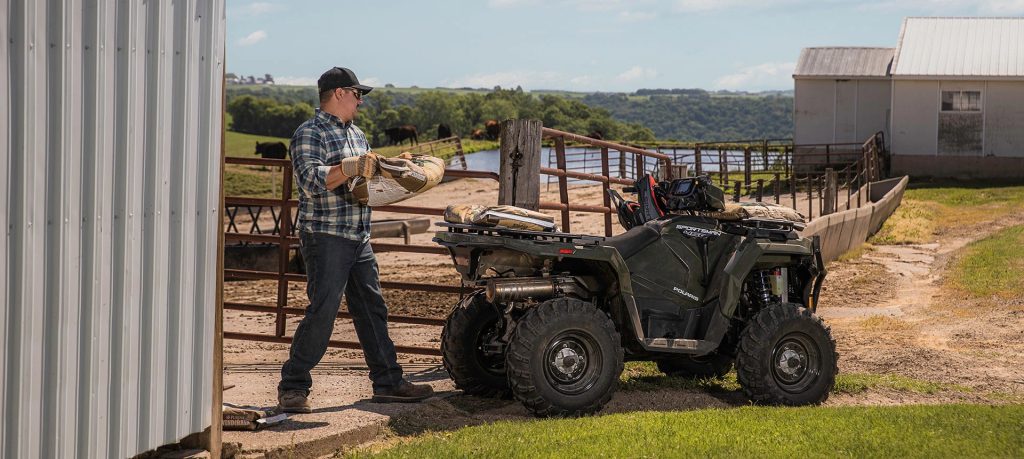 Yamaha Kodiak 700
The Yamaha Kodiak 700 is one of our top recommendations for a reasonably priced ATV that returns unmatched bang for your buck. With an MSRP of $7,599, it's slightly more expensive than the other options on this list, but it's also that much more capable.
Yamaha does offer a more affordable Kodiak 450; its top-of-the-line variant, the Kodiak 450 EPS SE, will set you back $7,899! It comes with an Electronic Power Steering (EPS), but it just can't match the sheer grunt that the larger Kodiak 700 has to offer.
The Kodiak 700 is notably more powerful than the models listed below. While it is a great choice as a utility ATV, it's also powerful and sporty enough to make riding the trails a lot of fun.
Yamaha has not revealed output figures for the 686cc, liquid-cooled engine, but has mentioned that this big-bore unit has been designed for low-rpm cruising with a powerful mid-range. It works alongside Yamaha's Ultramatic transmission with High, Low, Neutral, Reverse and Park functions. It also offers a switchable 4WD system and all-wheel engine braking for better control.
The Kodiak 700 is equipped with a gated shifter, hi/low and reverse gears, and a constant-tension centrifugal clutch. Other notable features on offer include a durable, stainless-steel exhaust, a high-mounted air-intake system, and a high-capacity radiator. You feel the quality when riding the Kodiak 700 and it deserves a spot on this list.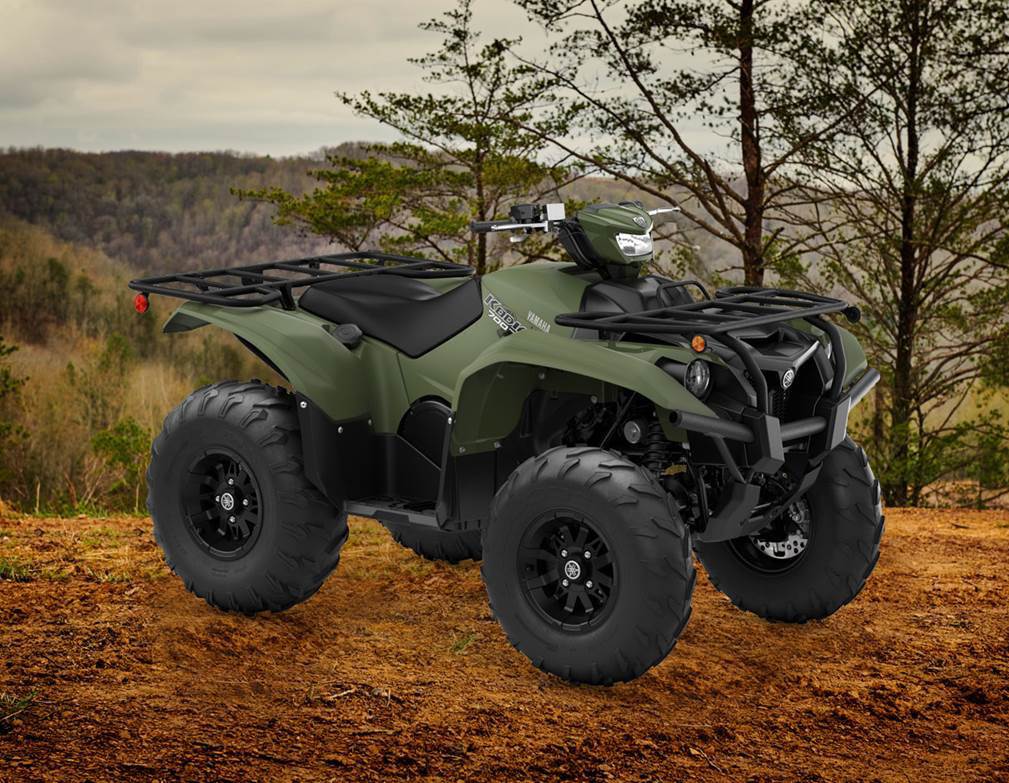 Can-Am Outlander 450 DPS
The Can-Am Outlander 450 DPS ATV has an MSRP of $7,699. Just like the Yamaha above, the Can-Am isn't the most affordable model from the manufacturer, but it's the ATV that offers the most value for money. For $1,000 less, you could get the base Can-Am Outlander 450, but we feel like that model misses out on some neat features.
For starters, the extra money will give you the added functionality of DPS, or Dynamic Power Steering. Dynamic power steering mechanically assists the rider by adapting to the all-terrain vehicle's speed. At lower speeds, DPS assists to reduce the effort required to turn while at higher speeds it allows the rider to feel and control turning fully.
The Can-Am Outlander 450 DPS offers an impressive towing capacity of 1,300lbs and a rack capacity of 360lbs. There's also a 2.9 gal storage cabin that you can use to keep your phone, or other essentials you'll need quick access to. Overall performance, quality, reliability, and comfort levels reflect the slightly higher price tag, which is still lower than many other models offering similar options. The Outlander 450 DPS is listed as a utility ATV but it feels quite sporty to ride and quite capable to work.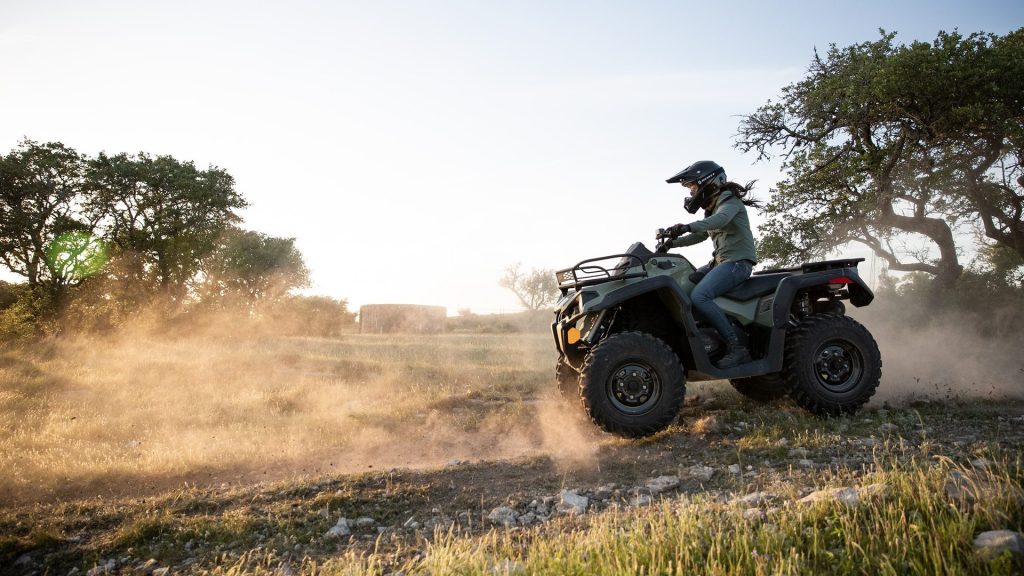 Best Value Budget ATVs
Kawasaki Brute Force 300: $4,599
Honda FourTrax Rancher: $5,599
Polaris Sportsman 450 H.O.: $6,699
Yamaha Kodiak 700: $7,599
Can-Am Outlander 450 DPS: $7,699
Note: As we mentioned earlier, this isn't a list of the most affordable ATVs you can buy, but a list of machines from notable manufacturers offering the best value.
About ATV Accessory Options
These ATVs were chosen in part due to the extensive availability of after-market components available. The higher-priced ATVs on this list include some of these options as stock, while other lower-priced ATVs offer them as add-ons or accessories (which ultimately may cost more than the price of the higher priced ATV).
Comparing ATVs with different stock options is a bit tricky, so I suggest comparing stock ATVs + the options you want against ATVs that already include the stock options you want.
The best part about having a wide range of available ATV accessories is that you can customize your four-wheeler and make it perfect for your needs. Do you need a plow? If not right now, maybe you want one in the future?
A snowplow is just one example of an attachment you should consider before buying an ATV. The point is, if you go with a cheaper ATV that can't meet your needs, it doesn't provide as much value as one that can be upgraded. This list is obviously subjective, but I hope it helps you consider a few more ATVs in your search for the best new cheap 2022 ATV to meet your needs.