ATV riding boots are an essential piece of gear. It's easier to wear a pair of flip-flops or casual sneakers, but it should go without saying that these do little to protect your feet and lower legs from injury.
Riding boots (for ATVs as well as motorcycles) can be broadly classified into two categories: short boots (ankle-length) and tall boots. While short boots may be more comfortable, they can't match the protection that a tall boot offers.
A good pair of tall boots from a premium band will protect your ankle and lower leg from injury or hyperextension. That said, if you're looking for a boot you can wear all day long and are willing to compromise on safety, some of the short boots we've listed will be perfect for you.
Again, we recommend investing in a pair of these boots if you need something to wear when riding around the farm or on basic trails—anything more challenging or competitive warrants more protective gear.
And just like with any of our other gear lists, you'll find multiple options across a range of prices here. We've included the best options for most budgets, but if you do some digging, you might find something else that will better suit your requirements. Now let's get started!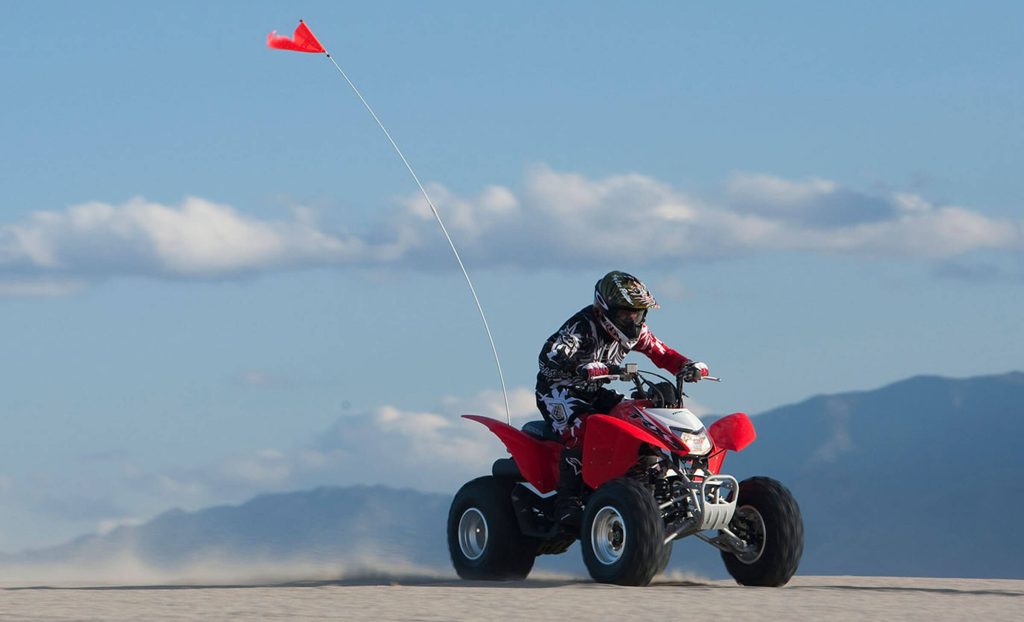 Best Short ATV Boots
Fox Bomber Boots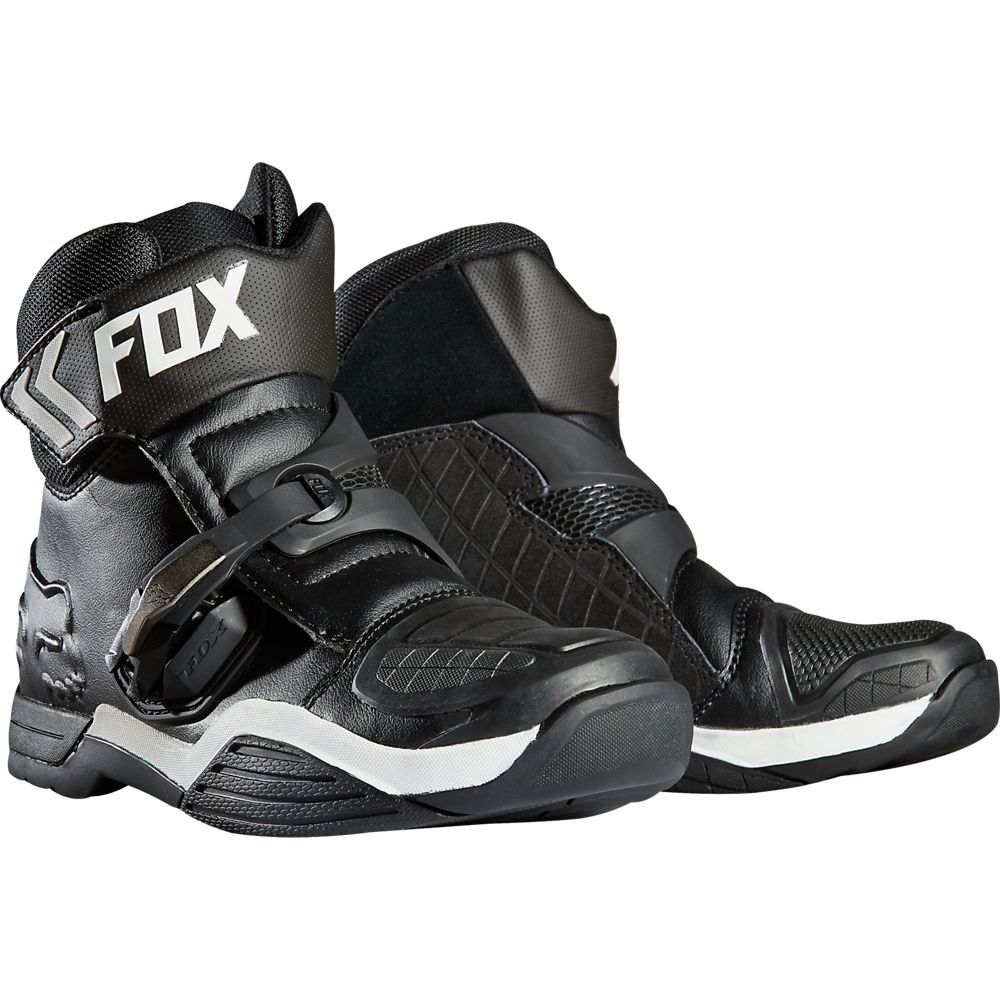 Why?
The Bomber Boot from Fox is the most affordable pair on this list, but it comes with some pretty noteworthy features that make it a great offering for the price. The sole provides solid grip irrespective of the surface it's planted on, and there's decent ankle support, even though they're low cut. The boots are synthetic leather material and feature TPU plating on the toe and heel for impact resistance.
These boots were originally designed for motorcyclists, and that's why the left boot has a textured shift plate. However, we've found that they're a solid choice for something you want to wear every day on an ATV. The boots use a single buckle with a simple hook and loop closure at the cuff, making them super easy to get in and out of.
Specs:
TPU strap system used on full-size Fox off-road boots.
Heat resistant suede padding.
CE rated ankle protection.
TPU shift pad.
Injection-molded polyurethane midsole.
Duratec rubber compound outsole.
Icon 1000 Brigand Boots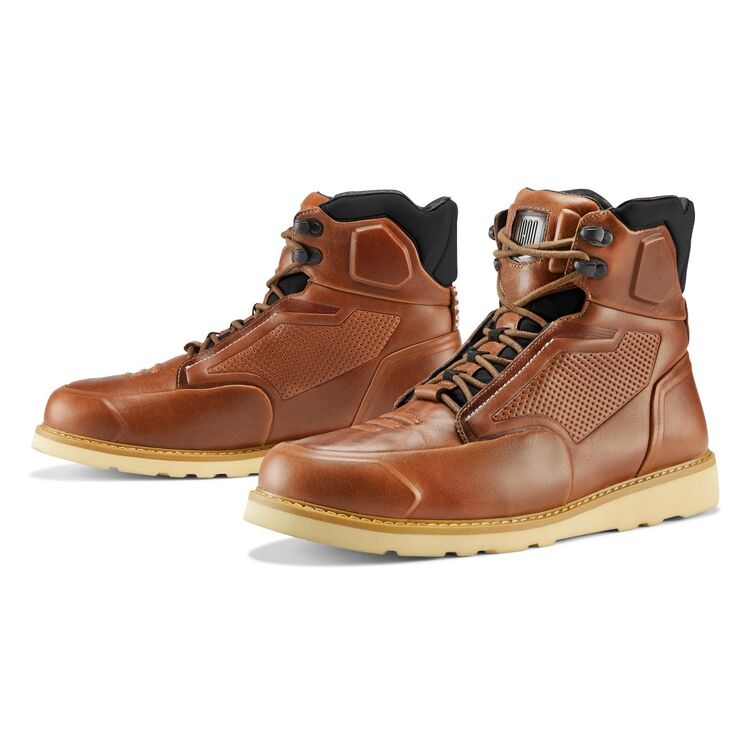 Why?
Icon's Brigand boots are our top choice for boots that perfectly combine everyday useability, great aesthetics, and functionality. Each boot is made from full-grain leather and features a hidden ghillie lacing system. There's perforation on the midsection, and the ankle collar is made of neoprene, so you have boots that are ventilated and comfortable even on warmer days.
These boots don't include tons of protective features—the Fox Bomber above is better equipped in that regard—and only come with D3O inserts at the ankle. However, there isn't another boot on this list that you could wear on a casual ride as well as off the ATV. The company's website says so perfectly: "tough enough to take the heat, yet sophisticated enough for date night, the Brigand is an all-around crowd-pleaser."
Specs:
Full-grain leather upper construction.
D3O ankle inserts.
Low profile lacing system.
Shifter interface ribs.
Fly Racing Street Tradesman Boots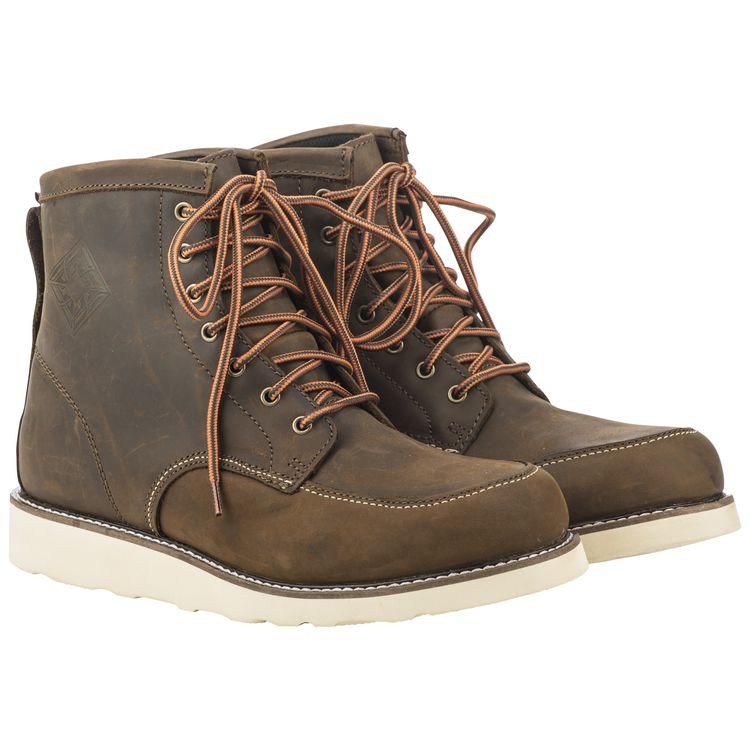 Why?
The Fly Racing Street Tradesman boots are another pair you can wear on and off the ATV. These also come with a full-grain leather construction. Additionally, they're equipped with a Sypatex waterproof membrane; while this may not be the best protection in the event of a heavy downpour, you will be able to splash through all the puddles you see without getting your feet wet.
For protection, these boots come with heel and toe sections reinforced with Poron XRD, a polyurethane membrane that improves impact resistance.
Specs:
Full-grain premium leather.
Vibram sole is slip-resistant, durable, and shock absorbing.
Sympatex waterproof and breathable membrane.
Gusseted tongue for added weather protection.
Poron XRD flexible impact protection.
Perforated insole for maximum breathability.
Reinforced supports at heel and toe.
Forma Terra EVO Low Boots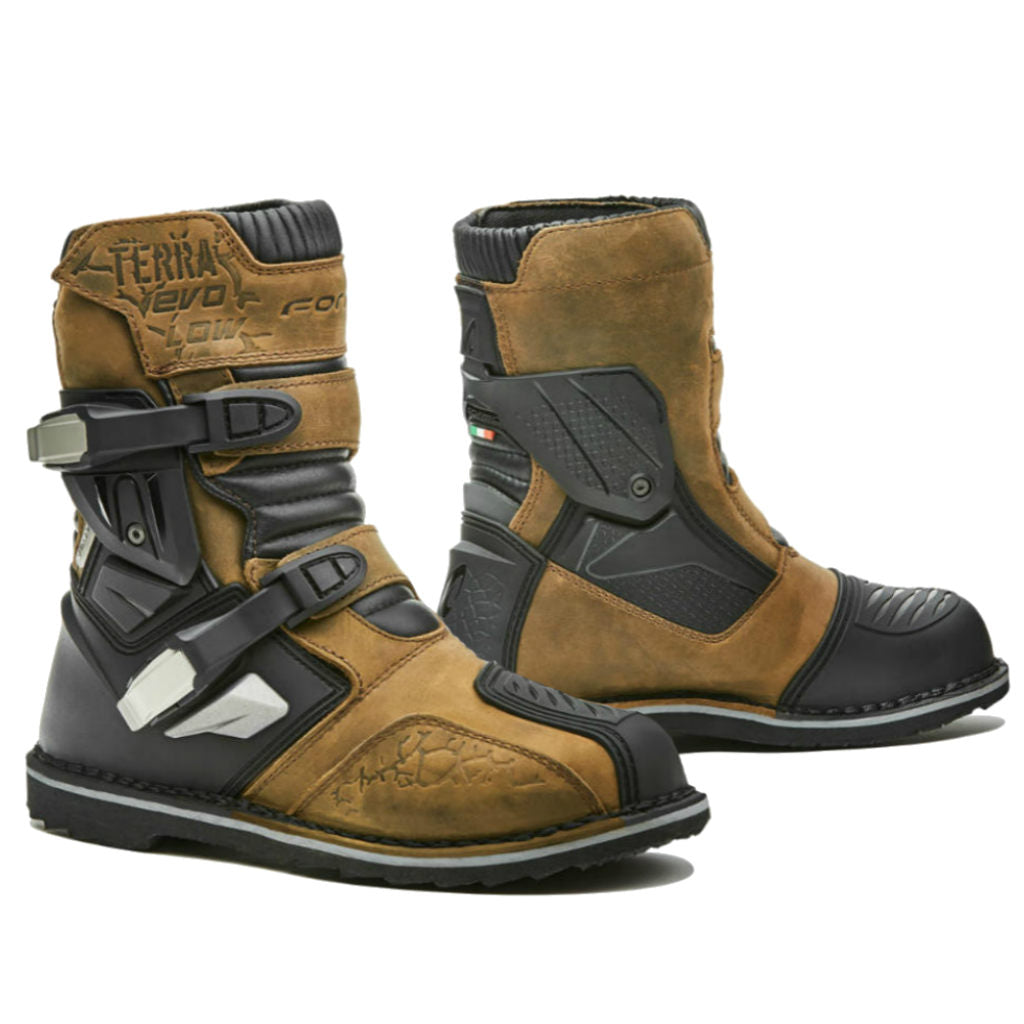 Why?
The Terra EVO is Forma's top-of-the-line dirt and off-roading boot. These Forma Terra EVO Low Boots are essentially the same boot in a short iteration that aims to bring the same level of protection to your feet in a more comfortable package.
The boot is made from oiled full-grain leather with a welt sole stitched on. These soles provide excellent grip and have a pattern similar to those found on serious Enduro and ADV boots. There are protective elements all around—on the ankle, heel, and toes. Unlike the other short boots we just looked at, these extend well above the ankle and offer excellent ankle support, plus protection to the lower shin.
The Terro EVO Low boots are also waterproof and come with a memory-foam inner sole for a perfect, personalized fit. This is our top recommendation if you're looking for a fantastic boot with excellent protection but don't want to invest in a full-length pair yet.
Specs:
Full-grain oiled leather upper.
Extra grip Enduro/Adventure compound rubber sole.
Optional steel toe cap (sold separately).
Injection-molded plastic protections.
Ankle and heel plastic protections.
Plastic gear pad protection.
Adjustable VELCRO® brand closure.
Replaceable and adjustable aluminum buckles.
Rear reflective insert.
Waterproof and breathable Drytex lining.
Shin and ankle TPU molded plastic protections.
Soft polymer padding with memory foam.
PP Mid Dual Flex with anti-shock EVA midsole.
Anti-bacterial replaceable footbed with APS (Air Pump System).
CE level protection.
Best Tall ATV Boots
O'Neal Element Boots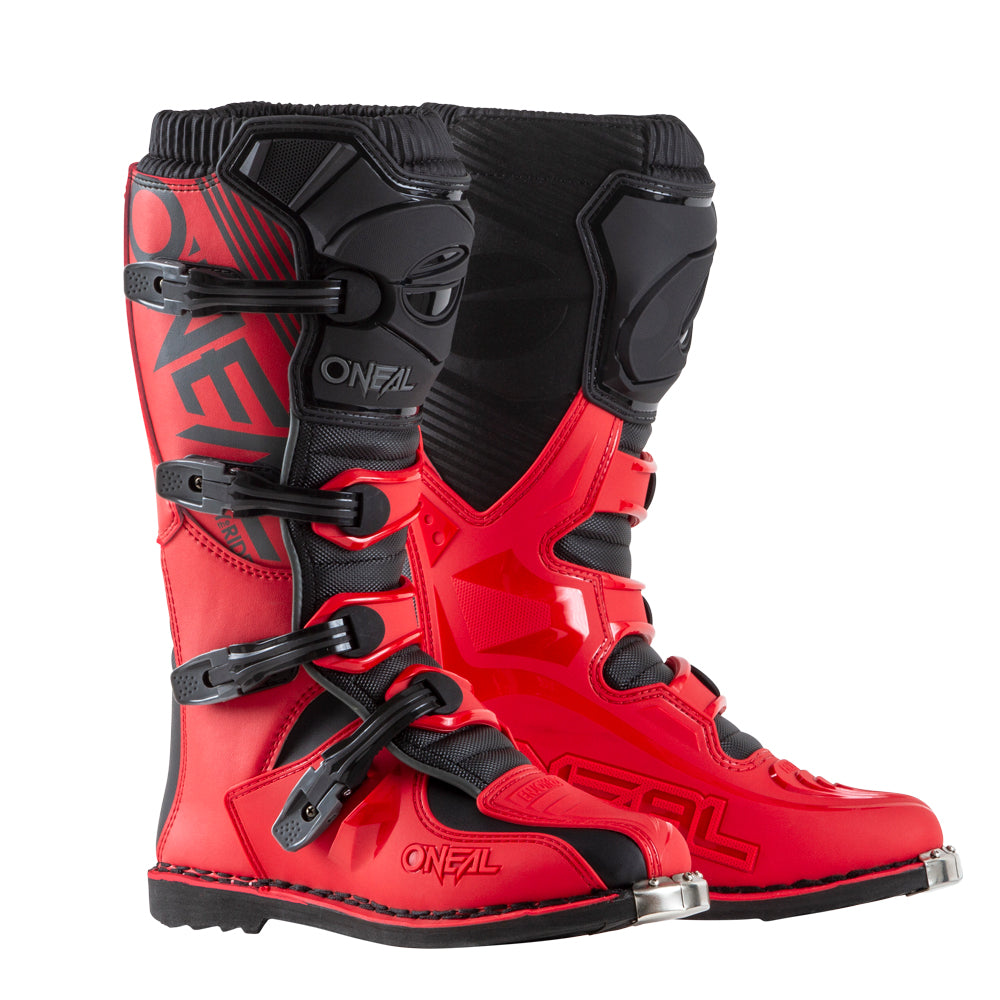 Why?
If you want a full-length boot that's properly equipped but are on a budget, look no further than the Element Boots from O'Neal. These boots incorporate premium features and finish levels at a fraction of the cost.
Each boot is constructed from leather, synthetic leather, and injection-molded plastic. The leather and plastic make up most of the boot, while areas exposed to more heat from the vehicle, like the inner edge, use synthetic leather.
The sole on these boots features a metal shank for support, along with a tread pattern that's decent in most conditions.
Specs:
Injection-molded plastic plates protect against impacts.
Metal shank insert reinforces the shape of the boot and adds support.
Easy to operate, Snap-Lock adjustable four buckle closure system.
Durable Goodyear welt sole is properly balanced with no unstable rocking.
Metal toe guard to protect the sole against delaminating.
Moderate grip sole is great for track, trail, and ATV riders.
Air mesh interior, generous heel support, and cushioned insole for extra comfort.
Synthetic leather heat shield to prevent heat damage.
Rear pull tab for extra leverage.
Replacement straps and buckles are available.
TCX Fuel WP Boots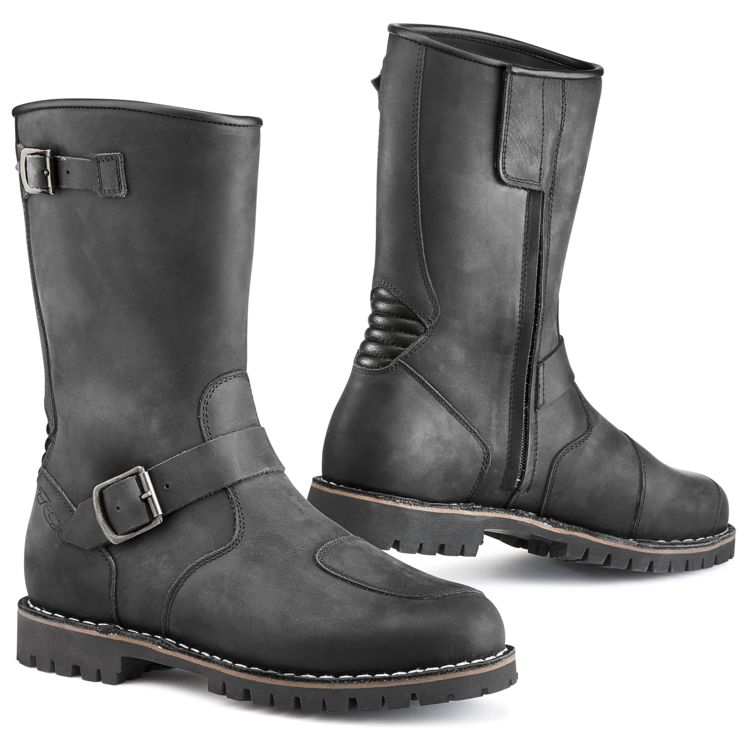 Why?
The TCX Fuel Waterproof Boots are classic engineer boots. With a single-piece leather forefoot and minimal exposed seams, these boots were originally designed to protect an engineer's feet from hot coal.
TCX used the same construction in a boot for the modern-day adventurer, making good use of their robust nature. This boot doesn't come with the same level of protection or armor as the tall MX boots on this list, but they're still a solid pair of utility boots. That said, each boot does feature a reinforced section around the toe and heel.
What's worth noting is that the full-grain leather upper has a waterproof lining that will keep your feet dry, irrespective of how long you expose them to the elements—something that the MX boots cannot do.
Specs:
Full-grain leather upper with a vintage look.
Padded rear area.
Waterproof lining.
CFS Comfort Fit System.
Toe and heel counter.
Malleolus inserts.
Leather shift pad.
Lateral zipper and VELCRO® brand band fastener.
Adjustable steel buckles.
Anatomic and replaceable insole.
The sole tread offers a superior grip on any terrain.
Forma Adventure Boots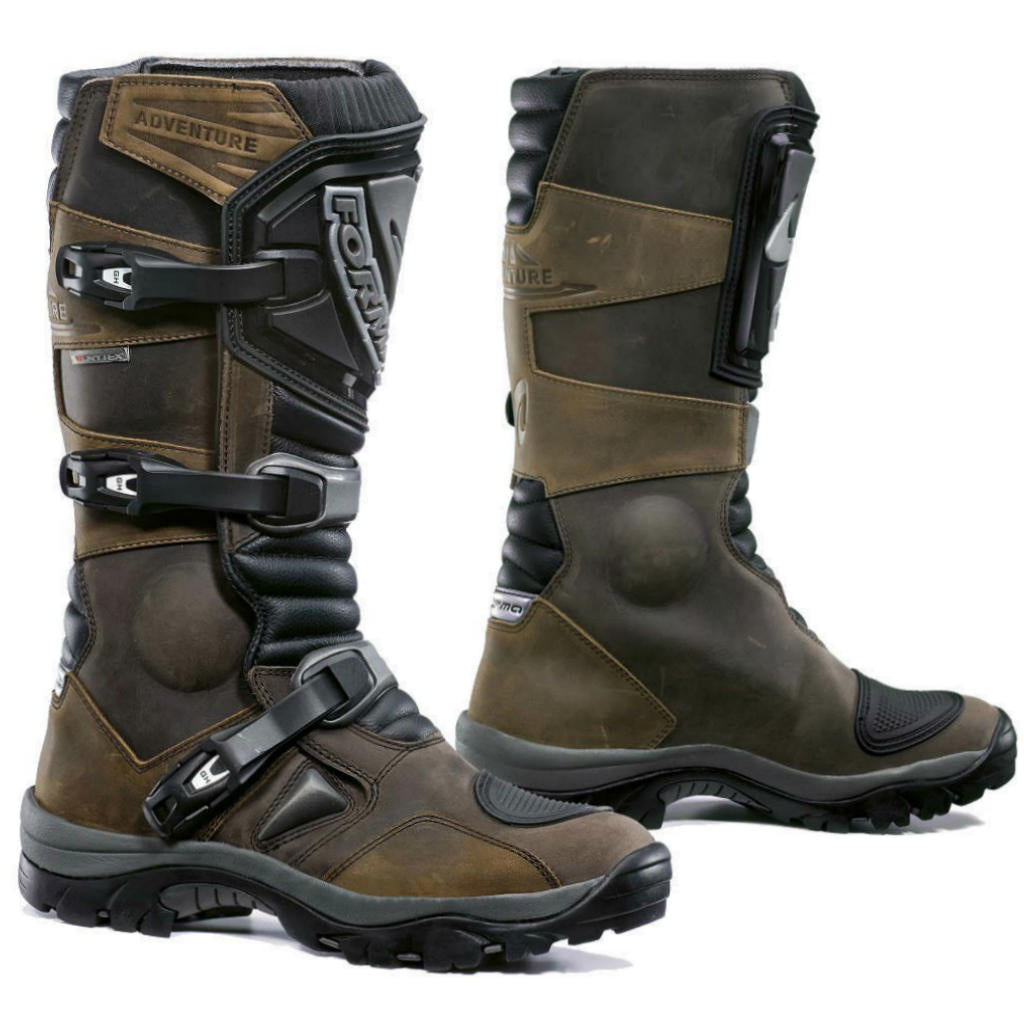 Why?
The Forma Adventure boots are one of the most popular pairs of adventure and off-road boots on the market. They're not as feature-rich as the Forma Terra EVO, but they're packed to the brim with more than what you'll need, even for more intensive or challenging riding.
The Adventure boots use a leather construction with a waterproof and breathable lining. We've also found that these boots have some of the best soles on the market; they offer superb grip on and off the ATV (and even in wet or muddy conditions).
Where armor is concerned, these boots feature TPU inserts around the shin and ankle and added reinforcements at the heel and toe.
Specs:
Full-grain oiled leather upper.
Updated Drytex waterproof and breathable lining.
Vintage leather finish.
Adventure double density anti-slip rubber sole.
Injection-molded plastic front plate.
Plastic gear pad protection.
Internal molded plastic protections.
Adjustable VELCRO® brand closures.
Unbreakable and adjustable GH plastic buckles.
Shin and ankle TPU molded plastic protections.
Ankle reinforcements.
Unique rigid nylon midsole with steel shank.
Extra soft polymer padding with memory foam.
Anti-bacterial replaceable footbed with APS.
CE rated as protective riding footwear.
Alpinestars Tech 7 Boots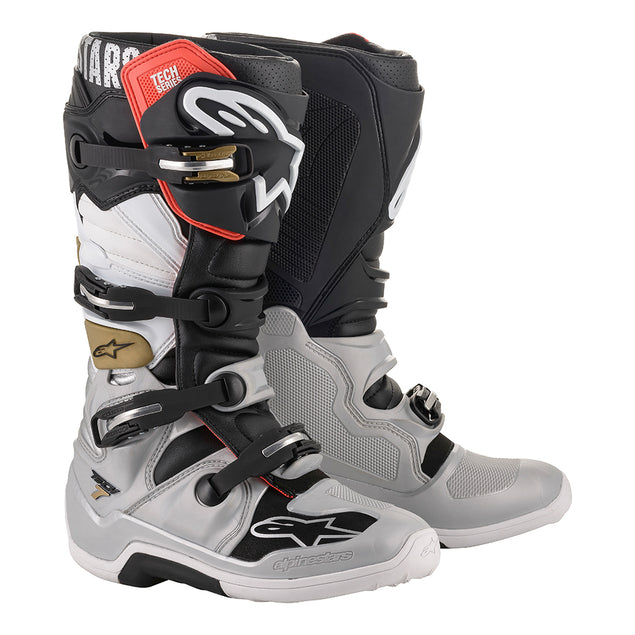 Why?
The Alpinestars Tech-7 Boots sit relatively high up in the brand's off-road boot portfolio—only the more expensive Tech-8 and Tech-10 boots are placed above it. We decided to put the Tech-7s on this list, as they provide excellent protection and features while costing less than the models mentioned above.
The tops of the Tech-7 boots are constructed using a flexible and abrasion-resistant microfiber. This makes the boot easy to walk in without compromising safety when riding. A TPU shin-plate uses a unique system to prevent frontal hyperextension. There's TPU protection around the ankle as well, and the heel and toe have been reinforced with metal.
The Tech-7 boots have a wide entry and fit people with larger calves quite well. We also like the velcro and metal ratchet closure system—easy to use and super secure.
Specs:
Ergonomic, aluminum buckle system offers secure and highly personalized closure.
Innovative TPU lateral ankle protection provides a biomechanical link between the middle lateral and the bottom lateral of the boot.
Instep and Achilles accordion flex zones are constructed for superior control and support.
TPU lower shell is reinforced with a metal shank and includes toe reinforcement for impact and abrasion resistance.
Extended microfiber gaiter helps seal out excessive water and dirt entry.
New closure system includes aluminum buckles plus aluminum frame with innovative self-aligning, quick release closures for customized secure fitment.
All buckles are replaceable.
Breathable mesh 3D liner with anti-sliding microfiber suede reinforcement on the heel area.
Soft poly-foam surrounds the ankles and collar offers comfort and shock absorbing performance.
Removable anatomic footbed.
Exclusive high grip rubber double density compound outer sole.
Sole and footpeg insert on sole is replaceable.
CE certified.
Gaerne SG-12 Boots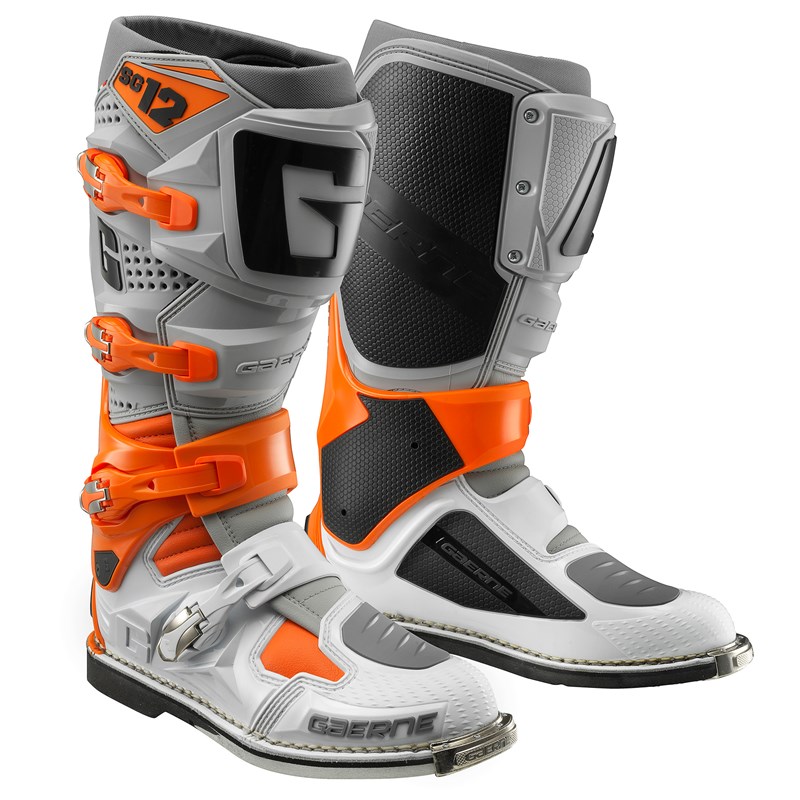 Why?
Gaerne is one of the top players in the MX and dirt space, and the SG-12 is arguably the best boot they have to offer. This is a hardcore off-road boot for serious, competitive riders.
Unsurprisingly, safety is top-priority with the SG-12. These boots use a revolutionary, patented Dual Stage Pivot System. As the company mentions, "the first pivot is attached to the 'razorback', which provides a rigid component and offers strong lateral support while a glide plate keeps the upper in a firm, upright position."
The heel and toe sections have been reinforced to withstand hard impacts and absorb shock in case of compression. The SG-12 also features a unique screw system at the entry of the boot that you can adjust to accommodate larger calves.
If you're serious about riding off-road or will be doing it competitively, this is one of the best boots money can buy.
Specs:
A gaiter made of a swiss breathable fabric called ACRONOS is extremely stretchy but has the perfect shape to keep sand and debris out.
The toecap has been re-designed and reinforced to provide tougher performance.
The heel cup has been designed to absorb shock in the case of a rear compression.
An upgraded toe box features a slimmer shape in the toe area for an improved feel of the shift lever.
The entire toe box area is wrapped by a plastic material that is lighter and provides improved comfort.
A thermoplastic shin plate is anatomically shaped for a perfect fit.
By removing three screws, a rider can also make the opening wider to accommodate a bigger leg or knee-brace.
The SG-12 utilizes four lightweight alloy buckles that attach to an adjustable strap.
On the inner side of the boot is a "grip guard" to help you grip the bike, as well as acting as a heat-resistant pad protecting your leg from the exhaust.