Mark Daniels lost his leg in a crash with a driver who was texting at the time, but he now wants to get on with life, ride again and compete at the Paralympics.
The inspirational 23-year-old is now a motivational speaker and an ambassador for Road Trauma Support in Western Australia where he is stationed with the Royal Australian Navy.
This week he was back in Brisbane and delivered an inspiring speech to students of his former school, St John's Anglican College at Forest Lake.
"The speech was a one-off but I give motivational and road trauma speeches in my free time from the Navy," he says.
His message is two-fold:
For drivers; imagine it was your loved one on the bike. Get off your phones and pay attention to the road. All it takes is 10 seconds to change a life or to take a life.

For riders; prepare for every ride like it's your last, wear kevlar, ride to your abilities and look out for people that aren't looking out for you. We all share the love for bikes; don't let someone take that from you.
Mark certainly isn't letting his crash trauma and leg amputation rob him of a life or motorcycles.
He's training hard to compete in the para triathlon and he's also planning to convert another Husqvarna TE511, like his crashed bike, to go riding again.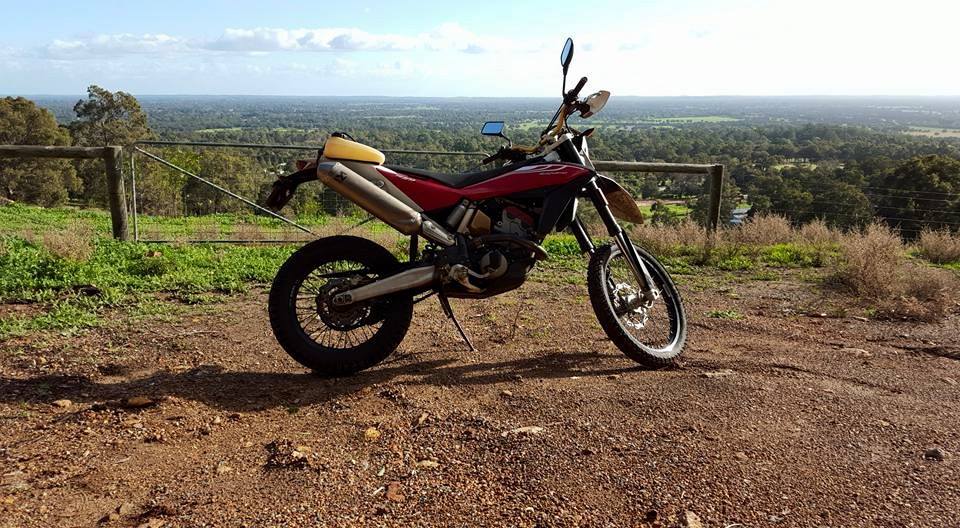 "Every time I see a bike go past, I feel my heart strings tugging telling me it's time to get back on the road," he says.
"I'll have to modify my bike (when I get a new one) to change the right foot brake to a hand brake and I'll have to get used to not having to use my right leg to stabilise myself when I stop as well as sitting my licence again after having to surrender it due to being medically unfit to ride."
That fateful day
Mark's life unraveled in December 2015 when he was riding home on his Husky that his twin brother bought him for his 21st birthday. Just a kilometre from home he was t-boned by a texting driver.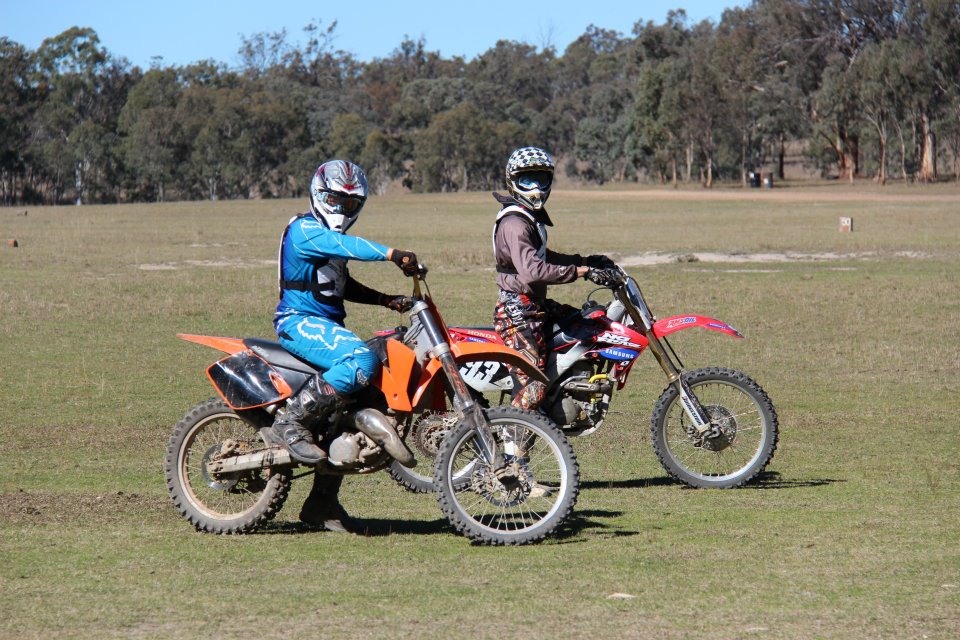 "I woke up 10 days later from a coma with a broken neck, 11 broken ribs, punctured lung, ruptured kidney, grazed heart, broken right hand, four fractures in my femur, a rod from my knee to my hip, four pins in my femur, I used 65 units of blood, died three times and I had my leg amputated below the knee," he says.
"To say it was a pretty rough time is an understatement.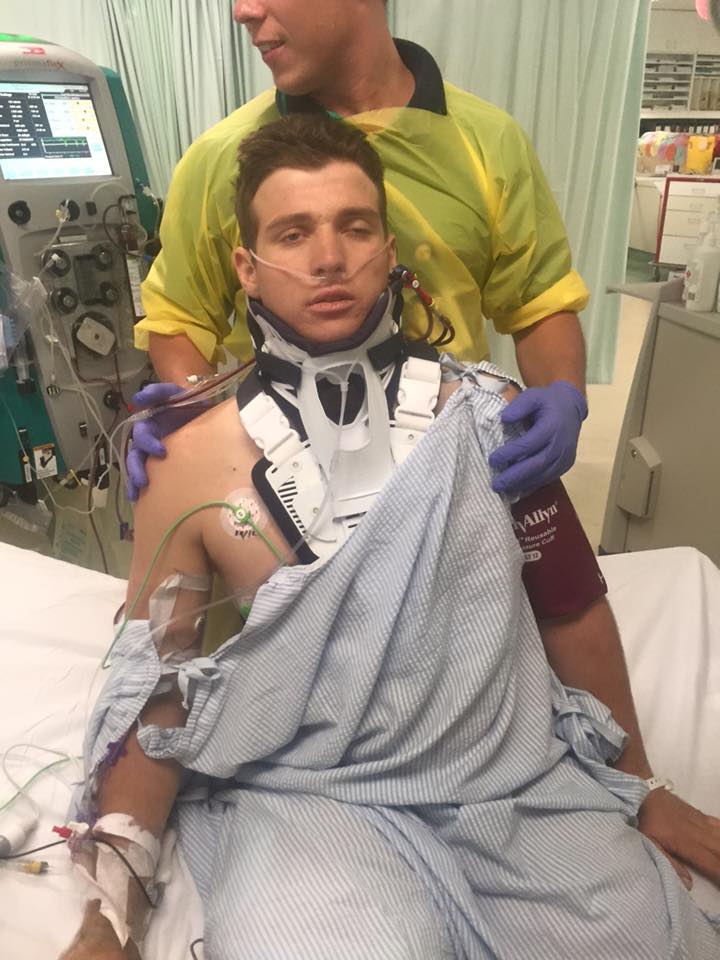 "Those first six months, I battled suicide hard, I fought PTSD, spent eight hours a day at hospital and physio appointments but I never regretted my decision to ride.
"Even now I would still take that same way home that night knowing that I would lose my leg. I feel I'm a much better person and have the ability to help motivate and inspire others by using my own journey.
"I've since had a further six surgeries on top of the original eight including a second amputation reducing me to an above knee amputee. There will always be a place in my heart for motorbikes and my Husky before it become a mangled wreck in two parts."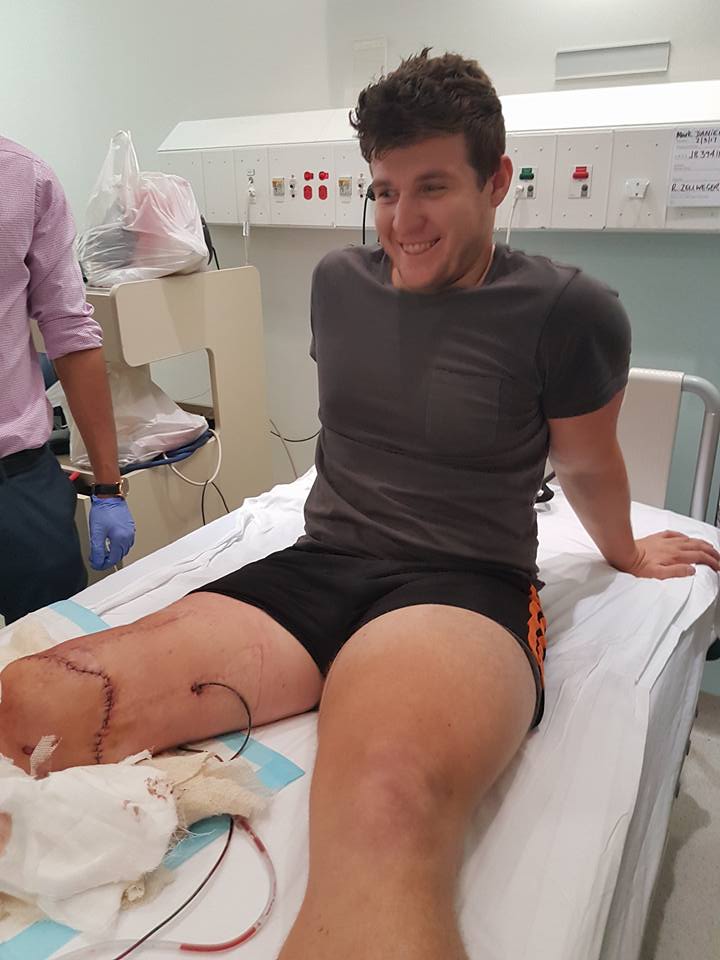 Mark is determined to get on with his new life and wants to put the incident behind him, despite the driver being fined just $176.
He also received an eight-month suspended sentence, but that means nothing if he doesn't re-offend in the next 12 months. 
"I had 18 months of him pleading not guilty which messed me around a lot," Marks says.  "He changed his plea two days before to guilty. 
"I was standing 10 metres away from him outside of court, so I went over and asked if I could speak to him.
"He told me he had wanted to speak to me but his lawyer had told him not to. I told him that was down to his morals, that he had let his lawyer stop him from doing the right thing and that it was me that had hit someone I would of been there in hospital doing everything I could to support the person I hit.
"I told him this is where we draw the line, we move forward from here. This is something I live with for the rest of my life, he doesn't have to. Shook his hand and left it at that."
Mark's funding goal
Able Seaman Marine Technician Mark Daniels is now training hard and hopes to one day compete at the Paralympics.
He has now taken out a $20,000 loan for a special cycling prosthesis and is fundraising the other $20,000 for a running leg/blade.
You can donate directly on his Go Fund Me link, by contacting Mark on his Facebook page, via email or phone 0408 779 372.