Interesting and very hard-to-find anti-static plastic cleaner for polycarbonate airplane windshields.
Works well and leaves a "slippery" feel that seems to make the surface easier to clean, but I'm not sure if the product is overwhelmingly better than several other plastic cleaners we've tried.
Regular readers know what a kick we get when we find a rare, hard-to-find, unique, obscure — you name it — product from one industry or sport that also works well for motorcycle use.
Well, here's my latest contribution to the mix: this bottle of Tend Anti-Static Plastic Cleaner is about as rare as anything I can think of.  So how about it — do I win some kind of prize or something?
I've searched high and low, and the only conclusion that comes to mind is that Aircraft Spruce, a supplier of products to pilots and the aircraft industry, makes this stuff in a 50-gallon drum in the back room and sells it under the "Tend" brand name.
I say this because I've searched high and low and cannot find a "Tend" company that makes anything like this.  If anyone knows different, please drop us a line.  Is there actually a "Tend" manufacturing company somewhere?  If so, apparently they either don't have a website…or maybe they're deliberately trying to keep it a closely guarded secret?
Come to think of it, maybe that's their guerilla marketing method — make a good product, but don't let customers know where to find the stuff, which creates a buzz, which spikes demand, which drives customers into a frenzy because they can't buy it, which creates more buzz…
Well, that's the theory anyway.  If that's the Tend company's strategy, more power to 'em.
UPDATE:  A webBikeWorld reader found the company with some pretty interesting investigative work!  See L.E.'s comments below.
Nevertheless, the stuff does work rather well on motorcycle windshields, windscreens and motorcycle helmet visors.  I have no idea why or how, because other than the calming sea foam green color, the liquid has no smell or consistency that provides any type of clue about what it's actually made from.
But spray on the Tend cleaner and wipe it off and not only does it remove the bugs and detritus in short order, it leaves a little something extra behind in the form of a "slippery" or "waxy" feeling coating.  It takes a bit more buffing to remove all of the product than it does for something like Glass Plus, so I guess Tend definitely is different.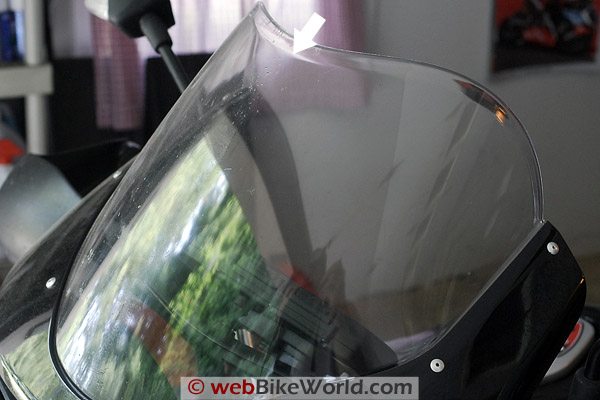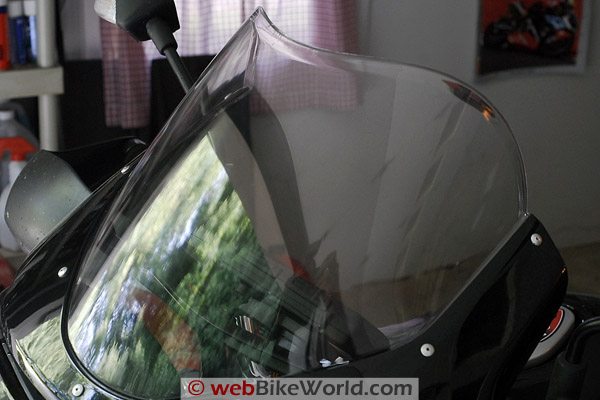 There may also be something to the anti-static claim, because it seems like the surface lets go of fresh bug carcasses quicker and easier than it would otherwise.  This is an especially useful trait for use on a motorcycle helmet visor; a visor that's been treated with Tend plastic cleaner seems to require less effort to wipe 'n' clean the next time around.
Aircraft Spruce has a variety of windshield, plastic and polycarbonate cleaners and polishes, all designed or, I suppose, tested for use on aircraft.  Now pilots are pretty fussy characters, and they (mostly) demand a cost-no-object, best-in-class product, so that gives me some confidence that the stuff isn't a sham.
The Aircraft Spruce marketing blather claims that "Tend Anti-Static Windshield Cleaner keeps acrylic surfaces clean and dust free by attacking fingerprints, lint, and smudges to maintain a crystal clear brilliance."
By the way, the bottle calls it "Tend Anti-Static Plastic Cleaner", but Aircraft Spruce sometimes refers to it as Tend Plastic Cleaner and Polish.  There's another product called Tend Windshield Cleaner and Reconditioner that we did not try.
Conclusion
If you happen to be hanging out in a small airport, or if you live near one of the Aircraft Spruce stores, or if your curiosity has gotten the better of you, or if you're into solving inconsequential mysteries, and you can find a bottle of Tend plastic cleaner, I'd say go for it and give it a try.
Otherwise, I wouldn't lose any sleep over it — after all, it just doesn't seem that much better than other plastic cleaners reviewed on webBikeWorld (see the Motorcycle Cleaners and Polishes index page) that are much easier to acquire, such as: All-Kleer or Sprayway or RejeX or ProtectAll or Auto Glym…. or even our old garage standby, Glass Plus…

Note:  For informational use only.  All material and photographs are Copyright © webWorld International, LLC – 2000-2011.  All rights reserved.  See the webBikeWorld® Site Info page.  NOTE:  Product specifications, features and details may change or differ from our descriptions.  Always check before purchasing.  Read the Terms and Conditions!
Owner Comments and Feedback
Comments are ordered from most recent to oldest.
Not all comments will be published (
details
).  Comments may be edited for clarity prior to publication.
---
From "M.S.":  "As per your review, I order the Tend plastic cleaner, wow, it works.  I used it to wipe away some old bug juice, the results were noticeably better than other more messy products in my garage.  My order took two days to be delivered; I used the USPS (mail) shipping option for cheaper delivery charges.  Again, thanks for your great reviews."
---
Tend Plastic Cleaner Brand Name Info From "L.E.":  "By doing some quick trademark search on the US Patent and Trademark website, I found (this info) on TEND:
Word Mark TEND
Goods and Services IC 003 021. US 004. G & S: PLASTIC CLEANING AND POLISHING MATERIALS-NAMELY, COMBINATION CLEANING , GLAZING, RECONDITIONING, ANTI-STATIC, AND POLISHING COMPOSITIONS, BUFFING COMPOUNDS, BUFFER PADS, AND POLISHING CLOTHS FOR PLASTIC MATERIALS.
FIRST USE: 19680930.
FIRST USE IN COMMERCE: 19680930
Mark Drawing Code (1) TYPED DRAWING
Serial Number 72313274
Filing Date November 29, 1968
Current Filing Basis 1A
Original Filing Basis 1A
Registration Number 0979713
Registration Date March 5, 1974
Owner (REGISTRANT) DAWN PRODUCTS COMPANY CORPORATION COLORADO 3985 S. KALAMATH ST. ENGLEWOOD COLORADO 80110
(LAST LISTED OWNER) REGAL PLASTIC SUPPLY CO. CORPORATION ASSIGNEE OF COLORADO P.O. BOX 1274 ENGLEWOOD COLORADO 80150
Assignment Recorded ASSIGNMENT RECORDED
Attorney of Record MATTHEW D. ABELL
Type of Mark TRADEMARK
Register PRINCIPAL
Affidavit Text SECT 15. SECT 8 (6-YR). SECTION 8(10-YR) 20040415.
Renewal 2ND RENEWAL 20040415
Live/Dead Indicator LIVE
(See http://tess2.uspto.gov/bin/showfield?f=doc&state=ktdk4u.2.138 )
G&S means the Tend trademark relates to goods and services.  Note that it covers anti-static and polishing compositions.  It's an old trademark, nearly 40 yrs old, and seems to be registered by Dawn Products in Colorado.
Upon looking up Dawn, it seems to be primarily a food oriented company, but curiously lists cleaning supplies as one of their miscellaneous product offerings.  Regal Plastics, however, is a plastics supplier, and also offers a variety of adhesives, and other oddities.
Perhaps the plastics cleaner/anti-static stuff was something they created together to solve a problem that the plastics company had?  Who knows.  Very mysterious."
Editor's Reply:  Wow!  Nice piece of investigative work, thanks!
---
From "F.M.":  "I've discovered a product that does a great job of removing splattered bugs from my helmet and my windscreen: Veggie Wash.
Yes, I'm serious.  I was looking for something that would not contain ammonia or other chemicals that could cloud the plastic.  Sitting on my counter was Veggie Wash, which is made from citrus fruits, cocoanut, and corn.  It's non-toxic and safe to eat, so I thought there would be no harm in trying it on my helmet and windscreen.
It took bugs off better than any of the other products (a somewhat limited number, I admit) that I've used — even on bugs that had splattered there 8 hours and 300+ miles ago.  The face shield and windscreen were crystal clear after wiping with a water-dampened cloth (to remove any residue that might be present).
It's available in the produce sections of many grocery stores and it's cheap.  Give it a try and see what you think.