It's nearing the end of the summer motorcycle riding season here in the Mid-Atlantic region of the U.S.A.
All of the new-for-2006 motorcycle helmets, clothing and many accessories have long since been released and we're waiting for the new batch of 2007 goodies.
In the meantime, there are a few items we've had laying around that, for one reason or another, we just haven't been able to review.
Or possibly we've had other priorities — like riding motorcycles, for example?
I'm pretty confident that anyone would agree that if I had a choice between riding and reviewing a pair of motorcycle socks, we both know which would take precedence.
But, here I am, reviewing not one, but two pairs of Tech Sox!
Believe it or not, we received several inquiries about these after our recent review of the Rev'it Moto Touring socks. It never ceases to amaze me at how focused our visitors can be…
TechSox
Are Tech Sox really different? You'd think so after reading the packaging.
Claims like "ultimate comfort for all weather riding" abound and the specifications list includes features like "high tech fibers", cooling vents, elastic in the arches and ankles, seamless toes and more.
And by the way, I discovered after these photos were taken that the Tech Sox, like the Rev'it Moto Touring socks, are "foot specific". That is, there's one for the left and one for the right.
You can see in the photos that the socks are on the wrong feet. But honestly, I hadn't noticed any difference at all and just discovered this when I was looking over the package as I was preparing to write this article.
Which makes me wonder just how much hype surrounds motorcycle socks?  I mean, after all — socks is socks, nay?
I realize that high motorcycle boots can make the rider's feet sweaty, so it's probably important to find a pair of socks that will transport ("wicking", it's usually called) moisture. But in reality, this never really works for me anyway.
Beyond that, I have a problem with paying 17 to 22 bucks for a pair of socks when I can get the same personal satisfaction at the Mart of Wall for about $3.99.
That's the case with these Tech Sox. Although I also purchased a pair of the ankle highs (called the "Stubby") to wear with sneakers, the "boot cut" Tech Sox actually seem to make my feet sweat more than normal, if that's possible.
Either that, or they aren't doing their job at wicking away the moisture.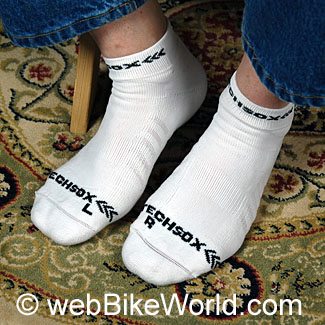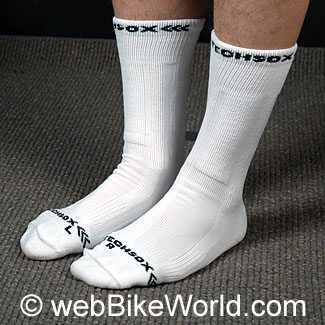 Features
So let's take a look to see how many of the 8 features listed on the back of the package works for me.
The "high tech fibers" are 70% polypropylene, 20% Nylon and 10% elastic. Unless they've come up with something that I don't know about, that means that 30% of the fibers in the Tech Sox do not absorb moisture.
The listed purpose of these fibers is for "superior wicking" and "moisture management".
But I just don't notice any difference when compared to, for example, a pair of 100% wool socks that I think have wonderful cooling and heating properties, which remain useful even when the socks are wet and which also possess the ability to flow lots of air through their fibers.
I suppose the fibers are also supposed to justify the claim that the socks "keep you warm in the cool weather and cool in the warm weather".
Unfortunately, I have not found this to be the case either; I don't notice any difference over any other readily available socks and we've had a variety of warm and cool weather lately to evaluate this claim.
Another feature of the Tech Sox is "cooling vents", but again, I haven't noticed any advantage. The elastic feature does add some comfort and keeps the socks from slipping, which is a plus.
The Tech Sox are supposed to have "high impact Terry", as in cloth, but if it's in there, I can't find it. The "super soft cuff", "cushioned protectors" (for shins and tendons) and "custom comfort fit" are also indistinguishable to me.
Finally, the socks are supposed to have a seamless toe, but as you can see in the photos of both the short and boot cut versions, the toe has a ridge right in back of the cap that I can feel when I'm wearing boots or shoes.
Tech Sox carry a "1 full year or 12,000 miles" guarantee (although it's not clear to me what this really means) and they're available in a range of sizes, from women's size 4 up to men's size 16.
Conclusion
As you can tell, I'm not impressed. Tech Sox seem very expensive for what they are and my opinion is that they don't have the features of, for example, the REV'IT! Moto Touring socks (review).
Those are even more expensive but which do seem to have some distinguishing characteristics above and beyond a typical sport sock found in a department store.
More Motorcycle Sock Reviews:
REV'IT! Moto Touring Socks Review
BMW Functional Socks Review
Holofiber Socks Review
w

BW

 Review: Tech Sox Motorcycle Socks
Manufacturer: Tech Sox
List Price (2006): $16.95 (boot cut); $21.95 (high cut).
Colors: Gray and white.
Made In: Canada
Review Date: October 2006
Note:
 For informational use only. All material and photographs are Copyright © webWorld International, LLC since 2000. All rights reserved. See the webBikeWorld® 
Site Info page
. Product specifications, features and details may change or differ from our descriptions. Always check before purchasing. Read the
Terms and Conditions
!
Owner Comments and Feedback
---
From "M" (06/2011):  "They are definitely not worth the money. I purchased 6 pair for a Motorcycle trip.
The claim of comfort and thermal properties are correct but, once the sock was washed they where worthless. The socks slid down my leg, while riding and restricted my circulation."