TCX Street Ace Air boots join the booming trend in recent years for commuter riding shoes that you can wear on and off the bike in equal comfort with some protection.
The trend is understandable. The last thing most city riders want is to have to carry a spare pair of work/casual shoes because their motorcycle boots look like SS stormtrooper boots.
Most of this new generation of commuter boots wouldn't look out of place in a casual office, at the movies, in a restaurant or bar, or most other social occasions.
And some riders also carry regular non cycling shoes for cycling if they need.
TCX's Street Ace Air boots cost $219 which is about average for these types of shoes. They come in sizes EU 36-48 and US 3.5-13.
If you're looking for a list of the best motorcycle boots just head over to ShoeAdviser. They provide everything that you need to know on choosing for the perfect riding boots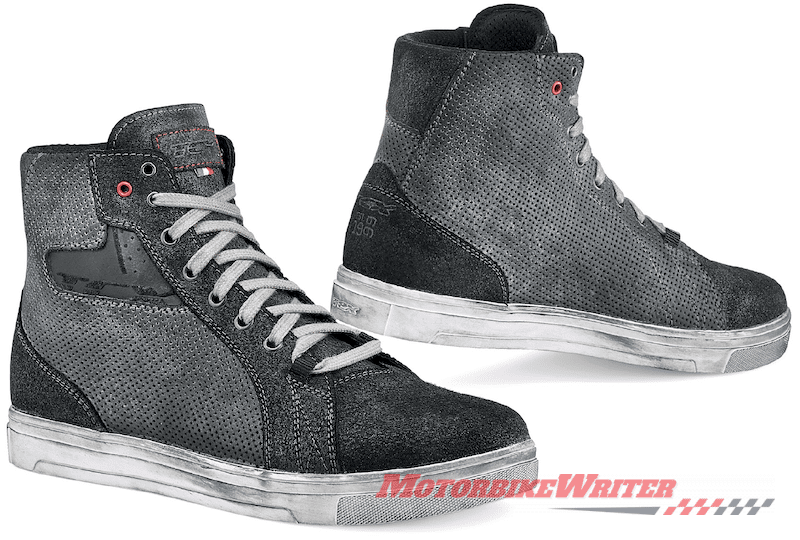 Tough boots
TCX's Street Ace Air stand out from the commuter crop as a slightly tougher-skinned boot.
They are made of a thick and stiff leather that is perforated all round, except the toe and heel. Inside is a breathable lining so your feet are less likely to sweat and stink out the office.
After several weeks of use, my gear shift has hardly scuffed the left boot. Perhaps that's because the aged or vintage "anthracite" leather disguises any rubber marks from the shifter.
The branding is also discrete so they don't look like kids' gym shoes.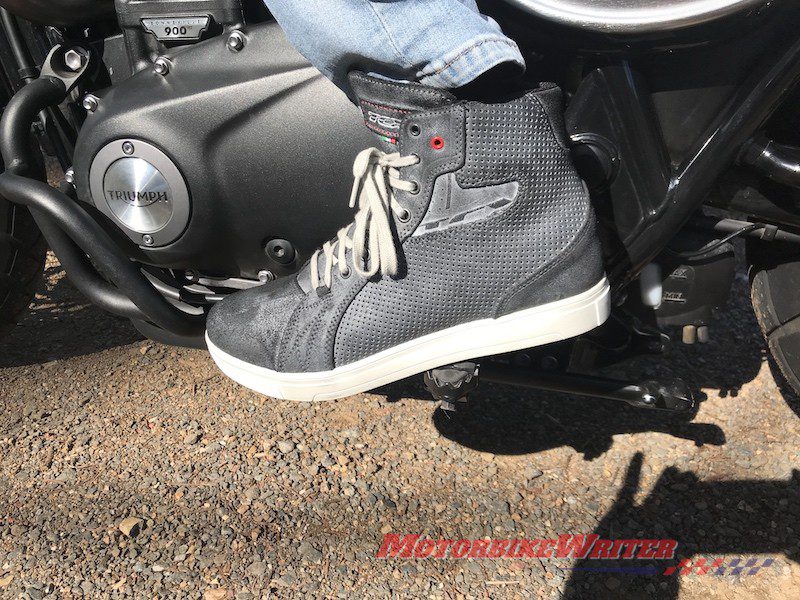 Unlike most other commuter boots we've tried, these have a very stiff, non-slip rubber sole.
They actually feel a bit too stiff for a lot of walking. They may soften with age.
However, that stiffness protects your foot from rotational forces in a crash.
TCX has also added tough toe, ankle and heel impact protection that is padded on the inside so they still feel comfortable.
Laces or no laces?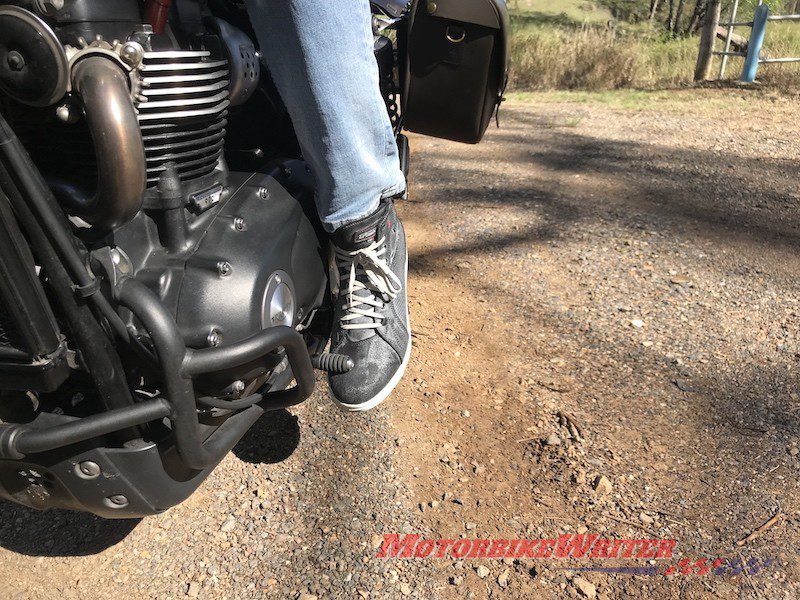 These TCX boots feature a lace system which some riders claim can be dangerous because you can get them caught in the pegs or levers.
That happened to me once and I quickly learnt the lesson to tie the laces short or tuck them into the top of the boots.
Despite that incident, I actually prefer lace-up boots because you can get a good solid fit as you can vary the tightness along the length of the laces.
This works particularly well for me as my right foot is bigger than the left thanks to breaking it in an off-road jump (even though I was wearing expensive MX boots).
Elasticised boots can be more dangerous than lace-ups as they will pull off in a crash, while zip-up boots never fit as well.
Besides, these TCX boots have a high ankle so the laces would have to be tied up very loose for the loops to get caught in any levers or pegs.
I didn't even do them up to the top eyelet and the laces still don't droop low enough to cause any concerns.
About TCX
TCX is an Italian company that started in 1999 as Oxtar. They make a range of road and off-road race, touring and leisure boots for male and female riders.
The company has patented their TCS (Torsion Control System) that controls the movement of the riders foot in both directions to protect from ankle injury.
TCX was the first boot company to have CE Certification on all its products.