Super Sport for the Street
The TCX S-R1 boots are a "hypersport" street version of the TCX racing boots.
A Gore-Tex membrane is included to make the boots waterproof and the S-R1 boots are also CE certified to EN13634.
Paired with the built-in safety features and reasonable price, these boots are a winner.
My apologies, these are actually the TCX S-R1 Gore-Tex boots, not the S-Speed boots as stated originally.
The owner of the boots bought them as the S-R1 boots, the name printed on the sales receipt.
Somehow there may have been a mixup — perhaps put in the wrong box?
In any case, the review and conclusions are the same, just the name has been changed.
This also explains the mystery of the Gore-Tex label, as the S-R1 boots have the Gore-Tex liner.
I sometimes wonder what footwear people wear when driving their cars.
Runners, sneakers, formal shoes, heels? Or maybe nothing at all.
It would certainly be a more varied, if not altogether interesting, survey compared to one carried out on motorcyclists.
Most people on bikes do wear protective boots of some form and because of their prevalence there are plenty of options within this sphere of footwear for us to choose from.
I would usually look for something sporty with added protection, but which also had a semblance of comfort and did not require the use of a set of tools to slip into before the morning commute.
My last pair of TCX boots were on the budget end of their range but they had looked after my feet impressively and were as comfortable as…well you know the cliché.
So what makes someone like me choose the TCX S-R1 Gore-Tex boots when it came time for an upgrade?
TCX had made a number of impressive claims with these boots, but one of those claims stood head and shoulders in importance above the others for my usage — the claim that these boots are fully waterproof.
Would that prove to be true? And what about comfort and protection?
Six months and 4,000 miles later, in all types of weather, I think I have some of the answers.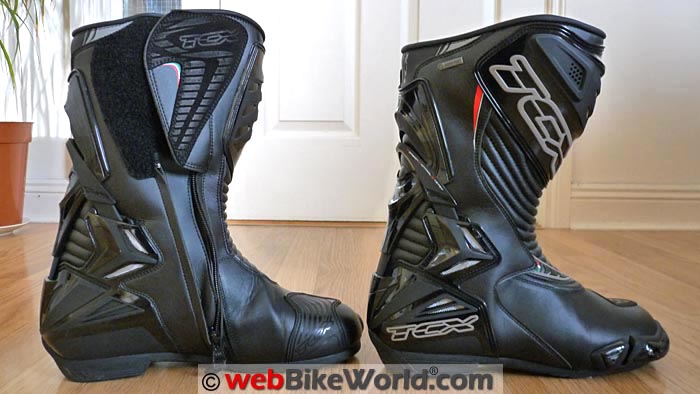 The design of most of the boots in the TCX "Racing Line" tend to follow a similar pattern.
The outer shell is made from some type of "'soft touch' mat [sic] microfibre with micro-injected inserts and padded front and rear".
This includes a large shiny plate of black thermoplastic with the TCX name moulded at an angle and a long zipper which allows the boot to open with relative ease.
While the design of the S-R1 boots does not vary too far from any of the other TCX sport boot designs, it does manage to convey (even to the untrained eye) that this is a highly technical boot.
One of the reasons for this is because some of the safety features that have been incorporated are not "built-in" but actually "built-on".
For example, that big shin plate, the toe sliders, the TCX "Torsion Control System" and the heel protection are all visible on the outside of the boot.
In a sense, you really can see what you paid for.
And others will notice this as well, even if the S-R1 boots do not appear to be completely out of the ordinary when spotted on a store shelf lined up alongside counterparts from Dainese and Alpinestars.
Torsion Control System
The TCS (Torsion Control System) which the boot is essentially built around is TCX's flagship safety technology, featured on all of their top-level racing boots.
The system works by encasing your lower leg and ankle within a plastic frame which is allowed to flex by a small number of degrees both forward, backward, and from side-to-side.
TCX say that they designed the Torsion Control System to only allow a riders ankle to move within the normal range of physiological movement.
The end goal is to prevent riders from suffering ankle strains or ankle breaks in a crash by preventing the lower leg and ankle from entering the area of hyperextension where injury is likely.
It is a very clever system which you can actually examine the workings of if you pick the boot up and flex it for yourself.
The "arms" along the sides of the boot can be seen moving within their housing but never extending too far, as is the aim of the system.
Metatarsal Control System
Alongside the Torsion Control System is the MCS, or "Metatarsal Control System", which is something that is more difficult to view in operation.
The metatarsal area covers the long bones on your foot between the ankle and toes and these can be particularly vulnerable to hyperextension as well.
The MCS system uses a relatively solid heel area which hinges back and forth along what TCX have determined to be a normal range of movement for your foot.
However, it cannot flex beyond that range so as to protect the lower foot in a crash.
These are mechanical safety features with parts that move, so they do tend to squeak a little when walking about but some silicone spray can relieve that issue, albeit temporarily.
Silicone spray cannot solve the inherent discomfort issue brought about by a boot which lacks the flexibility of less-protective boots.
It can be a bit painful to stand for too long with your legs straight, as the TCS system fights to get your ankle back into the "normal" range of movement that you have when your feet are on the foot pegs.
Meanwhile, long strolls off of the bike can result in you losing the feeling in the bottom of your foot, as the hard heel area of the MCS system never feels as comfortable as your favourite hiking boot or running shoe.
One reviewer for the UK publication Motorcycle News likened the feel of walking in them to walking with a pair of wooden planks strapped to your feet.
While I think that might be overselling the point, it isn't all the far off either although on-bike comfort is perfect.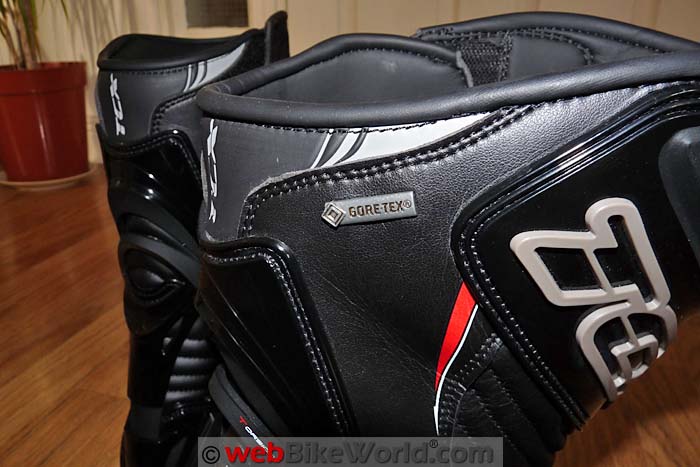 ---
Where to Buy TCX S-R1 Boots
Check Reviews & Prices on Amazon
Check Reviews & Prices On RevZilla
Also: Leather Motorcycle Boots, Touring Motorcycle Boots, Women's Motorcycle Boots
---
Construction Features
The flip side to this is that the boots themselves feel extremely well built.
The heel protector, mounted below the TCS system and protecting the back of the foot, is very strong.
The zipper and the hook-and-loop enclosure which covers it also feel like a premium offering, with a faux-suede layer over the enclosure which is kinder to your bike should your inside legs be rubbing on any paintwork.
One oft-overlooked feature is that the zipper pull can be stuck to the hook-and-loop to make absolutely sure that the zipper will not open — a clever and simple idea.
The usual gear shifter toe reinforcement is present and the sole has a fairly substantial 13-14 mm heel at the back, which makes me feel far taller than what I actually am!
Up around the toe area are toe sliders which, thankfully, are easily replaceable — another nod to a boot designed to have a place on the track.
Despite the price you pay in off-bike comfort as a result of the TCS and MCS systems, these same systems form the centrepiece of the boot.
And looking at these features alone, one could be forgiven for thinking that this might be a boot specifically made for those who want the maximum protection on track.
However there is more to this boot than high speed track days.
By building these safety features around the outside of the boot, TCX managed to ensure that the Gore-Tex membrane on the inside would have as few seams as possible.
We all know the story of supposedly waterproof gloves where the amount of seams compromises the overall waterproof factor of the piece resulting in a fairly damp hand after a few wet miles.
The S-R1 Gore-Tex boots manage to avoid this however, so not only have you a boot which has terrific safety features but also one with waterproofing to match.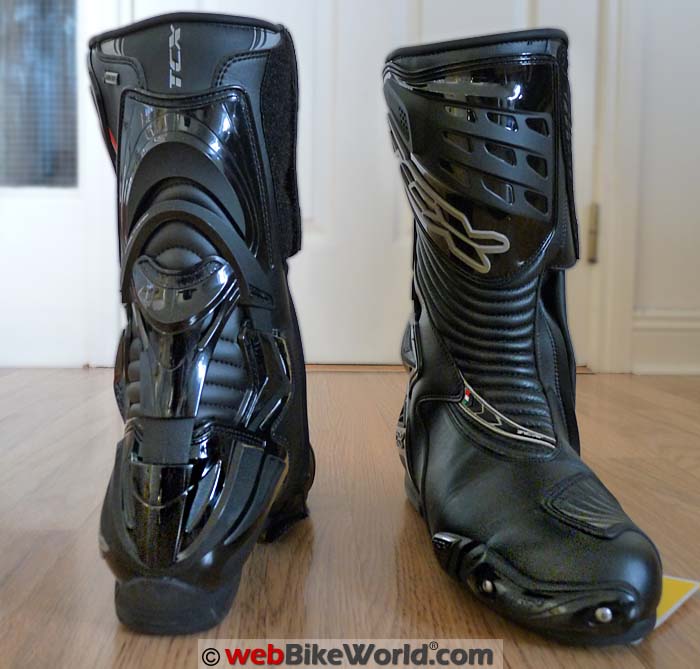 Build Quality
If you did happen to discard my advice and take these boots on a long hike, I'd be fairly certain that nothing would break or fall off.
Initially, I was a little worried that the mechanical safety features (the TCS and MCS systems) would eventually wear from constant movement when walking.
However, nothing of the sort has happened and after a quick wipe with a damp cloth, these boots come up looking like new despite having been used on the bike and off, over six months and 4,000 miles later.
The quality of the outer shell is self evident in that there are no cracks or marks and all of the plastic fixings are still securely in place with no signs of anything loosening.
Even the hook-and-loop is top quality and still feeling new in the way that many hook-and-loop fastening systems fail to do as they wear over time.
One of the prime areas for wear on a motorcycle boot is the sole but, again the sole on these boots seems tough and does not show any signs of over-wear.
The zipper on the side of each boot seems to be of similar quality; it rarely gets caught in any fabric and simply does it job every time.
Also, the interior fabric will not let the boots down in the quality stakes either — there are no rips, no tears, and no loose stitching.
It is remarkably intact despite the abuse it has taken over the last six months and shows it worth as a truly premium offering.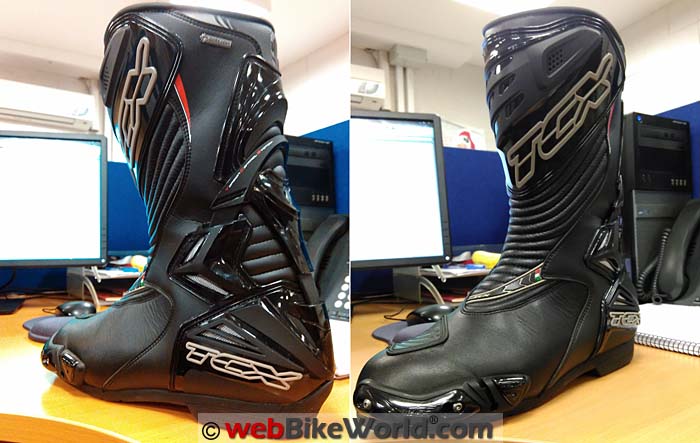 This was an area of prime concern for me when I purchased the TCX S-R1 Gore-Tex boots initially.
My previous TCX boots, as comfortable as they were, were not equipped with Gore-Tex or any waterproof lining and they leaked quite substantially as they became older.
After three years of near daily use, I reckoned that the baseline of TCX build quality was decent and the build and features of the TCX S-R1 boots have proven me correct in this assertion so far.
However, the level of waterproofing on this boot has brought my view of TCX quality control and design to a whole new level.
Not only have these boots never let one drop of rain inside, they have also kept my feet at a relatively acceptable temperature even on fairly hot and humid days thanks to the Gore-Tex breathable lining.
Note that this may not be the case with the S-R1 boots marked "Waterproof" only and without Gore-Tex, but I don't know that for a fact.
I tend to wear my boots underneath my trousers rather than over, as many do when wearing leathers.
This is due to my large calf muscles, which demands a lot from the lower part of the boot, as all of the water flows directly from my trousers, bypassing the main body of the boot and hitting the lower section.
It would be easy for that same water to cool my feet to the point where it's impossible to feel anything anymore, and that has actually happened me before with other boots.
I tend to suffer from abnormally cold feet, but the S-R1 boots have always kept my feet within a comfortable temperature range.
On one particular ride from Sligo in north-west Ireland to Athlone in the middle of the island, sheets of heavy rain were pouring from the sky.
Visibility was extremely poor, the skies showed no break on any horizon and large areas of standing water were now even developing on roads with camber.
Despite this rain, my feet remained completely dry.
A similar ride from the midlands to my home in Cork at constant motorway speeds resulted in the same experience; relatively warm, bone-dry feet.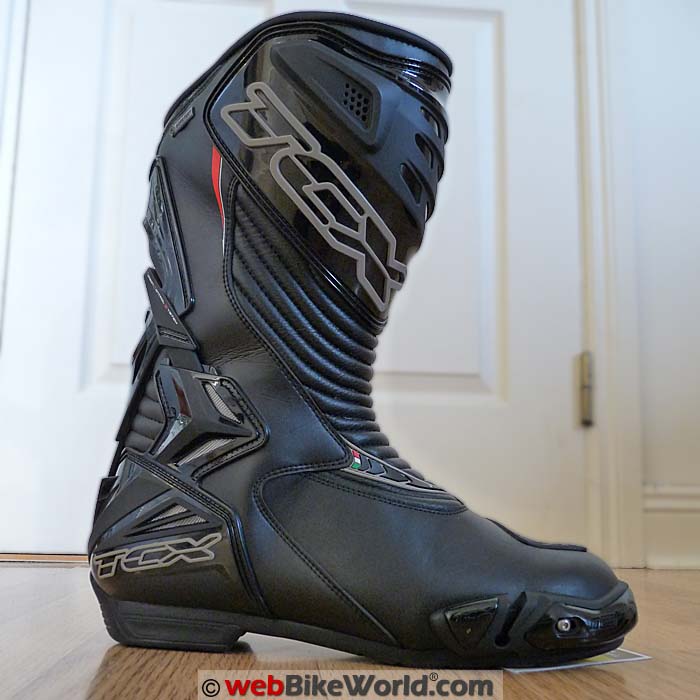 Water Resistance and External Features
The synthetic outer shell on the boots does not soak in water in that same way that other bike gear can tend to do, which can overload the waterproof membrane in the process.
Instead, the water tends to wick away, allowing the Gore-Tex membrane beneath to do its job and keep the user's feet dry.
When looking at the boots at first, I was suspicious that water might be able to find a way through the zipper because it extends down almost to the sole of the boot.
I need not have worried; the Gore-Tex layer has a fold behind this area, although the storm flap behind the zip has never been soaked so the zipper itself seems to do an upright job of keeping the water at bay.
It should be bore in mind also that the zipper faces the motorbike when you sit on it so the worst of the rain is kept away from that side of the boot by default.
Another suspicion was that the TCS and MCS systems would prove to be rain-catchers, allowing rainwater to build up within their spaces but this has never occurred and rain does not affect their operation.
If you need a boot with sporting pretensions but can never predict the weather, then for waterproofing alone, you have to consider this boot as one of the best on offer today as long as you make sure it is comfortable for you.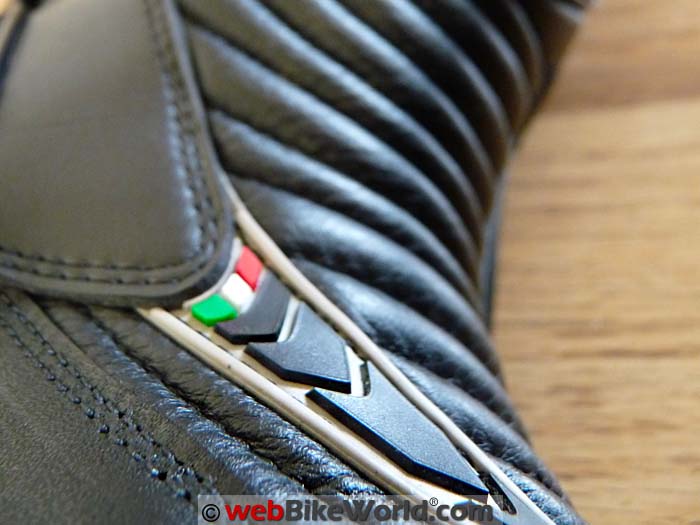 Comfort and Fit
So are the S-R1 boots comfortable?
My earlier comment about walking on planks of wood might be somewhat off-putting but you need to think about where you will be when wearing the boots and what you demand from them.
I wanted good protection and perfect waterproofing, but I did not need the ability to take long walks in great comfort as you could do with a dedicated touring boot.
I did, however, need boots which would be comfortable to wear while riding and to this end the S-R1 boots have not let me down.
The soles grip the foot pegs of both of my bikes very positively and I can feel the gearshift linkage quite well, something that a lot of buyers never seem to think about when purchasing a boot.
As for the fit of the boots, I was slightly put off initially.
When I first put my feet inside the boots they seemed stiff and not as comfortable as my older TCX boots.
Despite being the same size as my older pair, the S-Sport boots seemed to fit differently, with more room around the middle of the foot but maintaining a secure hold over the heel area.
The initial stiffness never really dissipated when off of the bike — a fact that I put down to the safety features built onto the boot.
Fit in other areas — such as around the ankle and calf — allow a comfortable amount of room for someone with relatively large legs.
The large hook-and-loop fastening around the calf allows for some adjustment here as well.
Overall I would certainly recommend these if you happened to have wide feet or appreciate a little more room in the middle of the boot but don't think that you can go on a long hike wearing these!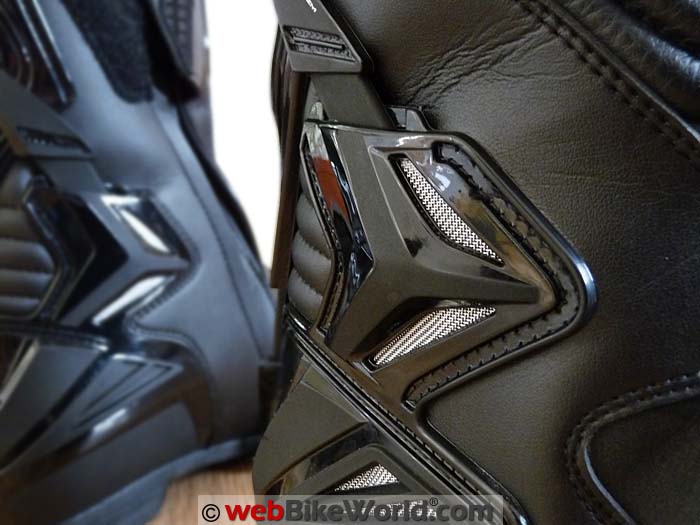 Conclusion
Although these boots are not necessarily perfect because the wooden feel to the fit when walking is a bit of a bugbear, I think anyone would find it difficult to find a boot as good as this at this price-point.
Having bought my pair for a smidge less than €200 in a sale, they can now be found for even less than that (£189.99 or $231.99 in the USA) and yet they still remain one of the flagship sports boots from the TCX brand.
They are extremely well-built, the Gore-Tex layer ensures that they certainly are waterproof (as I have tested) and they manage to keep my cold feet at the right temperature.
The only issue is the mystery of the Gore-Tex version vs. the "Waterproof" version…and there is also a non-waterproof version of the S-R1 boots.
While their off-bike comfort might be questionable for some due to the stiffness brought about by the Torsion Control System and Metatarsal Control System, these safety features are very welcome if you are a sporty rider.
Indeed, when looking at sports boots in the past, I have noticed a shortage of proper waterproofing in addition to the harder safety features one expects.
However, having wet, and cold, feet can be a safety issue in and of itself when one thinks that a distracted rider can be a dangerous rider.
w

BW

 Review: TCX S-R1 Boots
Manufacturer: TCX Boots
List Price (2017): £249.99 (£129.99 street)
Colors: Black, Black/White
Made In: EU
Sizes: European 39-49
Review Date: January 2017
Note:
 For informational use only. All material and photographs are Copyright © webWorld International, LLC since 2000. All rights reserved. See the webBikeWorld® 
Site Info page
. Product specifications, features and details may change or differ from our descriptions. Always check before purchasing. Read the
Terms and Conditions
!
---
Where to Buy TCX S-R1 Boots
Check Reviews & Prices on Amazon
Check Reviews & Prices On RevZilla
Also: Leather Motorcycle Boots, Touring Motorcycle Boots, Women's Motorcycle Boots
---
Owner Comments and Feedback
---
From "M.R." (January 2017): "I am an owner of the original Oxtar Gore-Tex TCS boots (review). I bought these back in 2003 time frame so my boots are well over 10 years old and probably 6 track days and almost 100K miles.
Mine are getting a little worn on the shifter side (L) and Ive had to glue down the rubber pad once with Shoe Goo just this last year.
I have had to do a little seam sealing on the stitching — but these boots with the Gore-Tex liner will keep my feet dry all day long in torrential rains and this has been proven over and over again up and down the east coast.
I have tested the boots beyond their design parameters, at the invitation of an over eager motorcyclist who ran into me, from behind at 35 mph, as I was braking coming into a small town in New Hampshire in 2004.
The front wheel of his R1150S hit my right boot and his left cylinder head creasing my exhaust can on my Honda VFR750 Interceptor.
I suffered a battered bike, a roll and slide on the tarmac for 60+ feet and the impact pinned my ankle/boot against the frame of the bike.
Wearing traditional work boots or a leather touring boots with a soft ankle, I believe my right foot would have been broken and possibly shattered.
However, I limped away with only a sprained ankle, bruised bone and a permanent numb spot on the inside of my ankle bone.
The flexible joint and plastic armor did its job, but it got hit hard enough the joint had come apart.
I was able to re-assemble the joint by inserting the "finger" back into the slot of the joint and its been working fine ever since (another 80K miles).
The other nice thing about the old Oxtar line was that I was able to order a size 48 (I wear US 13.5 to 14 boots) and had them shipped from the UK at the time because larger sizes weren't stocked by US importers.
Can you tell me if this new style will be available in sizes larger than US 12?
Because I had to go outside the US, my price back in 2003 was about $375 shipped. If the new boots are indeed lower priced and in the right size, I would be inclined to replace my functional, but dull and worn, boots with shiny new ones from TCX."
Editor's Reply: I don't know if the SR-1 boots are available in large sizes, perhaps an email to TCX would answer the question. They seem pretty good at responding to inquiries.
Other WebBikeWorld Boot Posts