You can now view your GPS and mobile phone while riding with the American Nelson-Rigg tank bag, which is convenient but could also be a distraction.
The GPS holder section has a multi-angle bracket so you can perfectly angle the screen to your vision. It sits inside a clear plastic weatherproof pocket.
Your phone is located in a separate plastic pocket with a touch-screen weatherproof cover.
One of the advantages we can see of this bag is that you can quickly remove the phone and GPS from your bike without having to use special handlebar mounts.
Double distractions
However, mounting a GPS and mobile phone on your tank could be a dangerous double distraction as it draws your attention a long way from the road ahead.
Bar-mounted units are closer to your field of vision and therefore safer.
Some riders would wonder why you even need your mobile phone visible while riding.
The trend is growing with some motorcycle and scooter companies integrating their instruments into phone apps.
Others, such as Kymco, are even replicating your mobile phone screen on the bike's instrument screen so you can see such things as Facebook updates!
Heat problems
We've used tank bags with these plastic phone pockets before and find that the heat generated on top of the bag in summer under a plastic screen can switch the phone off.
Phone batteries just don't work in the heat built up on the top of a black plastic tank bag.
Tank bag details
The strap-mounted Nelson-Rogg bag for plastic tanks is just $59.95 and the magnetic bag is $69.95.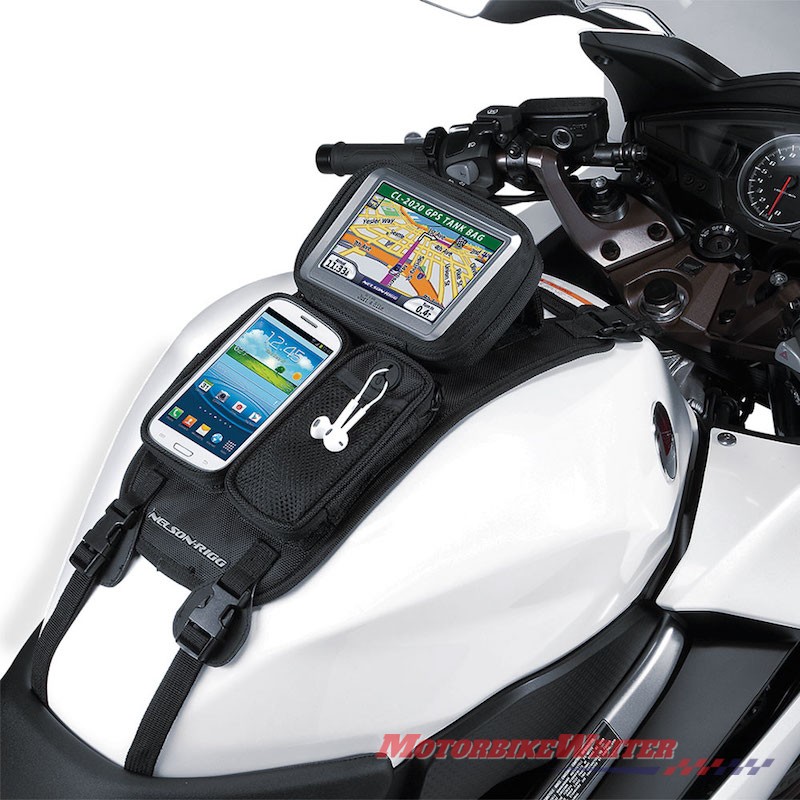 The tank bags are made from UV treated Tri-Max Ballistic Nylon with "Fibertech accents", which seems to be a fancy word for moulded plastic.
They feature "reverse coil zippers" which they say helps to keep out dust and dirt. This is important in Australia where bull dust can clog zippers.
The bags come wth a lifetime warranty and are distributed in Australia by Link International.
American motorcycle luggage company Nelson-Rigg has been making rainwear and motorcycle covers since 1972.