The Craftsman T-handle Allen wrenches are very nice to use with their big, fat handles.
I really appreciate the extended lengths on these tools because they are handy when working on motorcycles.
The Allen Wrench
I must be the only motorcycle mechanic in the world without a "T" handle Allen wrench set, so I decided it was time to join the club.
I've been making do with a collection of short-, medium- and long-handled Allen wrenches for many years.
The assortment is stored in a simple metal box with a folding snap lid that I bought from the Snap-On tool guy a long, long time ago.
The little red box is filled with just about every type of Allen wrench you can imagine, in every size and length available.
This includes custom-made Dremel cut-offs to gossamer-like 0.7mm and 5/64 whiskers that will bend if you stare at them too long.
Also stuffed in there are the huge 22mm and 1″ monsters that are suitable for defending the garage in case alien invaders come looking for a spare Bing carburetor.
I also have a couple of sets of 1/4″ and 3/8″ drive hex key socket sets, which I use to do the quick spin routine with longer or mid-sized hex head cap screws.
The problem with this is that it's way too easy to over-torque the screw using these things, especially if the screws are aluminum.
Hex Key vs. Allen Wrench?
So what's the difference is between an Allen wrench and a hex key?  Not much really.
I did a little research and discovered that the generic term for this type of tool is "hex key" and the term "Allen wrench" is actually taken from a trademarked name for the tool manufactured by the Allen Manufacturing Company in Hartford, Connecticut during WWII.
So the Allen wrench name has become a generic term, much like "Band Aid" or "Kleenex".
I've also heard some people call an Allen wrench an "Unbrako key". This term is occasionally used to describe these tools in Europe. It comes from the name of the fasteners made by, you guessed it, the Unbrako company.
Apparently there are also a few other names for an Allen wrench, including "Inbus" in Germany and "Brugola" in Italy.
The latter is supposedly named after Egidio Brugola, who, it is said, invented the hex fastener in 1926 (although the modern Brugola hex fasteners that I've seen look like they are a cross between a classic hex and a Torx head).
I'm not a mechanical engineer, so I don't know the exact reasons why one would use a hex head cap screw (or HHCS for short) versus, for example, a Torx, Posidrive, Tri-Wing, Torq-Set or other type of fastener.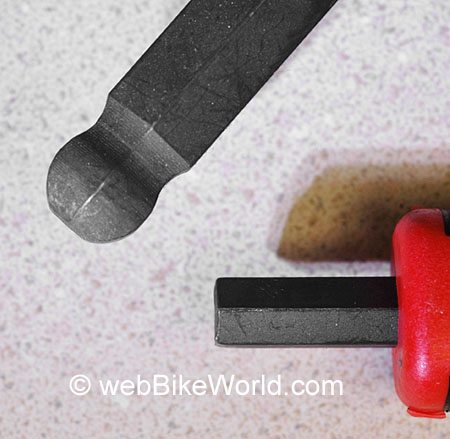 And Then There's Torx…
It's my understanding that Torx fasteners (another brand name, by the way) work better for products manufactured on high-speed production lines with assemblers using air-powered drivers because they can insert the driver tip faster.
Also, Torx screws can apparently be tightened with more torque than, for example, a Phillips head screw (named for Henry F. Phillips, the inventor).
Wouldn't it be nice if motorcycle manufacturers standardized on a minimum number of different fastener sizes and stick with them as much as possible?
This could make maintenance, replacement and emergency repair a lot easier. The worst case scenario is having Phillips, Torx, hex head cap screws, bolts or what have you used randomly all over the bike.
It's bad enough working on something like this in the garage, much less trying to worry about having the right tools to repair a breakdown on the road.
The Craftsman Allen Wrench Set
Which brings us to the "Sears Craftsman T Handle Ball End Hex Key Allen Wrench Set" (Sears item #00946380000; model #46380).
Tool aficionados have their favorite brands for sure.
A Snap-On owner considers Craftsman tools to be suited only for the rankest of amateurs, while the Craftsman types laugh at the exorbitant prices paid by the Snap-On fans. I'm a Craftsman guy.
When I was a kid, my Dad bought the cheapest junk possible, and let me tell you — back in those days, junk was too kind of a word for some of the stuff that was for sale.
It's hard to find a bad tool today, honestly, due to the same global drivers (hey, sort of a pun!) that have raised the quality levels of every commodity product.
So my first Craftsman tool was so much better than anything else I ever stole from Dad's toolbox that I've pretty much stayed with the brand ever since. I think tool owners are probably without a doubt the most loyal brand customers anywhere. I doubt you'll ever see a Craftsman or Snap-On guy buying anything else.
I knew one thing for sure though — I didn't want a set of T handle Allen wrenches with the loopy handles — you know, the ones where the handle is made by extending the hex rod and looping it around into the shape of a handle?
I wanted a real set with a nice, big, fat comfy handle.
More Tool Details
I looked at a few styles and ended up with the Sears Craftsman set shown here.
They're very robust and they have very nice, hard and fat rubbery grips. A straight ended hex key sticks out the side of the grip on each of the tools, while the business end is a hex ball tip.
The Craftsman T handle Allen wrenches also seem to be slightly longer than normal, which is a bonus for working on motorcycles, although there doesn't seem to be a standard for length on this type of tool.
The ball end hex has advantages and disadvantages, so I'm debating whether or not the tools would be better if the ball end was on the shorter hex key that sticks out the side of the handle.
The ball allows up to a 25 degree working angle, according to Sears.
This can be a definite advantage for working on motorcycles, because it isn't always easy to get a straight shot to the head of a cap screw due to the normally confined working spaces.
The disadvantage — or is it an advantage? — is that the hex ball end won't allow as much torque to be applied to the fastener.
I think this is why Rick lost the Oberon bar end mirror from the GT1000; the ball end of the Allen wrench didn't provide enough torque to really get the mirror mount tight enough inside the handlebar.
I'm not sure if I would have bought a set of straight-ended T handle Allen wrenches if Sears carried them in the Craftsman brand, which apparently they don't (Update: They do sell a similar set; see comments below).
I can always use a Dremel to trim off the ball if I'm desperate, but that would be a sacrilege to a tool geek. I guess it just means that I now have one more excuse to buy more tools!
Anyway, the T handle set is working perfectly fine for me so far and I think the whole ball end issue is probably a red herring.
I have yet to discover a hex head cap screw on a motorcycle that needs more torque than I can apply with the ball end of one of these Craftsman tools. If it does or if I think it's buried in there too tightly, I end up using the Allen socket set anyway.
The Craftsman set comes with a total of 14 T handle Allen wrenches in both SAE and metric sizes. The SAE sizes, which haven't even come out of the bag, are the orange-handled tools shown in these photos.
They include sizes 1/8″, 3/32″, 7/64″, 5/32″, 3/16″, 1/4″ and 7/32″. The grey-handled Metric sizes include 2.5, 3, 4, 5, 6, 8 and 10 mm.
Conclusion
Since these tools have found a home in my toolbox, I have to admit that my old collection of standard "L" shaped Allen wrenches have been feeling pretty neglected.
The Craftsman T handles are very nice to use with their big, fat handles and I really appreciate their extended lengths, which come in handy when working on motorcycles.
The price seems reasonable, with a list of $59.99. I haven't seen them on sale yet, but I feel certain they'll be discounted some time soon, as is the Sears custom.
The T handle Allen wrench set carries the Craftsman lifetime replacement warranty; note that some Craftsman tools carry only limited warranties, so make sure to read the labels before you buy.
w

BW

 Review: Sears Craftsman T-Handle Hex Key Allen Wrench Set
Available From: Sears
List Price (2007): $59.99
Colors: Black anodized.
Made In: U.S.A.
Review Date: January 2007
Note:
 For informational use only. All material and photographs are Copyright © webWorld International, LLC since 2000. All rights reserved. See the webBikeWorld® 
Site Info page
. Product specifications, features and details may change or differ from our descriptions. Always check before purchasing. Read the
Terms and Conditions
!
Owner Comments and Feedback
---
From "D.R.":  "Actually sears DOES sell LONG/Straight T-Handled Allen Wrenches… in fact (this set) of 7 (like the ball ended T-Handles) is about 1/3 the price of the ball ends…"
---
From "T.P.":  "…Although (the Craftsman hex wrench set) offer a life time warranty, I find it difficult to spend $60.00 on a set of those.
Don't know if you have heard of Harbor Freight, they have outlets in many states and are very popular here on the west coast.
Many of my friends get their tools from them for bargain prices, including a set of SAE and metric T-handle hex keys for around ten bucks. Now that's a bargain. Check them out."
---
From "B.D.":  "The last line on your T-Handle Hex Wrench (article) says, "And as with all Craftsman tools, they carry a lifetime replacement warranty."
It should say, "And as with many Craftsman tools, they carry a lifetime replacement warranty."
Not every tool you buy from them carries a replacement warranty. You should always ask them to look up specifically whether or not the tool you are buying qualifies for the lifetime replacement warranty.
Torque Wrenches, Craftsman Power Tools and other "Specialty Tools" come to mind as to which items do not carry the lifetime warranty. Sears offers extended upgraded warranties, which in some cases will replace the item as opposed to repairing it.
I was once informed that the Chinese tooling facility that makes a lot of the Non-U.S. made Craftsman items also makes the Harbor Freight Brand Tools in the same building… just separated by a partition.
Sometimes you are just buying a decal with a name on it, and a different color choice. If budget allows, always try to buy tools that actually say Made in U.S.A."
Editor's Note: Good point and I should have caught that (I made the change). The T Handle Allen Wrenches shown here are embossed with a "Made in the U.S.A." label on the handles.