You can save yourself a lot of hassle and money converting a small-capacity motorcycle into a scrambler by checking out the SWM Silver Vase.
SWM is an Italian-made brand with Chinese financial backing, so their bikes are made with Italian design and flair, but a bargain price tag.
The Silver Vase costs just $7490 on the road which compares pretty well with its closest competitor, the Yamaha SR400 at $8099 plus on-road costs.
And if you are after a stylish scrambler, the learner-approved Silver Vase is already customised for you.
There is also a Gran Milano ($7990) cafe racer and Gran Turismo ($7490) naked roadster which share the same frame and engine.
Single-cylinder heart
They are all powered by a new SWM 445.3cc air and oil-cooled, four-stroke, SOHC, four-valve, fuel-injected, single-cylinder engine. Output is 22.4kW of power (30hp) and 35.8Nm of torque at 5300 revs.
The engine components are made by Shineray Group in China and shipped to the SWM factory in Lombardia, northern Italy, where the bike is built.
It's a stylish little bike that turns heads everywhere you go. Not many have heard of SWM before, but those who used to race dirt a few decades ago remember them fondly.
Unlike many other scramblers on the market, this is closer to the original scrambler formula: a small-capacity road bike converted to race across paddocks on the weekends in hare scrambles events.
In fact, it's named after the Six Days Silver Vase event which later became the International Six Days Trial.
Traditional scrambler
When we picked up the Silver Vase from Brisbane retailer Heavy Duty Motorsport, it certainly looked like it came straight from the starting line of a post-war scrambles event.
It features knobby tyres on wire wheels, twin-shock suspension, chromed fenders, gaitered forks, metal panels and tank, wide and high bars, upswept twin exhausts, dual-pod instruments and an old-fashioned padded bench seat like the old dirt bikes.
Many old riders will love the overall nostalgic look that many young hipsters are trying to replicate with their custom builds.
Closer inspection reveals inconsistent fit and finish. Some aspects such as the paintwork are very good and some, such as the stickers and exhaust welding, look a little basic. But remember that cheap price tag!
You simply can't compare this with a BMW R nineT Scrambler at almost three times the price!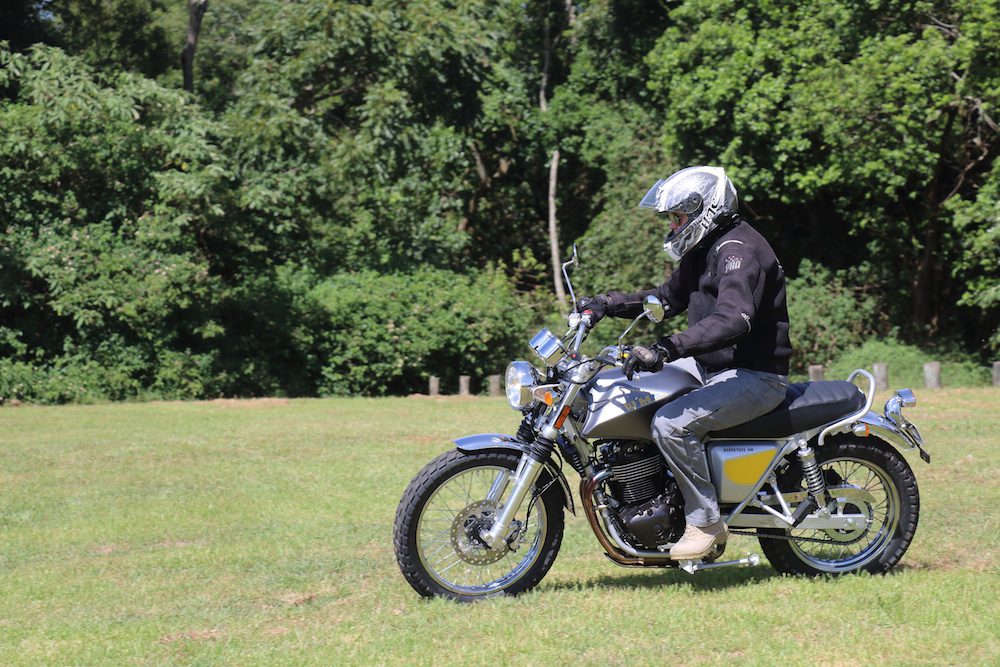 Starting from scratch
There is a sticker on the rear chromed mudguard that suggests warming up the bike gently every time you start it. It also warns you should avoid "full load" for the first four hours.
The Silver Vase starts first time when cold (no kick-start only like the SR400). However, it can be a little cantankerous to start when hot.
Since it only has 30-odd kilometres on the odometer, I give it gentle revs and pull away, wary of not revving it too much for the first four hours.
So I take it on a highway trip with some twisties and some dirt thrown in.
The Silver Vase has a comfortable upright riding position with a relaxed reach to the bars and footpegs. You can move forward and back in the seat to suit your height and your knees will be nicely tucked into the tank recesses.
It's a very relaxed position, but you can slide forward to attack corners.
Highway touring certainly isn't this bike's forte. It buzzes along at 5500 revs in fifth gear at 100km/h, sending a tingle through the bars, pegs and seat.
After half an hour it almost feels like my hands have gone to sleep.
Silver Vase handling
But there is no sleeping when you get into the tight corners. Despite a 19-inch front wheel and knobby tyres, it turns lightly into corners and holds its line pretty well for deep lean angles.
However, the rudimentary suspension, adjustable only on the rear for preload, does not like mid-corner bumps.
They unsettle the bike and you have to muscle it to hold it steady. That's not difficult with those wide bars and the light weight of the bike.
It's only 150kg dry, but has a massive 20-litre tank, so it ends up weighing about the same as the SR400.
That makes it light and manoeuvrable through tight turns and in traffic.
However, the lightweight frame that is bolted to a single centre strut does seem a little flexible.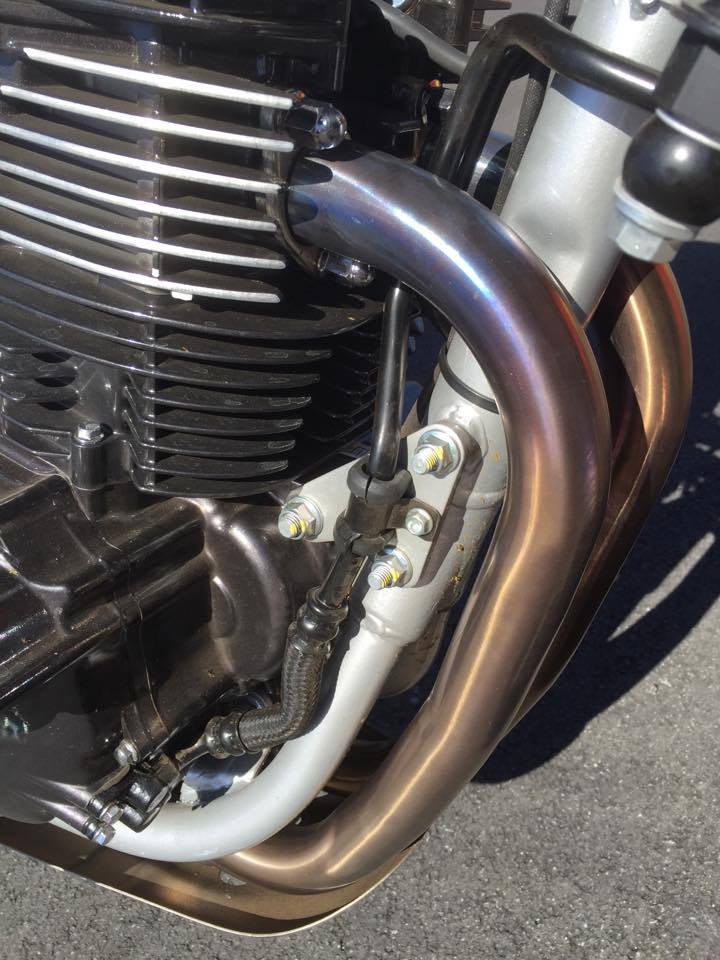 At highway speeds, bumps can make the frame twist and the bike slightly weaves. It never becomes uncontrollable. Let's just call it "character".
However, I would regularly check the three bolts that link the frame to the front strut.
Loves to rev
The engine idles a bit rough at 2000 revs and it snatches and surges at constant throttle at low speeds. This improved around 500km when it was better run-in.
It prefers to be circulating between 4000-6000 revs for smother power delivery.
After 6000rpm, the single cylinder lights up and becomes more responsive before running out of puff around 8000rpm, well short of the indicated 10,000 limit.
Four hours later, I start feeding it more revs and the Silver Vase became even more responsive with robust midrange torque to pull you smartly out of corners. It actually feels stronger and more willing than the 399cc SR400.
Trusty transmission
The five-speed gearbox and clutch are light and precise. Cogs change without a murmur and we found no angel gears. However, neutral can sometimes be a little difficult to find.
Ratios are well chosen for rapid acceleration with the fifth and top gear a bit short for highway riding. Yet there is still enough pull left for overtaking with a tested top speed of 130km/h.
The tall circular mirrors are wide and well placed for rear vision, although you have to pull the clutch in to get rid of the blurred vision.
I thought I was being followed by two bikes, but it was just my mate!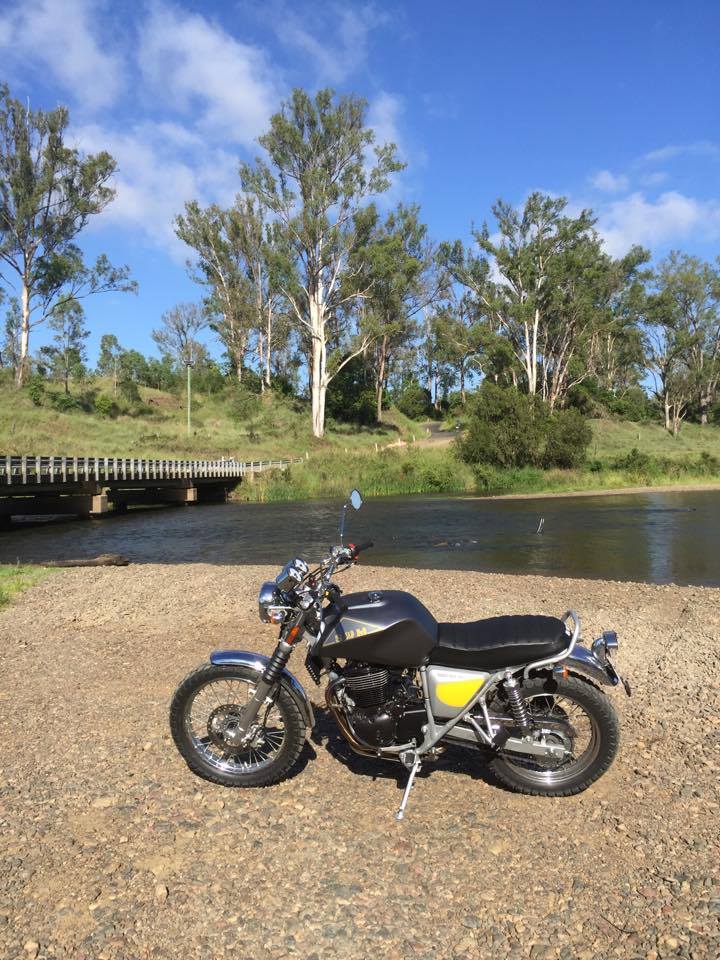 Comfort 
After a full day of riding highways, twisties and a short Steve McQueen squirt across some grassed paddocks and double dirt tracks, I still felt quite comfortable and not at all tired.
The well-padded seat is firm but fair and the rubber foot pegs take away some of the tingle.
The rubbers can be removed for off-roading, however, you will find it difficult to stand as the top of the tank flares out and forces your knees apart.
This bike is best ridden sitting down, inside leg stretched out for support as you roost through a berm. I wouldn't suggest any jumps or motocrossing, though. The suspension is too short and isn't up for such punishment.
It's better sitting up straight as you filter through traffic, or sliding forward and backwards on the 820mm-high seat as needed in the twisties or spinning around a grassy paddock or easy trail.
The single 260mm front brake disc is strong and ample for the bike's weight with good progression, but the rear 220mm disc feels spongey and is not very effective. Of course, there is no ABS.
On the dirt, the rear brake behaves more effectively in big clodhopping MX boots. An over-sensitive brake here would be a handful … or a footful!
It is shod with GoldenTyre GT201 rubber that feels quite grippy in most conditions and rates well with many adventure riders as a 50/50 tyre.
Controls
The dual-pod analogue instruments feature a speedo and tacho with a small LCD screen showing odometer and one trip meter. No fancy extras like a fuel gauge, just a fuel warning light.
Controls are also basic, but feel solid.
The 20-litre fuel tank is probably overkill for a bike this size. With fuel economy in the low 4L/100km range, that should see you riding over the horizon before the fuel light comes on.
We can't provide reliable fuel economy figures because it was used mainly in the run-in phase.
There are a few items of concern on the bike. They include the choice of nuts and bolts, the rough exhaust welds, and the stickers that aren't applied straight and look like they will soon peel off.
That's to be expected on a bargain bike.
My only other complaint was a stiff rubber ring on the lockable petrol cap that made it difficult to replace. I'm sure it will loosen up with use.
Vase verdict
At just $7490 ride away, it's the cheapest of the scramblers available and is the most authentic to the original scrambler definition.
I'd have one as a second bike for ripping down some dirt roads, across some grassy paddocks, commuting through traffic and riding up the mountain roads to my favourite cafe
SWM history
SWM does not stand for Speedy Works Motors, but SVVM or Sironi Vergani Vimercate Milano after founders Piero Sironi and Fausto Vergani started the business in Milan.
SWM manufactured Observed Trials, Enduro, Motocross and off-road motorcycles in the 1970s and 1980s. They started with small capacity Sachs engined enduro bikes and began making Rotax engined trials bikes in 1977.
The brand was revived in 2014 with funding from the Shineray Group and are manufactured in the former Husqvarna manufacturing plant in Lombardia in northern Italy. 
The SWM range in Australia also includes the RS300R, RS500R and RS650R enduros, SM500R and SM650R supermoto and Superdual 600.
SWM Silver Vase 440 scrambler specifications
Price: $7490 ride away

Engine: Air-cooled & oil-cooled SOHC 4-valve single cylinder four-stoke

Capacity: 445.3cc

Bore x Stroke: 90 x 70mm

Engine oil capacity: 2.8-litres

Transmission: 5-speed

Clutch: Wet multi-plate with cable control

Ignition: GET

Fuel system: EFI

Start: Electric

Front suspension: 43mm conventional fork with 125mm of travel

Rear suspension: Twin shock with pre-load adjustment and 90mm of travel

Front wheel: 19-inch with 260mm brake disc

Rear wheel: 17-inch with 220mm brake disc

Seat: 820mm

Wheel base: 1441mm

Clearance: 191mm

Fuel tank: 20 litres

Weight: 151kg (no fuel)