Suzuki V-Strom 1000 ABS Part 2 Review Summary
Suzuki V-Strom 1000 ABS Part 2 Image Gallery
Now that I have several hundred miles on the new V-Strom 1000 ABS Adventure, it's time for a more in-depth look.
This will be a work in progress and I'll add more thoughts as the miles accumulate.
And who knows? I may even change my mind about the bike. It can happen.
I also started the Suzuki V-Strom 1000 ABS Blog, where you can find links to reviews, owner reports and other information on the bike.
I posted a Suzuki V-Strom 1000 ABS "First Impressions" report soon after taking delivery of the new V-Strom "Adventure" model. This is my full review.
Pricing
The Suzuki V-Strom 1000 ABS (a mouthful of a namde) is available in a standard and Adventure version for 2014.
The Adventure comes with the very nice and easily removable locking panniers along with a set of pretty hefty crash bars on either side of the engine, which can be used to mount lights or other accessories.
It also comes with the hand guards, which I first didn't like but have since changed my mind.
They're not too bad actually — certainly not "real" protective hand guards with a metal crash bar backing like you'd have on a true dirt bike, similar to the Cycra hand guards (review) I added to my recently departed DR650.
Since the V-Strom isn't an off-road bike, I've decided that the hand guards on the Adventure are good enough.
The plastic faux engine bash plate is still pretty pathetic though, but surely some aftermarket manufacturer will come up with a good replacement for it (Suzuki has one as an option).
And the Adventure also comes with the slightly taller "Touring Screen", which offers good coverage also with just a little bit of buffeting only with certain types of helmets. I'm sure the aftermarket will have windscreen options soon also.
The standard V-Strom 1000 ABS has a list price in the U.S.A. of $12,699.00.
If you went à la carte, the bags and mounts would add another $1,624.85; the hand guards list for $84.95; the engine crash bars have a list price of $399.95 and the touring screen lists for $234.95. Add it all up and you have $15,043.70.
Since the Adventure model lists for $13,999.00, if you want all the goodies — and unless you really, really don't like black (the only current color for the Adventure) — you're better of going for the Adventure.
It's interesting to note that the Adventure is listed in Suzuki's "Touring", "Dual Sport" and "Adventure" motorcycle categories, while the standard V-Strom hits only two, missing out on "Touring".
The Good Stuff
So now that I've been riding the bike for a couple of weeks, has my thinking changed? Well, more on that in a minute. But first, let me list the good stuff, in no particular order.
Fuel Capacity and MPG
I was shocked when the V-Strom sucked down an entire 5-gallon jug of high-test on my first fill-up and there was still room to spare. That's a lot of go-juice!
The bike is pretty hefty (more on that in a bit) but I don't really notice much difference if the tank is full or empty, a good thing.
Just for reference, the stock BMW GS capacity is also 5.3 gallons. The GS Adventure takes a crazy 7.9 gallons; a lot of weight up top on a heavy bike like that.
I'm averaging about 50.4 MPG during break-in, which I guess is OK. UPDATE: 49.2 MPG average after 2k miles.
Transmission
The shifter feels very precise and solid and I haven't missed a gear yet. The movement feels a bit stiffer than I'm used to though and stiffer than the easy-clicker shifter on the GW250. The tranny likes no-clutch shifts, which is a plus.
The V-Strom's shift lever is firm enough that if I'm wearing boots with a thinner than normal uppers (like the Oxtar TCS race boots (review)), my big toe hurts after a while, believe it or not.
This is more noticeable in city riding when I'm shifting more frequently. Not a problem when I wear thick leather boots but I thought I'd mention it.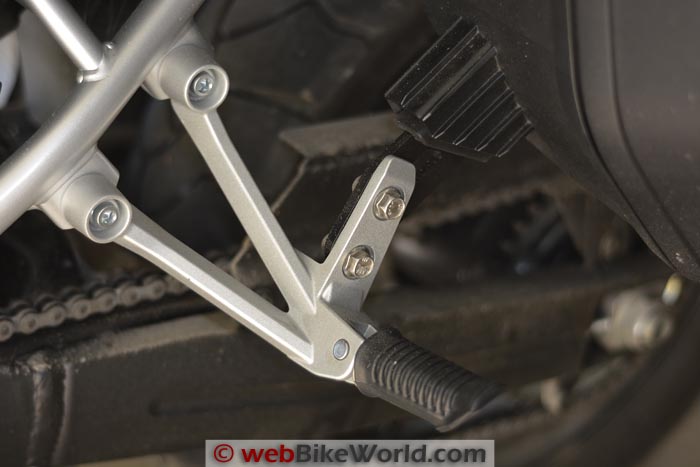 Tires
Now that the mold nubs are gone and the Bridgestone Battle Wing tires are fully broken in, they feel a lot better (the tires, that is…). They have good grip and I've been right out to the edges, although I still think they understeer a touch.
Running the big V-Strom over in a sharp corner takes more lean than you think, and on many corners, just when I think I'm fully committed to a lean that will work, I sometimes have to dial in some emergency full rudder to crank it over even further to get it through the corner.
Also, the front tire does not like "tar snakes" one bit, as I discovered in a couple of hot (literally) corners. When the bike is leaned over, the front tire will slide and hop very quickly on a tar snake or if there's a piece of loose gravel or dirt.
The tires do have some road noise and they're not dirt tires by any means; in fact, on identical dirt roads, the GW250 is much better — sounds crazy, but true.
I'll probably try some different tires at some point, although at this point, there don't seem to be all that many options for the 110/80R-19 59V front and 150/70R-17 69V rear.
I looked at Pirelli and Metzeler and neither had recommended tires in that size and speed rating. Michelin has the Anakee III (review) that we weren't too fond of and the Pilot Road tires that are strictly on-road. Continental does have tires.
The Suzuki owner's manual recommends 36 PSI front and 42 PSI rear for solo or two-up riding and I don't usually like to second-guess the engineers, but I may try a couple pounds less in the front to see if that helps prevent the nervousness when the tire sees the snakes.
UPDATE: I found a set of SW-Motech bar back/bar risers (review) that fit the V-Strom and they made a big difference in handling, by taking the weight off the handlebar and making for a more comfortable reach and riding position.
Also, I installed a set of Metzeler Tourance Next tires (review), which made another big difference in the way the bike handles.
Suspension
No complaints here, the suspension is fully adjustable front and rear…although I'm not messing with it. I learned my lesson on that with the Triumph Thunderbird Sport (Blog). The V-Strom with factory setup feels a little stiff to me but it's fine for street use.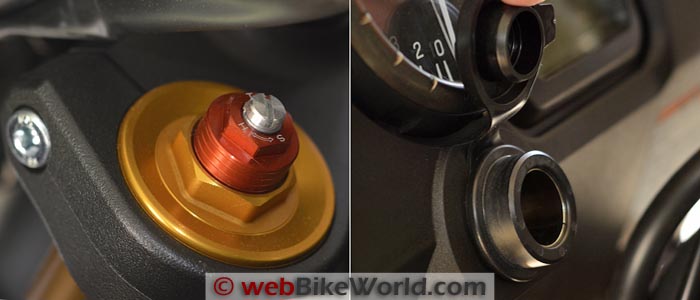 Seat
I actually like the seat; it's nothing fancy, but it's wide and firm enough and leagues better than the awful seat on the Suzuki GW250 (Blog). I definitely have to do something about that GW250 seat — it's a butt-killer.
IInstruments
The V-Strom's instruments aren't too complicated and they're easy to read in all light conditions. I really like the gear indicator and use it all the time. All motorcycles should have one.
I also like the fuel gauge, which seems pretty accurate (although I haven't really compared it yet to actual). And the big covered electrical outlet right in the center of the dash is a charm (photo right above).
Lights
The stock headlight seems good, as do the yellow turn signals with clear lenses (and incandescent bulbs). The LED brake light is pretty cool also.
I'll probably add a set of Clearwater LED lights (reviews) to the accessory bars or something and I also need to figure out where to mount a pair of BikeVis Bullets (review) visibility LED lights, which are a must-have on any motorcycle in my opinion.
UPDATE: I installed dual Stebel Magnum horns (review) and a horn relay for a "Get outa my way!" sound! I also installed a Cameleon chain oiler (review), which fits nicely on the V-Strom and eliminates worries about chain lubes.
Another accessory I installed is a yellow Nokya H7 headlight bulb (review) for (hopefully) better on-road visibility to other vehicles.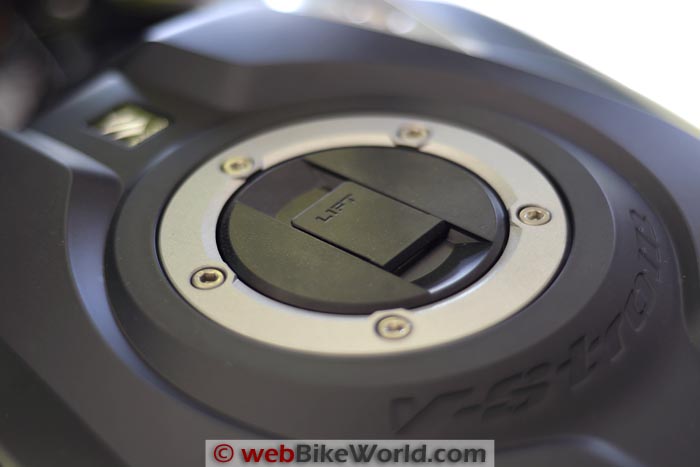 Mirrors
I'd rate the mirrors as very good; I can see everything I need to behind me and they have a good range of adjustment.
There's just a small amount of my shoulder showing on the inside of each, so I may try a set of mirror extenders just for kicks, but I'm fine with the mirrors actually. Suzuki lists a pair of extenders for $79.95 (part number 990D0-11JME-010), but I'll see if I can find something cheaper.
Windscreen
The windscreen is simple and it works about as good as the more complex types and that's why I like it. I haven't tried it in the up or down positions yet but will do so.
I'm sure the aftermarket will be all over this, it should be very easy to make a new windscreen for the V-Strom. If someone comes up with a taller 'screen, I'll try it just for kicks.
The windscreen has two positions, forward and back. In the latter, it keeps the air off of everything up to the top of my helmet.
In fact, on a warm day, it's too efficient and I have to pop open the face shield on the helmet to let in some air. I've noticed with some helmets (e.g., an Arai Defiant we're currently reviewing), there's some buffeting around the sides.
But on other helmets, like the good ol' HJC CL-16 (review), one of my all-time favorites, it's pretty quiet.
Bottom line? Sometimes simpler is better. I didn't expect the windscreen to work at all, but it does a pretty good job for me.
Adjustable Levers
Nice that both are adjustable, although I wish they'd adjust inwards one more notch. The hand grip rubber feels good too; it's like an aftermarket type I installed on the DR650.
THROTTLE UPDATE: I installed a G2 Throttle Tamer (review) for the 2014 V-Strom 1000 ABS and yet again, another major difference for the good!
I highly recommend installing a G2 Throttle Tamer on this bike, it makes all the difference in the world and changes the on/off throttle to smooth and progressive. Do it!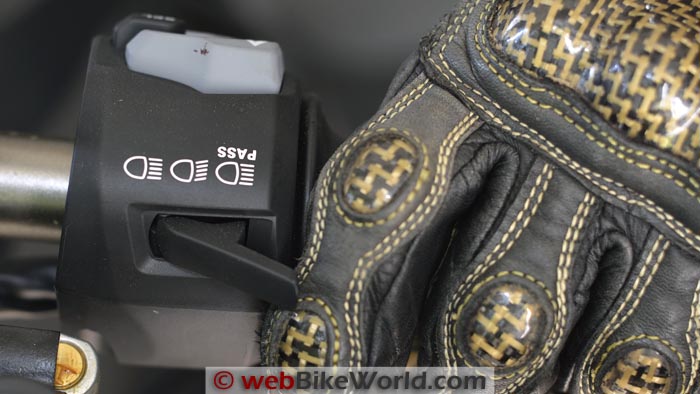 Switchgear
The switches all feel good and it's much easier to use the turn signal switch on the V-Strom than the GW250. On the GW250, I have to look down to get my thumb situated correctly, it's just an awkward reach. No problem on the V-Strom.
However, the high beam flasher and on/off switch lever sticks out too far and my left forefinger hits it, which turns on the high beams.
This happens a few times on every ride; part of the problem is the handlebar bend, which I find awkward, and the width, with seems too wide for me.
So I'm probably placing my hands closer to the inside than normal. I'm going to trim about 2-3 mm off the end of the switch lever to see if that helps.
Panniers
The saddlebags — aka panniers — are nicely designed and they fit very nicely also on to the bike. They're easy to remove. They could be a bit larger…but maybe not, because I can actually swing my 30.5″ inseam over the back of the bike and climb on, something I couldn't do on the DR650 without a lot of effort (it had the panniers).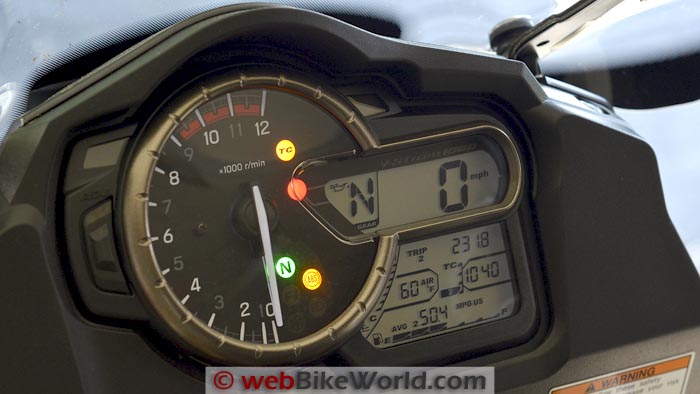 Foot Pegs
No problems here either, at least for my 30.5″ street pants inseam. Suzuki lists a 30 mm lower and 35 mm taller seat option, both available in black/red or khaki (looks more like gray to me) for $234.95 each.
I'll stick with the stock seat, it works fine and places my feet correctly.
The foot pegs have "hero tabs" underneath, but it seems to me that you'd have to be on a near-overboard port or starboard tack to get the things to touch ground. I've been all the way to the edges of the tires and it's nowhere near close enough to scrape, so I'm not sure who'd be crazy enough to try it.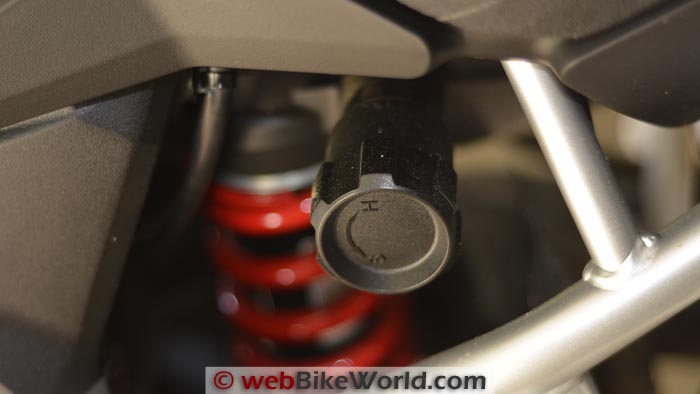 The Bad News
There are a few things I'm still not too fond of on the big V-Strom. You probably noticed I didn't mention the engine in the "Likes" department? That's because I still think the engine really is a mis-match for this bike, for a number of reasons.
I think just too lumpy at low RPMs. It is exactly — and I mean exactly — like a big Ducati engine in the way it sounds and responds at anything under 3,000 RPM.
And since Suzuki tuned the big v-twin for monster truck style torque from 0 RPM up to about 4,000 RPM, where you're going about 72 MPH in 6th gear, that means the bike is in the low RPM range just about always.
The big pistons rock back and forth (forward and back actually) and it sets up a vibration in every RPM that can be felt through the bike.
Forget slow speeds — which means forget off-roading — because 1st and 2nd gear, along with the instant on/off throttle response and the monster torque (and those big slapping pistons) all conspire to work completely against smooth riding, both off-road and in the city.
Better hope that you never get stuck in stop/go traffic on this thing…it isn't fun!
This engine would be perfect in a wheelie-terror stunt/street "naked" bike, but it's out of place in an "adventure tourer". That's my opinion and I'm sticking with it.
Now perhaps the abrupt throttle and instant on/off engine response will smooth out over time; certainly I'm becoming more accustomed to it. Burn thinks different gearing might help and I'm open to trying that also.
UPDATE: Part 3 – G2 Throttle Tamer Transforms the V-Strom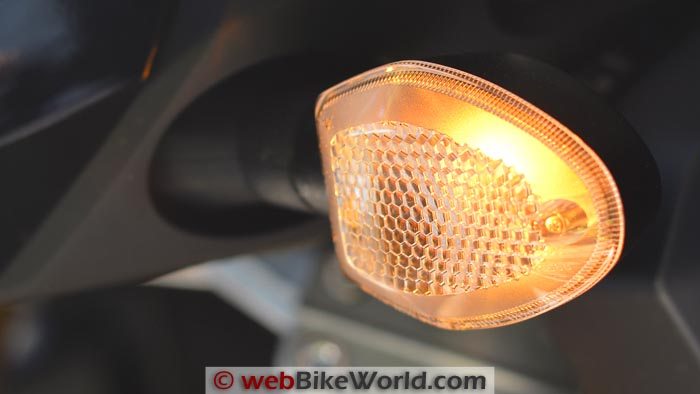 That Sound
I can actually live with the engine, but the one thing that really drives me nuts is the engine whine/whistle I noted in my "First Impressions" report, where I have an .mp3 recording of the sound. It literally drives me nuts.
Maybe I'm overly-sensitive to that particular sound frequency, but it never stops and it is really, really annoying. In fact, if I end up short-selling the bike, it will be because of the noise. We'll see what happens after a couple of thousand miles and an oil change…
I'm sure some owners won't agree, but that's the way it is. Be sure you start up the bike and rev it a few times and listen before you buy. You've been warned.
w

BW

 Video: Suzuki V-Strom 1000 ABS Overview
w

BW

 Video: Suzuki V-Strom 1000 ABS Features
The Handlebar
My feelings about the handlebar haven't changed. I still think it's cheap-looking and it also has an awkward bend for me. It's too much of a reach for my 34″ shirt sleeve arm length and it's not high enough for good control whilst standing on the pegs.
I'm definitely looking for a good-quality replacement, but I'm hoping I won't have to mess with new brake and control lines.
The bar mounts look cheap also but there's not much I can do about that except maybe replace the cheesy bolts with some high-quality polished units when I replace the handlebar.
The bend of the bar makes my right hand hurt; I noticed it immediately upon taking delivery of the bike and it hasn't gotten any better. This will surely vary, depending upon the owner, but I'm not a fan at all.
Brakes and Traction Control
They're ok and they work is about all I can say. I fail to see why the print press raves about the V-Strom's stoppers. There's just no instant grab there; the brakes feel more casual, like my old BMW K75 than a modern radial caliper in 2014.
Like I said, they're acceptable and they stop the bike in pretty decent fashion but they're nothing to rave about.
And how about that ABS? You can't turn it off — a definite sign that this bike has zero off-road pretensions. Yet, they added the traction control that you probably won't need. TC on a sportbike? Maybe…for about 1% of riders.
When it's set on #2 (the highest level), the traction control helps tame the instant wheelie response of the abrupt throttle when you're on a gravel road, so that's good.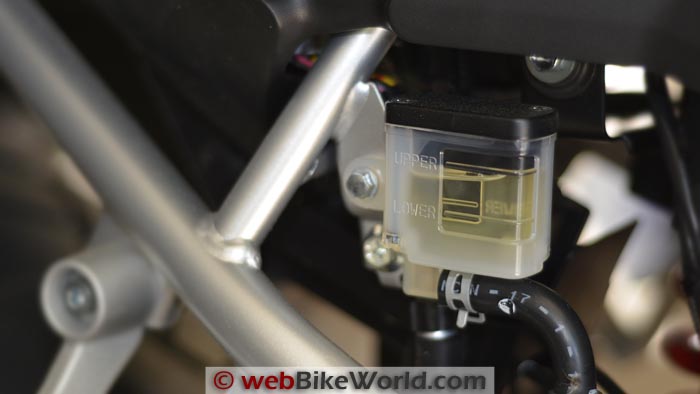 Attention to Detail
Suzuki could have done a better job at finishing the V-Strom. 14 thousand bucks is a lot of dosh in my book but there are some very unfinished-looking parts on the bike, like the mess of brake lines hanging on the back of the front fender.
What looks like the Suzuki exhaust tuning device is attached to the pipe just below the muffler and it looks like it could easily become caught on a branch or rock if the bike ever truly went off-road.
By the way, Suzuki never really says the bike is off-road capable, so in the end, the "adventure-touring" look is kind of like a motorcycle version of a 21st Century SUV — rugged in looks only but not designed to go off-road.
Although I have to say the same for the BMW GS or the big KTMs. Anyone who has any intention of going off-road should stay far away from one of these big adventure-tourers — again, that's my opinion.
The DR650 is about as big as I'd go for true off-roading and, as Chris B. (an occasional wBW contributor and all-around ace mechanic) discovered, smaller is better when it comes to dirt.
All told, the Suzuki just seems to have more cheap-looking parts and missing attention to detail than I expected and when compared to my previous Ducatis and other bikes I've owned.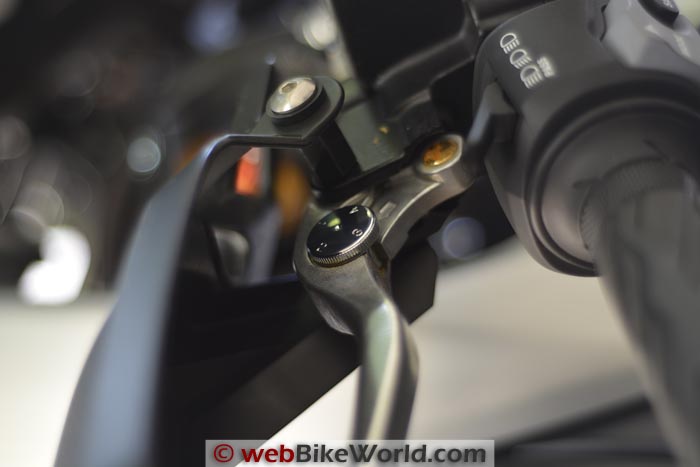 The Weight
One of the things that interested me about the V-Strom when I first read about was its supposedly lighter weight compared to other big adventure-tourers. I'm not sure what the definition of "light weight" is, but the V-Strom isn't.
Suzuki doesn't list the weight of the Adventure version but the standard model is listed at 503 lbs.. I'm assuming that means dry weight, with no oil or fuel, as is/was the custom of the Japanese manufacturers.
For comparison, BMW lists the "unladen weight, road ready, fully fuelled" of the R 1200 GS Adventure at 573 lbs. and the standard GS at 523 lbs., so there's not much difference.
Since gas weighs about 6.3 lbs. per gallon, a full V-Strom tank of 5.3 gallons weighs about 33.4 lbs. So I estimate that the V-Strom standard version with a full tank of fuel weighs a minimum of 536 lbs.
Add the Adventure version's panniers, pannier mounts, crash bars and a few pounds for the rest and I'm estimating that the Adventure probably tips the scales at around 565 lbs.
If Suzuki's listed weight is dry weight, then subtract the fuel weight I added in and perhaps the V-Strom Adventure weighs about 535 lbs. or so.
A pound here, a pound there…no matter, that's still pretty heavy in my book and one more reason not to take the bike off-road. I'm searching for a local agricultural or truck scale where I can get an official weight and if I find one, I'll report back.
Bottom line? The V-Strom feels all of its weight when pushed around in the garage and also when leaned over in the turns. Like they used to say, if "road-hugging weight" was a good thing, everyone would be driving a Kenworth…
Conclusion
I went into this with eyes open, not knowing what to expect. Regrets? Well, I think if I had been presented with the opportunity to test ride the V-Strom before buying, I probably would have taken a pass.
That's not always the case, because most new bikes or cars feel so new and shiny and different that a test ride or drive doesn't do much to change the potential owner's mind, unless something is radically wrong.
So the bottom line is that I'm not as thrilled as I thought I'd be with the V-Strom and I'm a little disappointed. But I'll soldier on, in the interest of science. Again, this is all one man's opinion and I'm probably in the minority.
And one more thing: remember that I bought and paid for this bike with hard-earned webBikeWorld cash, so I can call it as I see it, not beholden to anyone.
I'm very interested to hear from V-Strom 1000 ABS owners with your opinions. Be sure to check the Suzuki V-Strom 1000 ABS Blog for updates on accessories and information.
Publication Date: May 2014
PART 1: First Impressions  |  NEXT: PART 3 Fixes to Transform the V-Strom
Also: 2014 Suzuki V-Strom 1000 ABS Blog
Master Listing of All wBW Motorcycle Product Reviews
Note:
 For informational use only. All material and photographs are Copyright © webWorld International, LLC since 2000. All rights reserved. See the webBikeWorld® 
Site Info page
. Product specifications, features and details may change or differ from our descriptions. Always check before purchasing. Read the
Terms and Conditions
!
Owner Comments and Feedback
---
From "R.E." (March 2016): "Thanks for all the great DL1000 information — I just bought a 2014. The dealers still have a few and I found a demo that I picked up for a great price.
The first thing I did was back off the factory suspension settings — worked great.
Installed the center stand tonight. The coat hanger worked well on the left side. Had trouble finding anything to leverage against on the right.
Ended up making a coat hanger with a double loop and used a ratcheting tie down strap to pull the spring out to where I could attach it.
All your accessory reviews have been good reading — I've ordered quite a few things or similar off your list I'm not exactly following totally in your footsteps but fairly closely.
Thanks again for your efforts and sharing information."
---
From "H.S." (December 2015): "Just bought a used V-Strom 1000 Adventure (2014 model, 18 months old, 3500 miles). Last 3 bikes prior to this: Ducati Multistrada 1100S, Yamaha FZ1, Moto Guzzi V7 Stone.
The Guzzi was a blip because I got cancer and needed an easier bike to ride post surgery and now back on track!
FZ1 was a great all rounder but too fast, 150 mph on European roads is fun but not relaxing so looking for a tall rounder, like the air cooled Ducati. V-Strom was the nearest.
Why? V-twin. Enough power, minimal electronics (ABS and TC is fine). So far (500 miles) so good.
Torquey, quite nimble and handles well although not as cultured as the Ducati, fairing protection has been good in crap weather, not heavy to push around garage.
Now fitted with Givi frames to carry bigger boxes so just needs a fruitier exhaust (open to suggestions) and maybe a lower seat (I am not a midget but tip toes on wet Spanish cobbles not great).
Big horsepower adventure bikes (KTM, Ducati) strangled with electronics seem silly and fewer electronics equals fewer trips to dealer.
Usually do 12-15000 miles / year and Transfagarsan Highway scheduled for May 2016 and looking forward to it on Suzuki 'Strom."
---
From "R.S." (August 2014): "I've racked up about 2000 miles on my Strom. Just got back from riding approx. 200 miles of moist gravel roads in the Oregon Coastal Range (highly recommended). Was extremely pleased with its performance.
I was a little concerned about the non switched ABS, but found it non intrusive. I would feel slight pulse in right foot on "marbles", but front lever was splendid. The pulse was actually helpful, letting me know when things were getting a little dicey.
I played with the traction control and found setting (#1) delivered as promised: max rear wheel spin of 10% greater than front wheel rotation. I prefer TC off however. I placed electrician tape over yellow warning light on instrument panel. I wish Suzuki would have reversed this indicator light, on when TC on.
I really appreciated the new Strom's lighter weight and could really feel it on loose downhill switchbacks, 503 lbs. wet. I've fallen in love with this new motor! Max torque at 4000 rpm, Awesome pull from tight corners. I rarely run tach over 6000 rpm. All in all, very impressed!"
---
From "S.W." (July 2014): "Just replaced my '05 V-Strom 1000 (43,000 miles) with the 2014 1000 Adventure. Very pleased with it!
The engine is very smooth and pulls well at all RPM ranges. The front brakes are excellent. Better than my '05 stainless braided, CBR954RR upgraded ones.
The front forks are excellent. At 240 lbs. I still have preload left and compression settings are (4) from full soft. Amazing because I ride very aggressive.
I can't imagine wanting higher bars. Will agree they appear "cheap", but they are very close to my aftermarket "Banshee" bend bars.
Was disappointed I had to purchase a center stand and heated grips on the Adventure model. Looking forward to installing a Penske shock on her and a Scorpion "can". I also own a KTM 950 Super Enduro so hard core dirt was not a focus for this Strom. For its intended purpose: 80% street 20% gravel fire roads this bike is perfect. Actually could not be happier with the bike.
---
From "J.L." (June 2014): "I purchased the bike before I read your blog, and like you, I got caught up in all the positives I kept hearing. I am 5'10" and have encountered all the similar bugs as you, wind and engine noise plus finding the normal seat a tad high, as this bike is considerably more weight then my 250cc I used to ride.
Big thank you for the heads up, though too late for me. P.S., I found the tour addition a bit cheap w the plastic skid plat and the panniers too small. Have ordered some after market parts fromTwisted Throttle: skid plate, crash bars, etc…"
---
From "B.S." (June 2014): "Well, I agree that I wouldn't want to take the DL1000 over Mengel Pass, but it seemed to work pretty damn well for me (on stock tires, too). (See this YouTube video)."
---
From "H.S." (May 2014): "I just recently test road the 2014 Suzuki Strom 1000. I had no problems with the engine or sudden on/off engine power transitions as reported in the review. In fact I would say this is better than average, compared to other new motorcycles in this category that I have ridden recently. I found the Suzuki easy to ride in city traffic and I did lots of this with smooth throttle response.
My only irks were there is some very high frequency vibration through the bars at highway speeds, enough to cause very slight numbness in my hands after 10 minutes, but this is not noticeable in most other conditions. Obvious engine vibration, the kind that causes mirrors or the tank to vibrate is not present.
The other negative issue I found was with the seat. I found it too firm and narrow and the source of discomfort on longer rides. I did not ride the bike off road but the suspension, at least in the stock settings might be too firm for this.
On the other hand fork dive was well controlled under hard braking, something that plagues many bikes with long travel suspension. It would appear the suspension is optimized for on pavement handling.
Compared to my current bike, Versys 650, I found it smoother in throttle response at low speeds, but the Versys has a stump puller of a first gear which exaggerates this effect. That said I am used to feathering the clutch in first gear to reduce lurch so that may have impacted my perception.
As I understand everything from the TPS sensor, to chain slack to the fuel mapping the manufacturer programs impacts this."
---
From "R.T." (May 2014): "Sorry to hear Suzuki didn't fix all the problems from the old DL1000. I had two of them; 40K miles on one 30K on the other.
Front tire: if you go any lower than 36 psi on the BS Trailwings, the tire will cup fast. I used 38 psi got 10,000 miles per front.
Gearing: Oh boy, here we go again! I had one lower front a 40-41-42-43 rear tried all combos — still the low end sucked and I did have a Power Commander with different programs and ones I made up. And we don't even want to talk about the IDLE HAMMER. This bike reminded me a lot of the BMW dry clutch bikes, an Airhead or Oilhead — great on the highway, sucks in town.
In the end. I went with stock front sprocket, one up on the rear (41) and a 0 map in the Power Commander. This combo worked the best for the DL1000. Now the DL650 was one sweet bike as it was; I put 40K on one first before the DL1000's. I thought bigger = better right? Wrong.
Good luck, keep us informed and I was really waiting for the new improved DL1000 think I'll keep looking…"