Adventure Tourer…or Adventure Poseur?
Welcome to the next webBikeWorld.com project bike!
The 2014 Suzuki V-Strom 1000 ABS was introduced in the U.S.A. at the inaugural AIMExpo show in Orlando, Florida in October of 2013.
I ordered an Adventure model and it arrived this week.
We'll be using it to install accessories and options, which will be reported in the Suzuki V-Strom 1000 ABS Blog.
First Impressions
Let's get right to it. First of all, understand that this is a "First Impressions" review. I just turned 100 miles on the bike, so there's a long way yet to go.
But, 100 miles is a heck of a lot more than you'd get on a test ride — if your dealer allows test rides. Suzuki dealers in the U.S. usually do not. Crazy, but that's the way it is.
Now it's usually pretty easy to get all squishy and oozy over a new bike. After all, a brandshinynew motorcycle is the best thing you ever rode and it makes all others seem like ancient history, right?
I've been just as hypnotized as anyone by a brand-new motorcycle. But this time, it's different. Are you ready for this? Prepare yourself now: I'd have to say that so far, I'm a bit disappointed with the V-Strom. Nobody is as surprised as me, because after reading all the glowing reports in the U.S. and European press, I was anticipating a sweet ride. (UPDATE: I'm told that all of the press bikes were Euro-spec and the U.S. bikes may have some differences; see the "UPDATE" section below.)
But I immediately noticed a couple of issues that tarnish the silver and, you'll be happy to know, one of them is not the ride height. My 30.5″ street pants inseam means I can't flat-foot it by any means, but it's no worse than the DR650, if that means anything to you.
One of the issues is a biggie and can't be fixed. The other can… But before we get started, here are a couple of quick videos. The first is a brief overview of the bike and the second is a look at just a couple of the features, including a run-through of the instrument panel.
w

BW

 Video: Suzuki V-Strom 1000 ABS Overview
w

BW

 Video: Suzuki V-Strom 1000 ABS Features
The Handlebar
Let's start with the easy one. As soon as I pulled away from the dealership, I noticed right away that the V-Strom's handlebar is just not for me (why are they called "handlebars" rather than "handlebar"?)
First, the bend is wrong; the handlebar is angled in at the grips, which forces me to hold the grips with a slightly off hand position. I can take my left hand off the grip and move it around to ease the discomfort, but since my right hand is doing all the work and has to pay attention to the throttle, it gets cramped.
The second handlebar problem is the height and the reach, which is way off, at least for my 34″ sleeve length. Suzuki needs to fire the guy who's designing their seating position, because I have an issue with the Suzuki GW250 (blog) also.
The handlebar on the V-Strom 1000 ABS forces me into a forward lean and a long straight-arm stretch, which — surprisingly — gave me shoulder and upper arm ache after the very first 10 minutes of riding the brand-new bike. Never had that problem before… It's also way too low for an "adventure-tourer"; if I stand on the pegs, the bar needs about another 50 mm of height for correct positioning.
While I'm on about the handlebar, I'm also sorry to say that it is very cheap-looking. It honestly looks like it came off a bicycle. And the mounting towers (bar risers) don't help — they literally look like something taken from an 80cc mini-bike. Top it off (pun!) with the very cheap unpainted bolt heads used to secure the handlebar and it's rather embarrassing, especially for a $14k "adventure-touring" bike.
In fact, Suzuki should be ashamed, especially at this price — and there are cheesy-looking parts on the bike as well. But a good, solid set of aftermarket handlebars — like the Pro Taper bars (review)I put on the DR650 (blog) — should solve the problem. Pro Taper has more handlebars than you can count and you can pick many different angles, heights and widths. I'm going to start checking the list really soon…
UPDATE: I found a set of SW-Motech bar back/bar risers (review) that fit the V-Strom and they made a big difference! Also, I installed a set of Metzeler Tourance Next tires (review), which made another big difference in the way the bike handles.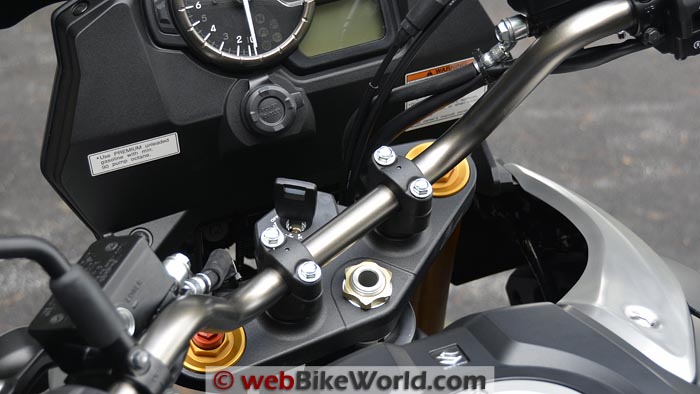 That Engine
Which brings us to the really big problem: the engine. Prepare yourself again: my opinion is that the 1037 cc, 90-degree V-twin is all wrong for this bike. As in a complete mis-match. Now that's a huge surprise after all of the print press reviews I read before choosing the V-Strom.
This engine feels exactly — and I mean exactly — like an old Ducati. And not in a good way.
Those big cylinders slapping back and forth create a constant vibration through the bike and make it shake like a wet poodle when you gas it. Double if you gas it at lower RPM in a too-tall gear. Granted, I'm limited by first break-in period of 4,000 RPM (500 miles), but 4,000 RPM on this bike is 70 MPH, unlike the GW250, where 5,500 RPM is about 45 MPH.
My immediate impression is that the engine feels just like what it is — a 1998 V-twin designed to compete with the Ducati 916 and out of place on a modern motorcycle. In fact, there's sort of an irony here, because the V-Strom's V-Twin engine feels more like a Ducati than a Ducati.
The Suzuki engine has too much vibration at any RPM I've tried (up to the 4k break-in limit so far) and the shuddering that runs through the chassis when the throttle is goosed. It's especially noticeable when you're trying to use that acclaimed V-Strom torque to pull up a hill in a slightly taller gear. Overall the engine makes the bike feel like an old Harley or BMW.
The very Ducati-like lumpy feel of this engine makes for a choppy chuggy ride, especially when you're trying to go slow…like when you're trying to negotiate a low-speed rise off-road. Passengers will hate it, for all the helmet banging.
THROTTLE UPDATE: I installed a G2 Throttle Tamer (review) for the 2014 V-Strom 1000 ABS and yet again, another major difference for the good! I highly recommend installing a G2 Throttle Tamer on this bike, it makes all the difference in the world and changes the on/off throttle to smooth and progressive. Do it!
ENGINE UPDATE: Can't fix the engine, unfortunately. I'm not too cool with the fact that the torque curve is in such a narrow band from 0 to 4,000 RPM. The bike rarely needs to go above 4k (and if you do, there's a lot of vibration and not much more "go"), so the engine has a cruiser feel — low speed, not much need to gas it. Kind of like a Harley in that regard… I wish Suzuki had tuned it to start the torque curve around 2,500 RPM up to around 7k, that would be more "normal".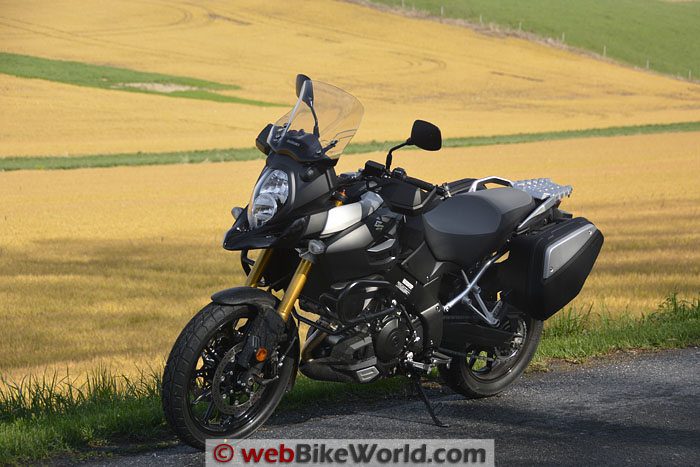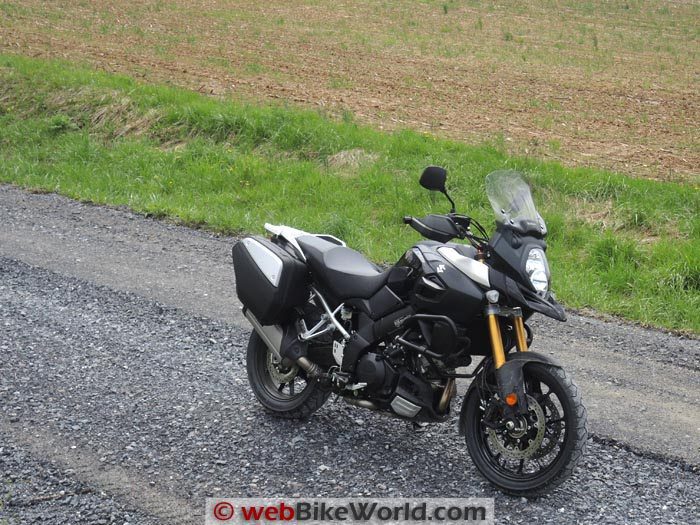 Forget the Off-Roading
I will state emphatically that (my opinion again, of course) it's a complete and utter fantasy that this bike has any off-road pretensions whatsoever.
That's where the "poseur" comes in. It may look like a dual-sport bike, but that's as far as it goes. If you understand right off that this is an on-road standard-touring bike that has styling cues from the popular adventure-touring genre and you'll be fine. Imagine that you can actually take it farther off-road than you would a cruiser and you'll be in trouble. How do I know? I tried it.
There are a few reasons for this. First of all, the hanging exhaust pipe in front and the oil filter right behind it are a serious liability in any off-road riding.
But that torquey-lumpy engine is what really makes the off-roading a no-go. The combination of the massive torque plus what I assume is flywheel-effect jerkiness and an abrupt on/off fuel injection throttle response at low RPM make the V-Strom a real handful off-road — and at slow speeds in town, where it's vintage Ducati all over again.
The Bridgestone Battle Wing tires (BW501 front and BW502 rear) don't help; the front wiggles and wobbles in loose sand or gravel. In fact, on the same dirt/gravel farm road, the GW250 is actually better, believe it or not. Tires can be changed, of course, but the low-speed, low-RPM jerkiness is too much for any off-road riding.
I'll admit that the tires aren't bad on the road, although they make the bike understeer, probably due to the tire profile.
I'm actually pretty shocked that the press hasn't reported on any of this, but you know how that goes — they invite a couple of hand-selected writers to an exotic off-shore location, wine and dine 'em, and take them on a planned ride, with carefully prepped motorcycles. Notice how you never read a bad thing about a new bike?
UPDATE: Once I gave up on the fact that this bike is not designed for off-road use, I felt a little better about it. Sure, it can be taken off-road — any bike can (and I've seen Harleys on hill climbs!) — but think of it as a 90/10 street/off-road. That does make it sort of a pretender, due to the "adventure-touring" look, but I guess I can live with that as long as I wear a dark visor…
Engine Whine
The other puzzling engine issue is what I'd describe as a constant "whistling/whining" noise that I assume comes from the camshaft drivetrain. The engine whistles/whines at every RPM, from idle on up and it's very, very annoying. There's a nice deep thrum from the exhaust, but it's drowned out by the constant whine from the engine.
Listen to the sound in both videos below and in this .mp3 sound sample (1 min. 11 sec.), recorded on the road with the microphone placed up behind the instrument cluster. The sound pretty much drives me nuts when I'm riding the bike and it's one of those sounds that once it's heard, you'll notice it every single time you go for a ride.
Euro vs. U.S. Spec?
webBikeWorld readers have indicated that the press bikes used at the U.S. press intro were Euro-spec and possibly had a different ECU, which might explain the differences.
My local dealer (JT Motorsports, Frederick Maryland) contacted Suzuki, who said that the ECU in the U.S. and European V-Strom 1000 ABS is identical and there is no service bulletin on the ECU.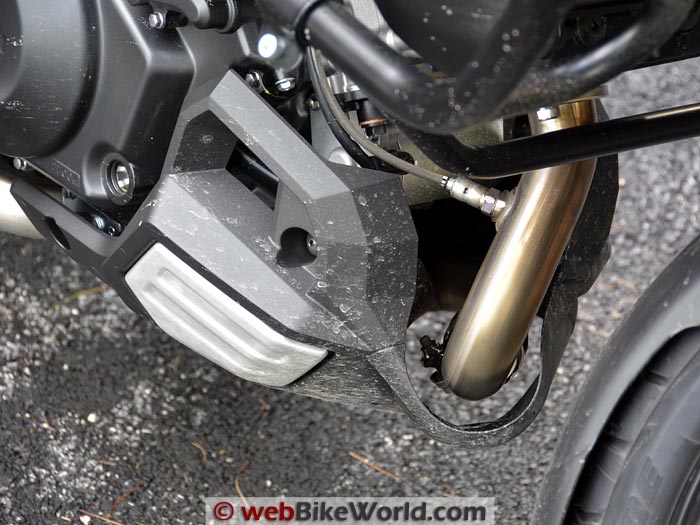 More Cheap-Looking Parts
Suzuki cut too many corners on the V-Strom in an attempt to be price-competitive. The cheap handlebar is the first thing you notice, but it's matched by the cheap-looking (and feeling) matte black plastic front fender and the horrible mess of brake hoses attached to the back of the fender. Ick!
The cheap plastic hand guards on the Adventure don't help either but the worst is the flimsy plastic cover that's supposed to look like an engine bash guard. Pathetic is the only word for it.
Fortunately, the aftermarket should come to the rescue with a real bash plate (Suzuki has one as an option) and maybe a nice carbon fiber fender and maybe even a solution to the plate of spilled spaghetti brake hoses.
UPDATE: I installed the SW-Motech brake reservoir cover and exhaust valve cover (review). They're very easy to install and help clean up the looks. And, maybe they will actually do some protecting!
One More Thing…
The other thing that has been praised by the press is the V-Strom's brakes. I'm not with them on that, either. The rear brake is fine and it offers a modicum of feel. You'll need it to help counteract the lumpy engine at slow speeds.
The front brake so far feels a bit numb. It takes a big squeeze to get the pads to bite and squeezing harder doesn't seem to make 'em bite any meaner. I'll hold off on further opinions until a few hundred miles have passed.
UPDATE: I de-glazed the front brake pads and rotors; apparently some grease or substance from manufacturing had caused glazing and poor brake performance. Either that or there was some coating that wasn't cleaned properly during assembly. In any case, the de-glazing worked and the brakes feel much better.
Good Stuff
OK, so I pretty much savaged the V-Strom, but I've found a few good points so far also.
One thing that is very nice is the friction zone in the clutch…and thank heaven for that. The clutch has good feel and a wide friction zone, which also helps counteract the awful low-speed rideability of the bike. Both the clutch and brake levers are adjustable, but it feels like the clutch lever doesn't adjust to the same spot as the brake. Since I ride with two fingers on the clutch lever and two on the front brake lever, I'm feeling the difference — the clutch lever feels a couple of millimeters farther reach than the brake lever, which is a weird sensation.
The windscreen also works well, giving a big pocket of protected air behind and — surprise — it doesn't seem to cause much helmet buffeting at all, at least for me (5'10"). The windscreen has 3 positions, all of which seem to be about the same as far as protection goes. It can be lowered one notch and raised one notch — by removing and replacing 4 bolts (!) and I may try raising it up just to see. It should be very easy for the aftermarket to make different size screens for the V-Strom.
Another feature I like is the gear indicator on the dash. The GW250 has it also. Nice. Ditto for the other instruments; I like it and it's easy to use — not over-complicated. The fuel gauge seems accurate (51.8 MPG average so far).
Seat is pretty nice — better than I thought it would be, especially compared to the horrid seat on the GW250 that needs a total rebuild. It has a sticky sort of surface texture and a couple of hours on it was perfectly fine (other than the shoulder ache from the weird handlebar angle).
Suzuki has a lower and taller seat option but I'm fine with the stock version. The seat locks and removes and there's a bit of storage under the back for the owner's manual, paperwork and maybe a pair of gloves.
The horn is the typical junk they put on motorcycles, it will be replaced, count on it.
UPDATE: I installed dual Stebel Magnum horns (review) and a horn relay for a "Get outa my way!" sound! I also installed a Cameleon chain oiler (review), which fits nicely on the V-Strom and eliminates worries about chain lubes. Another accessory I installed is a yellow Nokya H7 headlight bulb (review) for (hopefully) better on-road visibility to other vehicles.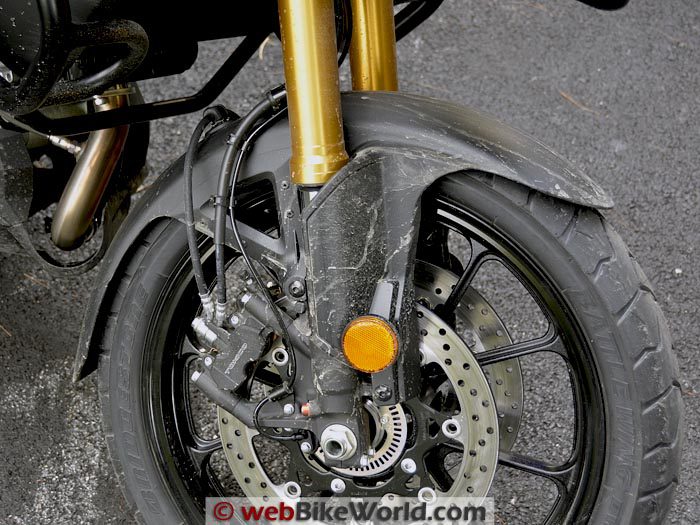 To Be Continued…
I'm sure I'll be getting a lot of hate mail from V-Strom owners. Sorry. All I can say is that this is my opinion and, as I stated, it's a preliminary first impression. I'm fully prepared to eat crow and will happily concede that I'm all washed up if things change as the miles pile on.
I hope something will change my mind and my wife thinks that my initial poor impressions mean that I'll actually grow to like the bike. Strange logic, but who knows? I'll accept it if it happens.
In the meantime, I'll set up a Suzuki V-Strom 1000 ABS Blog, where I'll report back as I put more miles on the bike and as we review what I hope will be a host of options and accessories for the bike. Stay tuned for more!
Publication Date: May 2014
NEXT: Part 2 – Taming the V-Strom  |  Part  3 – The Fix
Also: Suzuki V-Strom 1000 ABS Blog
Master Listing of All wBW Motorcycle Product Reviews
Note:
 For informational use only. All material and photographs are Copyright © webWorld International, LLC since 2000. All rights reserved. See the webBikeWorld® 
Site Info page
. Product specifications, features and details may change or differ from our descriptions. Always check before purchasing. Read the
Terms and Conditions
Owner Comments and Feedback
---
From "T.L." (September 2014): "I ended up buying a standard in red. I don't like the all black, I wish the Adventure came in red or white.
I wasn't sure after reading your report but now I agree more on the engine, it vibes and the power really is just like a Harley as you say. Except the V-Strom feels like 3 times more power than the hog. The throttle is jerky, I will try the tamer, the standard throttle turn gives too much gas too quick, very hard to make a smooth start off. Everything else about the bike I like. I like the stock Bridgestones."
---
From "I.B." (May 2014): "Just had a short ride on the new (UK) Strom demo today and I can empathise with some of your points but struggle to agree with your analysis of the engine. Not having had a Ducati of any vintage I can't disagree with your comparison but I found the engine quite smooth and perky.
It did have the usual v-twin vibes which are common to most v-twins but nothing I found to be intrusive or to distract from the ride. It felt very similar to my TDM900 (270 deg crank to imitate a v-twin) and memories of both my previous Varadero XL1000 v-twins.
I would suggest taking it back to the dealer and have the throttle bodies checked for balance."
Rick's Reply: I just don't believe there's anything wrong with the engine or that the TBs need balancing; my feeling is that the engine characteristics just aren't for me. Second opinion from "Burn" coming soon, so stay tuned…
---
From "W.W." (May 2014): "I'm been riding for over 40 years, owned and ridden lots of bikes, including BMW's. I've also owned two DL650 V-Strom's, put well over 100 000 km's on them from the tundra in Labrador to Baja to Central America.
In my opinion (for the buck and with a few farkles) the DL650, while not without a few flaws, is basically a very good bike. I was patently waiting for the new DL1000, but looking at it and reading about it leaves me unimpressed and with one question: How can the DL650 be so decent while apparently the DL1000 is not?
So, what many of us 'Strom fans would like to hear is a professional informed opinion that compares the 650 with the 1000."
Rick's Reply: I hear good things about the 650; unfortunately the obsession with engine size and power probably forced Suzuki to put the one liter engine in the bigger V-Strom so the bike would be considered "serious". I keep thinking it would be much better with a 650, 750 or 800 cc max engine…which would be all the power anyone would ever need.
---
From "D.C." (May 2014): "I'm speculating a little here, since I haven't seen the new V-Sstrom 1000. However the low-speed hesitation problem isn't unique to your bike, and seems to affect every Suzuki v-twin I've ever ridden.
Your description matches my experience on multiple V-Strom 650's, SV650's and one Gladius 650. Basically, the throttle-position sensor never seems right from the factory.
Really easy fix, assuming you can get to the throttle body on the 1000, and it makes a world of difference on the smaller engines. Couldn't speak directly for the larger ones, but the symptoms are the same. Instructions for the 650 are here. On the Gladius and newer V-Strom 650, there's a "secondary" throttle that's controlled by the ECU. The one to adjust is the *primary* throttle that's controlled by you.
Rick's Reply: Thanks for the tip, I'll check it out. I'm also discovering that the traction control is part of the problem; I'm now wondering why they even bothered adding it. The bike seems better with TC off and the more I think about it, the more I'm beginning to think TC is a waste of time on anything other than maybe a race bike?
---
From "D.G." (May 2014): "I did not expect a review like this on the new Strom. First thing I's recommend is that now or after break in sync those throttle bodies. Even Motorcycle Consumer News seemed to like the new 1000 so that tells me someone didn't set yours up right.
Sounds like the handlebars are just as bad as the ones on my 2013 Super Tenere. I had the same issues and replaced with a CR High bend and added some Rox Risers. Results are much appreciated by my back.
While I love the reliability of my Japanese bikes, they don't have the attention to detail that the euro brands have and cheap parts are too common especially on my past Suzukis. On the other hand, that 51 mpg stat is truly awesome considering the ~40 mpg I am getting on the Yamaha (even considering the added displacement)."
Rick's Reply: Not sure how Suzuki set up the press bikes or if anything was different. Mine was bought off the showroom floor, so it's the final consumer version. I definitely need to put quite a few more miles on it before I pass final judgement!
---
From "H.S." (May 2014): "Thank you for your honesty. I have grown oh so tired of the major magazines here in the USA and abroad and their enthusiasm / advertising budget reviews. I used to subscribe to the "advertisement free" rag until they were obviously contaminated by the foreign junkets and first class air. Your brevity is very appreciated. Sorry you feel that you bought a "pig in a poke". Many of us out here have done the same. You go guy!"
---
From "D.B." (May 2014): "Well, that mini-review was a shocker for sure. I'm sure some stuff will get better with time, but if they haven't sorted the low-rev fueling out (and other reviews seem to suggest they did), I wouldn't touch it with a stick.
The V-Strom community got around that with aftermarket ECU flashing etc., but the old 1000 had a lot of issues that the 650 did not have, and everyone just loves the new 650. I'm not sure about the prices in USA, but here in EU the V-Strom costs exactly the same as the base model Caponord 1200, I'd love to hear your opinion on that bike if you ever get a chance to compare them. The Capo uses the engine  from the Dorsoduro that was known for it's thirst but they say they fixed it.
Make sure to report back on MPG figures on the V-Strom! The old 1000 wasn't bad at all for the weight/power.
Anyways, first thing I though when I saw this new V-Strom was "good, they didn't change much, they went the safe route and hopefully fixed all the issues the old one had" — I would have bought that bike without riding it for sure because it's really cheap for what it is. But now.. :-/
I hope the lumpyness gets better with miles, the brakes probably will, and take that "bash guard" off, please! :- "
---
From "D.H." (May 2014): "First let me say that Motorcyclist magazine says Suzuki states that this is a road bike with adv styling. Check out the cast aluminum wheels. Of course that didn't keep Cycle World from testing it against the KTM 1190 and the GSA1200.
Also ergonomics will always be a very personal issue. That said, one of those magazines echoed your concern about off idle throttle response, and I wonder if your bike was properly set up because no magazine mentioned such an unpleasant engine I look forward to how you and your two wheeled bride adjust to the marriage.
There is one difference to consider, that you purchased your bike and you have no dues to pay to the manufacturer. Twenty five or so years ago I was product manager to a new line of bicycles and it quickly became apparent that the enthusiasm expressed in the (unnamed) magazine's article depended on the depth of our advertising budget."
---
From "J.H." (May 2014): "The Strom 1000 has been infamous for low rpm fueling since it was introduced. The engine is strangled to pass emissions. There is a tech bulletin from Suzuki that authorizes dealers to swap the ECU to a beautifully mapped version(which doesn't pass emissions…which is why it doesn't come stock).
Take the bike to the dealer and complain about safety/rideability. Mention the tech bulletin. The difference between ECU's is truly night and day. They will order the parts. The install for the new ECU and Iridium plugs takes 20 minutes and the bike will be an entirely different animal."
Rick's Reply: Thanks for the tip, this is all starting to make sense now…!
Also From "J.H." (May 2014): "I bought a 2012 1000 Adventure new. Initially, my thoughts on the bike were the same as yours. It was impossible to ride off road because the fueling was so poor. The thought of modulating the throttle while standing on the pegs was laughable. I would have flopped the pig on its side.
I complained to my dealer. They tuned the bike using a Yosh box. The Yosh box simply richens the fueling across a broad rpm range. The bike ran….better…but mileage took a dive.
There's a huge aftermarket for Power Commanders specific to the Strom. It annoyed me to think of spending 300 bucks to make my new bike run correctly. When I found the tech bulletin, I immediately called my dealer. Since my complaint was known by them and it was specifically a safety/rideability issue, getting the warranty claim ok'd by Suzuki was easy.
It took a week for the new ECU($800!!!) and plugs to come in. It took 30 minutes for the dealer to install the new parts. Many riders on Stormtrooper and VSRI have taken advantage of the swap and everyone has reported a big improvement. Good luck with your bike.
LOVE webBikeWorld! It's like the Consumer Reports of motorcycling. I can't remember the last motorcycle related purchase I made without consulting your site first."
---
From "J.E." (May 2014): "Well, this is a surprise. I used to have a Suzuki SV1000 that used a earlier version (differently tuned) of the 90-degree v-twin. It was nearly vibration free. So was the new V-Strom 1000 that I demoed at Daytona Bike Week in March. I wonder if your brand new one needs a tune-up?
That Bike Week demo bike also had great brakes; I nearly did a stoppie when I grabbed too much front the first time. I will keep an eye on your blog to see if your initial disappointments are rectified after the break-in.
P.S. The Suzuki tech rep managing the demo fleet told me the Strom 1000s were Euro spec."
---
From "W.C." (May 2014): "I was ridiculed and blasted for a similar opinion on the Strom. There is a huge list of parts available from Touratech. They recently built two bikes for some gentleman taking the Strom on an 18000 KM Journey. Not sure if it's enough to overcome the non off road out of the box but they were definitely sturdier looking. I hope your investment pans out as you progress. One of the things I like about my Triumph Explorer is how smooth it is for low speed."
Other WebBikeWorld Brands Posts