Suzuki Quadracer LTR 450 Specs, Oil Capacity, Weight and Top Speed
The Suzuki Quadracer LTR 450 is race ready all-terrain vehicle manufactured by Suzuki Motors and raced by champions like Doug Gust. A 4-stroke 41 horsepower 450cc engine gives the 368lb Suzuki LTR 450 a top speed of 74 MPH. Not too shabby!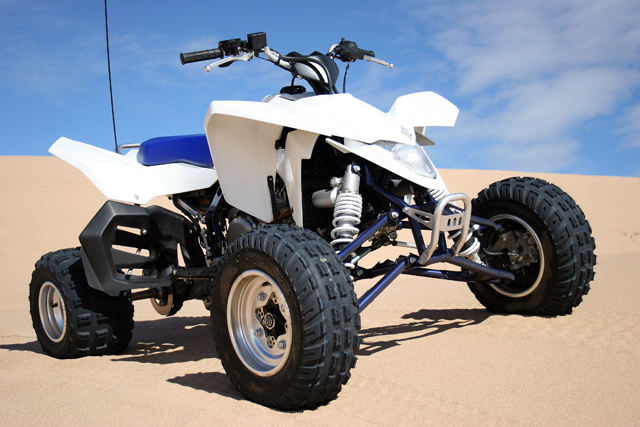 2007 was a good year, by the time holidays were upon us Suzuki was already taunting us with a glorious 2008 LT-R450 ATV. Life was good!
Suzuki LTR 450 seat height is a comfortable 30.7 inches. Sebastian Husseini just won the FIM cross country world championship on his autosport sponsored LT-R450 Suzuki Quadrunner! If you're not familiar with the FIM cross country championship series it is a multi country 2210 kilometer grueling test of both racer and machine. The championship series started in Abu Dhabi, crossed desserts, sand dunes and rocky terrain in sections, and finished in California.
Suzuki Quadracer LTR 450 Specs
Model Type: Sport
BASE MSRP(US): $8,099.00 (new 2008 model)
Warranty: 12
Engine Type: Single-Cylinder
Cylinders: 1
Engine Stroke: 4-Stroke
Valve Configuration: DOHC
Displacement: 450cc
Suzuki LTR 450 Weight: 368lb
Carb: Fuel Injected
Transmission Type: Manual
Suzuki LTR 450 seat height: 30.7 inches
Number Of Speeds: 5
Suzuki LTR 450 oil capacity: 1.8 quarts
Primary Drive (Rear Wheel): Chain
Reverse: No
Suzuki LTR 450 Top Speed: 74mph(in stock condition)
Front Tire (Full Spec): Dunlop AT 20 X 7-10
Rear Tire (Full Spec): Dunlop AT 18 X 10-8
Front Brake Type: Dual Hydraulic Disc
Rear Brake Type: Hydraulic Disc
Wheelbase (in/mm): 50.6 / 1285
Fuel Capacity (gal/l): 2.6 / 10
Since writing about the Suzuki R450 ATV last year in a review I've been meaning to update ATVStyle with a few Suzuki LTR450 ATV pictures. These are courtesy of Suzuki Motors, this Quadracer has power and performance, not just yellow ATV graphics. If you own an R450 ATV you are invited to share pictures of it in your own gallery, see the ATV forum for details. Ride safe, don't submit pictures of yourself without a helmet on!
Related Posts