No matter what you think of the rebirth of the venerable "Katana" name and the neo/retro styling, the 2020 Suzuki Katana is a highly polished rider's delight.
It officially went on sale in Australia on Thursday at $18,990 (ride away with 12 months' rego), but about 50 riders had already paid a $1000 deposit, mostly ageing former Katana owners or sons/daughters of Katana owners.
Now, Suzuki Australia has to encourage young riders and new Katana converts.
However, be quick as only 4000 will be made, says Suzuki Australia marketing manager Lewis Croft.
If customers are attracted to its origami styling, they may just find a highly enjoyable bike that is as easy to ride fast through the twisties as it is to sedately filter through traffic.
That's no mean feat for engine architecture derived from the GSX.
But Suzuki has done it with a superbly sophisticated and refined engine, transmission and MotoGP-inspired chassis.
Styling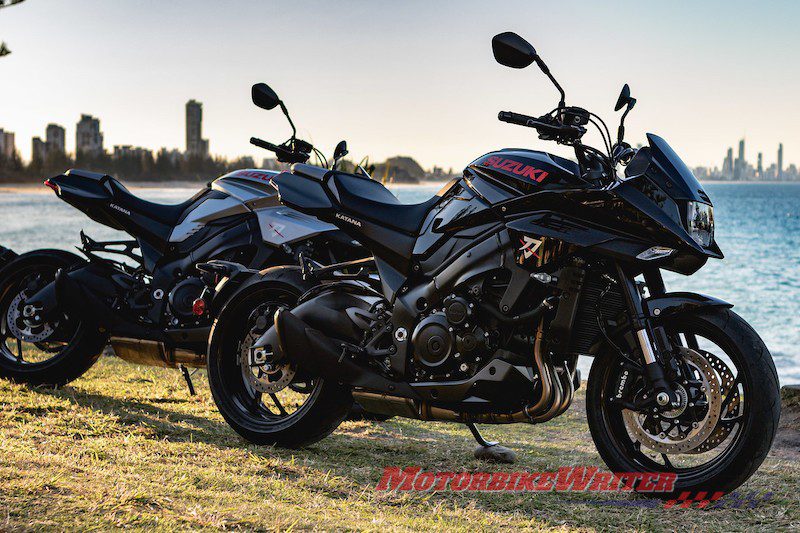 This is the controversial aspect.
When the silver Katana was unveiled at the 2018 Intermot show in October and then the "Glass Sparkle Black" version at EICMA in November, opinions were sharply divided.
Katana devotees both loved and hated it as did those who weren't Katana fans. Reminds me of the reception the original Katana experienced!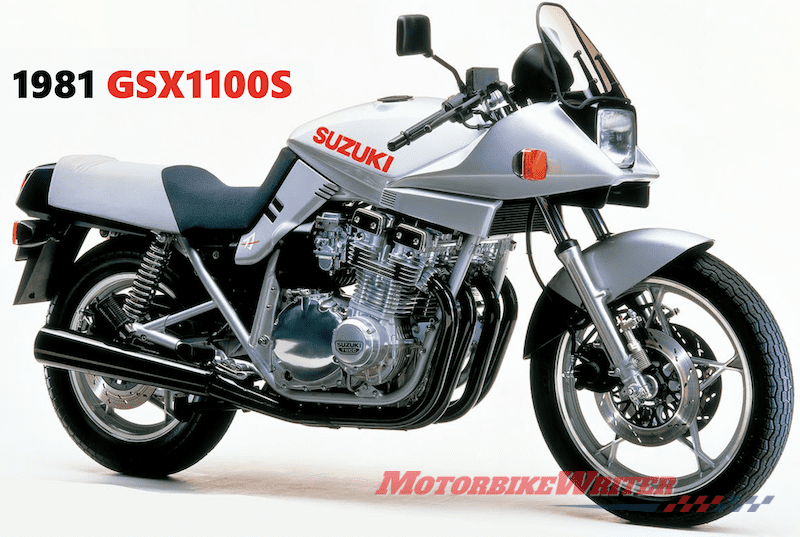 In the "flesh" this new Katana looks a lot better with high-quality fitment.
I prefer the silver as it looks more original and highlights the original's lines and angles better.
There are a lot of faithful Katana lines such as the cut in the tank, the shark nose, two-toned seat, rectangular headlight and even the half-moon front fender.
But Katana devotees will find points to criticise.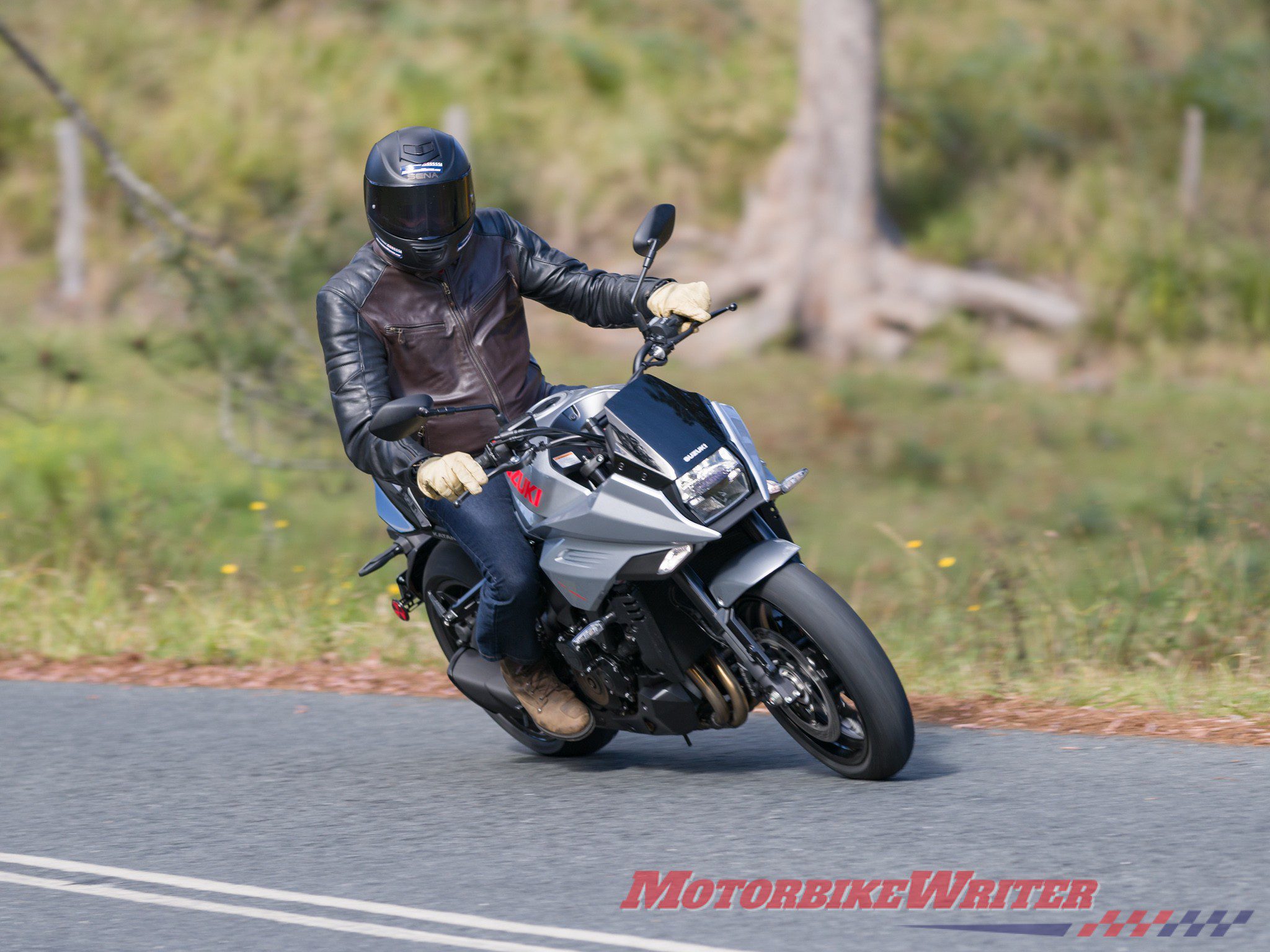 To me, it seems the designers were trying too hard and made the design too complex.
But it certainly stands out and includes some neat modern features such as full LED lighting and a remote rear fender.
The biggest change is straight bars instead of clip-ons that make it much less ergonomically painful to ride than the original.
In fact, with its narrow seat and upright stance, it is extremely comfortable in the saddle, although the wide tank does splay your knees, so it could be painful for some people with hip problems.
At 825mm, the seat is much taller than the original, but I'm 183cm tall and I was able to plant both feet flat on the ground, still with a slight knee bend.
Motivation delight
The real delight of this bike is in the motivation: the engine and transmission.
Here is an interesting tech specs comparison to the original.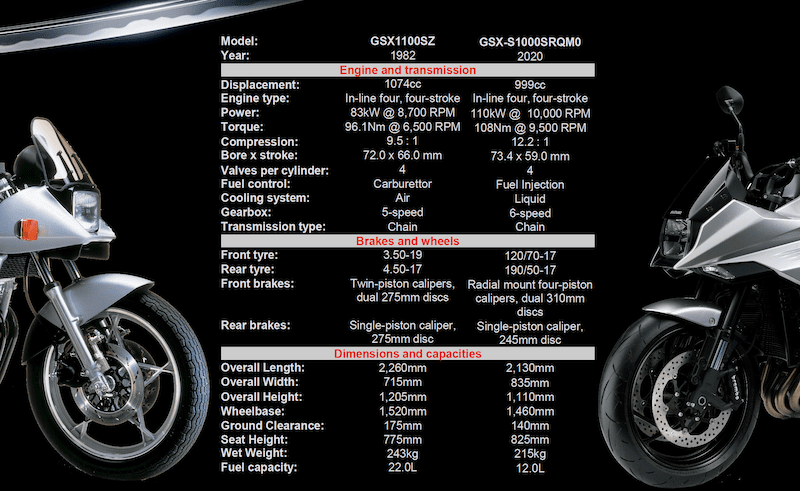 But tech specs do not tell the real story of this bike's motivation.
It's simply so silky smooth with thick, creamy torque and a super-slick foolproof gearbox.
This combination virtually makes it like an automatic; just slip through to sixth gear by 60km/h and twist the throttle.
No need to shift gears. It will pull from 2500 revs in sixth at 60km/h to 4500 revs at 100km/h and on to dizzying revs and go-straight-to-jail speeds.
On the media launch through the border ranges of NSW and Queensland, most of the riders stopped changing gears after a while and just used fifth or sixth for everything.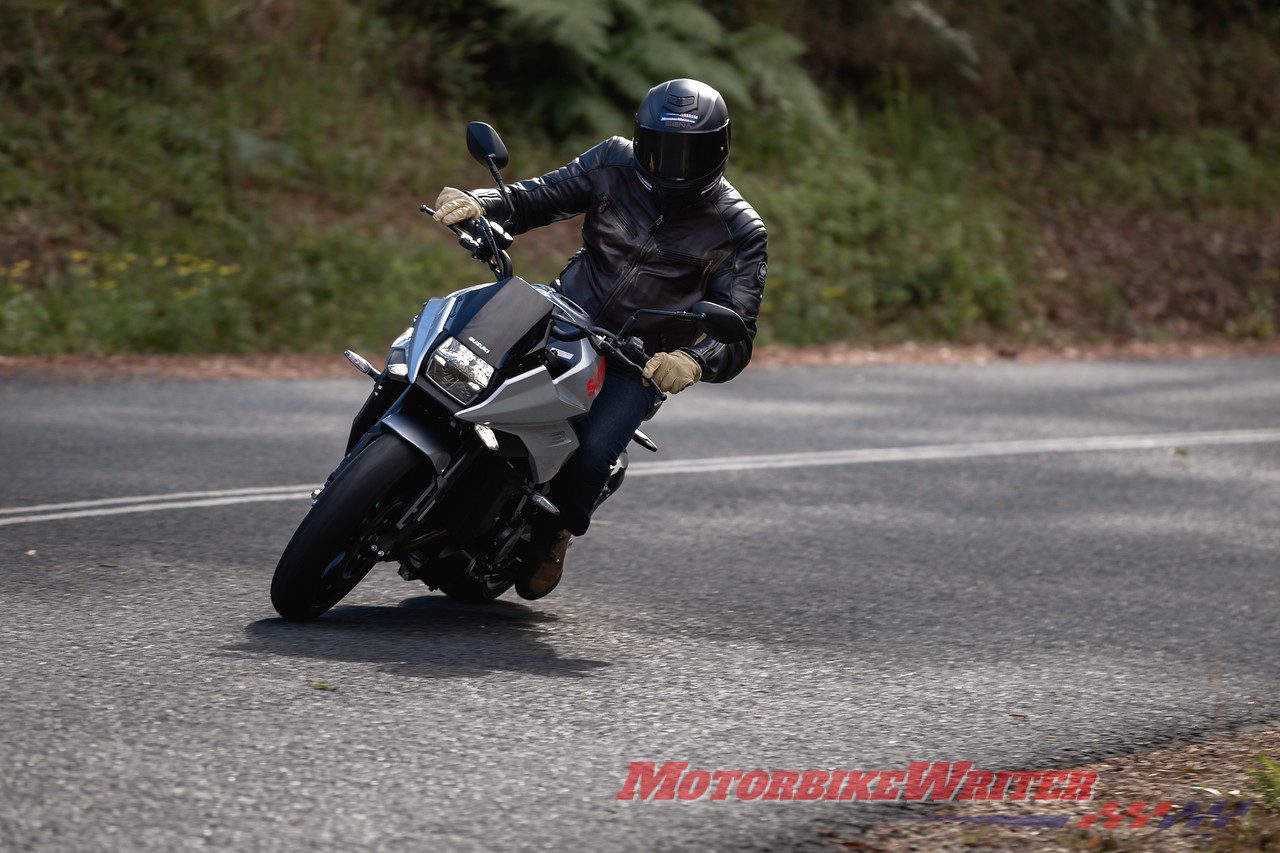 Yet it delivered electrifying throttle response and rapid acceleration when you started tap-dancing on the gear shift.
It's so smooth there is little character to the feel of the engine, but there is a lovely aural harmony of induction "woof" and exhaust growl.
Back into the heavy traffic on the Gold Coast, this maniac machine was suddenly docile, tame and so controllable as we filtered slowly through the traffic.
Lewis describes it as both "a city bike and a show-off bike".
It certainly is with only about 200km maximum range from the 12-litre tank.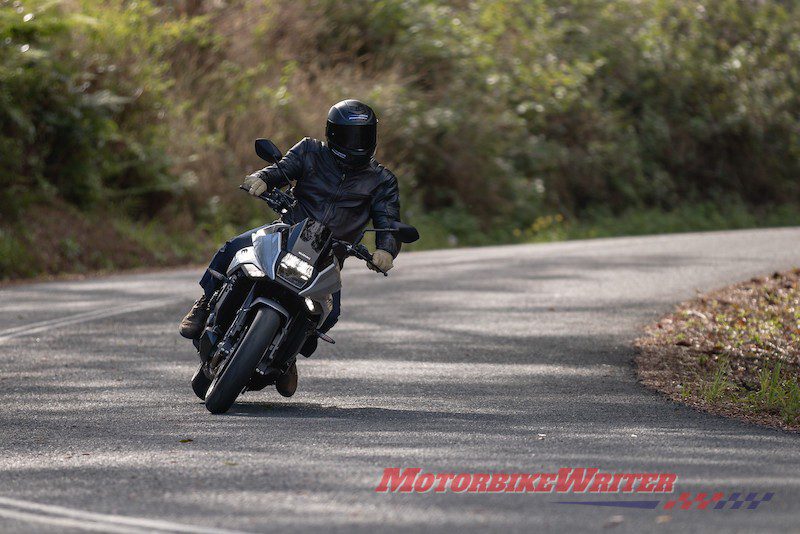 The engine is Euro4 compliant and no doubt will be updated for Euro5 within the next couple of years. It burns lean and blows a fair bit of heart on to your right foot in heavy traffic.
There are no engine modes, but three-stage traction control that can also be switched off, all on the fly.
My only concern is the heavy cable clutch which is non-adjustable. Although, it does have a clever low-rev assist feature which adds 500 revs as you let the clutch lever out.
This prevents embarrassing and potentially dangerous stalls if you've filtered to the front of the traffic! It's a delight to use in stop-start traffic.
There is also an easy-start function where you just hit the ignition and it starts on its own.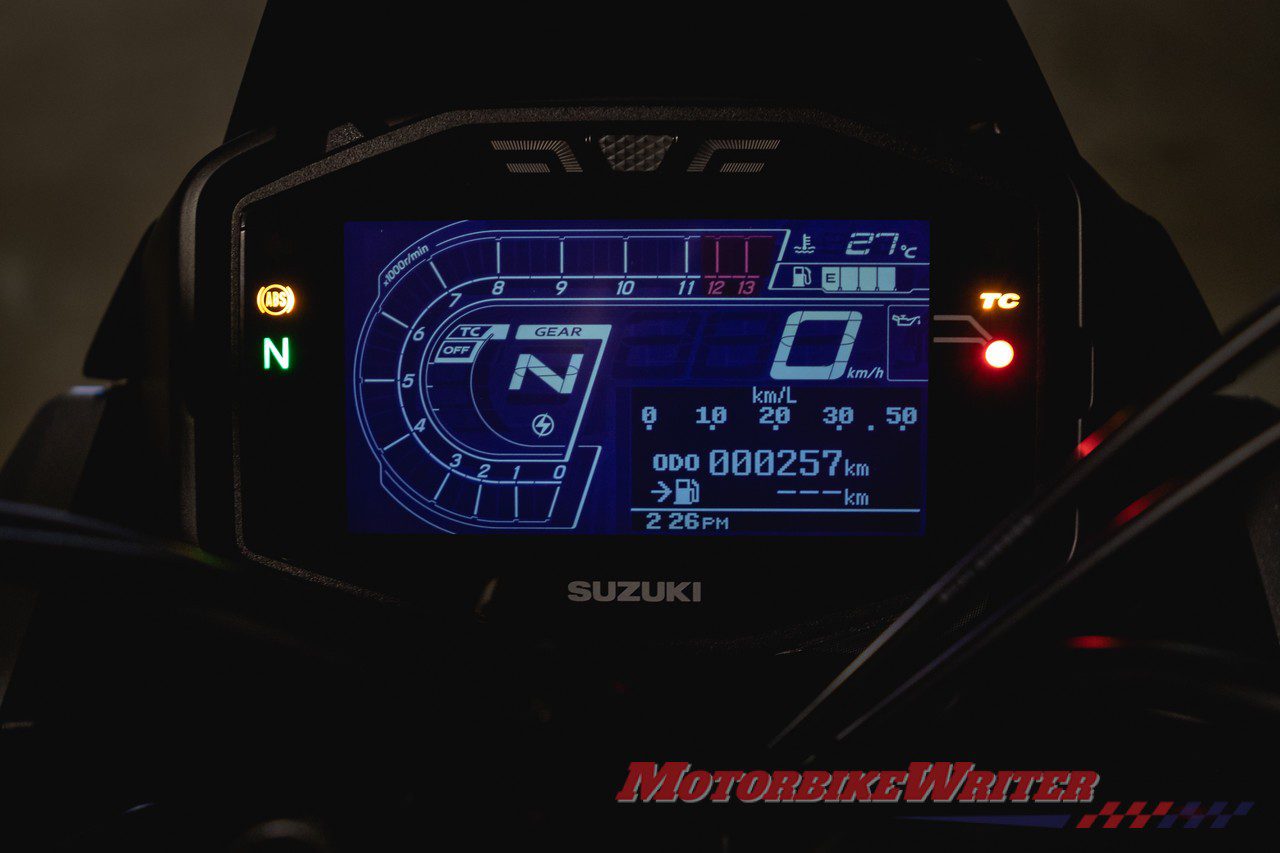 The comprehensive instrument screen is big, like a max-sized phone, but some of the letters and figures are small and difficult to read.
You can operate all functions via a handy controller on the left switchblock and they are easy to use.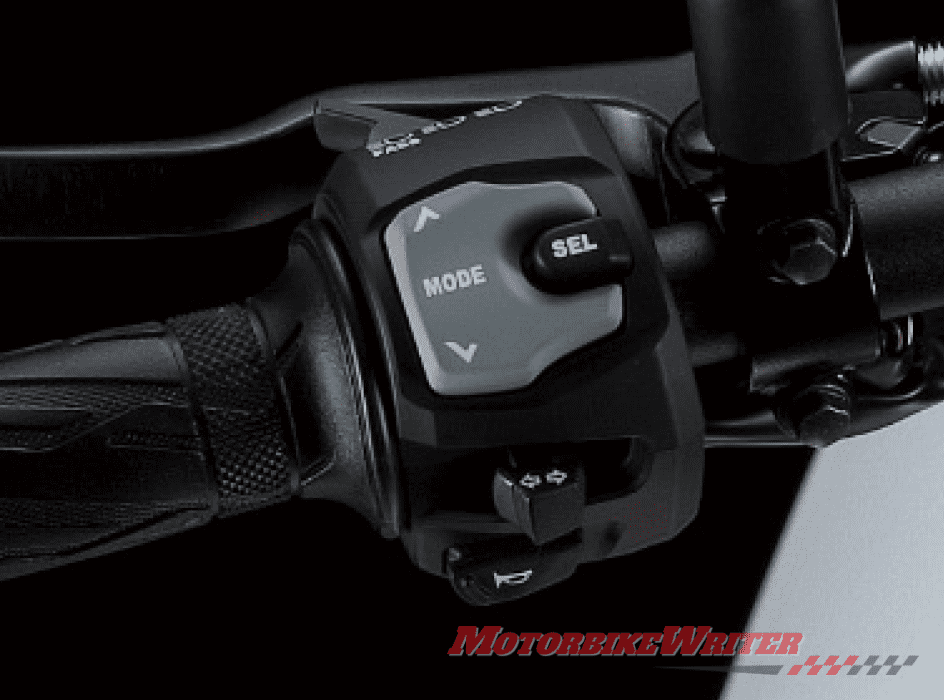 Town and country
In town, the Katana is light and nimble and easy to slice through traffic with its tight turning circle and wide bars.
That also makes it great for twisting roads, although you don't need to manhandle the bike to change direction.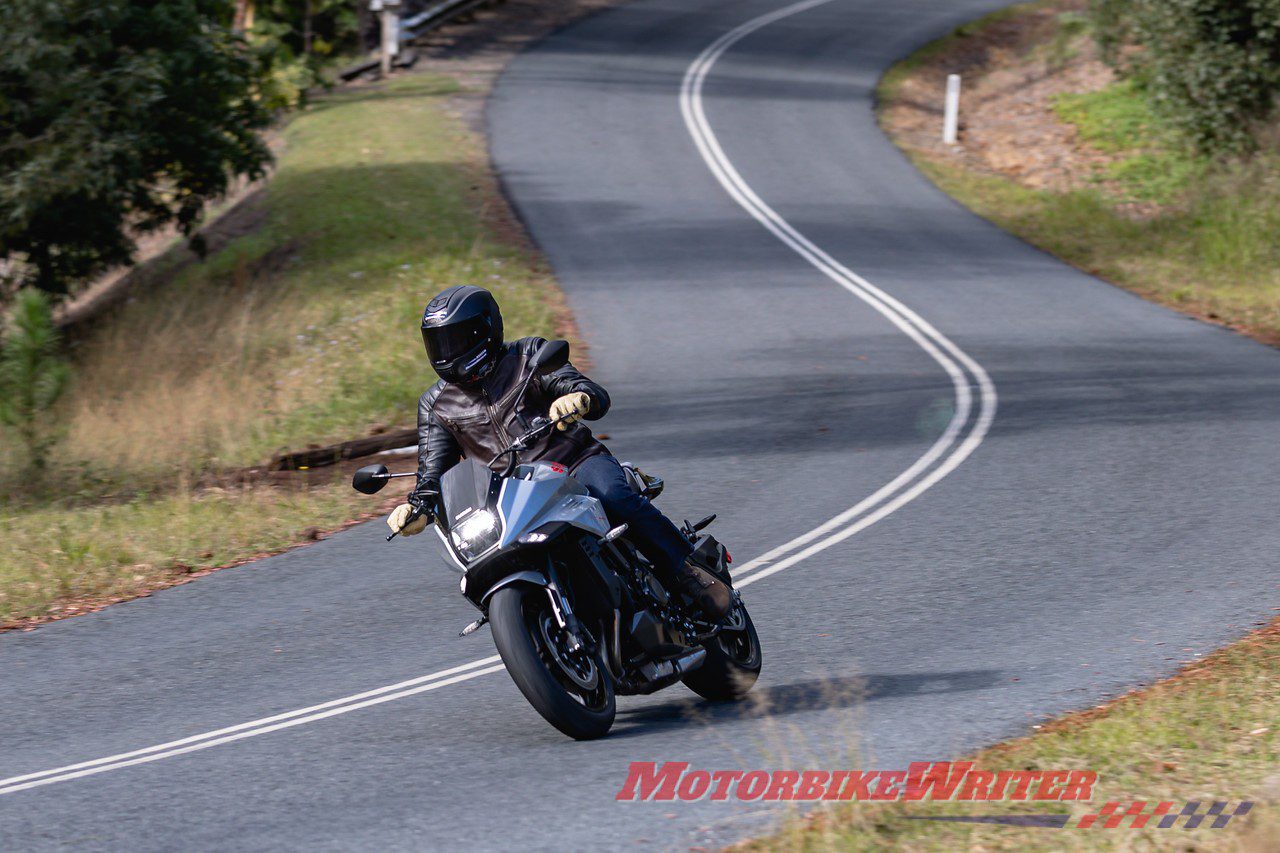 It feels very light and the fully adjustable suspension (except for rear compression adjustment) is firm, but fair.
I backed off half a turn on the front compression to sort out some of the bumps on the backroads and it ploughed through without any headshake.
The big 310mm dual disc brakes have plenty of bite with good feel through the controls, although the ABS was a little jerky.
Lewis says the Dunlop RoadSport 2 tyres are specially made for the bike.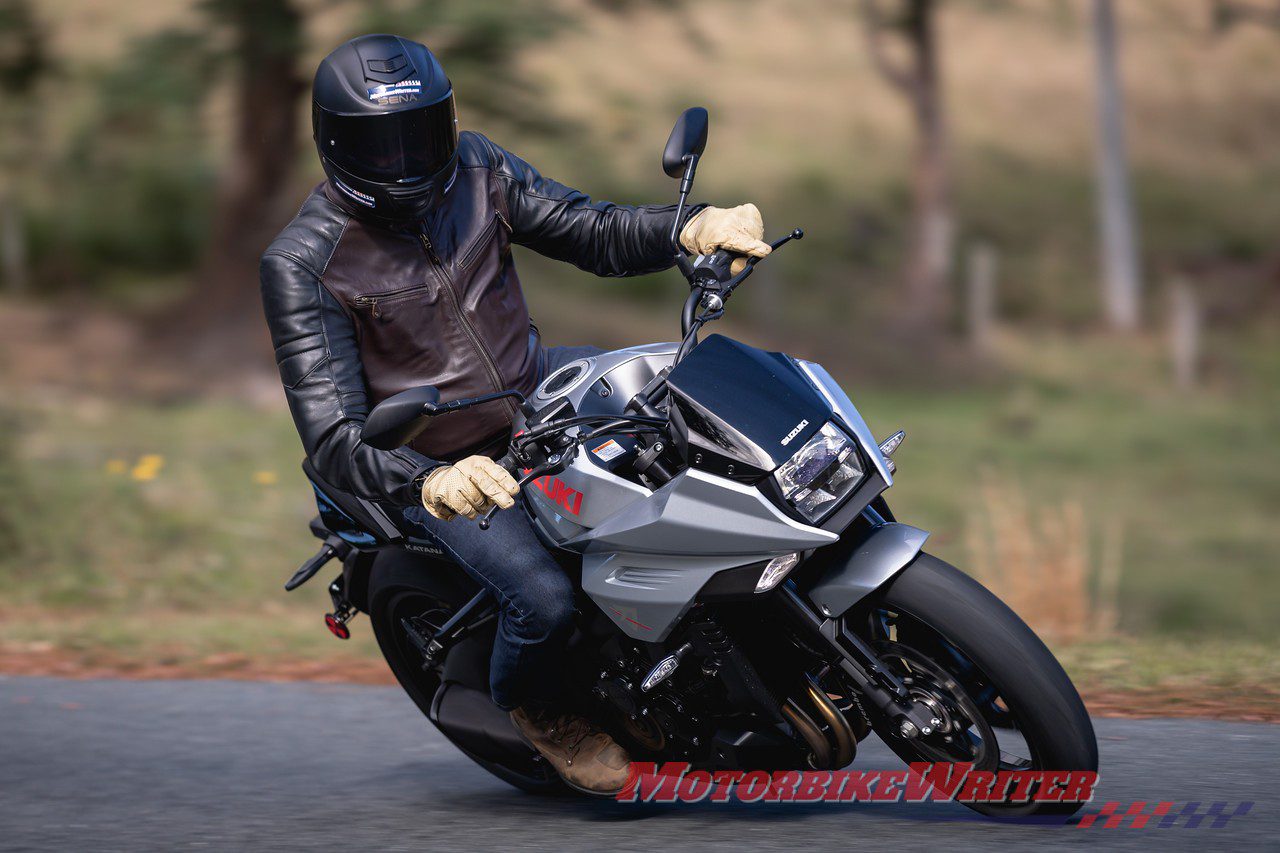 They feature a tread pattern that looks like it has been cut with slashes from a katana. The tyres heat up quickly and have excellent grip even on damp roads.
The combination of capable suspension and strong brakes make it a delight to whip through the bumpy and twisting roads of the Gold Coast hinterland.
Lewis says they have a long list of accessories including carbon bits, a black and red seat, protection, heated grips, smoked windscreen and red Brembo calipers.
He says buyers so far have spent an average of $1300 on the accessories.
There are also a Katana keyring, scale model and branded clothing.
Conclusion
I'm no Katana devotee and the looks don't really appeal to me, yet I was won over by the ease of riding this bike hard as well as slow.
There may be more appealing neo/retro bikes on the market, but this is by far the rider's delight of the pack!
Suzuki Katana GSX-S1000SM0 tech specs
PRICE
$18,990 RIDE AWAY
ENGINE
IN-LINE 4 CYLINDER, LIQUID-COOLED, DOHC
TRANSMISSION
6-SPEED WITH BACK-TORQUE LIMITING CLUTCH
FRONT SUSPENSION
43MM KYB FULLY ADJUSTABLE INVERTED FORKS
REAR SUSPENSION
LINK TYPE SHOCK WITH ADJUSTABLE REBOUND & SPRING PRELOAD
FRONT BRAKES
BREMBO RADIAL-MOUNT MONOBLOC CALIPERS, 310MM DICS WITH ABS
REAR BRAKES
NISSIN SINGLE PISTON CALIPER WITH ABS
POWER
1

10kW @ 10,000RPM 

TORQUE
108NM @ 9500RPM
COLOURS
METALLIC MYSTIC SILVER / GLASS SPARKLE BLACK
SEAT
825MM
LENGTH
2130MM
WIDTH
835MM
HEIGHT
1110MM
WET WEIGHT
215KG
WHEELBASE
1460MM
FUEL CAPACITY

1

2 LITRES