Suzuki GW250 Tank Bag Image Gallery
The Suzuki GW250 tank bag is an excellent piece of luggage.
It's very nicely made and as you'd expect, it's a perfect match for the curvy GW250 fuel tank.
The bag has a rubberized bottom and fully 6 large 60 mm diameter magnets, which grip tightly to the steel fuel tank.
The kit also comes with an easy-to-install security strap and a shoulder carrying strap.
Also included is a square sheet of clear paint protection film, a semi-fitted rain cover and a set of instructions.
Other than too many Suzuki branding embellishments and the design of the rain cover in the way it fits over the front of the bag, I have no complaints.
In fact, this is probably one of the nicest motorcycle tank bags I've owned.
It's completely out of the way when riding, so you won't even know it's there, but it can hold a nice selection of easily accessible gear.
Background
I ordered the Suzuki GW250 tank bag when I bought the bike in early November of 2013, but the bag was on back order, finally arriving in February 2014.
No problem, since the winter of 2013-2014 will — at least here in the Mid-Atlantic region — go down as one of the worst ever.
Super-cold and nasty weather set in about 2 weeks after I took delivery of the GW250, so there wasn't much time at all to ride anyway.
A missing tank bag was the least of my problems…
Here we are at the end of March and the weather is still very iffy. In fact, yet another snow storm is predicted for next week!
I still only have about 220 miles on the bike, far below even the first level of the excruciating break-in period, which calls for sub-5,500 RPM engine speeds during the first 500 miles.
Since that equates to 45 MPH maximum, it's a loooong slog.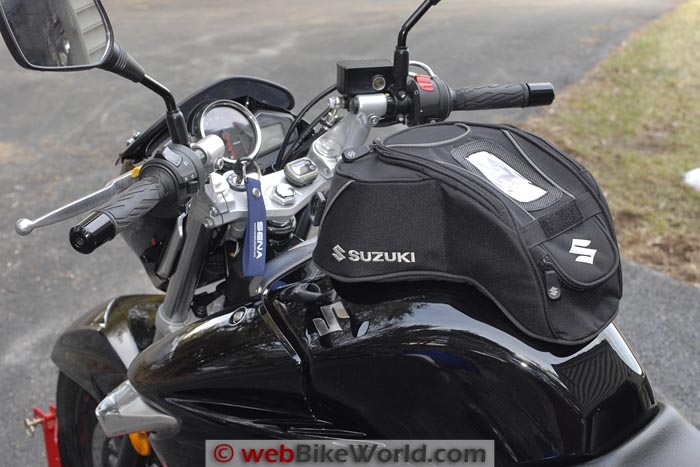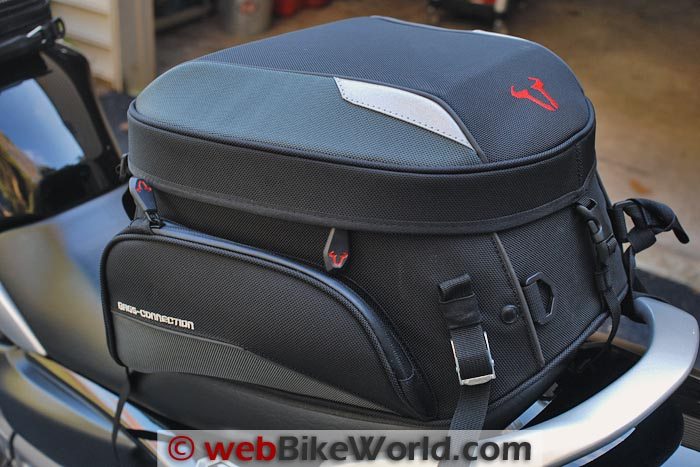 The GW250 Tourer?
I've been pleasantly surprised at how much gear I can carry on the GW250 so far…and without yet installing any panniers.
Between the excellent Bags Connection EVO Rear Seat Bag (review), which expands to 36 liters and the tank bag, there's enough storage for at least an extended weekend solo trip.
Suzuki also offers an accessory 26 liter top case (Part #990D0-TC26L-BLK) for a reasonable $113.95.
It's rated to hold 7.5 lbs. You'll also need the Adapter Plate, Part #990D0-99999-076 and the Top Case Carrier, Part #46100-48841, both for $25.95.
I haven't ordered those yet and probably will, although I'm not a top case fan because I feel they add too much weight too high on the rear of the bike.
I haven't found a set of panniers to fit the GW250 yet; maybe some of our readers have a suggestion?
w

BW

 Video: Suzuki GW250 Tank Bag
The Suzuki GW250 Tank Bag
We'll take a look at the GW250 tank bag (Part #990D0-04140) via the photos below, but before we do, let me say that I think it's a very nice piece of luggage.
The price is probably reasonable, although it's interesting to note that at $149.95, it cost $10.00 more than the top case and the mounting hardware both.
I've been using tank bags of various types since, well…let's just say the very first tank bag I bought was for a 1978 Yamaha RD400.
The GW250 tank bag, made by someone (?) for Suzuki, is a very nice piece; in fact, I'd have to say it's one of the nicest tank bags I've ever tried.
It's a semi-hard construction and the shape and lines fit the GW250 like a glove.
It's one of the very few tank bags that "disappear" when you're riding; that is, it doesn't get in the way at all and you won't even know it's there (until you stop to fill up!).
The bag weighs about 800 grams (1-3/4 lbs.) and measures roughly 27 cm across and 13 cm deep at the front (~11 by 4.5 inches).
The main compartment has a removable divider and measures about 33 cm by 25 cm at the widest point (!13 by 10 inches).
The dual zipper cover has a cell phone pocket underneath with a clear window to the outside and a small separate key pocket is located at the back, facing the rider.
The bag comes with an adjustable security strap that attaches with two safety clips around the front of the triple clamp; a shoulder strap; a rain cover and a sheet of clear paint protection film (reviews).
I haven't installed the paint protection film and not sure if I will.
The bag has 6 large 60 cm magnets under the rubberized bottom and they grip tightly on the steel tank. No other straps are necessary — a nice feature of using steel and magnets. Be careful of that electronic media though…
So let's take a look via some photos: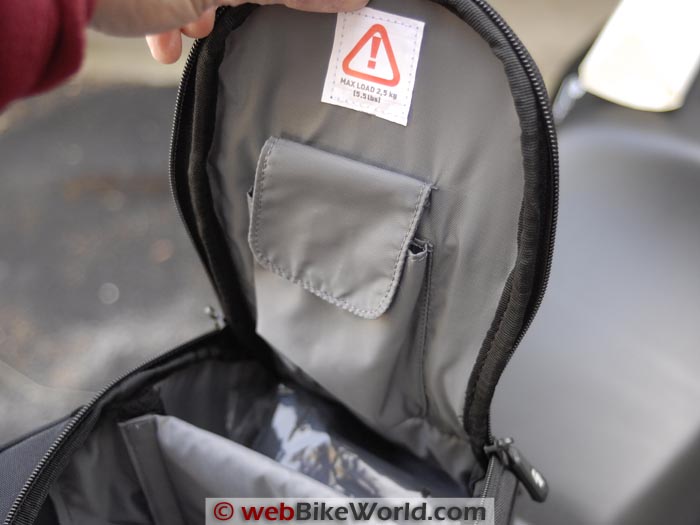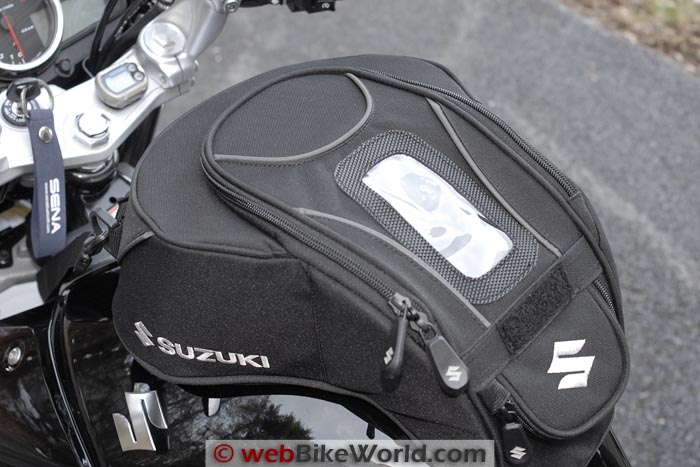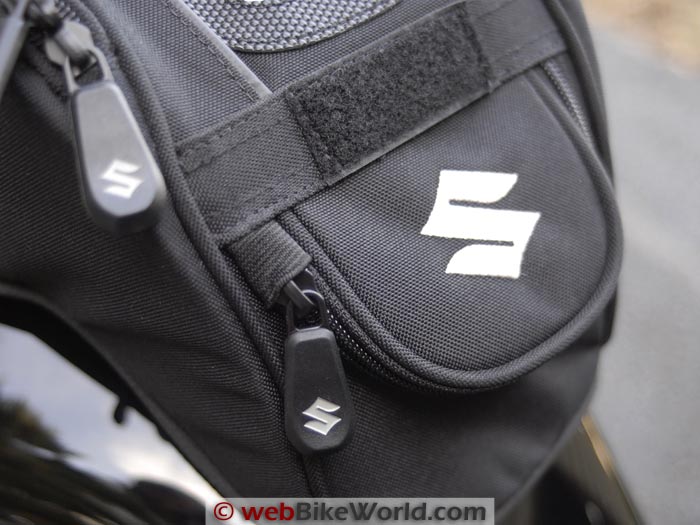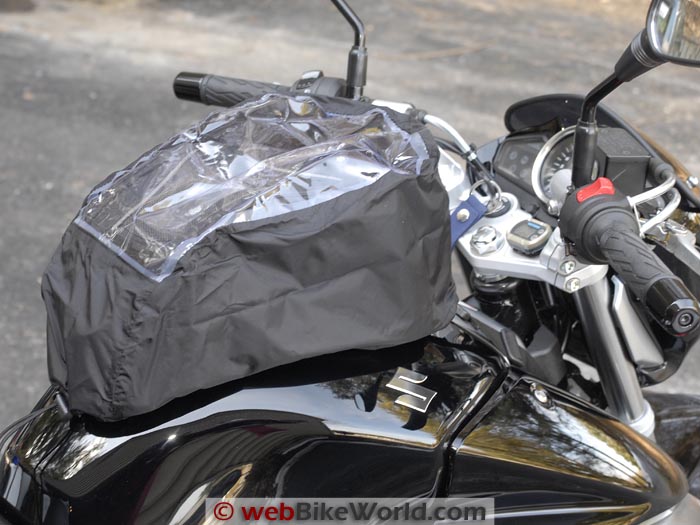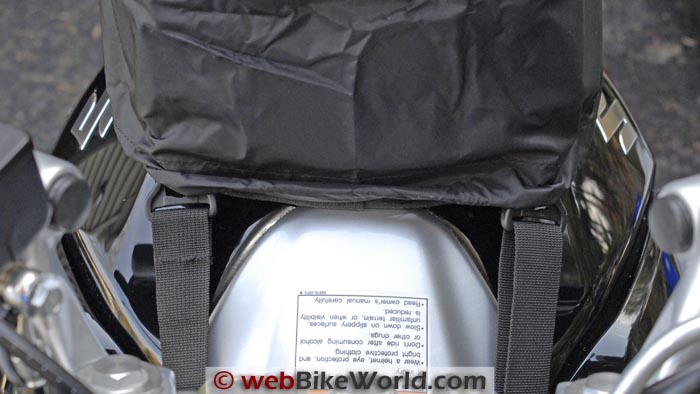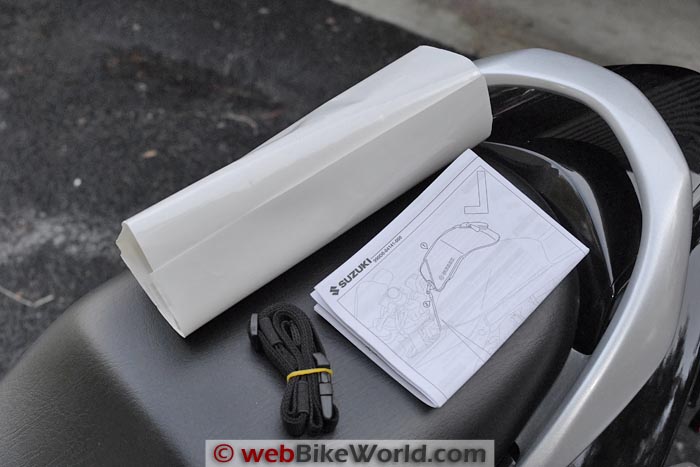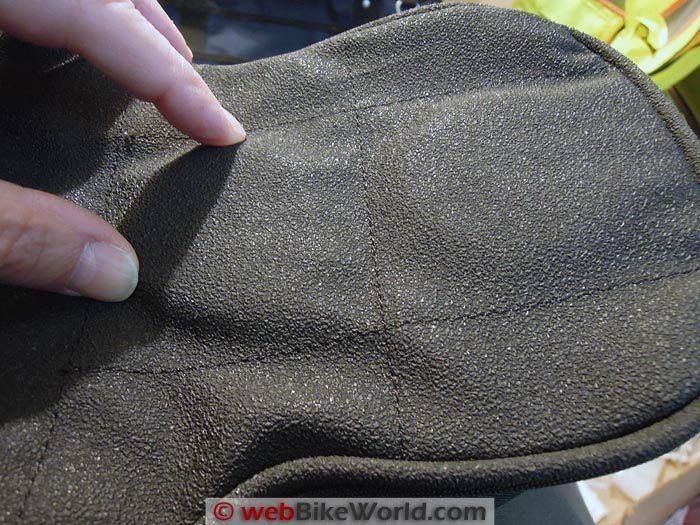 Conclusion
The accessory Suzuki GW250 is a pleasant surprise, in that it is very nicely made and it's a perfect fit on the bike.
This is a surprise because I can't say the same for many pieces of OEM luggage, which sometimes seem to have been thrown into the catalog just so they can say they have it.
I especially like the clean look of the tank bag on the GW250; no extra straps are necessary because of the strong magnets in the base, which stick like glue to the steel tank.
While the tank bag isn't the biggest by any means, it holds the basics — a pair of gloves, bottle of water and a sweater or even a windproof/waterproof jacket.
I'm assuming the bag is now ready and available much more quickly than the 3 months it took mine to arrive, and I can heartily recommend it for GW250 owners.
It's just one more item that makes this gem of a motorcycle that much more enjoyable.
More wBW: 
▪ Suzuki GW250 Blog
▪ Suzuki GW250 Review
▪ wBW Motorcycle Reviews
Note:
 For informational use only. All material and photographs are Copyright © webWorld International, LLC since 2000. All rights reserved. See the webBikeWorld® 
Site Info page
. Product specifications, features and details may change or differ from our descriptions. Always check before purchasing. Read the
Terms and Conditions
!
Owner Comments and Feedback