The Suzuki C50T is an aptly named cruiser.
The C stands for classic, referring to its traditional big fenders, two-tone paint, white-wall tyres on wire wheels, forward controls, floorboards and lashings of chrome and studded leatherette.
The T stands for tourer which covers the comfort items such as a plush saddle, pillion padded sissy bar, saddlebags and big windscreen.
Despite being a Japanese or "metric cruiser", the 50 refers to the number of cubic inches in engine capacity, or 805cc for the metric among us.
This is the smallest of Suzuki's Boulevard range at $11,290 which is only $300 more than the C50 for the screen, luggage and backrest.
It's also the cheapest of the midweight metric cruisers.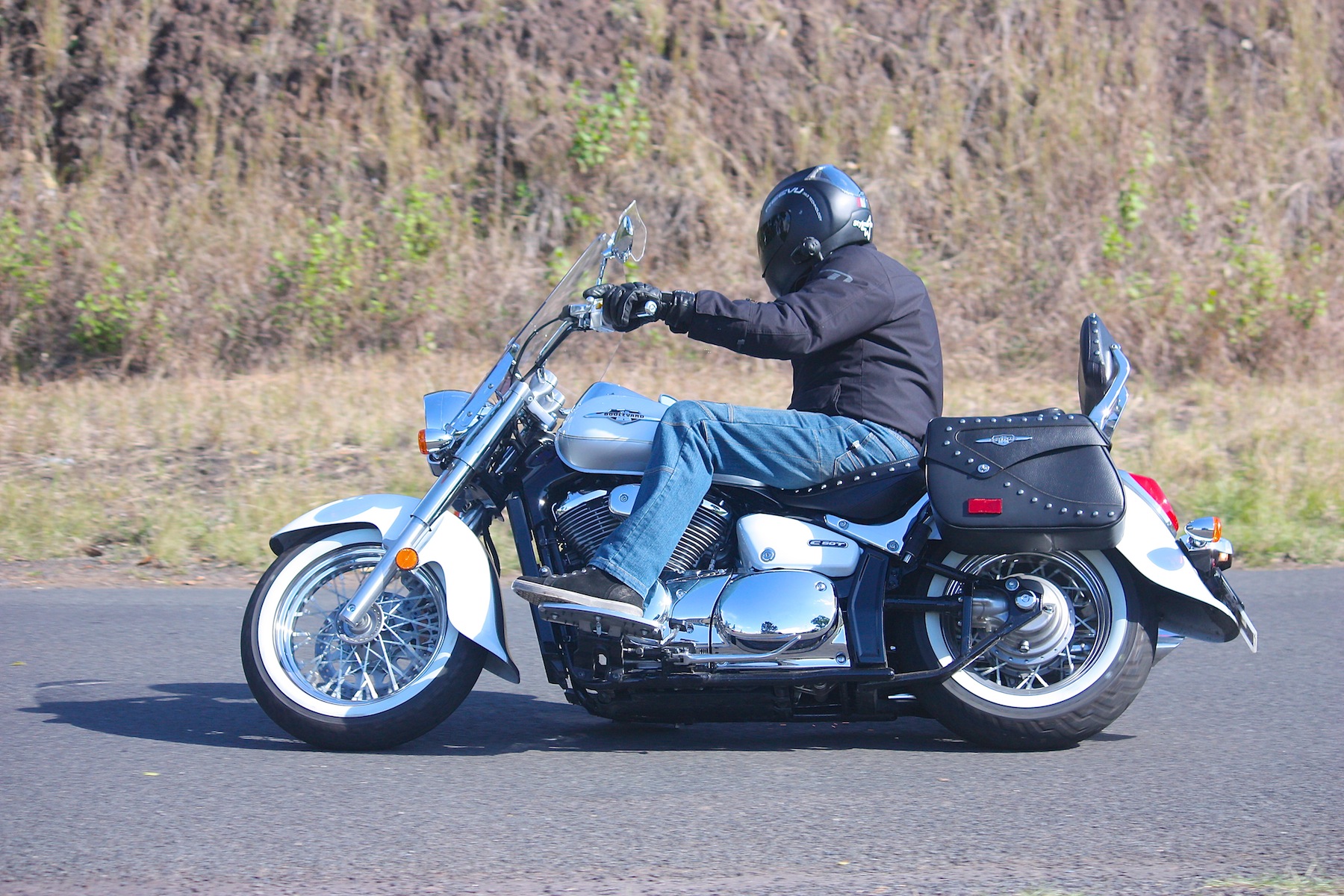 But it's no cheapie when you give it a close inspection. The build quality is typically high for a Japanese bike with lustrous chrome, deep paint and plenty of polished aluminium. No cheap bolts here.
But they have cut a few corners.
One example is the lack of saddlebag locks. instead they have a couple of press studs and a switch. They work, but they are a bit cheap, fiddly and insecure.
The saddlebags themselves aren't huge, but they are a square shape which means you can use all the space inside. They also aren't waterproof, so you will need to pack your gear in waterproof bags.
Another shortcut is the ignition which is inconveniently located on the right of the forks so it acts as a steering lock as well to save having a separate lock.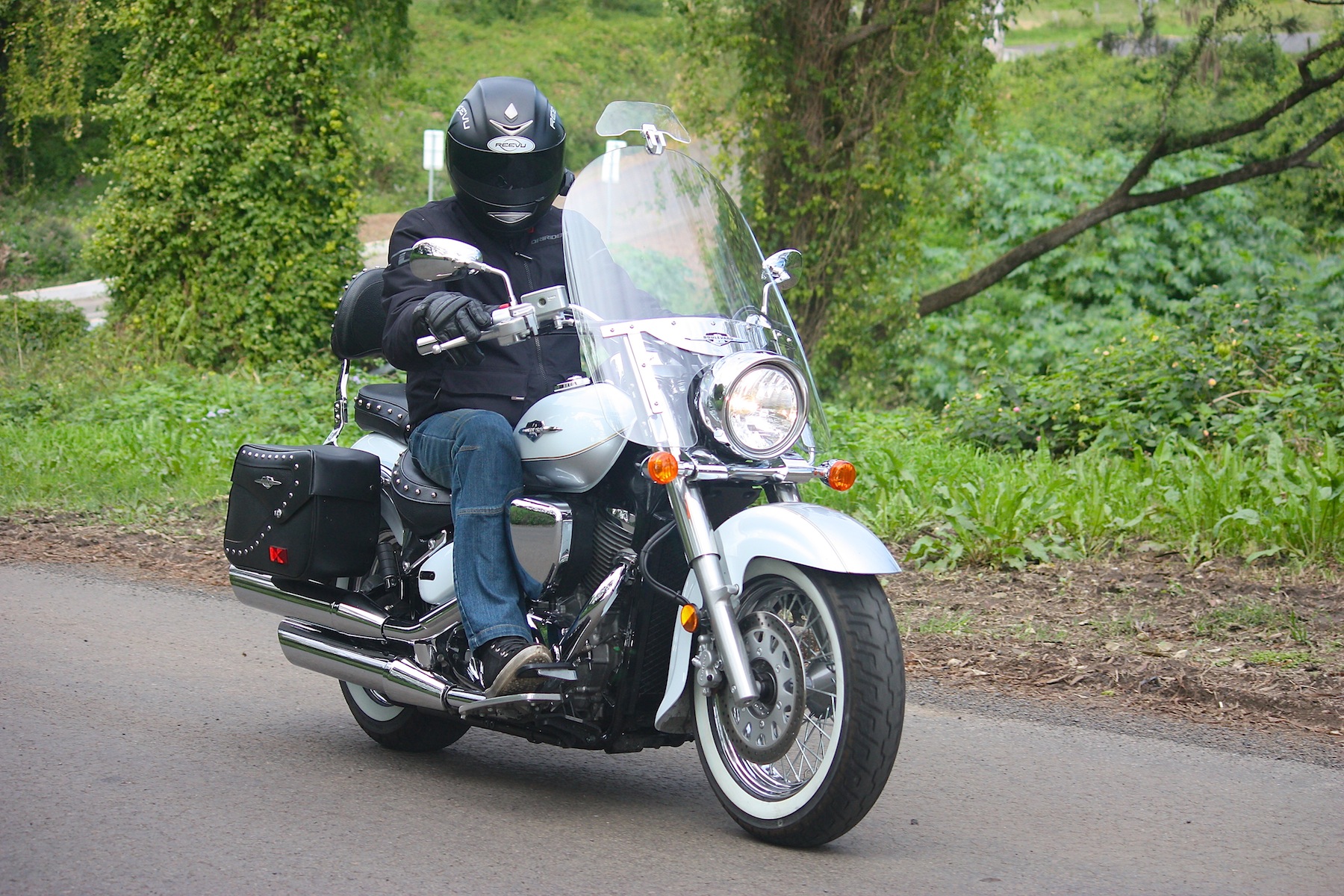 Flick the ignition key and the engine kicks over smoothly with no start-up jolt.
Suzuki claims they have "cutting-edge 3D-mapped digital ignition system using a throttle-position sensor" to boost the low-down torque, but it feels weak with very little torque.
The bike needs revs to get going, which it supplies easily since it's powered by a water-cooled engine.
For reasonably rapid progress, you need to whip through the five gears which are not as clunky as on some cruisers. The gear ratios are nicely spread and top gear is plenty long enough for smooth highway cruising as well as roll-on overtaking maneuvres.
The low-maintenance shaft drive doesn't feel snatchy and, of course, it means the 15-inch rear white-wall tyre doesn't cop any chain grease.
Suzuki doesn't quote power or torque figures, but it doesn't feel as punchy as the Kawasaki VN900 or Yamaha XVS950A while a little more lively than the Honda VT750.
Under revs, the engine vibrates and sounds like a rattle gun with the windscreen bouncing the engine clatter right back at you. But as soon as you back off the throttle or hit cruising speeds, it goes smooth, thanks to the offset crankpins that balance the firing intervals, and deathly quiet with just a fluttering sound and virtually no noise from the exhaust.
In traffic, the clutch feels light, the throttle is smooth off idle and the bike feels light and nimble for weaving through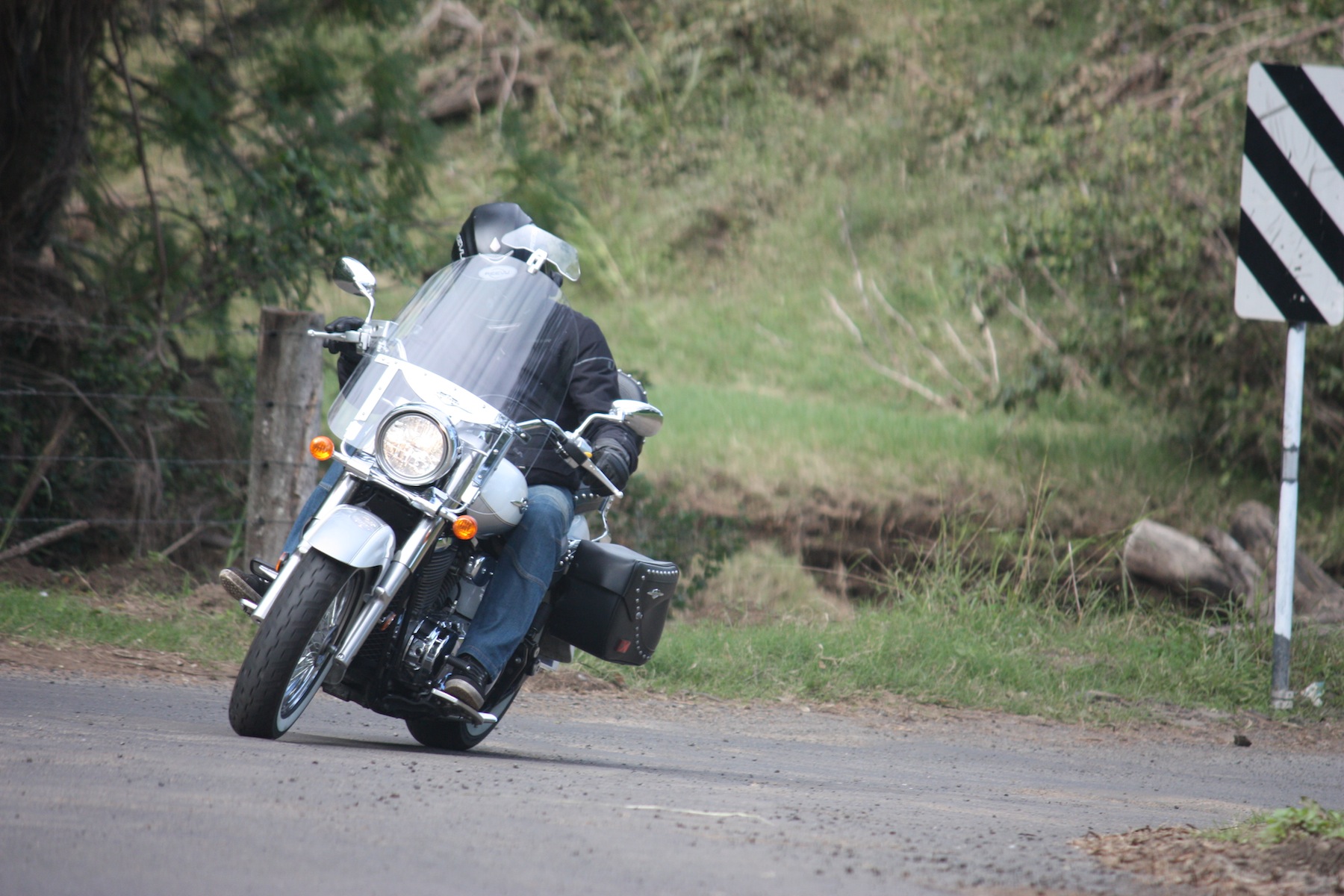 the traffic and negotiating tight roundabouts, although the floorboards are almost immediately making contact with the tarmac.
Out on the highway, it soon becomes evident that the fork-mounted screen may look big, but it causes a fair amount of buffeting and weaving when you hit wind blasts from passing trucks.
That aside, it's a good tourer with a comfortable riding position thanks to the comfy saddle, wide pull-back handlebars and long floorboards that allow you to move your feet around without the heel shifter getting in the way.
Pillions will also feel comfortable on the thick and wide rear perch. There is only a seat sash to hold on to, but they can lean against the padded backrest which has two sturdy chromed metal supports.
The Showa forks feel plush while the short rear suspension gives it a hard-tail look and a firm feel to match. Over bumpy roads the front can get flight and the rear a little bouncy, yet it tackles ripples such as corrugations quite well.
Over most roads, the ride is smooth and refined.
Lack of cornering clearance will slow you down in the bends, but you can charge quite quickly from corner to corner and jump heavily on the disc/drum brakes to pull it up.
The rear drum brake pedal is spongey, but effective, while the front hydraulic single-disc brake has good feel and bite. It's a capable set-up, but two-up it's a little underdone.
ABS would be handy, but not possible unless they convert from a rear drum to a disc brake.
Economy on test varied substantially from 4.6L/100km to 5.5L/100km, which can limit range to less than 300km from the 15.5-litre tank.
Riders will appreciate the clear instrument display which features a clock, two trip meters, handy gear indicator and a large and accurate fuel gauge.
It's light enough to flick around town, stable on the highway and comfortable enough for two people. With its 805cc engine and service intervals of 6000km this midweight cruiser is a solid mid-distance tourer.
Accessories that will further improve its touring credentials include a rear rack, engine guards, passenger floorboards, windshield bag and driving lights.
As it is, the C50T is good-value touring with a touch of classic class.
SUZUKI C50T tech specs
Price: $11,290 (plus on-road costs)
Warranty: 2 year, unlimited km
Service: 6000km
Engine: 805cc, 4-stroke, liquid cooled, OHC, 45 degree, V-Twin
Transmission: 5-speed constant mesh, shaft drive
Suspension: Showa 41mm conventional forks, 140mm wheel travel; Showa mono shock 7 position adjustable preload, 105mm wheel travel
Brakes: Tokico twin-piston caliper, 300mm disc; Tokico 180mm drum
Wheelbase: 1655mm
Seat: 700mm
Length: 2500mm
Width: 955mm
Height: 1110mm
Wet weight: 277kg
Fuel: 15.5 litre tank
Colours: white/silver, red/black