Suzuki Australia has recalled their 2017-19 Burgman 200 scooters over an issue with the CVT face plate which can prevent the scooter from moving.
The official recall notice issued through the Australian Competition and Consumer Commission says the fault is with the face plate on the Continuously Variable Transmission.
It may have moved, due to the improper shape of the holes where the rivets fasten the face plate to the motorcycle, the ACCC says.
"If the face plate moves, the motorcycle may not be able to be ridden as the broken face plate will prevent the motorcycle from moving," the notice says.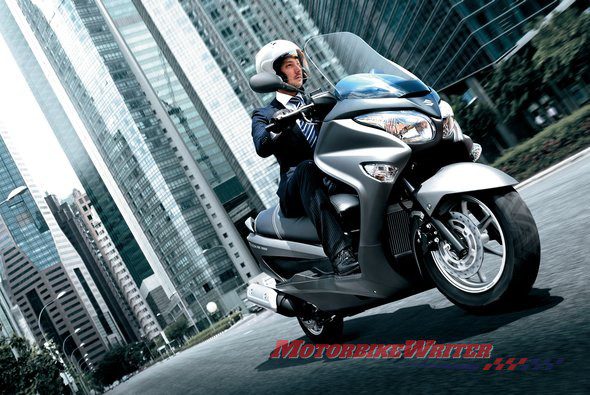 Suzuki Australia will contact all affected owners in writing to contact their preferred Suzuki dealer service department to arrange a free repair of the defect.
Consumers who require further information should contact Suzuki Australia on 1800 777 088.
The Vehicle Identification Numbers of the 199 affected scooters are listed at the end of this article.
We have published them in case the scooter has changed hands and Suzuki does not have the contact details of the new owner.
Even though manufacturers and importers usually contact owners when a recall is issued, the bike may have been sold privately to a rider unknown to the company.
Therefore, Motorbike Writer publishes all motorcycle and scooter recalls as a service to all riders.
If you believe there is an endemic problem with your bike that should be recalled, contact the ACCC on 1300 302 502.
To check whether your motorcycle has been recalled, click on these sites:
• USA
• Canada
VINS of affected Burgman scooters
MLCC9131300300245
MLCC9131300300246
MLCC9131300300247
MLCC9131300300248
MLCC9131300300249
MLCC9131300300250
MLCC9131300300251
MLCC9131300300252
MLCC9131300300253
MLCC9131300300254
MLCC9131300300255
MLCC9131300300256
MLCC9131300300257
MLCC9131300300258
MLCC9131300300259
MLCC9131300300260
MLCC9131300300261
MLCC9131300300262
MLCC9131300300263
MLCC9131300300264
MLCC9131300300265
MLCC9131300300266
MLCC9131300300267
MLCC9131300300268
MLCC9131300300269
MLCC9131300300270
MLCC9131300300271
MLCC9131300300272
MLCC9131300300273
MLCC9131300300274
MLCC9131300300275
MLCC9131300300276
MLCC9131300300277
MLCC9131300300278
MLCC9131300300279
MLCC9131300300280
MLCC9131300300281
MLCC9131300300282
MLCC9131300300283
MLCC9131300300284
MLCC9131300300285
MLCC9131300300286
MLCC9131300300287
MLCC9131300300288
MLCC9131300300289
MLCC9131300300290
MLCC9131300300291
MLCC9131300300292
MLCC9131300300293
MLCC9131300300294
MLCC9131300300295
MLCC9131300300296
MLCC9131300300297
MLCC9131300300298
MLCC9131300300299
MLCC9131300300300
MLCC9131300300301
MLCC9131300300302
MLCC9131300300303
MLCC9131300300304
MLCC9131300300305
MLCC9131300300306
MLCC9131300300307
MLCC9131300300308
MLCC9131300300309
MLCC9131300300310
MLCC9131300300311
MLCC9131300300312
MLCC9131300300313
MLCC9131300300314
MLCC9131300300315
MLCC9131300300316
MLCC9131300300317
MLCC9131300300318
MLCC9131300300319
MLCC9131300300320
MLCC9131300300321
MLCC9131300300322
MLCC9131300300323
MLCC9131300300324
MLCC9131300300325
MLCC9131300300326
MLCC9131300300327
MLCC9131300300328
MLCC9131300300329
MLCC9131300300330
MLCC9131300300331
MLCC9131300300332
MLCC9131300300333
MLCC9131300300334
MLCC9131300300335
MLCC9131300300336
MLCC9131300300337
MLCC9131300300338
MLCC9131300300339
MLCC9131300300340
MLCC9131300300341
MLCC9131300300342
MLCC9131300300343
MLCC9131300300344
MLCC9131300300345
MLCC9131300300346
MLCC9131300300347
MLCC9131300300348
MLCC9131300300349
MLCC9131300300350
MLCC9131300300351
MLCC9131300300352
MLCC9131300300353
MLCC9131300300354
MLCC9131300300355
MLCC9131300300356
MLCC9131300300357
MLCC9131300300358
MLCC9131300300359
MLCC9131300300360
MLCC9131300300361
MLCC9131300300362
MLCC9131300300363
MLCC9131300300364